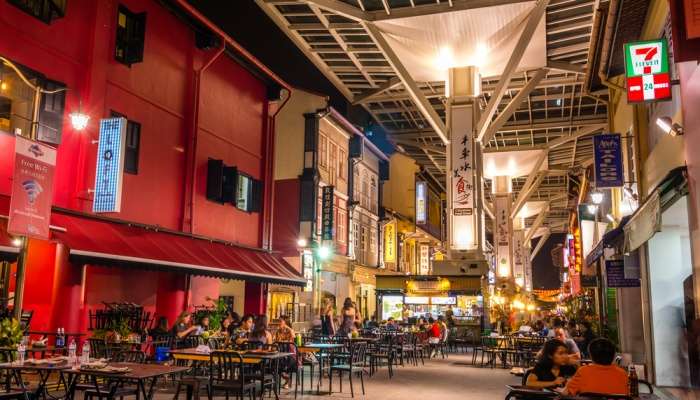 Located in the Central area of Singapore, Chinatown is a standing representation of Chinese traditions and culture boasting an array of temples and museums. But another thing for which Chinatown is famous is the Chinatown restaurants. One may think that Chinatown means Chinese food but you'll be amazed to know that the place is home to numerous fine restaurants serving some delectable Seafood, Spanish, and Barbeque delicacies which are a treat to the tastebuds.
Varying in prices, taste, and theme, the restaurants in Chinatown are the primary elements tourists should include in their wishlist for experiencing some food never tasted before. With so much in its reserve, Chinatown proves itself to be a spot that caters to people from all cultures, backgrounds, and nationalities. What more can ask for?
8 Top Chinatown Restaurants
If visitors try to make a list of various restaurants, they might end up with hundreds of names where they can enjoy a meal worth remembering. Take a look at these top restaurants you can choose to visit on your next vacation in Singapore.
1. Burnt Ends
If you are a meat lover then this place should come first in your wishlist. There is something special about this eatery that customers turn up every night in large numbers. From their specialty, the pork burger to some succulent grilled fish, the place boasts of a wide collection of scrumptious delicacies. You just can't get enough of the smoky flavor and the taste will just make you crave for more. Being one of the best restaurants in Chinatown Singapore, this restaurant is perfect for you to spend your nightlife in Singapore with your friends.
Address: 20 Teck Lim Road, Singapore 088391, Singapore
Opening hours: Sunday, Monday (CLOSED)
Tue-Thurs (6PM – 12AM)
Friday, Saturday (11:45AM- 2PM, 6PM – 12AM)
TripAdvisor Rating: 4.5/5
Website
Must Read: Chinatown Shopping: 7 Great Places To Shop Until You Drop
2. Chinatown Food Street
It's time to take your friends to a street food tour at this buzzing place in Singapore. A paradise for street food lovers, the Chinatown Food Street is a gorgeous 100-meter long street decorated with traditional lanterns and covered under a glass shelter. If you wish to savor some authentic and cheap delicacies, then this street also known as the Smith Street is the place you should be at. Some popular dishes you can try at this spot are the oyster omelet, dried chilli frog porridge, and fried Kway Teow. There's no doubt in saying that Chinatown Food Street is one of the best places to eat in Chinatown.
Address: Smith St, Singapore 058938
Opening hours: Mon-Sun (11AM – 11PM)
TripAdvisor Rating: 4/5
Website
3. Yum Cha
A food tour in Singapore is incomplete without dim sums and this place in Singapore is the best spot for trying a wide variety of dim sums. The restaurant boasts a traditional aura and serves its dim sums in traditional bamboo baskets. Their specialty is the pork dumplings named as Xiao Long Bao which is one of the must-try dishes at the restaurant. So what are you waiting for? Head out to one of the most popular Chinese restaurants in Chinatown, Yum Cha, for savoring these hot pockets of lusciousness.
Address: 20 Trengganu Street Off, Temple St, #02-01, Singapore 058479
Opening hours: Mon-Fri (10:30AM – 10:30PM)
Saturday, Sunday (9AM – 10:30PM)
TripAdvisor Rating: 3.9/5
Website
Suggested Read: 3 Things To Do Near Chinatown Singapore To Explore City's This Corner
4. Tippling Club
This lively restaurant in Singapore is the best spot to dig into some gourmet delicacies and exotic cocktails. The restaurant's ambiance will just leave you awestruck, featuring a bistro-style seating and an open kitchen. As far as the food is concerned, their Grilled Brie De Meaux Cheese Sandwich and the Butter Chicken Curry Risotto are sure to exceed your expectations. These toothsome delicacies can be accompanied by a glass of exotic wine. Its food and ambiance make it one of the best Chinatown restaurants in Singapore.
Address: 38 Tg Pagar Rd, Singapore 088461
Opening hours: Mon-Fri (12PM – 12AM)
Saturday (6PM – 12AM)
Sunday (CLOSED)
TripAdvisor Rating: 4.5/5
Website
Suggested Read: 3 Things To Do Near Chinatown At Night To Explore The Best Of Singapore Nightlife!
5. Maxwell Hawker Centre
The Maxwell Hawker Centre is known to be one of the oldest hawker centres in Singapore. The eatery specializes in a wide collection of mouth-watering dishes, the most popular among which is the chicken rice, meat fritters, and some piping hot dim sums.. The center comprises over 100 food stalls, ranging from some Chinatown noodle restaurants to popular dim sum makers, which often make the tourists scratch their heads as to which dish they should try. Its finger-licking food served at cheap prices is one of the major reasons why this eatery is one of the most visited eateries in the city.
Address: 1 Kadayanallur St, Singapore 069184
Opening hours: Mon-Sun (8AM – 2AM)
TripAdvisor Rating: 4/5
Suggested Read: 4 Interesting Things To Do In Chinatown On Your Trip To Singapore
6. Esquina
After so much of barbeque and dim sums finally, a place where you can relish an authentic Spanish cuisine prepared by some highly qualified chefs. Some of their popular dishes include the fluffy Spanish omelet, grilled Spanish Octopus, and sweet and savory Spanish strawberries. But wait, the list does not end here. What about a satiating glass of wine with these exotic Spanish delicacies? Apart from this, if you have a group of people along then you can also opt for their 4-course lunch menu which is a complete package to satisfy your afternoon cravings.
Address: 16 Jiak Chuan Rd, Singapore 089267
Opening hours: Sunday, Monday (CLOSED)
Tue-Sat (12PM – 2:30PM, 6PM – 10:30PM)
TripAdvisor Rating: 4.5/5
Website
Suggested Read: 3 Best Bars In Chinatown, Singapore One Must Visit To Party Hard!
7. The Coconut Club
Away from the loud and busy nightlife, this peaceful restaurant named The Coconut Club is an ideal spot for you to grab a cup of tea and relish some light meals. Their specialty, the Nasi Lemak, which is a flavorful dish prepared from a blend of coconut rice, spicy Malay chicken, peanuts, Ikan Bilis, Sambhal, and fried egg. Featuring a simple and delicious menu, the Coconut Club is the perfect place for you to grab your afternoon snack from making it a highly talked about eatery when it comes to some good restaurants in Chinatown.
Address: 6 Ann Siang Hill, Singapore 069787
Opening hours: Mon-Sat (11AM – 3PM, 6PM – 9:30PM)
Sunday (11AM – 3PM)
TripAdvisor Rating: 4.5/5
Website
Suggested Read: 3 Restaurants Near Chinatown, Singapore For Indulging In The Best Cuisines!
8. Luke's Oyster Bar & Chop House
Well, Chinatown is not just about the Chinese cuisine. It also has a jewel in its reserve which serves some drool-worthy Seafood to its customers. Specializing in some raw oysters and juicy meat dishes, Luke's Oyster Bar & Chop House is one of the most buzzing places you can visit while in Chinatown. One would surely drool over their lobster rolls and crab cakes. Apart from this, the bar at the place serving an array of authentic cocktails is the perfect place to spend your nightlife in Singapore.
Address: 260 Orchard Rd, #03-02 The Heeren, Singapore 238855
Opening hours: Mon-Sun (12PM – 10PM)
TripAdvisor Rating: 4.5/5
Website
Further Read: Chinatown In Singapore: Take A Pleasant Stroll In Singapore's Most Happening Town
This list signifies that Chinatown is truly a treasury of fine restaurants and bars which leaves you with so many options to make the most of your vacation in Singapore. From some small cafes where you can spend some peaceful time to some happening bars and clubs, Chinatown has it all. Whether it is affordability, taste, or quality, the Chinatown restaurants take care of every aspect. So, plan your trip to Singapore with TravelTriangle now.
People Also Read
Norway Restaurants Restaurants In Southern Islands New York Restaurants