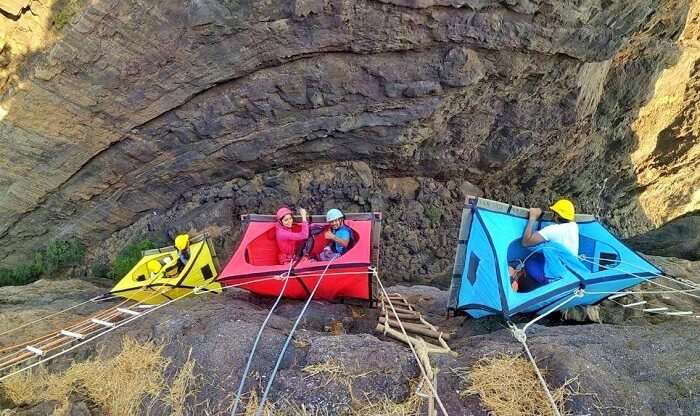 If trekking in the Sahyadri mountain ranges sounds fun to you, then there's no way you won't be jumping with joy at the prospect of cliff-camping there! You read that right. Now, you can actually trek to this delightful camping site in Sandhan Valley where you drop down to a tent literally hovering in mid-air with nothing between you and the ground far beneath you. If the thought of this is giving you an adrenaline rush instead of sweaty palms and a mini heart attack, then it's the right kind of adventure for you! Oh, did we mention? Set in a startling 300 ft deep-cut valley, cliff camping at Sandhan Valley Hanging Tent is probably India's most extreme cliff-side campsite!
Best Time To Visit Sandhan Valley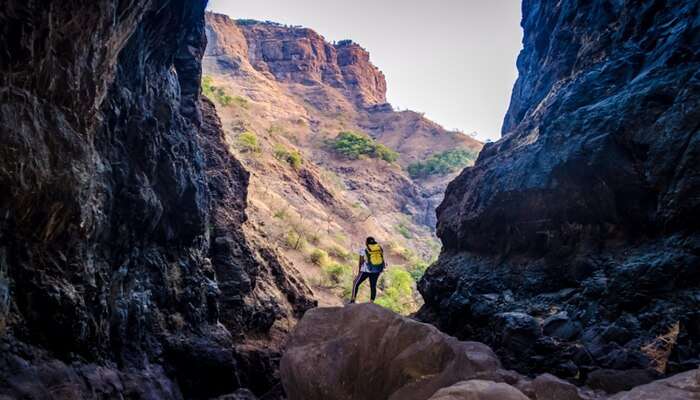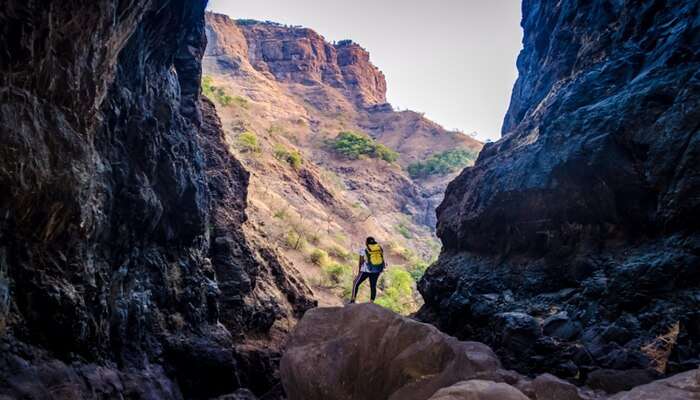 If you are planning to trek and camp at any place, the topmost thing to take care of is the time you are planning your vacation in. Since trekking is risky in the monsoon season, it is not the ideal time to go for this activity. November to February has been recorded as the best time to visit the valley, The weather is perfect for trekking with no humidity or heat. Moreover, there are fewer chances of rain which is why it is best for Sandhan Valley camping.
The Experience Of Cliff Camping At Sandhan Valley Hanging Tent
The Sandhan Valley hanging tent trek organizers follow a very strict routine to ensure the safety of all campers. After conducting a rejuvenating trek to the campsite, they will kit you out in the appropriate gear – helmets, harnesses, knee-caps, elbow guards, etc. Then they will slowly and carefully lower you into the tent using a rope ladder. The tents are regularly checked and can hold two people at a time.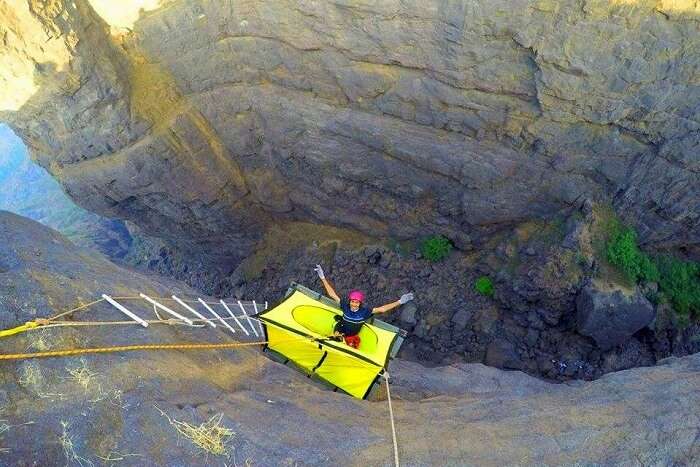 Though you will only be inside the tent for a little over an hour, it'll surely be the most thrilling experience of your lives, and will make for a great photo op! You can add to the whole experience by finishing it up with a round of rappelling or an exciting valley crossing activity.
Location of Sandhan Valley Hanging Tent: Near Bhandardara, Ahmednagar, Maharashtra
How to reach Sandhan Valley Hanging Tent: Once you get to the Kasara Railway Station, head to Samrad Village in Ahmednagar, the base camp for the trek.
Distance from Mumbai: 183 km (via NH160)
Time taken: 4 hours
Duration of activity: Groups are allowed to spend one hour inside the tent before being roped back up.
Suggested Read: 12 Destinations To Go Glamping In India
What Is Cliff Camping?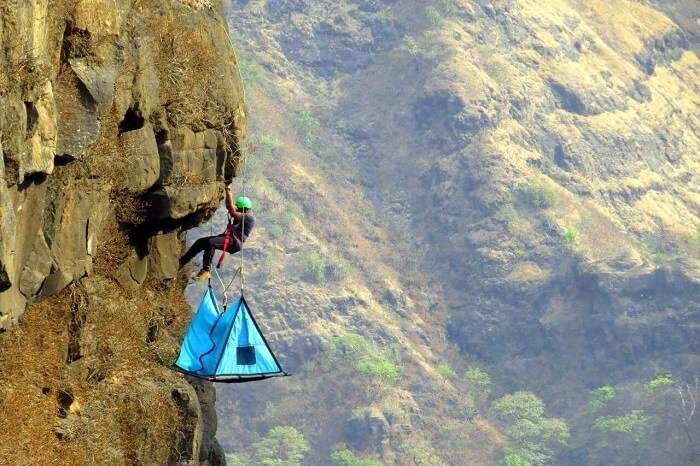 In case you were wondering, cliff camping is exactly what it sounds like – hang over the side of a cliff! The hanging tent, or the portaledge (as it's called), has an aluminium frame and a sturdy base so that it can easily hold the weight of two people high off the ground. That's not all! These tents are also fastened to a large rock or boulder using a strong rope designed to take up to 600 kg.
Other than the tent, you too will be safely harnessed to a rope with carabiners at all times, even when you're inside the tent. At Sandhan Valley you'll also find as many as three tents connected together through one primary safety cable, as an added safety measure.
Things To Carry For Cliff Camping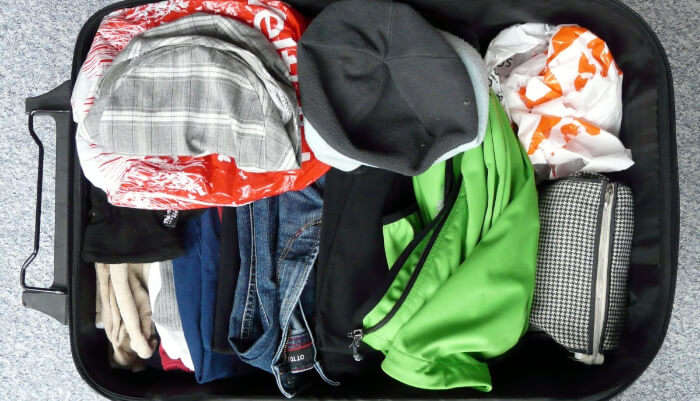 Here are some of the essential things that you need to carry for trekking and for hanging tent camping in the Sandhan Valley. Make sure that you check the list once before starting the journey!
Portaledge

Plenty of water

Snacks & dry fruits

Ropes

Climbing gear

Extra polybags and a can

Food
Further Read: Experience A Whole New Level Of Glamping In Rushmore & Live Literally Under Canvas
There's no way this hasn't enticed you to plan a vacation to Maharashtra and try cliff camping at Sandhan Valley Hanging Tent. But before you run off to pack your bags, make sure you share this with all your adventure-hungry buddies!
Comments
comments