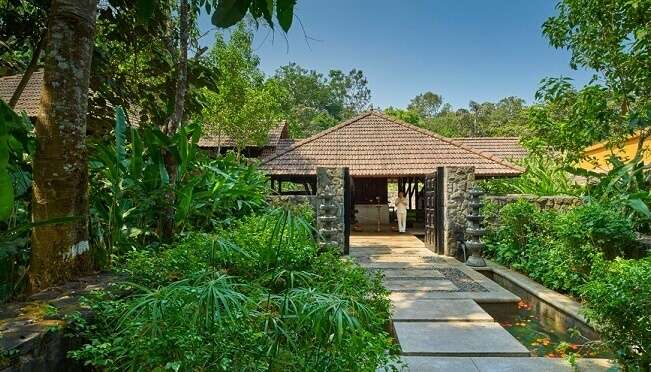 Popularly known as the Scotland of India, Coorg is a haven located amidst imposing mountains and misty landscapes. A perfect place to be for all nature lovers, this mesmerizing hill station is flooded with an intoxicating smell of coffee and magnificent views that will relieve you of all the stress. The exotic scenery, lush greenery and rich culture makes travelers fall completely in love with this gem of a place. However, there is one more thing that stands out of the rest in Coorg and that is the beautifully tucked resorts that make your vacation even better.
Ever dreamt of waking up to enticing views of misty mountains, lush greenery and the trickling sound of the streams nearby? If yes, it's time for your dream to come true! The resorts in Coorg offer a heavenly experience and world-class facilities making for the best staycation. With beautiful decor, elegant views and round the clock services, the resorts in Coorg take the extra mile to serve you with the best. One such resort in Coorg that offers you the perfect blend of luxury and nature is Club Mahindra Coorg.
About Club Mahindra Coorg
With picturesque views and lush green forests, Club Mahindra Coorg welcomes you to a world of its own. Get ready to completely detach yourself from the hustle and bustle of the city and transfer your mind and soul to a world full of calm and peace. This luxurious 5-star accommodation makes for an overwhelming holiday experience with the fine state-of-the-art facilities offered. From rejuvenating and soothing spa treatments on-site to a wide range of adventure activities, there is a lot that tourists can indulge in while staying here. Here are a few reasons that will make you plan a stay at Club Mahindra Resort while in Coorg.
5 Reasons Why You Must Stay At Club Mahindra Coorg
Once you step into this world of luxury, you will admire everything at this resort right from the warm welcome of the staff to the fine in-room amenities. Here are more than 1 reason to plan a stay at this resort on your next trip to Coorg.
1. Astounding Location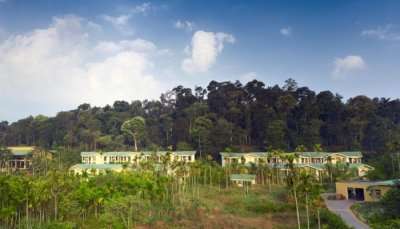 Club Mahindra Coorg is set-up not only amidst lush greenery and beautiful vistas but also offers proximity to the major tourist attractions. Located in Kalakeri village, Club Mahindra is a short, 20-minute drive from Coorg city. The Mangalore and Bangalore Airport can also be easily reached from the resort.
Must Read: 6 Beautiful Resorts Near Coorg One Must Pick To Enjoy A Relaxing Escapade Amidst Nature!
2. Wonderful Recreational And Adventure Activities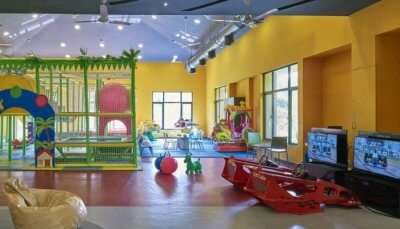 This sprawling resort in Coorg will never let you get bored, even for a minute during your stay. The property hosts fun indoor as well as outdoor activities. A Funzone gaming area is also located on-site where you can enjoy board games, pool and video games as well. A Bungee trampoline and cricket bowling machine is also available within the premises. Adventure activities like zip lining and rafting can also be arranged for. Adults can choose to revel in the peaceful ambiance and enjoy various therapeutic treatments at the in-house spa. Club Mahindra Coorg strives to make your stay memorable and hence taking walks along beautiful trails with your loved one is a must-have experience when in Coorg.
Suggested Read: 20 Best Resorts In Coorg For A Luxurious Stay
3. Traditionally And Intricately Designed Rooms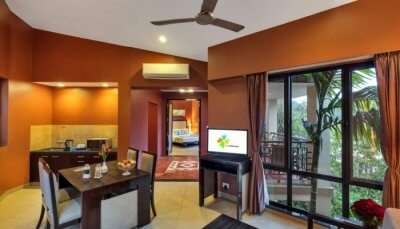 Designed in the Kodagu or Coorgi style, the rooms at Club Mahindra Coorg let you soak in the tradition and culture of the city and offer an authentic local experience to the guests. There are majorly 3 types of rooms available and the resort welcomes all kinds of travelers. All the rooms are adorned with intricate wooden furniture and occupy separate living and dining areas. Dipped in luxury, the rooms offer ultimate comfort throughout your stay.
Suggested Read: 5 Amazing Cottages In Coorg To Make You Feel At Home On Your Vacation!
4. World-Class Facilities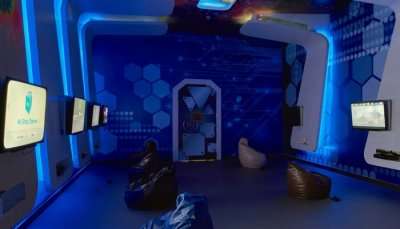 The high-end facilities offered at the resort make it a popular choice among travelers. Club Mahindra Coorg houses two outdoor pools where guests can relax in the beautiful surroundings. Additionally, there are a lot of on-site activities that guests can make use of during their stay which includes complimentary wi-fi, 24-hour room service, business center and laundry services thus ensuring a hassle-free vacation.
Suggested Read: 6 Quixotic Resorts Near Madikeri To For An Easy Breezy Vacation
5. Delectable Culinary Journey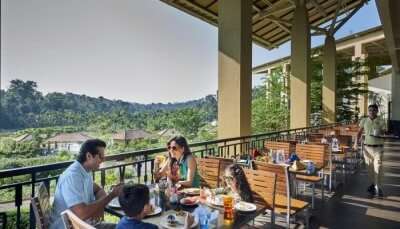 The resort houses 3 restaurants that serve lip-smacking dishes to tantalize your taste buds. These multi-cuisine restaurants serve all kinds of dishes ranging from local Managlorean food to International dishes. Special care is taken on kids as well as adults and the chefs at this resort cater to all kinds of requests.
Further Read: 8 Best Guest Houses In Coorg One Must Pick To Enjoy A Relaxing Stay!
What more are you looking for? Club Mahindra Coorg offers a full-fledged luxurious holiday experience in the lap of nature. From excellent services of the staff, to well-maintained rooms and delicious food the resort has you covered on your vacation. So plan a trip to Coorg and do not miss out on a stay at this exquisite property.