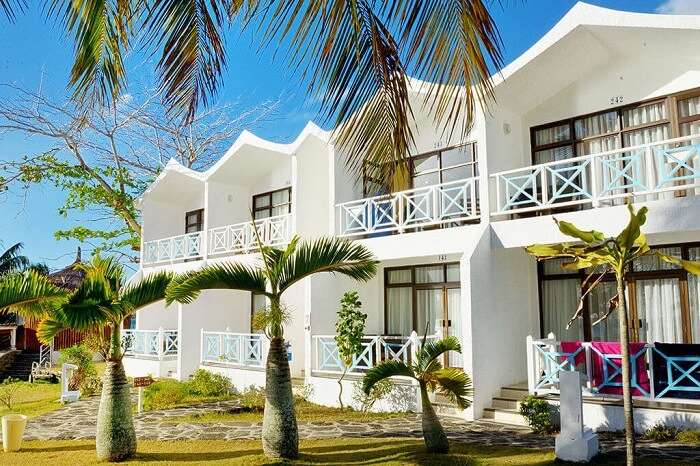 Overview
Mont Choisy Coral Azur Beach Resort is a 3-star resort located on the north coast in Mauritius. Situated between Trou aux Biches and the Mont Choisy beach that is a 2-minute walk away, the Coral Azur Beach Resort has a private beach that makes it a perfect accommodation for beach lovers. Offering a breathtaking view of the golden sand beach this resort is perfect for couples and honeymooners. Set in lush green surroundings, this resort consists of Egyptian-mosaic tiled swimming-pool. The resort also has a wellness spa that offers a variety of massages. One can get close to nature with a sea diving activity arranged for by the hotel. The resort has 128 rooms all together where 48 falls under the Standard Category and 40 falls under the Deluxe category. With pleasing views of the beach and the rising and setting sun, the rooms at Coral Azur Beach Resort are extremely well furnished and maintained.
Amenities
Taking good care of the comfort of its guests, the hotel arranges for massage sessions for its guests at the Spa of Coral Azur Beach Resort. For sporty guests, the hotel has options such as billiards, table tennis horse riding, windsurfing, canoeing, and diving. An in-house games room and Kid's club is also set up for the little guests. The hotel also offers free local and international calls to countries like India, France, Hong Kong etc. Parking at the hotel is free of cost for all guests. Medical services are available too, although on a paid basis. Guests also have the option to go for their paid laundry and ironing services.
Dining
The hotel boasts of offering ample options to guests in terms of the culinary scene. There are 5 restaurants and bars at the hotel. Restaurant Le Cotomili offers a high-quality International buffet. Restaurant Le Wahoo Créole and seafood menus. La Baie des Pirates is a pizzeria in the hotel. The two bars La Canne à Sucre and Case Ti Pima offer exotic drinks with delicious snacks. Whether it is a good international breakfast buffet or some Creole and seafood fare, or a grill bar for the barbecue lovers, dining at Mont Choisy Coral Azur Beach Resort is a delightful experience in itself.
Mont Choisy Coral Azur Beach Resort nestles in the middle of a tropical garden. With its Egyptian mosaic-tiled swimming pool and green hues of the tropical gardens in the hotel estate, the resort gives out an exotic feel to guests out on a tropical holiday.
Resort Accommodation
Standard Double or Twin Room
Standard Double or Twin Room with Sea View
Deluxe Double Room with Sea View
Deluxe Double Room with Garden View
Unwind in the comfortable rooms of Mont Choisy Coral Azur Beach Resort offers to choose from 48 Standard and the 40 Deluxe rooms. There are standard rooms in the hotel have double occupancy and have a possibility of a third and a fourth bed. All the rooms have a balcony or terrace with individual air conditioning, television, safe and a minibar. The Deluxe rooms have double occupancy with a garden view or a sea view open to any supplement bedding. The deluxe rooms are a model of service and occupancy where all rooms are facilitated with a safe and a minibar. Free coffee and tea facilities are available in the rooms.
Resort Highlights
Creole, Italian, barbecue and other International options to offer guests along with 2 bars
Sports lovers can head to the volleyball court, Tennis courts and football courts
Head to the spa and get massages for rejuvenation and relaxation
Coral Azur beach resort has the provision for indoor parlor games like Checkers, Scrabble etc
separate activity area for kids along with a kids' pool
Indian Restaurants Near The Resort
Tarisa Tandoor
Kiosque Magique
Restaurant Coolen Chez Ram
FAQs
Q1. How far is Mauritius Mont Choisy Coral Azur Beach Resort from the airport?
A. The beach resort is 1.5 hours away from Sir Seewoosagur Ramgoolam International Airport.
Q2. Does the resort have an airport transfer service?
A. To and fro airport bus services are available to guests on a paid basis.
Q3. Where can guests get information about city tours and sightseeing?
A. The resort offers guides of places to visit in Mauritius and around Mont Choisy Coral Azur beach to guests.
Q4. Is internet connection available at the hotel?
A. Yes, there is free wifi connection for guests in the hotel.
Q5. Where can currency exchange happen in and around the hotel?
A. There is a foreign exchange facility within hotel premises where guests can get their currency exchanged for local Mauritian currency.
Travelers looking for comfort combined with thrill and adventure, along with a pinch of rejuvenation should head to Mont Choisy Coral Azur Beach Resort for an ultimate experience. Tropical gardens, freshwater pools, and beautiful architecture speak for the paradise that this beach resort is. There is no dearth of options here for everyone, ranging from children to adults, from comfort lovers who enjoy sitting and relaxing to adrenaline junkies who can head to the Dream diving center near the resort. All rooms of Coral Azur Beach Resort are equipped with a balcony or terrace and offer a view of the garden or the beautiful blue lagoon letting all guests experience the most beautiful side of Mauritius. All in all, the culinary experience, the Mauritian hospitality, the easy accessibility, the sports that can be played and the rejuvenating spa experience at the resort makes every guest want to head here again for every holiday.