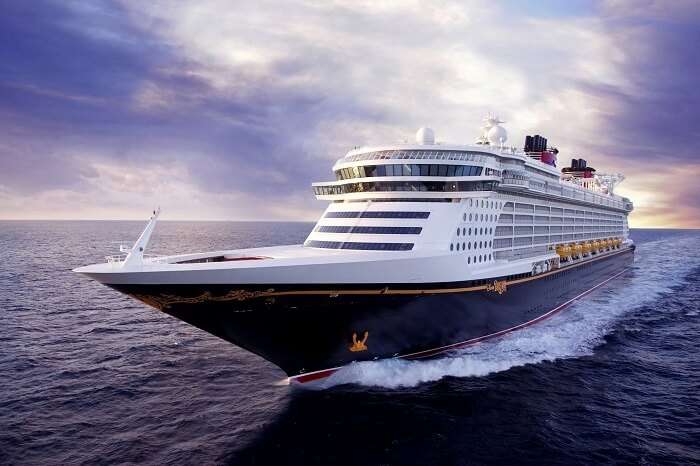 None of the adventures get more exciting when it comes to traveling around the world on a cruise. The words – "cruise travel around the world" have a certain dramatic emotion attached to them and the excitement of exploring the world on waters, is truly exhilarating.
So if you've been dreaming to travel around the world by cruise ship and surrounded by nothing but luxury, then you must take a look at these top 5 cruises in the world. They not only serve as one-stop destination for all the entertainment in the world but also are guarantee the best vacation inclusive of all the luxuries and comforts. Check them out!
Top 5 Ships To Enjoy Cruise Travel Around The World
1. Disney Dream
Winning the Cruisers' Choice Awards for the best overall ship in the large category, Disney Dream is the pride of Disney Cruise Line. Setting itself apart from the other ships of Disney Wonder, Disney Magic, and Disney Fantasy, Disney Dream has been successfully making every cruiser's dreams come true ever since 2011.
Suggested Read: 10 Ultimate Destinations For Cruise and Boat Vacations in India
At a length of 340 meters, more than 1,450 crew members put in the best of their efforts to make cruiser's journey a memorable experience. Whether it is possible to cruise around the world in 180 days or not, but with Disney Dream's cruise travels, you are sure experience a piece of heaven on earth.
What's Special: Famous for its world-class services onboard, and offers the best of shore excursions
Capacity: 2,500 passengers
Recommended Cruise: 5-night Bahamian Cruise
Route: Port Canaveral, Florida – Disney Castaway Cay – Nassau, Bahamas – Disney Castaway Cay – Port Canaveral
Price: USD 2975 (double-sharing basis & including taxes)
Inclusions: Accommodation, applicable taxes, port fees, meals, refreshment, Disney Character Meet & Greets, live entertainment, Disney movie classics, and more.
Exclusions: Port adventures, additional excursions, spa & salon services, babysitting if required, onboard photography service, phone calls, video games, alcoholic beverages, and adults-only dining venues.
2. Celebrity Reflection
In order to enable the cruisers to make the most out of their vacation time, the famous Celebrity Cruises offers extravagant cruise ships which journeys to some of the most exotic destinations in the world. Of all the Celebrity cruises, Celebrity Reflection is such cruise ship that enables the cruisers to explore the best of Mediterranean.
Stretching upto 1047 ft., Celebrity Reflection is the renowned marvel of all the Celebrity cruises that defines luxury travel at its best. With its recent makeover, Celebrity Reflection feels nothing less than magic now. Comprising of the new Lawn Club Grill, Canyon Ranch Spa Club, an extended deck, and an additional of 72 rooms, your plans of cruise ship travel around the world are assured to be a hit with Celebrity Reflection.
What's Special:Encompasses one of the best cabins amongst all the other ships
Capacity: 3046 passengers
Recommended Cruise: 11-night Best Of Western Mediterranean
Route: Rome – La Spezia – Nice – Barcelona – Gibraltar – Malaga – Cartagena – Ibiza
Price: USD 1,899 (per person & excluding taxes)
Inclusions: Shore excursions, celebrity city stay, beverages, meals, casinos, professional photography, internet access, and shopping promenades.
Exclusions: All applicable taxes
          Suggested Read: 8 Best Cruises To Andaman In 2022: Guide To Fares And Ferries From Kolkata, Chennai And Vizag
3. Viking Star
Engineered with care and imbibed with the best of Scandinavian design, Viking Star is the first ocean ship amongst all the sister ships of Viking Ocean Cruises. With a passenger and crew ratio of 2:1, Viking Star offers personalized experiences that are destination-oriented. For your plans of cruise around the world 2022, Viking Star serves as one of the best choices for luxury cruise holidays.
Suggested Read: Best Summer Holiday Destinations In The World: Turn The Vacation Mode On!
The rooms & suites reflect clever architecture and sheer elegance. By carrying less amount of passengers compared to the other large ships, Viking Star elevates the sense of intimacy and enhances the sailing experience. With public rooms like that of Wintergarden, and Snow Grotto, Viking Star is the best choice for those cruisers who are fond of experiencing the elements of different cultures. Suitable for couples and families alike, Viking Star can truly enrich your sailing experience, especially if it's your first cruise ever.
What's Special: Renowned to be the best cruise ship for the first-time cruisers
Capacity: 930 passengers
Recommended Cruise: 15-day Viking Homelands
Route: Stockholm – Helsinki – St. Petersburg – Tallinn – Cruise The Baltic – Gdansk – Berlin – Copenhagen – Aalborg – Stavanger – Eidfjord – Bergen
Price: USD 5,499 (per person & including all taxes)
Inclusions: Accommodation, guided tours, shore excursions, destination performances, TED Talks, classical music performances, meals, open-air walking track & sports deck, 24-hour Guest Services, refreshment, library corners, and taxes.
Exclusions: Additional services
4. Royal Caribbean Harmony of the Seas
One of the massive and gigantic ships of the famous Royal Caribbean International, the Harmony of the Seas is one large-sized cruise ship in which one wouldn't mind to cruise around the world for 365 days. From the time you board the ship and embark your journey till the time you disembark on the last port, you will not be bored even for a minute on this party haven.
A look at the giant cruise is all it takes to fall in love with its grandeur that stretches upto a length of 362 meters. Offering more than 250 ports to embark on the journey of a lifetime, cruisers can literally explore the extremes of the world with Harmony of the Seas. Apart from its 18 high decks, your cruise travel around the world is incomplete without experiencing its tallest 10-story slide at sea.
What's Special:A grand cruise ship which is best for families
Capacity: 5,479 passengers
Recommended Cruise: 7-night Eastern Caribbean Holiday Cruise
Route: Fort Lauderdale, Florida – Philipsburg, St. Maarten – San Juan, Puerto Rico – Labadee, Haiti – Fort Lauderdale, Florida
Price: USD 1,426 (per person & excluding taxes)
Inclusions: Accommodation, shore excursions, meals, entertainment, fitness center, activities for kids and youth, and more.
Exclusions: Applicable taxes, and port expenses
5. Norwegian Epic
Norwegian Cruise Lines believe in a concept of freestyle cruising which is often reflected in the structure of their cruise ships, excursions, and world-class entertainment. Commissioned in 2010 and facelifted in 2015, the Norwegian Epic is the largest cruise ship of Norwegian fleet. The main attraction of the cruise ship is that of an Ice Bar apart from which, there are 20 different bars on board along with variety of dining options.
Suggested Read: 12 Best Islands In Europe For Honeymoon
Following the perfect recipe of a relaxed holiday, Norwegian Epic allows the cruisers to unwind in a cool and breezy environment, in middle of the sea. Cruise across the Atlantic with the best, and indulge in the two brand new Broadway shows which are popularly known as Ballroom Blitz, and Priscilla, Queen of the Desert. Moreover, the new Epic has also become solo-friendly cruise with its new concept of Studio accommodation that serves the solo travelers who want to cruise travel around the world with ultimate luxury.
What's Special:One of the best cruise ships in terms of on-the-board entertainment
Capacity: 4,100 passengers
Recommended Cruise: 15-Day Transatlantic from Orlando (Port Canaveral)
Route: Orlando, Port Canaveral – Royal Naval Dockyard, Bermuda – Funchal, Madeira – Seville, Spain – Gibraltar, UK – Granada – Barcelona
Price: USD 649 (Average per person, & on double-sharing basis)
Inclusions: Accommodation, shore excursions, meals, specialty dining, bars & lounges, entertainment, activities like Aqua Park, the Epic Plunge, Mandara Spa, and more.
Exclusions: Government taxes, fees, and port expenses. An additional of 10 USD per passenger per day may or may not be charged for fuel.
Want to go on a cruise holiday? Embark on your journey to explore the world in the best possible way with one of these best cruises and experience the thrills of cruise travel around the world.