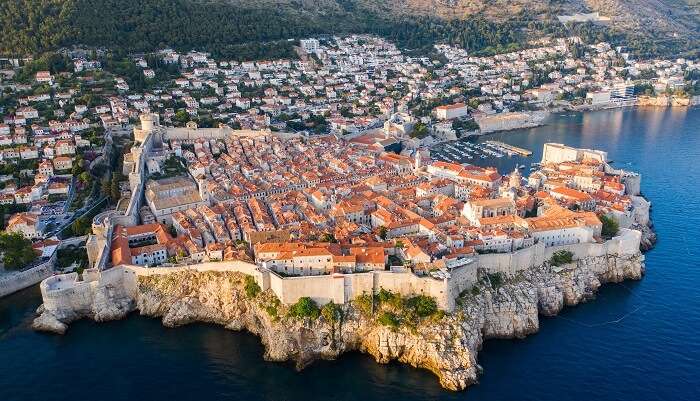 Dubrovnik is the beating heart of Croatia and day trips from Dubrovnik are the lesser-known secret that most people don't know the country offers. People from all over Europe and the world flock to this coastal destination during the peak and off-peak seasons for a taste of Balkan living. It is a humdrum of touristic experiences that will offer you a popular glimpse into the local culture but since it is a central avenue populated by people both locals and visitors alike, an irresistible urge to get away from the place can creep in.
8 Incredible Day Trips From Dubrovnik
Here are our top eight easy escapes from the "Pearl of the Adriatic," from the Island of Lokrum to the vibrant culture of Montenegro. Without further delay, these are the very best day trips from Dubrovnik.
1. Mljet National Park
Image Credit: dronepicr for Flickr
Located at a distance of 20 km north of Sobra, Mljet National Park is one of the most popular attractions northwest of the island of Mljet. Walk on trails surrounded by old pine and oak forestation or simply make your way to the small island of St. Mary and discover the Benedictine monastery. If you want to do a bit of sightseeing when you are here, hop on the Great Lake ship to the island and back which sails through every morning.
Entrance fee: 90 Kuna per person
Website
15 Best Croatian Waterfalls That Are A Perfect Respite From Summer Madness
2. The Island of Lokrum
Image Credit: Zysko serhii for Wikimedia Commons
Lokrum, another little gem of an island is just 5 km from Dubrovnik. Presently a public park that you can reach by ship that leaves the Old Town harbour a few times each day. There are no vehicles on the island and you can walk through the set area that was used for Game of Thrones there are markers and local guides that can help you get a deeper insight. If you love hikes, don't forget to climb up to Fort Royal.
3. Korčula
Image Credit: ModriDirkac for Wikimedia Commons
Korcula which is pronounced kor-chula is a walled town perched on the easternmost point of Korcula Island close to a few wonderful sea shores. It offers quite possibly of Croatia's most heartfelt views which you can enjoy on a ride here from Dubrovnik. Tucked behind huge walls is the Peljeski Channel which runs north to south, making it a perfect place to walk and discover.
10 Croatia Beach Resorts For Everyone Planning A Lovely Adriatic Vacation
4. Cavtat
Image Credit: Ketone16 for Wikimedia Commons
Just 20 km south of Dubrovnik, Cavtat with its pleasant straight, harbour and palm-bordered promenade makes for a perfect day trip from Dubrovnik city. From an interesting medieval history to Croatian craftsmanship on display in art galleries and bookshops, you can lose yourself in the eclectic crowd and have a good time just unwinding and reading. The harbour of Cavtat is the best place to discover Croatian cuisine as it is filled with bistros and bars. If you want to enjoy the waters, simply take a boat outing to one of the little islands which lie simply off the coast.
5. Montenegro
Image Credit: angelhome07 for Pixabay
In spite of the fact that it is quite possibly the smallest country in Southeastern Europe, Montenegro is loaded with fun and fascinating things to see and do on a day trip from Dubrovnik. Other than a radiant and picturesque shore, it has rough woodlands and limestone mountain ranges with beguiling notable towns. Set close to the sparkling Adriatic Sea, the little Balkan state is encircled by Bosnia and Herzegovina, Serbia, Kosovo and Albania. Its rocky karst scenes are loaded with wonderful lakes and lavish forests while lovely sea shores lie along the coast.
10 Artsy Places To Visit In Croatia To End One's Quest For The Archaic And The Lively
6. Mostar
Image Credit: Ramirez HUN for Wikimedia Commons
Only east of Croatia's Dalmatian Coast, Mostar is notable among adventure travellers for its many dynamic landscapes, and a lot of people day trip from Dubrovnik to see this underrated place. Mostar's name comes from the term mostari or "Scaffold Keeper", built by the Turks in 1566. Today, one of the key landmarks, The Old Bridge (Stari Most) is currently a UNESCO Heritage Site.
7. The Elafiti Islands
On the off chance that all you need on a day trip from Dubrovnik is to move away from the mainstream lifestyle and immerse yourself in an off-the-beaten-path vacation on the Elafiti Islands, just a stone's throw away from the shore of southern Croatia. These islands offer incredible open doors for climbing, wonderful sea shores, phenomenal swimming and delightful coastal cuisines, and the best part is the number of tourists remains low all throughout the year. Roadtrips are the most common type of travel you will observe here because of their vicinity to Dubrovnik. It is fascinating to learn that a large portion of the islands are uninhabited despite it being a classic short vacation destination.
Dubrovnik Shopping Guide 2022: The Perfect City For All Shopaholics!
8. The Peljesac Peninsula
Image Credit: Kris Sliver for Wikimedia Commons
The prolific Peljesac landmass is situated in the southern region of Croatia's Dalmatia area. Right across the water, a distance you can easily cover in 15 minutes by ship is the lovely island of Korcula. Both destinations are perfect for a day trip from Dubrovnik, brimming with history. You can also choose to drive along the old Adriatic street, passing through Omis, and Neretva Delta. If you are on a self-guided tour from Dubrovnik, don't forget to make a stop at Zupa bay and marvel at the beauty of the ridge town of Orasac.
Dubrovnik's hustle as one of the major tourist destinations can be an overwhelming experience but its central location means that you can day trip out for a quick escape whether it be for leisure boating or a hike off the coast of the town. For more inspiration and information on the best day trips from Dubrovnik, learn about our tour packages for the perfect Croatian holiday.
For our editorial codes of conduct and copyright disclaimer, please click here.
Cover Image Credit: Geio Tischler for Unsplash
Frequently Asked Questions about Day Trips from Dubrovnik
What is the best time to visit Dubrovnik?
July through October is the best time to visit Dubrovnik as the weather is pleasant and the seawater is also warm so you can enjoy a dip in the turquoise waters or enjoy other outdoor activities.
What are some of the best beaches in Dubrovnik?
Some of the best beaches you can find in and around Dubrovnik are Banje Beach, Sveti Jakov Beach, Coral Beach Club, Lokrum Island and Copacabana Beach.
Are there any current restrictions for international travel in Dubrovnik?
According to the current travel guidelines, the country has lifted all COVID-19 restrictions. If you are planning to travel in the upcoming week or month, you will no longer need to provide proof of vaccination or a COVID test result.
Do people speak English in Dubrovnik?
Yes, most people in the town are multilingual and very comfortable with the English language.
Was Dubrovnik the main filming location for Game of Thrones?
Yes, the King's Landing, one of the main kingdoms on the show was filmed in Dubrovnik and other parts of Croatia.
People Also Read:
Day Trips From Edinburgh Day Trips From Auckland Day Trips From Wellington