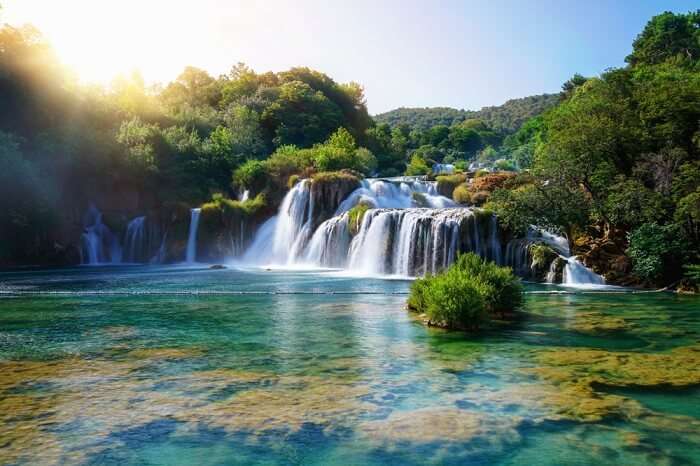 Blessed with sparkling azure Mediterranean waters, overwhelmingly verdant forests, awe-inspiring majestic mountains and electrifying milky waterfalls, Croatia seems no less than a wonderland to travelers. Mesmerizing sights and sounds of its waterfalls never fail to bewitch tourists. Croatia is renowned for its gorgeous waterfalls that are major tourist attractions of this country. Every waterfall of this country is unique and set amidst abundant and resplendent natural surroundings. Let's know about five major waterfalls of this lovely country.
15 Best Croatian Waterfalls
Here are some of the finest waterfalls located inside Croatia that you'll be delighted to visit on your vacation in this wonderful country in Europe.
1. Series Of Waterfalls At Plitvice Lakes National Park
2. Skradinski Buk
3. Rastočki Slapovi (Rastoke Waterfalls)
4. Slapovi Mrežnice (Waterfalls Of The River Mrežnica)
5. Slapovi Zrmanje (Waterfalls Of The River Zrmanja)
6. Veliki Slap
7. Sastavci Waterfalls
8. Roski Waterfalls
9. Pevalekovi Slap
10. Mali Buk Waterfall
11. Kotli Waterfall
12. Strbacki Buk
13. Zarecki Krov
14. Gologoricki Dol Waterfalls
15. Butori Ponor Waterfalls
1. Series Of Waterfalls At Plitvice Lakes National Park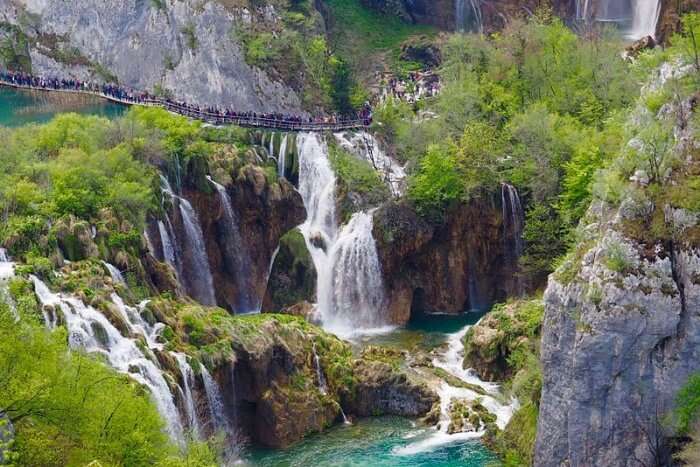 Designated as UNESCO World Heritage Site, this is the largest national park of Croatia extending across the area of 296.85 square kilometers (73,350 acres). Its major attraction is 16 lakes forming cascades descending from an altitude of 636 to 503 m (2,087 to 1,650 ft) over a distance of some eight km. The entire formation of Plitvice waterfalls in Croatia shimmers with colors ranging from azure to green and grey to blue depending upon minerals in water and angle of sunlight.
Find more information about Plitvice waterfalls here
Location: Central Croatia
Entrance fee: 35 to 55 HRK from 1 Jan – 31 Mar/1 Nov – 31 Dec; 80 to 150 HRK from 1 Apr – 30 Jun/1 Sep – 31 Oct; 50 to 150 HRK from 1 July – 31 Aug
Must Read: Croatia Nightlife: 16 Best Party Places To Dance The Night Away!
2. Skradinski Buk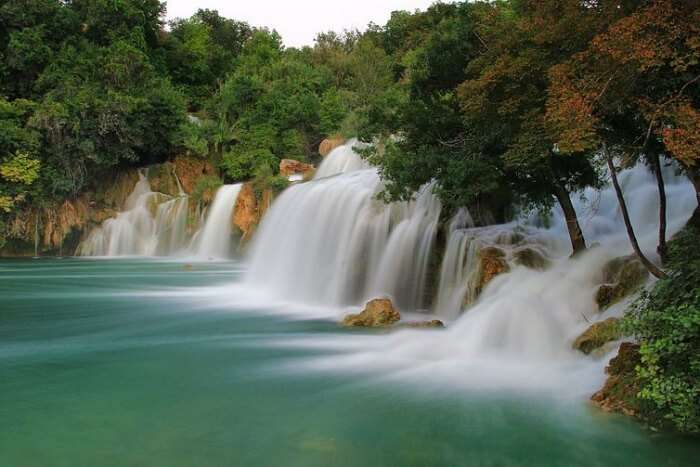 These two waterfalls are in Krka National Park. They are known for having the second highest concentration of lavender per km squared in Europe. This is the reason these waterfalls have a dense population of wasps and bees in their areas. Skradinski Buk is a visual delight having both high waterfalls and cascades.
Find more information about Skradinski Buk & Roški Slap waterfalls here
Location: Krka National Park, Visovačko jezero, Croatia
Entry fee: 30 kn from 1 Jan – 31 Mar/1 Nov – 31 Dec; 110 kn from 1 Apr – 30 Jun/1 Sep – 31 Oct; 200 kn from 1 Jul – 31 Aug
Suggested Read: 10 Best Croatian Restaurants You Need To Try On Your Next Holiday
3. Rastočki Slapovi (Rastoke Waterfalls)

These waterfalls are located in remote but extremely beautiful place of Rastoke lying in the proximity of the city of Slunj. This is a place of confluence of two rivers, Slunj Cica and Korana and the location of extremely captivating waterfalls of Rastočki Slapovi. These waterfalls also power a very old flour mill in its vicinity.
Find more information about Rastoke Waterfalls here
Location: Rastoke, Croatia
How to reach here: From Zagreb: Take the highway A1 to Karlovac. From Karlovac, on to D1, passing Tušilović towards Slunj./From Rijeka: Take the highway A6 to Karlovac. From Karlovac, on to D1, passing Tušilović towards Slunj. From Split: Take the highway A1 to Karlovac. From Karlovac, on to D1, passing Tušilović towards Slunj.
Entrance Fee: None
Suggested Read: 10 Croatia Beach Resorts For Everyone Planning A Lovely Adriatic Vacation
4. Slapovi Mrežnice (Waterfalls Of The River Mrežnica)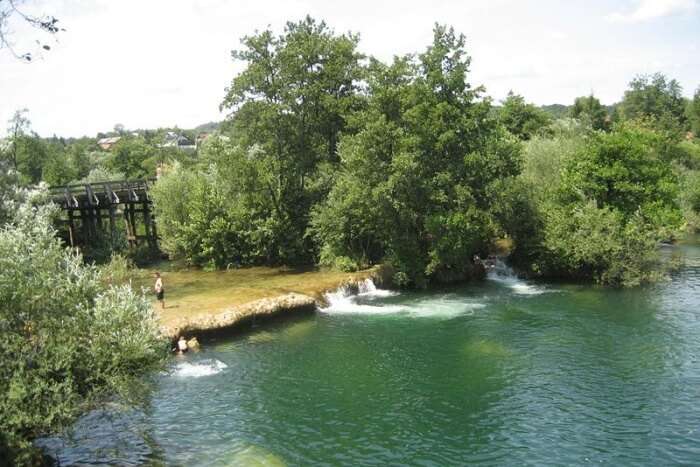 River Mrežnica creates many magical Croatia waterfalls as in its course are present almost 90 waterfalls. Its waterfalls are surrounded by amazing nature and tourists are delighted by the sight of canyons and springs present in their vicinity. Although these cascades are lower in height when compared to Plitvice Lakes or Krka waterfalls, they make up in their charm by their different variety of forms. One can stay in resorts or hotels near these waterfalls and relax in their natural charm for a while.
Location: Karlovac County, Croatia
Suggested Read: 10 Best Croatian Islands That Are Perfect For Your 2022 Beach Holiday!
5. Slapovi Zrmanje (Waterfalls Of The River Zrmanja)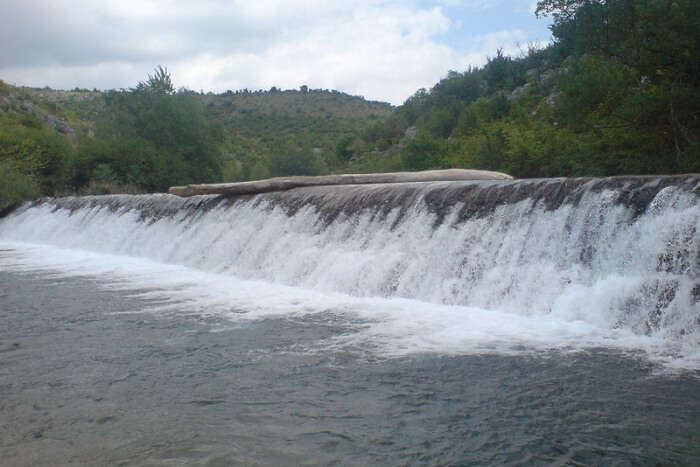 Tucked away in Croatia near Šibenik, this is a wonderful creation of River Zrmanja, known for its rough waters. River Zrmanja is also a sought-after place for river rafting and visitors coveting to relish the beauty of this waterfall can also opt to do this activity at the same time. The river forms about 12 cascades while running its course and all of them are gorgeous.
Location: Zadarska zupanija, Muškovci, 23450, Croatia
Suggested Read: 16 Best Adventure Sports In Croatia In 2022 For Both Adventure Junkies & Rookies
6. Veliki Slap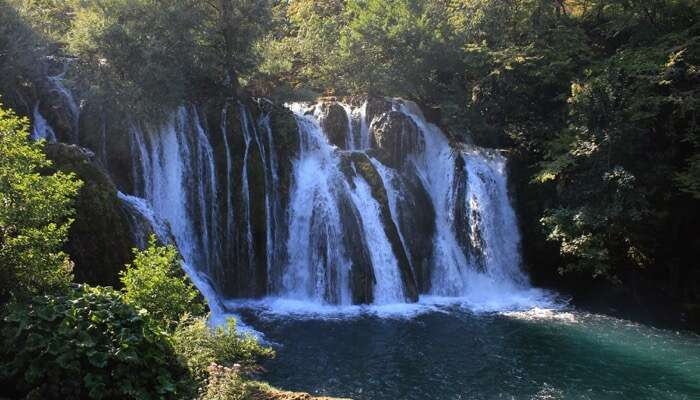 Image Source
Veliki is situated in the waterfall-rich Plitvice Lakes National Park and it is also called the Big Fall by travelers who love to visit it again and again. It is located along the Korana River and is known to be one of the most beautiful waterfalls of Croatia. Falling from a massive height of over 250 feet, the Big Fall is probably the highest waterfall in the park. It is brimming with stunning vistas, clean and clear water, and has plenty of trails and bridges nearby so that visitors can see fish, water birds, as well as the stunning caves and rock formations located nearby.
Location: Plitvice Lakes National Park, 53231, Rastovača, Croatia
7. Sastavci Waterfalls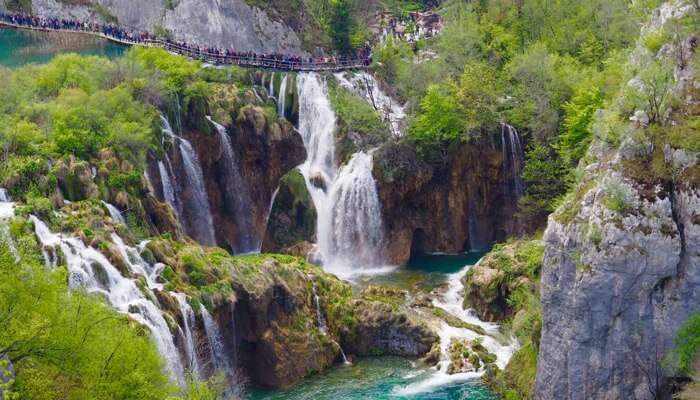 Image Source
The Sastavci Waterfall is also situated over the Korana River and sits in the lower lakes area of Plitvice Lakes National Park dropping from a height of around 80 feet. Those who have visited it this waterfall claim that it is so beautiful that one can never get tired of looking at this masterpiece nature. And the beast part – since it has been recently discovered, not many know about it, so you'll definitely get some peace and seclusion if you visit this waterfall with dark brown rocks, a clear blue pool below, and various trekking trails nearby.
Location: Plitvice Lakes National Park, Croatia
8. Roski Waterfalls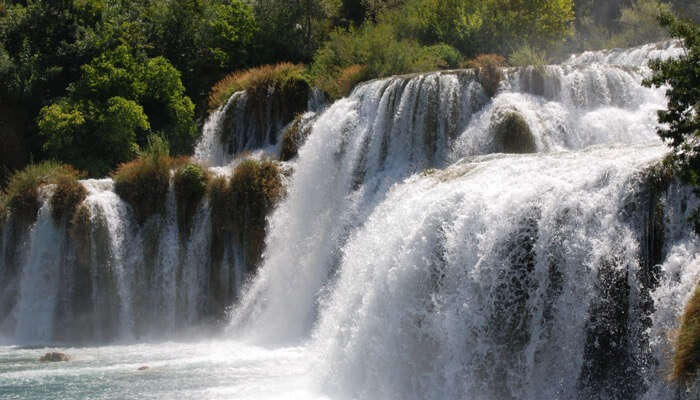 Image Source
Roski Waterfall is another wonderful marvel situated right next to the Skradinski Buk, and this perennial fall is an undisputed favorite of every hiker who visits the Krka National Park. This one is also as unique and splendid as the Sastavci Waterfall, and a good place to get some great backdrops that will surely fetch you hundreds of followers on your Instagram feed!
Location: Skradin, Croatia
9. Pevalekovi Slap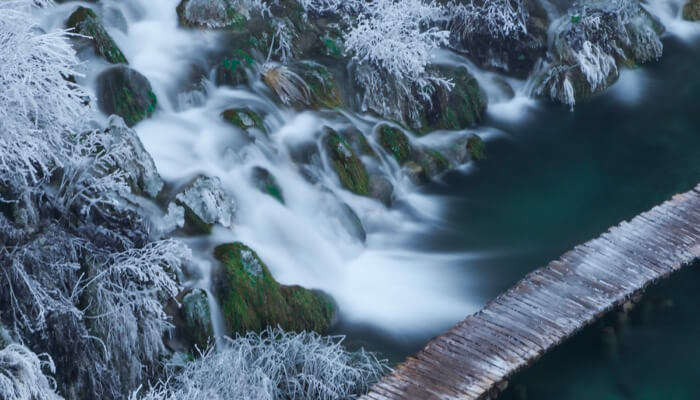 Image Source
This is another marvelous waterfall that is nestled in the lush green environs of the Plitvice Lakes National Park and spotting it could be a tad bit difficult since it hides behind some thick foliage. But if you do succeed at spotting this beauty, you're in for a treat! This pretty waterfall has a dramatic semicircular crest that is almost 50 feet high and collects into an impressive and clear water pool below. The whole dreamy scenery will make it look like you're entered a fairytale!
Location: Plitvice Lakes National Park, Croatia
10. Mali Buk Waterfall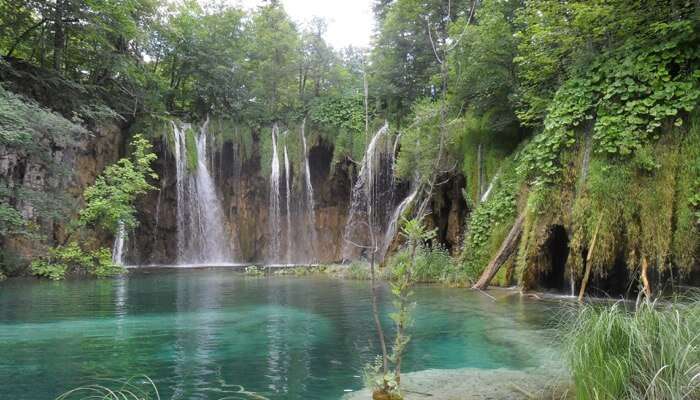 Image Source
While some waterfalls in Croatia are known for their beauty, this waterfall is famous for a few more things, including its remoteness and serenity. It is situated in the upper lakes portion of Plitvice Lakes National Park, and just happens to be a half-hour hike away from the ferry dock that gets people to and fro the park. If you want to go offbeat on your trip this park in Croatia and can work hard on finding a wonderful spot to bask in some glorious views and a quiet, secluded space.
Location: Plitvice Lakes National Park, Croatia
11. Kotli Waterfall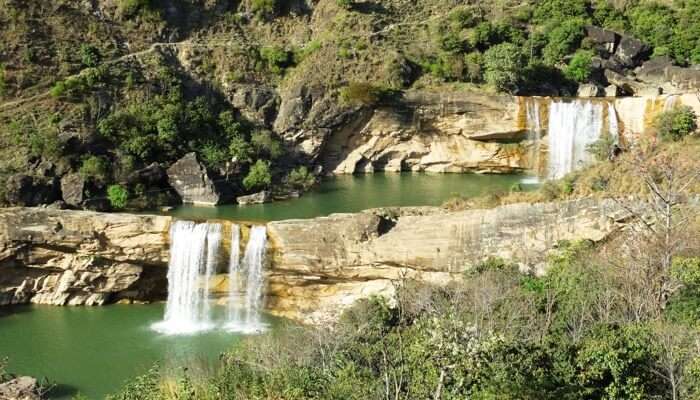 Image Source
The Kotli Waterfall tucked away in Pula is among the most famous waterfalls in Croatia. This marvel is surrounded by picture-perfect greenery and unbelievably clear water. It is situated a few miles off the main road and is generally crowded with hikers and travelers in the spring and summer seasons, since it is so popular. You can also visit the long-abandoned waterwheel and viaduct system located right next to the waterfall, along with the scenic rock walls and gorge surrounding the falls.
Location: Kotli, Pula, Croatia
12. Strbacki Buk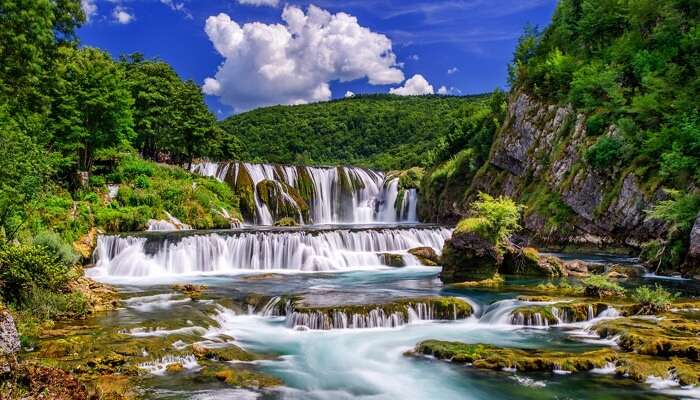 Image Source
The splendid Strbacki Buk waterfall is situated on the Una River and lies on the border of Croatia adjoining Bosnia and Herzegovina inside the Una National Park. It is about 80 feet high and located inside absolutely fresh and green surroundings. The falls, though mostly famous for its massive height, also is quite wide and surrounded by mossy, green rocks that are literally jutting through the falling water. If you're looking for a nice place to view the waterfall in peace and get some selfies with it in the background, then you can get to any of the various viewing areas and benches here, which also make up for some great picnic spots.
Location: Doljani, Bihać 77000, Bosnia & Herzegovina
13. Zarecki Krov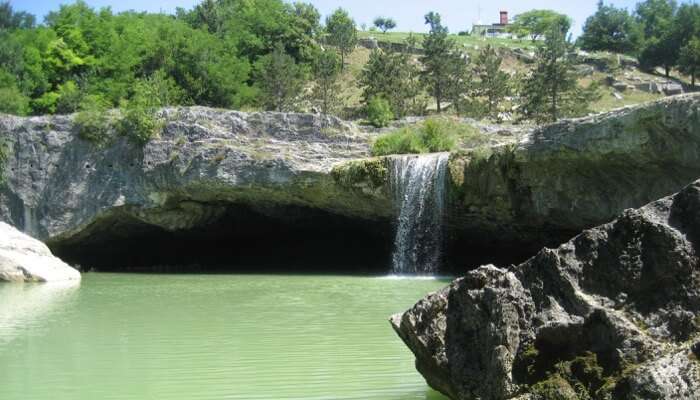 Image Source
The charming Zarecki Krov waterfall is situated over the Pazinicia River and the furiously cascading aqua falls out of a massive and mysterious cave that kind of acts as a roof over the river. The water collects into a natural and crystal clear pool at the bottom. This pool formed by the massive 30-foot high waterfall is ideal for taking a refreshing dip. The waterfall is merely a short drive away from the town of Pazin. It's a great place for relaxing, picnicking, and swimming by the waterfall's side.
Location: Pazinčica, Croatia
14. Gologoricki Dol Waterfalls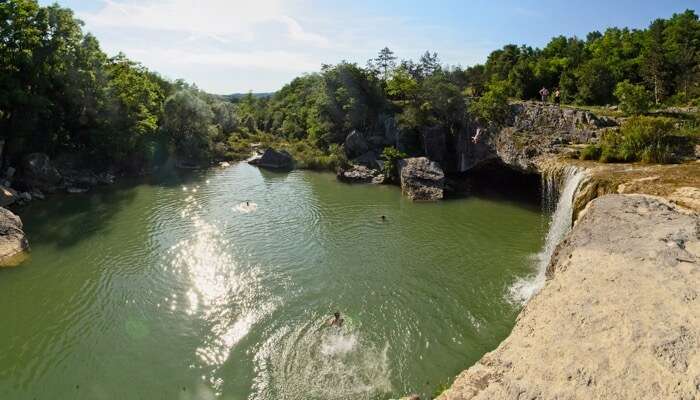 Image Source
The glorious Gologoricki Dol Waterfalls is situated quite close to the town of Cerovlje which lies in the peninsular region of Istria. This wondrous waterfall is bounded by charming and scenic country hamlets, so that you can also get an up close and personal with the Croatian culture before or after enjoying your time at this beautiful waterfall. Located inside a farm, this gorgeous waterfall can be reached by coach, on horseback, or on foot from this vintage country village.
Location: Gologorica, near Cerovlje, Croatia
15. Butori Ponor Waterfalls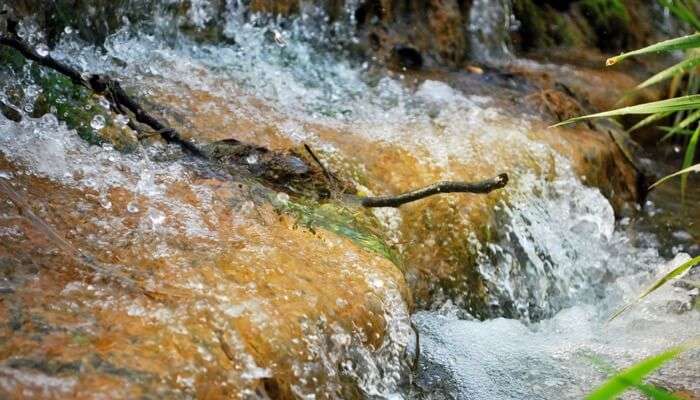 Image Source
It's the sparkling river Ardila that falls from a massive height in the village of Momjan, Istria, and transforms into the impressive Butori Ponor Waterfalls. There's also a beautiful gorge right below the waterfall that you can visit, but be careful. The waterfall can be a little hard to find for those who do not already know about it, since it is set in a rather tiny, but gorgeous rural setting that sits hidden in a remote corner of the country. Other than a dip in the water, you can enjoy the panoramic views of the scenic valley before you while you're at this waterfall.
Location: Momjan, Central Istria, Croatia
Further Read: Honeymoon In Croatia: All You Need To Plan An Incredible Escape
Croatia waterfalls offer not only exuberantly natural surroundings but also a clean and pristine environment. Moreover, most of these locations do not charge an exorbitant amount of money for entrance fees or stay. They are an ideal location to spend your long vacation and rejuvenate your body, mind, and soul. If you're not sure about your next vacation destination, let our trip specialist help you plan your Croatia trip with ease.
Disclaimer: TravelTriangle claims no credit for images featured on our blog site unless otherwise noted. All visual content is copyrighted to its respectful owners. We try to link back to original sources whenever possible. If you own the rights to any of the images, and do not wish them to appear on TravelTriangle, please contact us and they will be promptly removed. We believe in providing proper attribution to the original author, artist or photographer.
Frequently Asked Questions About Croatian Waterfalls
Want to know more? See these common queries:
Can you swim in Krka waterfalls?
You can swim in the waterfalls and lakes of Krka in Croatia.
Can you swim Plitvice Lakes Croatia?
No, swimming is prohibited at waterfalls of Plitvice.
Can you swim in Croatia National Park?
Swimming is allowed in some national parks in Croatia, and prohibited in many others like Plitvice.
Where are the best waterfalls in Croatia?
5 best waterfalls of Croatia: 1. Series of waterfalls at Plitvice Lakes National Park 2. Skradinski Buk and Roški Slap 3. Rastočki Slapovi 4. Slapovi Mrežnice (Waterfalls of the river Mrežnica) 5. Slapovi Zrmanje (Waterfalls of the river Zrmanja)
Can you swim in Roski slap?
There are a couple of places to eat and have a dip in the clear fresh lake water at the bottom of Roski Slap – you can't swim up to it but it's lovely to have a dip and lay on the grass in the sun.
Which is better Plitvice or Krka?
Plitvice Lakes is bigger and therefore has more to see, but it is further inland and takes longer to get to than Krka Lakes does if you are staying in Dubrovnik or Split. Krka Park is much more accessible from Zadar and Split, but is smaller, though you can swim here unlike Plitvice Lakes.
Can you drive to Krka waterfalls?
During Winter months, you can just drive your own car down to the falls.
---
People Also Read:
Waterfalls In Hungary Waterfalls In Greece Waterfalls In Germany