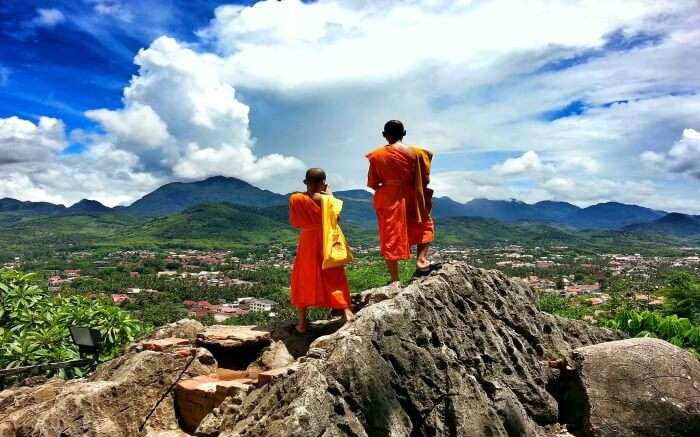 Katie is a blogger, traveler, and dreamer from Kuala Lumpur. Currently inspired to jumpstart a dedicated travel fund, she dreams of taking a trip to the arctic waters of Greenland (Or Canada or Russia). In this post, she shares 5 exotic locations that make for perfect digital detox destinations in southeast Asia .
Our world maybe changing, but the true nature of life is not. Let's take a breather, plan a digital detox, and break free of our devices. Disconnect from technology and connect with the incredible nature around us. Experiences will never repeat themselves, so savor them.
Don't ruin your chance to experience nature's most beautiful creations just to share a perfect snapchat story with people out there. Go on a tech-free travel and feel the true essence of a vacation and live the journey.
Why travel tech-free?

Nature Heals – Exposing yourself to nature can reduce anger, fear and stress. Looking at nature soothes and helps us cope with pain and contributes to your physical well-being, reducing blood pressure and muscle tension.
Nature Revives – Spending time outside can improve your mood and viewing nature can increase your ability to pay attention. It's a lovely respite for your overworked mind.
Nature Connects – It's reported that living around greenery encourages residences to get to know each other and cultivates stronger feelings of unity amongst each other.
So go ahead, leave that phone and live in the moment!
Places To Visit In Southeast Asia For A Digital Detox
1. Luang Prabang, Laos

This UNESCO World Heritage site is dotted with remarkable colonial and Lao architecture. You can explore the quiet temples, amazing waterfalls, bathing pools, and echoing caves nestled in the surrounding jungle of Luang Prabang.
When the day dawn breaks and the world awakes, you can see hundreds of barefoot monks clad in saffron robes walk through the streets to receive donations of food. Those who love animals can go for a four-day mahout course to learn the skills of riding elephants in the most humane way, as their keepers do. Breathe deep and lose yourself in the sweet sounds of the waterfalls and the howling of cool winds.
2. Mount Kinabalu, Malaysia

Blessed with beautiful flora and ecologically the richest in the world, Mount Kinabalu is absolutely breathtaking and perfect for digital detox in Southeast Asia. Another UNESCO World Heritage Site, Mount Kinabalu is well-known worldwide for its tremendous botanical and biological species biodiversity with plants of Himalayan, Australasian, and Indomalayan origin.
When it comes to trekking the mountain, the ascent is technically straightforward and it's one of the most accessible mountains in the world. If you want a real adventure, try the excursion up to the 4,095-metre peak. Make sure you have the kind of coverage you need for all your distant travels, finding a suitable medical insurance for travel should be a primary step in your planning stage!
3. Krabi Province, Thailand

If you prefer a pristine picturesque beach, then Krabi should be the place for your next getaway. Home to some of the best beach sand and water in the world, Krabi is the perfect place to shut away from all of life's demands.
Soak in the turquoise waters and explore quiet secluded islands like Ko Phi Phi and Ko Lanta that are known for their beautiful long white-sand beaches that are relatively devoid of tourists. If beach lounging isn't your thing, you can go for Scuba diving on Ko Lanta, and the nearby Rai Leh boasts world-renowned rock climbing experience.
Suggested Read: 15 Best Beaches In Thailand You Need To Visit Right Now
4. Ifugao Rice Terraces, Philippines

Visit The Philippines if you want a balance of adventure and relaxation. Be on your way to a digital detox and go off-the-beaten-track. The Philippines has some of the best beaches, reefs, and islands, as well as lovely people and stunning rice terraces.
The amazing rice terraces now enhance the beauty of the hillside of Ifugao region. During the harvest season, the rice plants are at the brightest emerald green and the valleys glimmer in the sunshine. A trek around the hillside is quite a surreal experience.
5. Halong Bay, Vietnam

Also called the Bay of Descending Dragons, Halong Bay features thousands of giant limestone karst islands in various sizes and shapes. These formations are concealed in dense forestry. A cruise among these natural creations is an awe-inspiring way to spend a few days discovering the islets around. You can also take a cruise to the outlying islands that are more secluded, where natural wonders are less explored.
With its exceptional scenic beauty and outstanding geological values, Halong Bay is undoutedly one of the most beautiful places in South East Asia.
Further Read: 20 Insanely Beautiful Destinations Across Asia That Are Under The Traveller's Radar Now
This time, travel leaving your devices behind and let the power of nature heal your weary body and soul. Say yes to digital detox!
Leaving you with a map of pins of all the above locations.