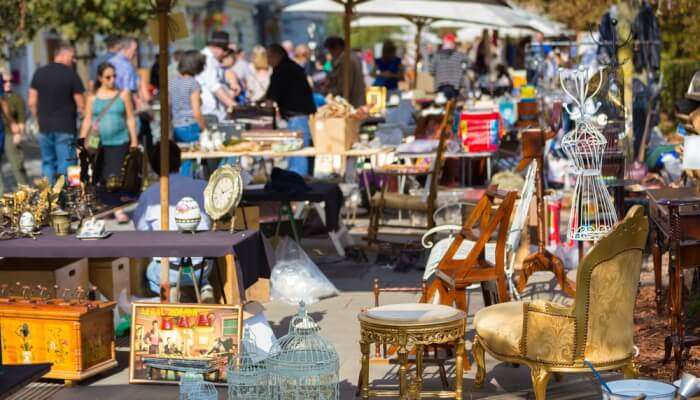 Europe is quite popular amongst Globetrotters for its panoramic beauty, prolonged history, vibrant culinary, and exclusive art forms. Flea markets in Europe are the most beautiful places giving a glimpse of local lives. One can check out the latest collections here or grab some gifts and trinkets from the vibrant stores offering true gems at a reasonable price.
Flea markets in Europe are known for their uniqueness featuring colorful stalls, exclusive & antique products, with talented and creative sellers. One can find a wide variety of products in these flea markets, offering something for everyone. These markets also display beautiful handcrafted products including the masterpieces of local sculptors, crafters, and artisans.
10 Best Flea Markets In Europe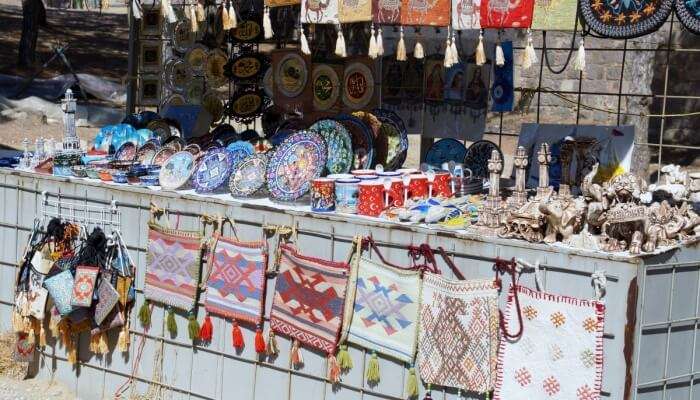 Your vacations in Europe will surely be incomplete without an excursion to these amazing flea markets. Check out the details of the best flea markets in Europe one must not miss out in 2022:
1. Braderie De Lille Flea Market

Merely an hour from Paris by TGV, Lille houses the biggest flea market in Europe known as Braderie De Lille Flea Market. This vibrant market dates back to medieval times and lures over two million visitors every year in the month of September. Braderie flea market features over 10,000 exhibitors selling items from gewgaws to treasures. Every Saturday you can check the best collections here. Braderie De Lille Flea Market starts at 8 AM on the first Saturday of September and closes at dawn, followed by a complete day exhibition on Sunday.
Location: Lille, France
When: August 31, 2022, & September 1, 2022
Must Read: 13 Frolicsome Beaches In Europe For All The Excited Beach Bums Across The Globe
2. Munich's Giant Flea Market

Every year in the month of April, a large flea market is organized on the opening weekend of Munich's 'Frühjahrsfest', that's the Spring Festival of Munich. This enormous flea market welcomes 3,000 exhibitors and over 80,000 visitors from across the globe. This amazing spring flea market at Theresienwiese purveys really exclusive second-hand goods at a very reasonable price. One can check out the latest collection of clothes, merchandise, crockery, home appliances, antiques, designer furniture, militaria, electronics, etc. One can bargain here and grab a nice deal. TO check out the best collection, make sure you reach here early in the morning.
Location: Theresienwiese 80339 Munich, Germany
When: April 27, 2022 (6:00 AM to 4:00 PM)
Suggested Read: 35 Best Places To Spend Christmas In Europe 2022: Where Festivities Breathe Magic Into The Air!
3. Vrijmarkt Amsterdam Flea Market

This flea market is actually a car boot sale organized on Koningsdag. Since 1890, Koningsdag is a day of the year when the Dutch government allows sales on the streets without payment of VAT. It is believed that over half of the Dutch population indulges in shopping at the Vrijmarkt flea market. The most popular areas of this market are the Jordaan quarter and Apollolaan. You can check the rare collections of antiques at the Jordaan quarter. Another interesting feature about this market is that you can see kids selling their cast-off toys at the VondelPark. Most of the time, these kids are handsomely paid by visitors. Amsterdam also hosts other flea markets also namely, the IJ-Hallen flea market, Waterlooplein, and the Spiegelwartier.
Location: Amsterdam, Netherlands
When: April 27, 2022
Suggested Read: 17 Spots For Snorkeling In Europe Every Underwater Enthusiast Must Visit
4. Flea Market In Arezzo

This is one of the most unique flea markets in Europe and lures art lovers with its Roman remnants, medieval walls, Renaissance architecture and enticing murals of Piero della Francesca. One can check out the exclusive vintage collections here including furniture, paintings, silverware, violins, harmonium, and Roman coins. This market is organized every month with nearly 500 exhibitors offering their collections at 100 small shops. These shops have been observed in Arezzo since 1968 when Italy's biggest flea market and the antique fair was conducted. This flea market excites visitors with its majestic surroundings as it is organized amidst the famous Piazza San Francesco, Piazza Grande, and Corso Italia.
Location: At the historical town of Arezzo
When: First Sunday of every month and the following Saturday
5. Portobello Road Flea Market

The Portobello Road Flea Market in Notting Hill is one of the best flea markets in Europe that is organized on every Saturday. A few stalls of this famous flea market are also available on Monday and Friday. Saturday is the peak exhibition day where one can witness over 2,000 stalls selling almost everything in the vibrant streets of London. You can also grab scrumptious delicacies served here along with checking out the latest collections of clothing, jewellery, kitchen necessities and a lot more! If you are holidaying in London then you must not miss out on this flea market, purveying the true vibe of Europe on the dynamic streets from Chepstow Villas to Westway.
Location: 65 Portobello Rd, London W11 2QB, UK
When: Saturday (9:00 AM-7:00 PM), Wednesday (9:00 AM-6:00 PM) & Thursday (9:00 AM-1:00 PM)
Suggested Read: Guess Which European City Gets The Title Of World's Most Liveable City This Year!
6. Waterloo Flea Market

The serene town of Waterloo is quite popular for its flea market and is believed to be one of the best European flea markets. The Waterloo flea market is conducted on every Sunday morning in the parking area of Carrefour supermarket which is near to the roundabout of the Castle Horse and the Lion of Waterloo. With over 300 shops spread over 13.5 acres area, its an enthralling experience for visitors as it features genuine antiques and contemporary vintage masterpieces of the local artists.
Location: Chaussée de Louvain 2, 1410 Waterloo, Belgium
When: Sunday (9:00 AM-6:00 PM)
Suggested Read: 10 Mountains In Europe That Will Put To Test All Adrenaline Junkies In 2022
7. Paris Flea Markets

Paris is known for its electrifying flea markets or brocantes, exhibiting everything you want to buy from Europe! From authentic antiques of Europe to inexpensive watches, this place is a one-stop destination for shopaholics holidaying in Paris. These flea markets vary in size, but the most popular among these markets are those placed at Montreuil, Vanves or Clignancourt. The flea market of Puces de Vanves is comparatively small but offers an exclusive collection in a tree-lined Avenue.
Location: Puces de la Porte de Vanves: Ave Marc Sangnier & Ave Georges Lafenestre, 75014 Paris
When: Saturday & Sunday (7:00 AM-1:00 PM)
8. Cormano Flea Market

Cormano flea market is amongst the top flea markets in Europe that starts every Saturday from 6 AM onwards and closes by lunchtime. If you are an early bird then surely plan a visit to this prettiest flea market of Lombardy, featuring over 150 stalls. Cormano has been fulfilling the demand for silk of the entire continent since the 14th century and one can glance really fine silk collections here.
Location: Via Europa, 11, 20032 Cormano MI, Italy
When: Saturday (6:00 AM-1:00 PM)
Suggested Read: 12 Things Not To Do In Europe To Spend Your Vacay The Right Way
9. Brussels Flea Market

Established at Place du Jeu de Balle, this flea market is locally known as the Marolles flea market that showcases over 200 shops every day. One can check out the stunning collections at antique shops, thrift stores, and craft shops. If you visit this market, you will witness hundreds of international tourists here. This astounding flea market in Europe offers crazy items, one can carry back home as a memory of their Europe trip!
Location: Place du Jeu de Balle, 1000 Bruxelles, Belgium
When: Daily (6:00 AM-2:00 PM)
Suggested Read: Indian Restaurants In Vienna: A Taste Of Home In The Heart Of Europe
10. Rastro Flea Market

Locally known as El Rastro de Madrid is the most famous flea market in Madrid which is held on every Sunday and public holidays. This market offers a huge collection of unused and used commodities and one needs to dig in to find the rare one! Though time-consuming but offers a plethora of products that you don't want to miss out on while vacationing in Spain.
Location: Plaza de Cascorro & Ribera de Curtidores, between Calle Embajadores and the Ronda de Toledo
When: Sunday & public holidays (9:00 AM-3:00PM)
Further Read: 31 Traditional Festivals In Europe That Will Up The Fun Factor Of Your Euro-Tour In 2022
An excursion in Europe will surely be incomplete without visiting these dynamic flea markets. The flea markets in Europe are the windows exhibiting the true essence of this magnificent continent, known for its culture, fashion, food, history, and grandeur. Plan a trip to Europe and do visit these vibrant flea markets.
People Also Read
Paris Markets Markets In Bedugul Food Markets Around The World
---
Looking To Book An International Holiday?
Book memorable holidays on TravelTriangle with 650+ verified travel agents for 65+ domestic and international destinations.
---