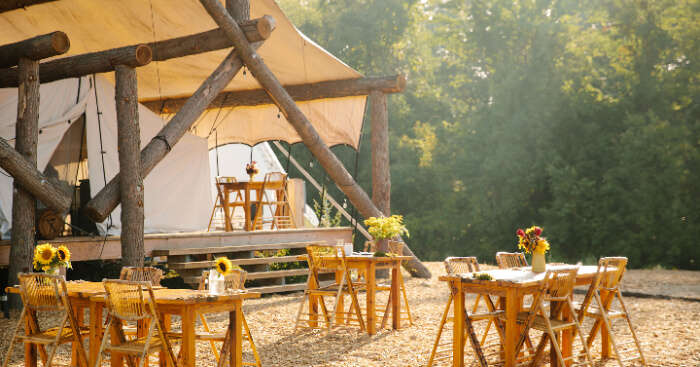 Just imagine living in a luxurious room on a quiet island, with chef-cooked meals, and a view of the Statue of Liberty & Manhattan Skyline! Governer's Island is redefining glamping experience by offering glamping in New York to those who want to get away from the hustle of New York City on weekends or special occasions.
Governor's Island is a 70-hectare land sitting off the southern tip of Manhattan, with incredibly beautiful views of Ellis Island and the Statue of Liberty. The glamping retreat on the island opened on June 29.
Guests staying in the small 27 'journey tents' will have shared bathroom facilities and those who'll be staying in the 10 large 'summit tents' will have private, en-suite bathrooms, spa robes, and a campfire s'mores kit.
Peter Mack, CEO and founder of Collective Retreats said, "We've tried to create an experience where people can put all those concerns aside and connect to the place that they're in, the people that they're with and themselves."
Let's take a peek inside the tents
Although per night tariff varies rates can go more than $700 per night. There's a variety of food to choose from at Three Peaks restaurant for a traditional sit-down dinner. Also, there's no dearth of food vendors nearby.
Already planning a trip to the USA? Create your own tour package and enjoy glamping in NYC.
Further Read: 12 Destinations To Go Glamping In India