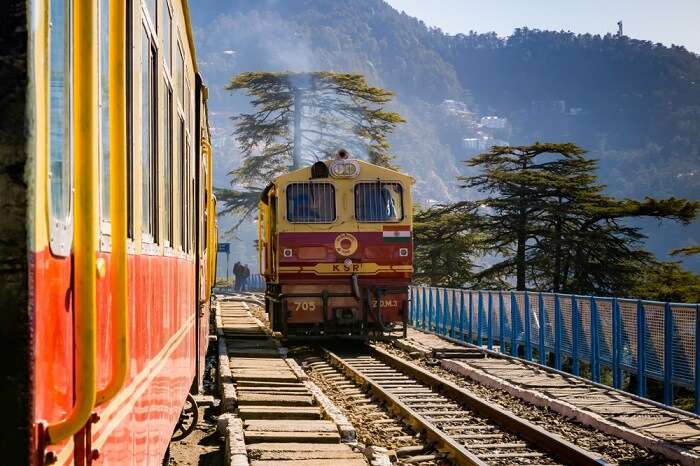 When it comes to the world's best rail journeys, the new glass roof train between Kalka and Shimla is soon going to reign the charts. After the successful trial run on December 1, the all-new Vistadome coach between Kalka-Shimla rail route is all set to provide its passengers with a magical experience. While you can gawk at the surreal mountain landscapes, the glass roof will put you in a sweet trance during the times of snow and rainfall.
If you are a sucker for scenic train journeys, you ought to put this magnificent experience on your list. The first-of-its-kind coach on 115-year-old Kalka-Shimla rail route has been refurbished from an old second class coach with the cost of INR 10 lakhs. Not just the cool glass roof feature, the fully air-conditioned Vistadome coach comes with cushioned wooden furnishings to give you a vintage feeling and designer LED lights to spice up the interiors. Steel railings have also been erected by the doors for the safety of passengers.
The Kalka – Shimla Rail, equipped with a Vistadome Coach, ran its first trial trip today. Passengers can now soak in the aesthetic landscape with better vision through the glass top ceiling of the newly converted coach. pic.twitter.com/qzFRzwczNq

— Piyush Goyal (@PiyushGoyal) November 10, 2018
The tickets for 36-seater glass roof train from Kalka to Shimla will cost around INR 500 per seat which is just a few bucks higher than the existing Shivalik Deluxe Express with a fare of INR 425. The journey time between Kalka and Shimla on the new Vistadome is about 5 hours. However, the railway officials are planning to reduce the journey time to 4 hours or less. They are also planning to launch more coaches after they receive a positive response from the tourists.
According to the Northern Railways, the Vistadome coach will be shortly put into service for passengers to soak in the views of verdant valleys and lush mountains. So, you can soon plan a trip to Shimla to embark on one of the most memorable train journeys of your life.
For our editorial codes of conduct and copyright disclaimer, please click here.
Frequently Asked Questions About Glass Roof Train From Kalka To Shimla
Which is the best train from Kalka to Shimla?
The best way to reach Shimla from Kalka is by traveling through Toy train. It is called toy train because its railway track is comparatively smaller. It is known as meter gauge track that was incepted by the British Government in 1903. You can select any of the three toy trains, run between Kalka and Shimla, that are, Shivalik Deluxe Express, Himalayan Queen, and Rail Motor Car.
What is the fare of toy train from Kalka to Shimla?
The fare of toy train to Shimla starts from INR 255. The exact amount depends on the station from where you are boarding the train along with the class and seat of the train preferred by you.
Is there toilet in Kalka Shimla toy train?
Yes, the toy trains running between Shimla and Kalka have upgraded toilets. Along with well-maintained washrooms there are other facilities as well such as Fully carpeted train, wide glass window for perfect view, commutable and cushioned seats, and soothing music in the background.
How much is the fare of glass roof train from Kalka to Shimla?
A journey in 36-seater glass roof train between Shimla and Kalka costs nearly INR 500 per person. However, the price may differ according to your preferred seat.
How to reach Shimla from Kalka?
There is no direct air connectivity between Shimla and Kalka. However, you can board a train to reach your destination. Toy train between Kalka and Shimla are quite popular amongst tourists for their enthralling experiences. If you are looking for the most affordable and fastest way to reach Shimla from Kalka then you can take a taxi to your destination.
Are toy trains in India safe?
Yes, there are three toy trains and one glass roof top train running between Kalka and Shimla and each one of them are safe and comfortable.
Are kids allowed in toy trains?
Yes, you can take your kids along with you while having a rail journey in toy train between Shimla and Kalka.