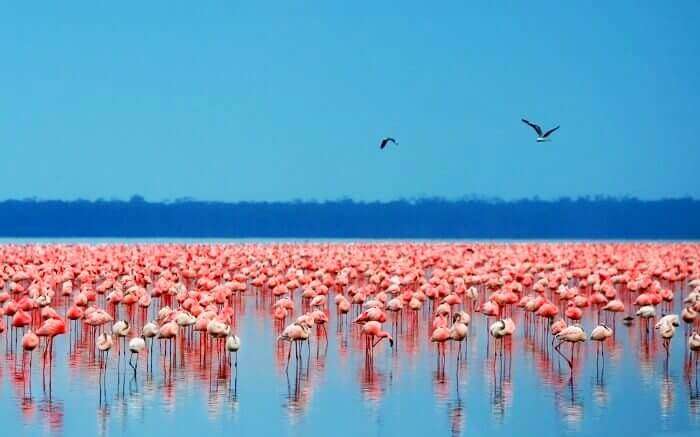 Fond of birds? Then you'd love this exciting news for sure. Your love for birds could earn you a handsome salary, and a luxurious stay, as the Baha Mar hotel in Bahamas is offering an exciting job for bird lovers.
This luxurious hotel is in an urgent requirement of a new CFO. But hold on! The post of CFO here, does not demand a finance, or an accounts veteran. It rather requires professional and experienced zoologists because CFO, here, stands for 'Chief FLAMINGO Officer'.

Suggested Read: An Absolute Guide For A Memorable And Romantic Bahamas Honeymoon!
Yes, you read that right. Baha Mar, a luxury hotel in Bahamas is hiring CFOs to look after flamingos living in their property. And what you must know is:
The applicants must hold a Zoology degree, or experience in a relevant field, and at least 5 years of work experience with birds.
Applications will be accepted from all parts of the world
The responsibility of the CFO will be to supervise all the Flamingo areas, and create a beach sanctuary, and a sustainable environment for the species to thrive.
Other key responsibility areas of the CFO would include maintenance of the artificial habitat of the flamingos, luring the guests to this unique attraction of the hotel, and manage their interactions with flamingos.
Even if you do not wish to work with the flamingos, there's an opportunity for you to not only relish a stay at their luxurious property but also witness this beckoning attraction of Baha Mar during your visit to the exotic city of Bahamas.
About The Workplace:

Baha Mar is a luxury hotel and resort chain in Bahamas with two full-fledged hotels-Grand Hyatt, and SLS- running successfully. Baha Mar resort is their newly opened venture which is regarded as one of the most luxurious properties in Bahamas, which boasts of plush rooms, 9 pools, a peppy casino, and fine dining restaurants.
Location: Baha Mar Blvd, Nassau, The Bahamas
Contact Number: +1 242-677-9000
Website | Reviews
Enticing enough? So, hurry up, and apply for the job right away as the applications will be accepted until late February only. Try your luck, and see if this could be a life-changing decision for you.
Further Read: Just In! The Largest Cruise Ship In The World Is About To Set Sail & We Can't Keep Calm!