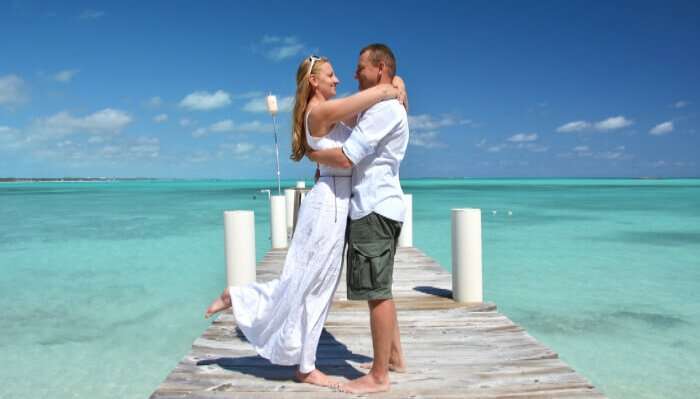 Breezy environs, sun-kissed beaches, shimmering coastline, glistening turquoise waters, overdose of romance, and seclusion in abundance, are few experiences that a couple gets to relish on their Bahamas honeymoon. So if you and your better half love romancing the beaches or would like to fall in love with the best of beaches, then a honeymoon in Bahamas is all you need, and this ultimate guide is where you should begin.
ABOUT HONEYMOON IN BAHAMAS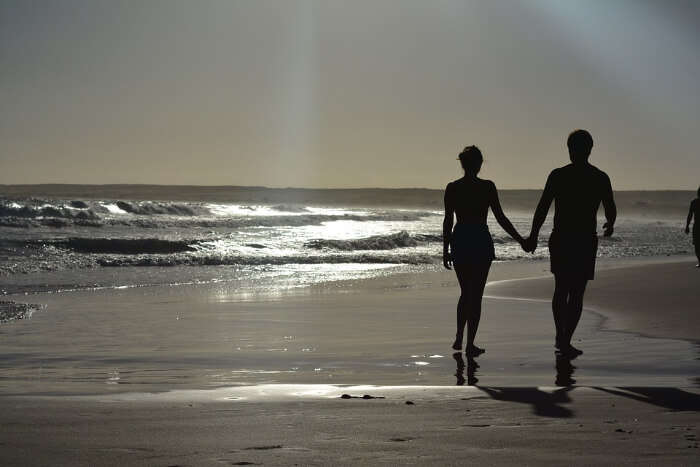 Set in the heart of Atlantic Ocean, one can stay assured of having a spectacular time one any of the 700 islands & above in Bahamas.
The unexplored islands, exotic Bahamas honeymoon resorts, romantic beachside restaurants, world-class diving sites, and the dazzling nightlife, is something a couple would never want to give up in Bahamas for honeymoon.
Must Read: 20 Superb Summer Honeymoon Ideas: Romance The Unusual Way
WEATHER IN BAHAMAS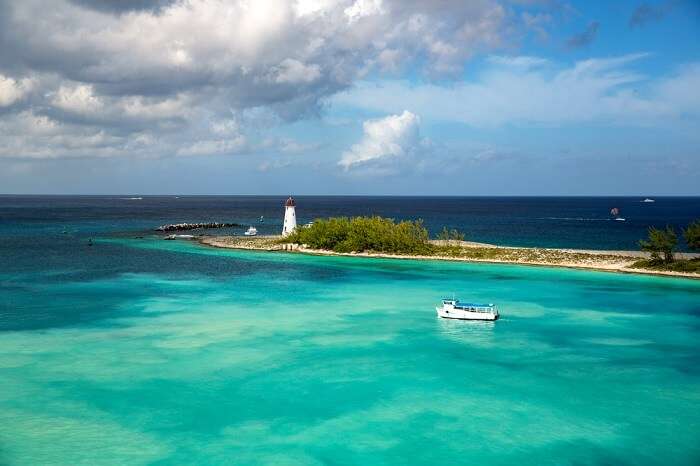 Bahamas usually enjoys more than 300 days of sunshine but overall, this beach paradise enjoys three main seasons.
Spring: The months from March to April witnesses the onset of Spring season. Bahamas weather is usually moderate during spring wherein the average temperature ranges from 27°C to 28°C.
Summers: The months from May to October are usually considered to be the off season wherein the climate is hot. The month of June also brings the possibilities of rain and thunderstorms. Apart from which, this duration is considered to be apt for honeymooners with temperature ranging from 21°C to 30°C.
Winters: The months from November to February is the winter time in Bahamas which is kind of dry too. The average temperature during winters ranges from 17°C to 26°C.
BEST TIME TO VISIT BAHAMAS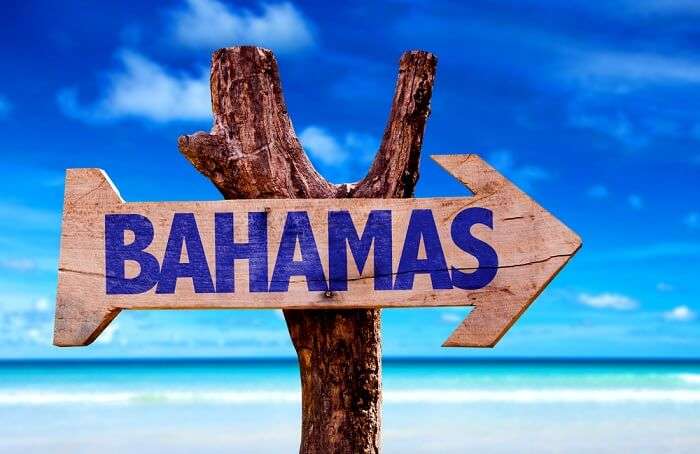 Beaches and the secluded islands are the best things about Bahamas and for those who don't mind exploring them amidst a crowd, November to mid-April would be the best time for them to visit Bahamas based on season.
On the contrary, for those who just want to be by themselves on their honeymoon, May to October would be time to enjoy more privacy along with some off-season discounts and other perks.
IDEAL DURATION
Though one never feels like coming back from Bahamas and there are not enough days to explore the number of islands Bahamas encompasses under its wings, a stay for 6 days & 5 nights will work wonders for a couple on honeymoon.
CURRENCY
The currency of Bahamas is the Bahamian Dollar. 1 BSD is equal to 65 INR which is almost the same as USD.
AVERAGE BUDGET PER COUPLE
No matter which time of the year you plan on exploring this paradise, extra cash and more cash is always welcome in Bahamas for honeymoon. Striking a balance between a budget vacation and a high-end holiday, an average per day budget has been mentioned below based on mid-range accommodation and an estimated expenditure per couple.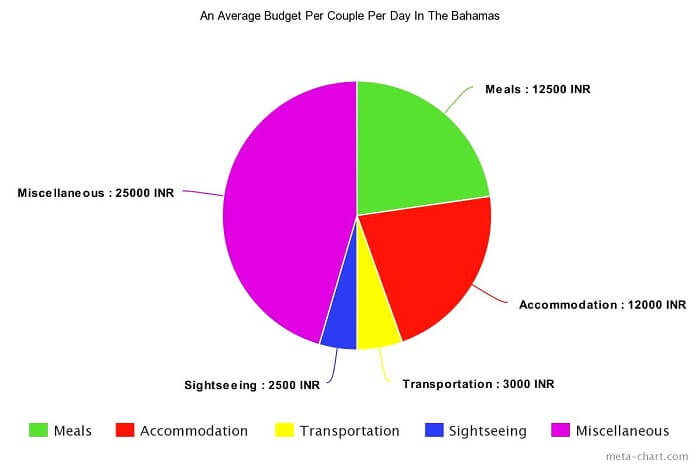 Flights (Round-trip): Starts from INR 97,000 per person (on booking before 45 days)
Average Rate For A 4-Star Hotel: INR 12,000 per night (on double-sharing basis)
Average Conch Meal For Two: INR 2,750 (including taxes)
Dinner For Two (With Wine): INR 9,750 (including taxes)
One Beer: INR 400
Sightseeing: INR 2,500
Transportation: INR 3,000
Miscellaneous: INR 25,000
Hence, an average budget for one day per couple would be:
Accommodation + Meals + Transportation + Sightseeing + Miscellaneous = 12000 + 2750 + 9750 + 3000 + 2500 + 25000 = INR 55,000
Please Note:
Flight rates have not been included in the budget as it may differ from person to person and from destination to destination.
Also, cost of beer is included in miscellaneous which is why it has not been included separately in the average budget.
Conch meal is the local cuisine of Bahamas which can be treated as lunch. Breakfast has not been included in the budget as it is generally included in the hotel package.
Suggested Read: Best Islands For Honeymoon: Across The World & Full Of Love!
HOW TO REACH
You can reach the Bahamian paradise either by air or by sea depending upon your departing destination, the cost, and how much time you have.
1. By Air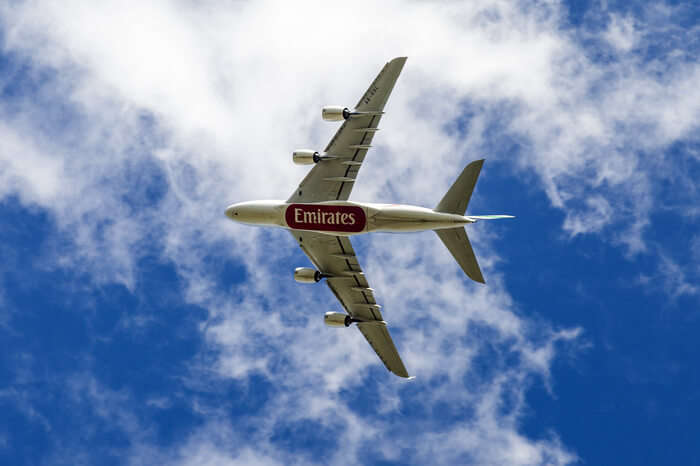 Bahamas has more than a dozen airports of which the airports at the Nassau Island, the Exumas, and the Grand Bahama Island serve as the international airports.
These three airports connect Bahamas to the major countries across the world and neighboring cities as well. Leading airlines like Emirates, British Airways, American Airlines, and Air India, etc., provide connecting flights from India through Bahamas on a regular basis.
2. By Sea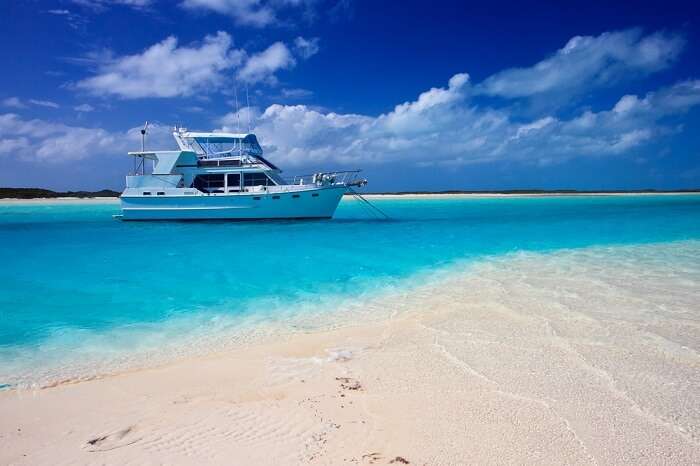 Of all the islands in Bahamas, Nassau & Paradise Island are the ones that offer easy access by sea as well as by air.
You can disembark at the Prince George Dock in Nassau and get transferred to your desired island or destination via ferry or chartered boats, as per your feasibility.
PACKING ESSENTIALS FOR BAHAMAS HONEYMOON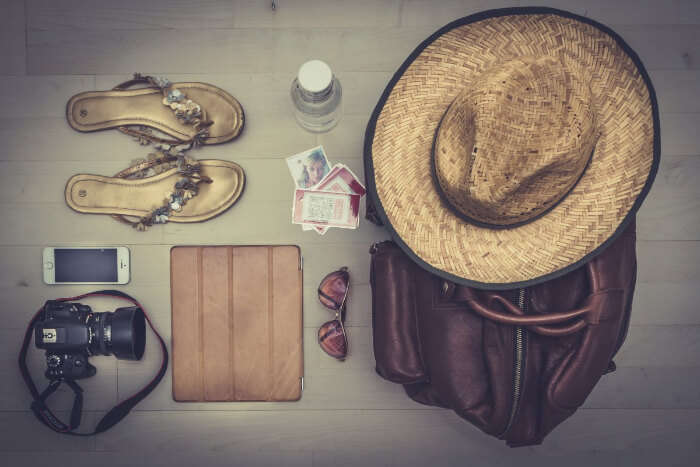 Packing for Bahamas is not that difficult but you do need a checklist in order not to forget anything. Since Bahamas enjoys more than 800 miles of beaches and shorelines, it is quite obvious to prioritize your beachwear. And for the leftover space in your suitcase, here's what you need to pack for your Bahamas honeymoon.
Make sure you keep your passport, visa, and other related details in an easily accessible yet safe place.
Carrying copies of your documents, and airline tickets is a must. (Minimum two copies)
Carry your photo id cards and other identity proofs.
Don't forget your international driving license.
You will definitely need your credits cards in Bahamas but those who love to splurge, are welcome to carry extra cash and in various denominations.
Carry a first-aid kit with all the necessary medications prescribed to you.
Clothes: Bikini (high-waist or normal), rompers, kaftans, maxi dresses, tops, skirts, for women. Tees, shorts, casual trousers, collared shirts, and cotton-wear, for men. Rain jacket is a must for both.
Footwear: Flip flops for when you're chilling by the pool or the beach, shoes for sightseeing. At parties and fine dining restaurants, men are expected to wear formal attire and shoes, whereas ladies can wear a dress, along with a pair of heels. Other than that, a pair of flats, loafers, sandals, and house shoes would be more than enough.
Equip yourself well with mobile, charger, power converters, USB cable, extra SD cards, a high-resolution camera, charging cord, headphones, earplugs, iPad, portable speakers, and power banks.
Don't forget to carry necessary toiletries such as a toothbrush, toothpaste, deodorants, shampoo, conditioner, soap, etc.
Sunscreen and a bug repellant are not to be forgotten at all.
Other than hats, sunglasses, a nylon beach blanket, and equipments for water activities (in case you're carrying your own), ladies can carry their make-up kit.
Do not leave the house without an umbrella.
TOP PLACES TO VISIT IN BAHAMAS
With more than 700 odd island, a couple will never fall short of romantic places in Bahamas. From the popular Nassau Island to the extravagant Grand Bahama Island, Bahamas is one place which feels like a medley of romance, elegance, and sophistication.
1. Nassau Island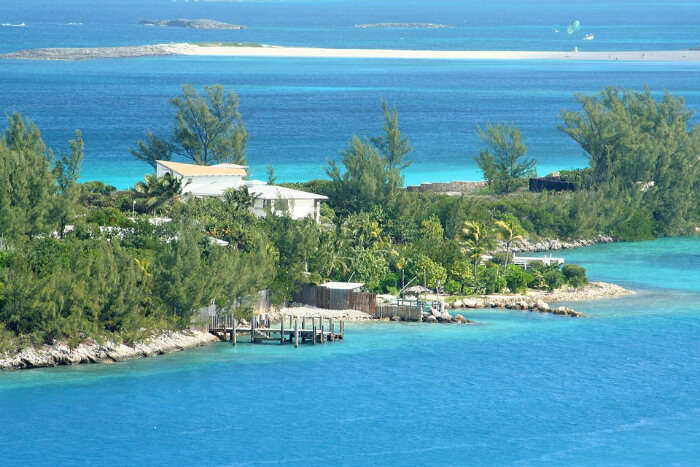 Being the most famous port of Caribbean Islands, Nassau is much famed capital of Bahamas which strikes a perfect balance between a tropical paradise and a bustling metropolitan. From creamy sand beaches to high-end luxury resorts, Nassau will totally surround and spoil you rotten with its lavish lifestyle and luxurious environs.
Suggested Read: Dream Honeymoon Destinations Of Popular Travel Bloggers
2. Paradise Island
Forming the most crucial part of the Lucayan archipelago, Paradise Island is yet another famous destination amidst the popular Bahamian islands. Very famous amidst the honeymooners and located just off the coast of Nassau, the Atlantis Resort is the centre of attraction at the Paradise Island which is very similar to the Atlantis in Dubai.
Suggested Read: The Ultimate Honeymoon Calendar Of The Most Romantic Destinations
3. Grand Bahama Island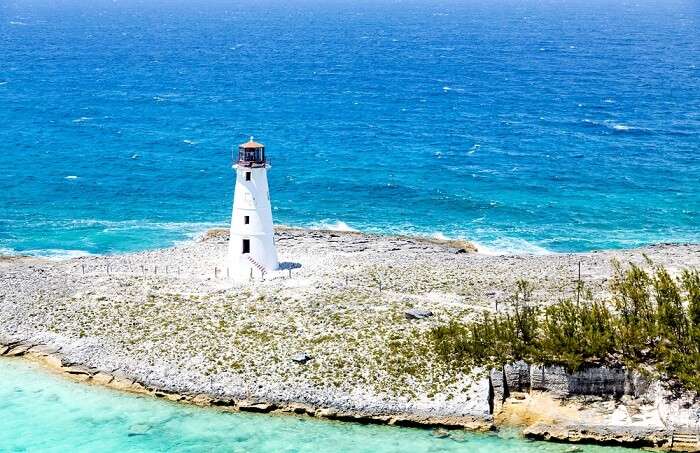 It is a known fact that Bahamas accommodates all the best beaches but there is so much more than what meets the eye when it comes to the Grand Bahama Island. Beyond the exotic beaches, Grand Bahama Island is where one will come across the best of reef-lined coves, sprawling golf-courses, and mangrove swamps.
Suggested Read: 10 Sizzling And Unusual Honeymoon Destinations For The Crazy Ones
Romantic Things To Do In Nassau Island
1. Being Beach Bums At Nassau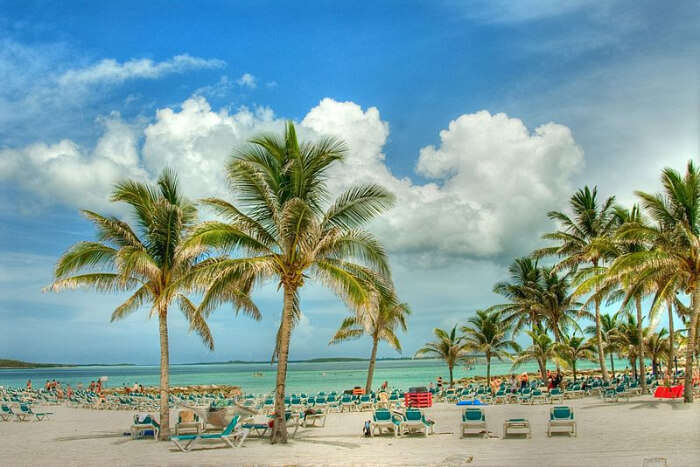 Long stretches of white sand, the crystal clear turquoise waters, and all the seclusion in the world, makes Nassau one of the most romantic places in Bahamas for honeymoon. Comprising of one of the best beaches in Bahamas, the Cabbage Beach, the Orange Hill Beach, Love Beach, and the Cable Beach are few of the popular ones that are not to be missed on your honeymoon.
2. Dine By The Beach At Arawak Cay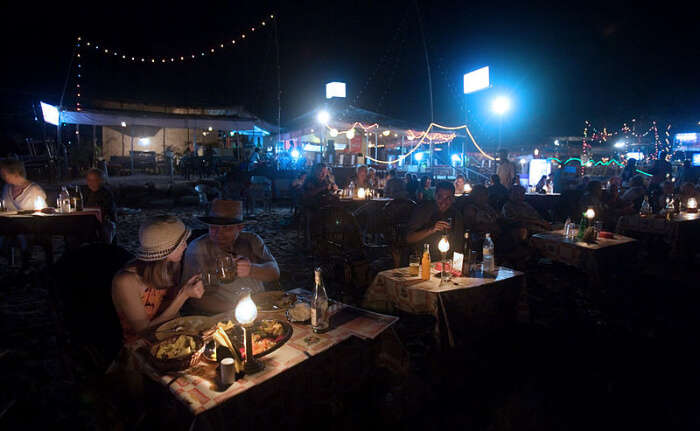 For the couples who consider themselves die-hard foodies at heart, must visit Arawak Cay during their honeymoon in Bahamas. Serving one of the most authentic dishes like that of Bahamian conch salad, Arawak Cay is much famed as "the Fish Fry" by the locals as the places is popular for its eateries and also happens to be the place where the Junkanoo Summer Festival.
3. Duty-free Shopping At Nassau Straw Market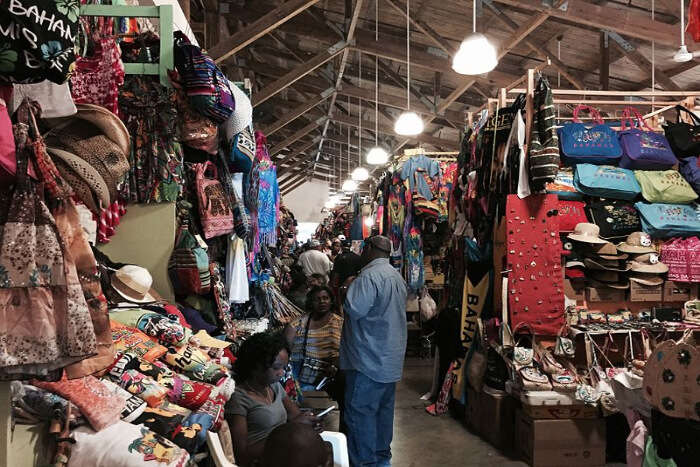 For couples who're looking forward to splurge on shopping therapy, Nassau's Bay Street area is the place to be. From art galleries, and crafts shops, to shopping for souvenirs, perfumes, electronics, and that much needed bling, duty-free shopping is a major crowd puller at Nassau Island.
Romantic Things To Do In Paradise Island
1. Try Your Luck At Atlantis Casino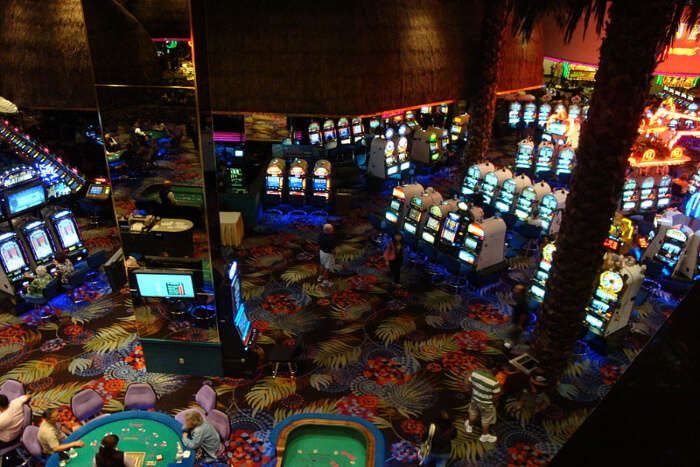 The majestic Atlantis Casino in Bahamas is where the grandeur of Dubai meets the most classy beaches of Bahamas. Spread over a lagoon of about 7 acres, the Atlantis Casino in Bahamas is an architectural masterpiece. At Atlantis Casino, one not only gets complementary gaming lessons, but also gets access to about 85 table games that include Texas Hold'em poker, baccarat, roulette & blackjack, craps, high roller, and many more.
2. Have Fun At The Aquaventure Water Park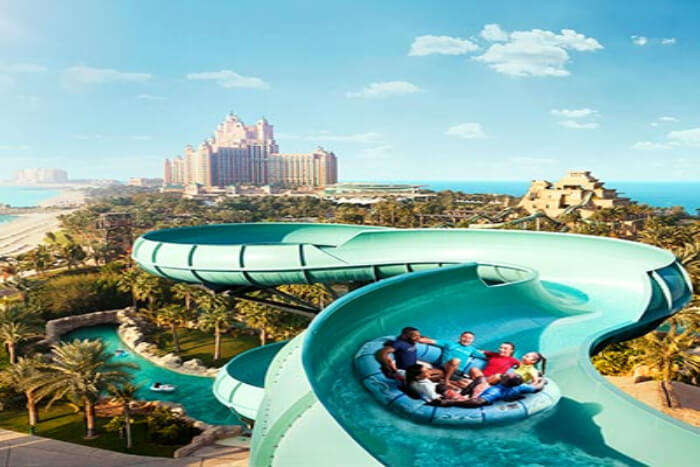 A unique waterscape built on an area of more than 141 acres, the ultimate adventureland of Aquaventure offers non-stop action for every kind of traveler. Featuring around 20 swimming areas, rising towers based on Atlantean themes, river rides with rolling rapids, thrilling water slides, 11 one-of-a-kind swimming pools, and much more, Aquaventure has a lot more surprises for honeymooners as well.
3. Feel Pampered At Mandara Spa
The best of all therapies for a couple to experience is that of a rejuvenating spa, especially on a honeymoon. Offering the ultimate reviving experience to couples, it is a must to indulge in the Asian techniques, authentic European therapies, and traditional treatments at Mandara Spa during Bahamas honeymoon.
Romantic Things To Do In Grand Bahama Island
1. Romance At The Garden of the Groves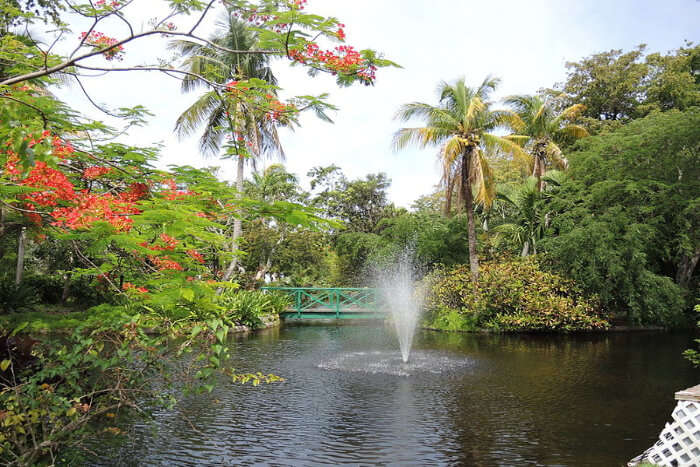 Nature lovers are sure to fall in love with this safe haven for migratory birds & butterflies. For those who want to have a quiet, peaceful, and a relaxing time with their better half, should head to explore the Garden of the Groves when in Bahamas. Open everyday from 9 am to 5 pm. Entry fee: INR 1000 per person.
2. Freeport Bonfire on the Taino Beach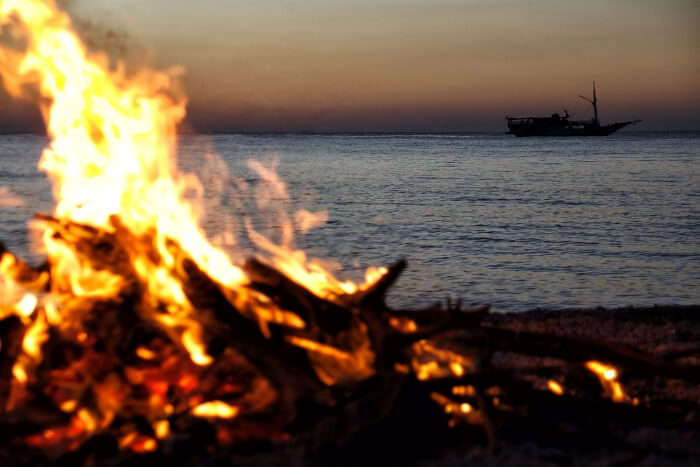 As soon as the sun goes down and the party animals come alive, you will get to witness the artistic side of Bahamas. Music is the soul of Bahamas which is best accompanied by a sunset by the Taino beach, and dancing around the bonfire that never goes out & keeps the night alive.
3. Find Solitude At The Gold Rock Beach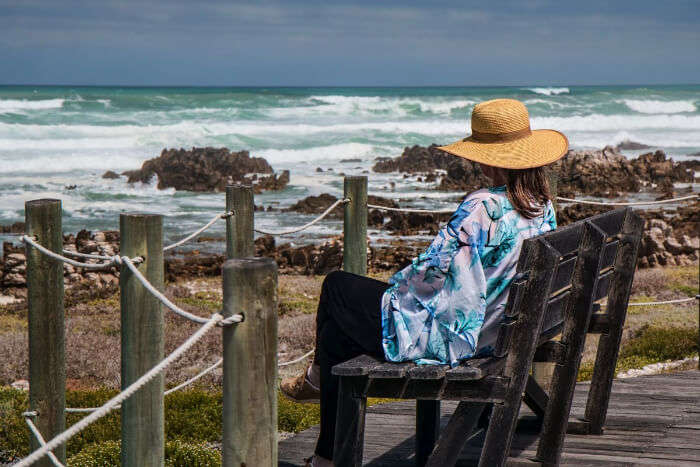 Image Courtesy: NoJennyNo.Blogspot.in
Located at a distance of about 25 miles from Freeport, Gold Rock Beach is one place that makes isolation feel so much better. Offering spectacular vistas of the great Atlantic Ocean, and a shimmering coastline, Gold Rock is one of the must visit places for couples on their honeymoon in Bahamas.
MUST EXPERIENCES IN BAHAMAS
Bahamas is filled with unique experiences but there are only a few that have the ability to touch the right cords of your heart. And to make your honeymoon more special, it is a must to enjoy the below mentioned experiences.
1. Enjoy the Bahamian Cruise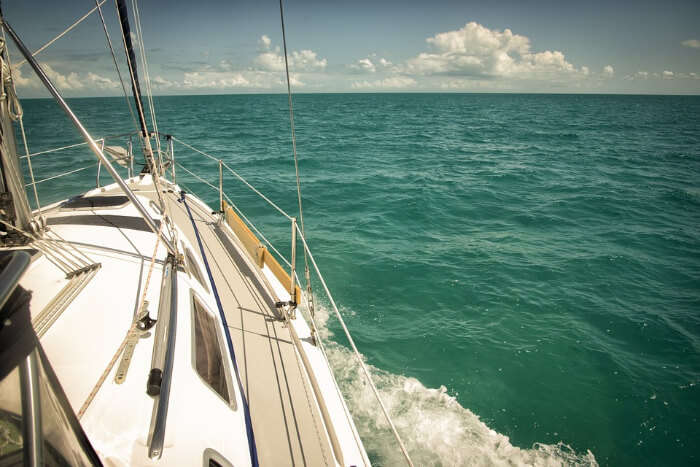 In case you haven't experienced cruise travel at its best in Bahamas with your soulmate, do not come back from your honeymoon. From the exotic Dolphin Cay to the hidden gems like Fort Fincastle, explore the best of Bahamas on the best of cruise ships like Royal Caribbean International, Norwegian Cruise Line, and more.
Suggested Read: 28 Offbeat Honeymoon Destinations In The World You'd Have Never Heard Of
---
Planning your honeymoon but confused about where to go? These honeymoon stories help you find your best honeymoon trip ever!
Real honeymooners. Real stays. Real opinions to help you make the right choice.
---
2. Beach Party & Snorkel Cruise At Grand Bahama Island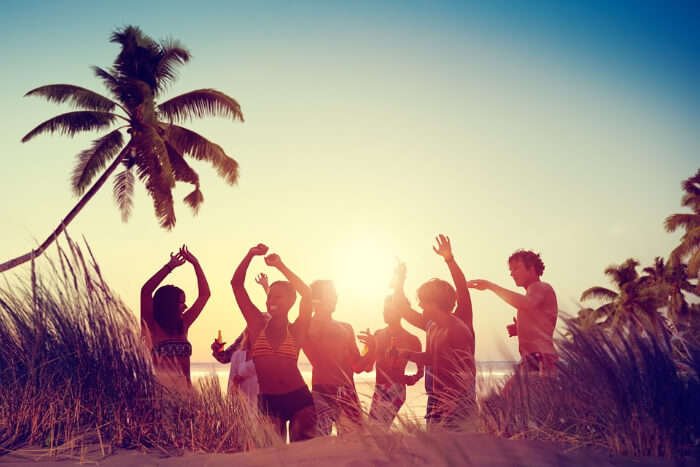 Board the catamaran cruises, dive into the shallow reefs, discover the paradise underwater, and come alive with one of the best beach parties in Grand Bahama Island. Encounter numerous tropical fishes like that of sand dollars, starfishes, along with turtles and octopuses. Later in the evening, sip on a Bahama Mama rum cocktail, and witness the mesmerizing views of the blue hues as the sun goes down.
3. The Best Of Watersports At The Out Islands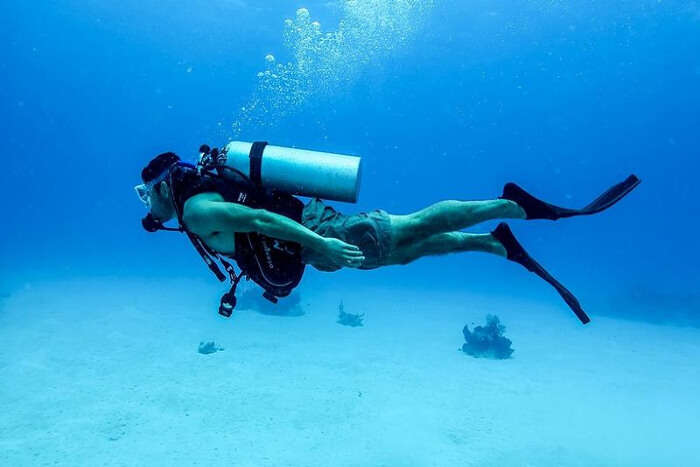 We need not say much on how spectacular and unspoilt are the Bahamian Out Islands. Whether you go as an adventure enthusiast or to celebrate a tropical honeymoon, the Out Islands will serve you just right. Enjoy snorkeling and swimming with the Dolphins in Bimini, dive deep into the blue holes of Andros, cruise the turquoise waters of Sea of Abaco, relish every bit of kayaking in the Harbour Island, and much more.
HONEYMOON HOTELS & RESORTS
Bahamas honeymoon hotels never fall short of romance and environs that are filled with love, and luxury. Though there are plenty of honeymoon hotels in Bahamas, we've picked the best and the most romantic honeymoon hotels that will never fail to add charm to your entire honeymoon experience.
1. One & Only Ocean Club, Paradise Island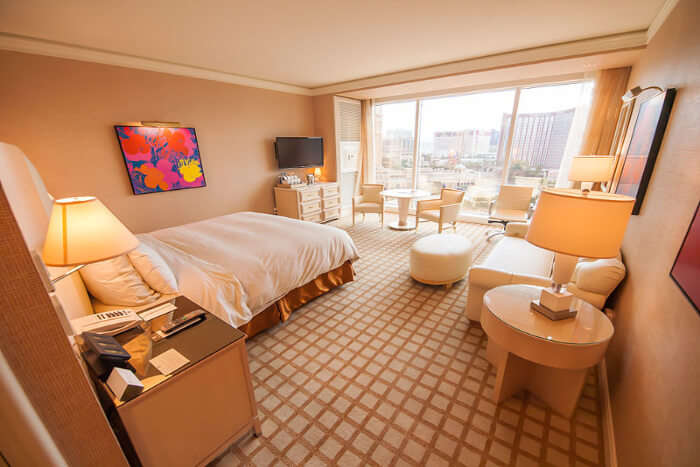 True to its name and the name of its location, One&Only Ocean Club is the honeymooners one & only choice in an island that is nothing less than a paradise. Built on a theme based on the colonial era, One&Only Ocean Club is by far the most luxurious and elegant resorts in Bahamas.
What's Special: Close proximity to the beach, world-class golf facility, 8 luxurious private villas for spa treatment, and lush gardens that connects the hotel to the sea.
Address: One Casino Drive, Paradise Island, Bahamas
Price/Night: INR 66,815 (double-sharing basis & tax excluded for a standard room booked 45 days in advance)
Google Ratings: 4.5/5
Website | Reviews
2. Sandals Royal Bahamian Spa Resort, Nassau Island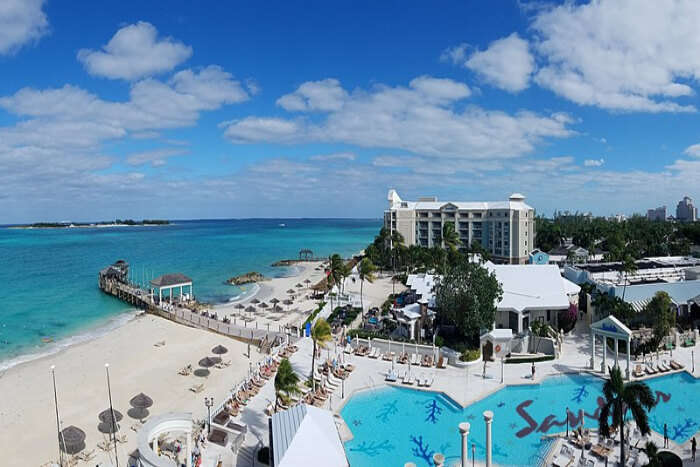 One of the best hotels for the party animals, Sandals Royal Bahamian Spa Resort is home to one of the best night-clubs in the Bahamas. Showcasing its European architecture, this Bahamian resort assures the honeymooners of the best off-shore adventures and a luxurious stay, right by the beach.
What's Special: An exclusive island resort, two secluded beaches, dedicated beach to watersports, and a promised paradise.
Address: West Bay Street, Cable Beach, Nassau Island, Bahamas
Price/Night: INR 34,000 (double-sharing basis & tax excluded for a standard room booked 45 days in advance)
Google Ratings: 4.1/5
Website | Reviews
Suggested Read: The Most Romantic Honeymoon Suites In The World
3. Paradise Harbour Club & Marina, Paradise Island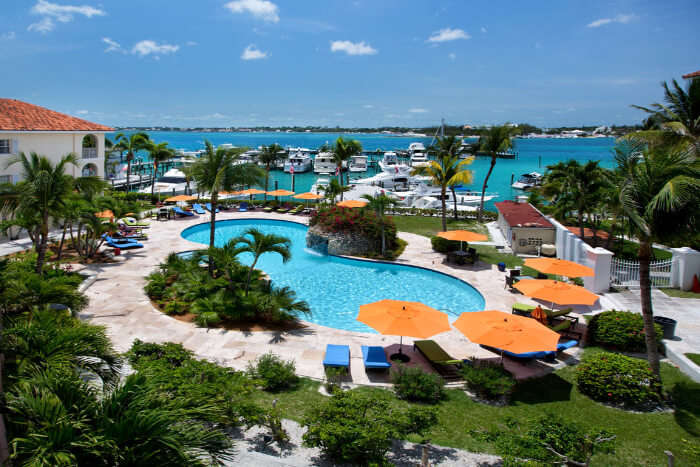 Serving as a perfect getaway to Bahamas for honeymoon, Paradise Harbour Club & Marina is an elegant hotel that is surrounded by exotic beaches. For those who're looking forward to escape the crowd, can relax in the peaceful environs of Paradise Harbour Club & Marina.
What's Special: Close proximity to the Cabbage Beach, a large kidney-sized pool inclusive of an 8 seater hot tub, and a romantic waterfall grotto.
Address: Paradise Island Drive, Paradise Island Bridge, Southbound Road, Paradise Island, Bahamas
Price/Night: INR 14,000 (double-sharing basis & tax excluded for a standard room booked 45 days in advance)
Google Ratings: 4/5
Website | Reviews
WHERE TO EAT
1. Rock House Restaurant, Harbour Island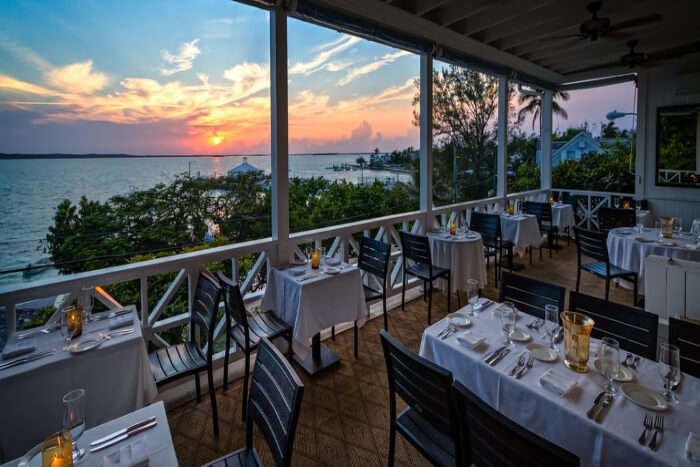 Located within the premises of the Rock House Hotel, Rock House is an extremely romantic restaurant wherein dining with your better half is a must. Built in a style based on British Colonial architecture, the restaurant is much famed for its authentic cuisines and outstanding wine collection.
Must Try: Junkanoo Capellini, and Roasted Bahamian Lobster Tail
Address: Bay Street, Dunmore Town, The Bahamas
Timings: Tuesdays to Sundays – Lunch: 12 noon to 2 pm & Dinner: 6.30 pm to 9 pm; Mondays Closed
Cuisine: Seafood, and Caribbean
Google Ratings: 4,7/5
Average Meal For Two: NA
Website | Reviews
2. Café Matisse, Nassau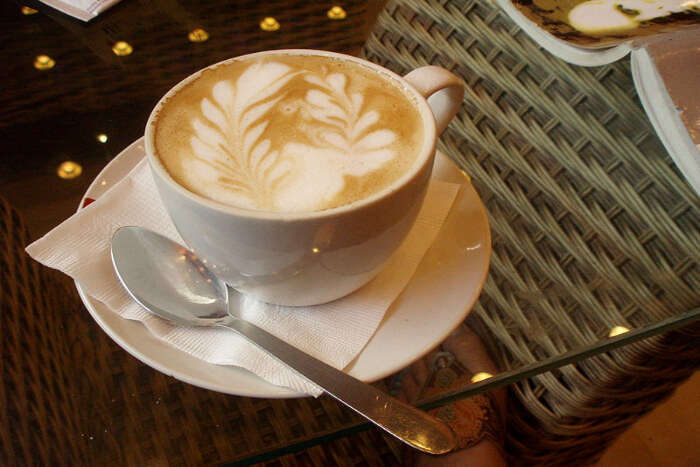 It is a strict no-no to come back from your Bahamas honeymoon without relishing the traditional Italian cuisines at Café Matisse. Located in the heart of Nassau, the restaurant has clean and green environs which makes it for a perfect setting and atmosphere for a romantic date night on your honeymoon.
Must Try: Beef Carpaccio Caesar, Champagne Risotto, and Creme Brûlée
Address: Bank Lane, Nassau, The Bahamas
Timings: Wednesday: 6 pm to 11 pm; Tuesday & Thursday to Saturday: 12 noon to 3 pm & 6 pm to 11 pm; Closed on Sunday & Monday
Cuisine: Italian
Google Ratings: 4.9/5
Average Meal For Two (Without Alcohol): Starts from INR 1,650 (tax excluded)
Website | Reviews
Suggested Read: Things You Ought To Know Before Traveling #PackingHacksIncluded
3. Dune, Nassau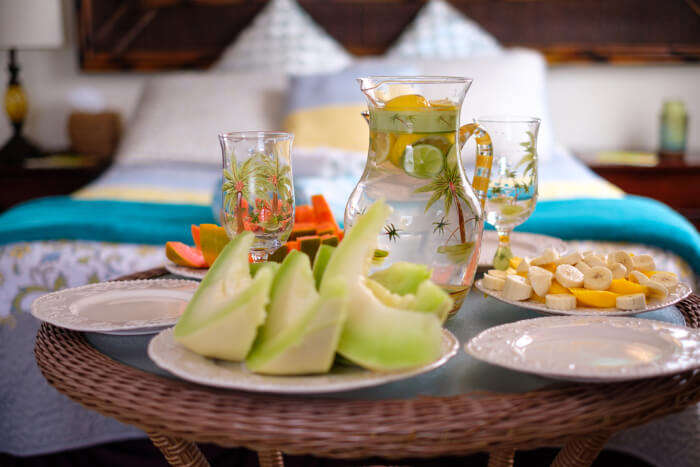 Offering breathtaking views of the Atlantic Ocean, Dune is the brainchild of the world-famous Chef Jean-Georges Vongerichten. Being a major highlight of the Ocean Club in Nassau, be assured of unexpected surprises that will fill your mouth and stomach with fusion food of French & Asian cuisines comprising of Bahamian influences.
Must Try: The Traditional Conch Salad, and Crispy Salmon Sushi
Address: One&Only Ocean Club, Nassau, New Providence Island, The Bahamas
Timings: 7 am to 11 am, 12 noon to 3 pm, and 6 pm to 10.30 pm
Cuisine: French, Caribbean, & Asian
Google Ratings: 4.8/5
Average Meal For Two (With Wine): INR 3,500 (tax excluded)
Website | Reviews
GETTING AROUND BAHAMAS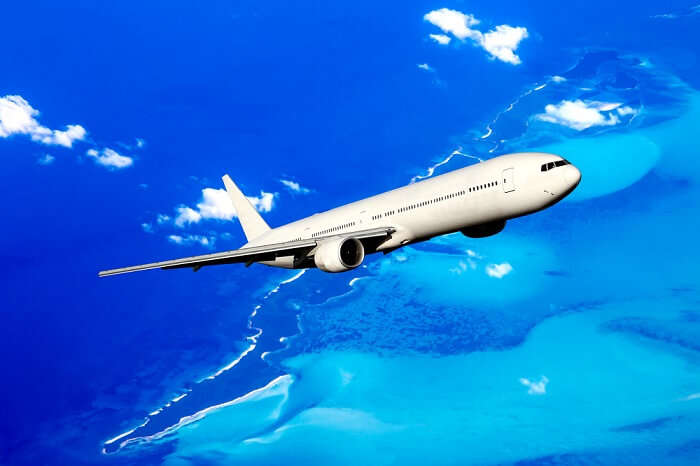 Though it is upto a couple's choices to opt for private transport, most of the couples can and do opt for public transports to explore the Bahamas like a local.
1. Flights
The Bahamasair offers services to about 19 airports located across 12 islands of the Bahamas. All the main islands can be reached via flight if budget is not a constraint for couples on their honeymoon in Bahamas.
2. Rent A Car/Scooter
For those who would love to explore a little farther than their island and resorts, renting a car would help for sure but surely at a higher price than what costs for a scooter.
3. Minibus
Traveling by the minibus is the cheapest mode of transport in the Bahamas. Much famed as the Jitneys, which means minibuses, tickets per person on a jitney would cost around INR 130 for one way.
4. Water Taxis
Most of the islands can be reached via ferry services or the water taxis. Mainly functioning between the Nassau and the Paradise Island, these ferries leave from the famous Nassau Downtown Wharf. Tickets per person for a round trip will cost INR 520.
5. Chartered Boat
Referring to the air-conditioned catamaran cruises, couple can choose to get transferred from the main island of Nassau to other islands at a higher cost. Much famed as the Bahamas Ferries, tickets per person for a round trip will cost INR 10,500.
TIPS TO TAKE AWAY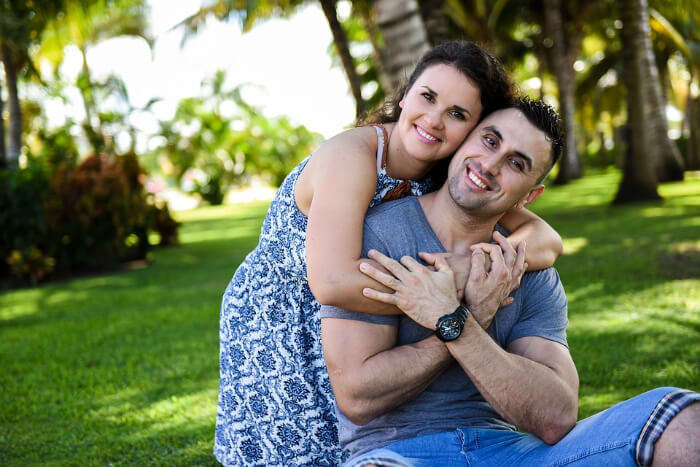 Always carry extra cash with you while traveling to Bahamas.
Kindly carry two copies of your return tickets, and make sure your passport is valid for about six months post the departure date from the Bahamas.
While dining in any of the restaurants or cafes, do try the local rum cocktail of Bahama Mamas.
Alcohol tends to be much more expensive in Bahamas than anywhere else. For those who like beer, can choose to drink either rum or local beer brands like that of Sands and Kalik.
Camping on beaches is a great money-saving option. It costs around INR 650 to INR 700 per person per night.
Though the weather is not suitable during the off-season, travelers can still avail more than 30% of discounts, offer, and promotions on hotels, transportation, etc.
Do not forget to relish the tradition fish fry, Bahamian macaroni and cheese, and potato salad.
If you happen to visit the Bahamas during the months of December to January, then do not miss out on the Junkanoo Festival.
While driving, keep your vehicle to the left side of the road as per the rule.
People in Bahamas speak your language. English is spoken and understood by almost all the people.
Further Read: 11 Sparkling Places That Appear To Be From Another World But Are Actually On Earth
Can't wait to kick-start your married life? Make sure you include few of the above mentioned places to visit and things to do in your itinerary to taste the essence of the real Bahamian culture.If you want to plan your international honeymoon trip? let our trip specialist help you plan your bahamas trip with ease.
Disclaimer: Some images are for representation purposes only. TravelTriangle claims no credit for images featured on our blog site unless otherwise noted. All visual content is copyrighted to its respectful owners. We try to link back to original sources whenever possible. If you own the rights to any of the images, and do not wish them to appear on TravelTriangle, please contact us and they will be promptly removed. We believe in providing proper attribution to the original author, artist or photographer.
Please Note: Any information published by TravelTriangle in any form of content is not intended to be a substitute for any kind of medical advice, and one must not take any action before consulting a professional medical expert of their own choice.
Frequently Asked Questions About Bahamas Honeymoon
How much is a honeymoon in the Bahamas?
A honeymoon trip to the Bahamas will vary based on your taste and budget which also decides the cost. Take an Airbnb for $80-100 a night to go cheaper but for your honeymoon, you will want something nicer.
What should I pack for my honeymoon to the Bahamas?
Bahamas is a tropical destination and people can carry things like a 3-5 pair of socks, tank tops, casual pants, shorts, capris and skirts. For walking carry a pair of slip-ons.
Is the Bahamas expensive?
The Bahamas is the third most expensive country in the world to live, according to Numbeo's annual cost of living survey. Starting from the accommodations to the markets and food, everything is quite expensive.
Is The Bahamas safe?
Bahamas is considered to be a safe island to visit, but it has 700 other islands and the rate of crime cannot be measured accordingly.
Is Bahamas good for honeymoon?
Bahamas is quite a nice place to visit where couples can get a lot of options to spend a romantic vacation. Alongside that there are casinos and an extravagant nightlife.
What is the safest Caribbean island?
Some of the safest Caribbean islands are the British Virgin Islands, The Cayman Islands, Bonaire, Antigua, and the Turks and Caicos.
Is Bahamas part of USA?
No, despite their proximity to the US, the Bahamian dollar being on par with the US Bahamas is considered to be the part of the North American Plan.
---
Looking To Book Your Honeymoon Package?
Book memorable honeymoon on TravelTriangle with 650+ verified travel agents for 65+ domestic and international destinations.
---
People Also Read:
Caribbean Honeymoon Honeymoon In Jamaica Bora Bora Honeymoon
Comments
comments