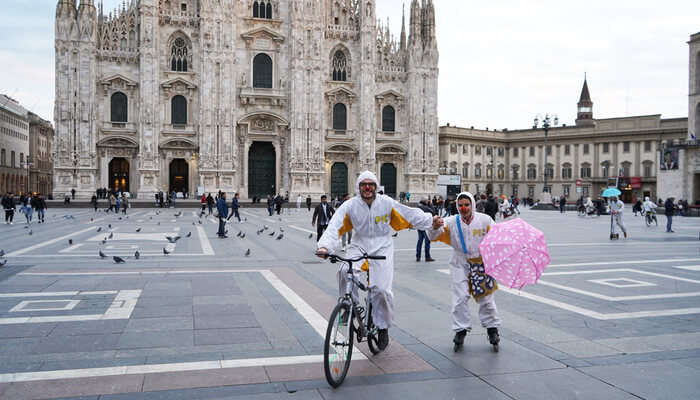 As India is grappling with the fear of coronavirus, it is important to remain inspired by the acts of the undying human spirit that have been displayed by other virus stricken countries. With doctors dancing to remain lively and the locked-down people of Italy taking the help of music to keep cherry, let's take a look some of the inspiring stories that have come out in these adverse times. Read on!
1. The Balcony Musicians Of Italy:
This is why so many people through many centuries fall in love with Italy

A video montage of Italians all over Italia from north to south to central to the islands — all signing together during the Italy Lockdown is a kind of triumph of spirit, a love in the time of coronavirus pic.twitter.com/XqoLsGMoIV

— (self isolating) romepix (@romepix) March 14, 2020

Quarantined during the coronavirus outbreak in the country, many Italians took to creating music from their balconies. The Ministry of Health & Family Welfare recently posted a video on YouTube to inspire the people of India to remain calm and happy in these trying times. This small act of spirit has inspired people from across the globe. Swayed by this, famous musician Bono wrote a song on St. Patrick's Day, dedicating to people locked under quarantine 'Sing Across Rooftops'.
2. The Dancing Doctors Of Iran
چالش رقص پرستاران و پزشکان بهترین اتفاق این روزهای سیاه است، بیش باد. pic.twitter.com/4p7mXnlx1C

— رضا حقيقت‌نژاد (@rezahn56) March 3, 2020
Iranian nurses dancing, trying to keep their spirits high in the middle of corona virus outbreak in Iran. That's really impressive! pic.twitter.com/tp0V7pyvqj

— Meisam Booshehri (@MeisamBooshehri) March 3, 2020

Recently footage of health professionals from Iran, dancing to lift spirits have become viral on social media. The video montage can also be found on the YouTube channel of the Ministry of Health & Family Welfare of India. The outbreak has claimed the lives of more than 100 since in Iran and the doctors and nurses have been working day in and day out to contain the spread.
3. China Lends Helping Hand To Italy
A batch of medical supplies have arrived in Belgium; 1.8 million masks and 100,000 reagents are on the way. The supplies will then be delivered to Italy & Spain and to the frontline. pic.twitter.com/AZJLz4G6A6

— Hua Chunying 华春莹 (@SpokespersonCHN) March 11, 2020

In another act of solidarity, China sends their health professionals and supplies to Italy to help the country tackle the rampant spread of the virus. While China has been able to contain the disease so far, many other nations are still grappling with the contagion. And according to data, Italy is the second most affected country after China.
So, while it is imperative to be safe and follow very safety instructions laid out by health organizations, panic is one thing that we must never give into. Get your dose of inspiration from these stories, after all, we're all in this together.
Get daily updates on all coronavirus related news here.
Disclaimer: TravelTriangle claims no credit for images and videos featured on this blog post. We are grateful for the footage posted on the twitter accounts of @romepix, @rezahn56, @MeisamBooshehri and @SpokespersonCHN who's posts have been embedded here. However, if you do not wish them to appear on the article kindly contact us and we will remove them promptly. We believe in providing proper attribution to the original author, artist or photographer.