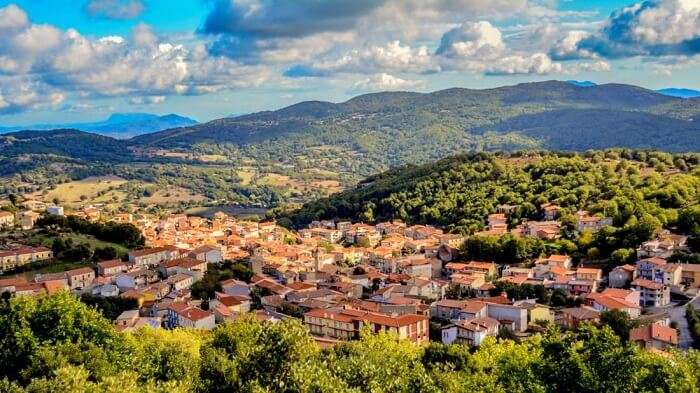 Do you dream of owning a pretty home in a rustic Italian village? You can now make those dreams come true! Located in the mountain region of Barbagia on the Mediterranean island of Sardinia, Ollolai is a small Italian village that is selling hundreds of abandoned homes for just €1 (INR 80/- or $1.2).
Though it isn't the first Italian town to try the gimmick, it definitely is the first to live up to the promise. And the best part – It's also got that beauty and history that travelers associate the country of Italy with, something that is needed to draw people in.

However, it all comes with a catch – This real estate bonanza of over 200 stone-built dwellings are in poor condition and buyers are required to commit to a refurbishment within three years, which, in turn, will easily cost about $25,000 (16 lacs).
The Reason For The Sell-Off Plan
A destination lost in time, Ollolai is at a risk of becoming a ghost town. The plan was initiated to revive the community, repopulate the town, and preserve their culture. In the past 50 years, Ollolai's population has shrunk from 2,250 to 1,300, with very few babies being born each year.

Once buzzing with activity, this untouched part of Sardinia now lies silent, as its younger residents have moved away to bigger cities for prospects of better jobs and better lives. Covered in cobwebs, Ollolai's stone dwellings, maze of alleys, and mural-covered piazzas now lie in ruins.
"We boast prehistoric origins. My crusade is to rescue our unique traditions from falling into oblivion," said Efisio Arbau, Ollolai's mayor when asked about the rejuvenation plan. "Pride in our past is our strength. We've always been tough people and won't allow our town to die. We once had a fiery king, Dux Ospitone, who united all heathen tribes in a league," he added, stressing on how this city, named out of an ancient battle cry of "alalé", is fighting once again. "These hills are Italy's 'Highlands' and we are sons of 'Bravehearts'."

He hopes the refurbishment plan, if successful, will help create new jobs and revive the local economy, other than breathing life back into this currently solemn town.
The remaining residents, too, haven't lost hope of retaining the town to its former glory. Traditional ways of life still survive. Local shepherds still make the exquisite premium sheep cheese – Casu Fiore Sardo, and artisans still weave fine baskets.
The Initiative

In a bid to breathe new life into this once frivolous town, Arbau had taken some major steps:
He contacted Ollolai's former house owners, which included shepherds, farmers and craftsmen, asking them to sign their homes over to town authorities.
He approved a special decree and put the properties on the market at bargain prices.
He has put 200 homes on the market for just one euro.
The Progress

Three houses have already been sold despite the poor conditions and Arbau has received purchase requests from more than 100 interested parties from across the world, including Russia and Australia.
One of the buyers, Vito Casula, a retired builder, has already snapped up here a two-story house for less than the cost of a cappuccino. He has transformed his new home only by using environmentally friendly materials and recycling old furniture, while keeping the original decor intact at the same time.

"We live nearby and frequently visited Ollolai. Then one day my wife saw the ad in the newspaper. It was an opportunity," said Casula.
"This quiet town is frozen in time. It offers a peaceful, healthy life," he added, while recommending the village to anyone who "is sick with too much stress and needs a break. The fresh air, zero smog and great views have a healing power. My bones and back don't hurt anymore."
What The Location Offers

"They're picturesque old buildings made with Sardinia's typical gray granite rock that grows on mountain peaks and shores," says Arbau while describing the town's top selling points and what's drawing people here.
The town has a relaxing vibe and friendly locals who will make you feel at home.
Ollolai is known among travelers for its unique and delicious cuisine including the finest of wine, ham, sheep cheese, and many more delicacies.
The town's carnival is a sight for sore eyes – parades, music, and bright costumes.
The sunny retreat offers great views from its 1,200-meter-high peak Nodu de S'Aschisorgu (Treasure Rock)
Ollolai is surrounded by beautiful lakes, rivers, protected parks, oak and beech tree forests, and the shimmering seas.
Nearby are the breathtaking cliffs of Cala Gonone that have breathtaking sea grottoes perfect for snorkeling and scuba diving.
In addition, Arbau is introducing activities like cheese, pasta, and basket making courses.
How To Book A Home In Ollolai
All proposals, complete with the required documents of the interested person, must reach the Municipality of Ollolai before 7th February 2018, the last date of the scheme. You can either send your details at protocollo.ollolai@pec.it, or write to them at case1euro.ollolai@gmail.com. Hurry!
Though interest in the town is growing rapidly and the locals are really excited, only time will tell if the town's efforts and the mayor's gamble have paid off. But what about you? Would you fancy a life in this rustic old village in Italy with great people, views, food, and charm, all for an amount as low as 80 rupees? Let us know in the comments below.