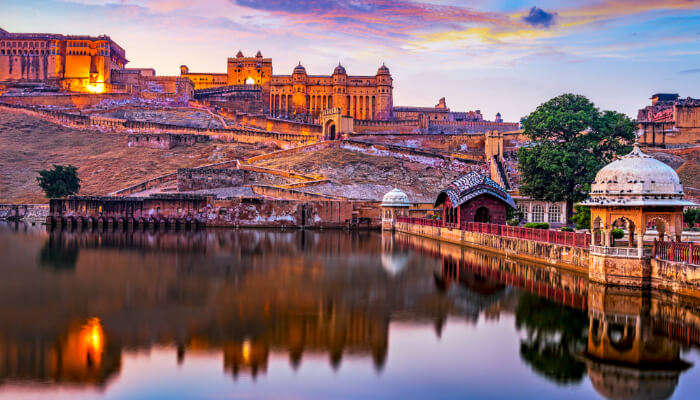 The 43rd session of the World Heritage Committee that took place in Baku, Azerbaijan from 30th June to 10th July deemed a huge success for India as another of its city made it to the UNESCO World Heritage List. Can you guess which one? The walled city of Jaipur got this honor as it got inscribed as a UNESCO World Heritage Site. Jaipur makes it to the UNESCO World Heritage Site list and is the second Indian city to do so after Ahmedabad which was the first one to win this status.
PM Narendra Modi was quite delighted with the news and tweeted, "Jaipur is a city associated with culture and valour. Elegant and energetic, Jaipur's hospitality draws people from all over. Glad that this city has been inscribed as a World Heritage Site by @UNESCO."
The World Heritage Committee has representatives of 21 States Parties to the World Heritage Convention and the meet is held annually. ICOMOS (The International Council on Monuments and Sites) inspected the 'Pink City' in 2018 after it was nominated and chosen in 43rd session of the World Heritage Committee. The six other sites that were bestowed with this honour are Dilmun Burial Mounds (Bahrain), Megalithic Jar Sites in Xiengkhouang — Plain of Jars (Lao People's Democratic Republic), Budj Bim Cultural Landscape (Australia), Mozu-Furuichi Kofun Group: Mounded Tombs of Ancient Japan (Japan), Archaeological Ruins of Liangzhu City (China), and Ombilin Coal Mining Heritage of Sawahlunto (Indonesia).
How The Title Would Affect Jaipur
Majestic forts and palaces, colorful bazaars, and the delicious Rajasthani cuisine just begin to describe Jaipur, the capital city of Rajasthan. Founded in 1727 by Maharaj Jai Singh II, this is a popular tourist destination in India. A huge number of tourists frequent the walled city of Jaipur each year and this honor of being a UNESCO World Heritage Site bestowed upon the city would make a number of people visit the place leading to a boost in the local economy. The title would also help an international presence and name for the city of Jaipur. Other than Jaipur, other cities of Rajasthan will benefit too as tourism wouldn't just improve for Jaipur alone but other places like Udaipur, Jodhpur, Jaisalmer, and Ranthambore.
This achievement of being selected as the UNESCO site will also help in receiving more funds for cultural initiatives and conservation projects. Being a heritage site comes with its own set of responsibilities, obligations, and restrictions in terms of infrastructure and construction and probably it would be a boon than bane for the capital city of Jaipur.
So, what are you waiting for? If you haven't already visited Jaipur, this gives a reason all the more! Plan a trip to Jaipur with TravelTriangle and have an amazing time visiting the royal palaces and grand forts. Also, spread the word of this glorious achievement!
Frequently Asked Questions About Jaipur Makes It To The UNESCO World Heritage Site List
Is Jaipur a UNESCO World Heritage Site?
Yes, Jaipur made it UNESCO World Heritage Site list in the 43rd session of the World Heritage Committee which was held from 30 June to 10 July 2019.
What is the specialty of Jaipur?
Jaipur is famous because it is the capital of Rajasthan and is blessed with rich traditions in the form of forts and sites. Being one of the initially planned cities of the nation, this city has played a significant role in history.
Is Jaipur is favourable for vacations?
Yes, Jaipur is the perfect spot to spend your vacations amidst the royal palaces, enriched with the culture of Rajasthani people. A trip to Jaipur will enrich your experience of travelling.
Which is the best time to visit Jaipur?
In the winter season, October to March are favourable months for visiting the city, and in the summer season, April to June is a perfect time.
What makes Jaipur a perfect place to visit?
With royalty as the essence of its existence, Jaipur is well known amongst visitors in India because of the undying illustrious vibes that are an incredible piece of its reality. Among the significant features of Jaipur: many fort and palaces there fascinate people.
What are some of the best places to visit in Jaipur?
Amer Fort and the Royal Palace are the center of attraction in Jaipur. The boggling creation from the red sandstone and white marble adds to the superbness of this spot.
Is Jaipur is family-friendly?
This place is a perfect place for a family vacation. The entire city has spots where the family can visit and have a great time together.
What are some constraints which you will have to follow in Jaipur?
There is no such constraint that needs to be followed by any of the citizens or visitors. At some heritage sites, you need to follow some guidelines, it is to keep the ancient monuments safe.
What about the safety of tourists in Jaipur?
Being a tourist spot, there is no such threat of safety here. You have to remain careful with fake guides and agents who demand money from you.