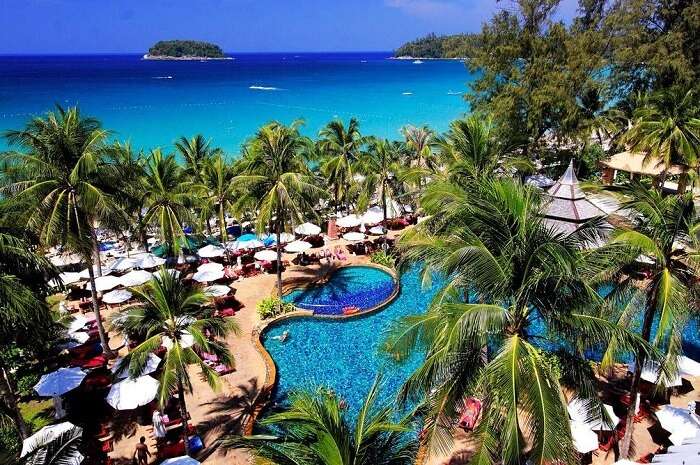 Overview
Making the right choice of lodging remains one of the most important concerns and aspects for a successful vacation. The Kata Beach resort has the best packages that offer great services ensuring amazing vacations.The Kata Beach resort provides access to beautiful accommodations at exquisite locations that cater all the expectations in wonderful ways. These resorts offer all the basic facilities like gorgeously designed rooms and suites, Wi-Fi connectivity, entertainment, fun activities, exclusive dining options etc managed with utmost care and commitment. The pools, spa centers and fun zones inside their premises have the capability of lightening up the day. Relax, refresh, rejuvenate and energize from the tiring and strenuous daily life. Become a fan of their high standard and professional hospitality and care. Spend some days at the Kata Beach resort amidst beautiful locations and enjoy the facilities, services, and experiences provided by these resorts to enjoy the vacation in every possible way.
Special Experiences
The Kata Beach resort, Phuket provide some special services that ensure a lavish, grand and memorable stay for their guests. The Shore At Katathani resort has a beautiful infinity pool and offers yoga classes and aqua aerobics. Beyond Resort Kata provides an airport shuttle service for the feasibility of its customers. Katathani Phuket Beachfront Resort also provides an airport shuttle service and has the provision for activities from sports to cultural classes. Fitness and business centers have also been made available at many of these resorts for the convenience of the customers. Experience these special offers at the Kata Beach resort and feel delighted at the warm reception that they offer.
Facilities
The facilities at the Kata Beach resort are worth paying attention to. Stay inside the fantastically designed rooms and suites of these resorts that stand up to the standards and expectations kept from them. All the resorts provide Wi-Fi connectivity, flat screen TVs, room service, mini bars etc. Parking facility is provided free of cost. Relax at the spa and massage centers available at most of the resorts. These resorts also have some amazing dining options to satisfy the foodie inside all travelers. The Shore At Katathani resort has a bi-level villa and its luxurious 1 or 2 bedroom villas also have private pools, sundecks, and separate living and dining areas. مباريات اليورو 2024 Katathani Phuket Beachfront Resort offers hot tubs and 24/7 room service for its guests. The well-managed facilities provided at the Kata Beach resorts suffice to please the hearts of their customers and meet out their expectations.
Dining
The Kata Beach resort offers some attractive and refined dining options that take care of the appetite of their guests while keeping both the quality and quantity in their minds. Beyond Resort Kata offers a free breakfast buffet. It has an airy café with wooden ceilings along with beach and poolside bars. The resort also offers cooking lessons. Katathani Phuket Beachfront Resort has 6 dining options and 6 bars including some open-air restaurants and an Italian eatery. ون كارد The Shore At Katathani resort serves complimentary breakfast in a relaxed restaurant offering international cuisine. The highly skilled, trained and professional staff and management of the Kata Beach resort put in their best efforts to provide their customers with the best possible hospitality and services.
FAQs
Q1. Do these resorts allow pets inside their premises?
A. Most of the resorts in this area are not pet-friendly. It is advised not to bring pets along without confirmation.
Q2. Is there breakfast buffet at any of these resorts?
A. Yes, some of the resorts do serve a breakfast buffet for their guests which is chargeable in a few cases.
Q3. Do we need to separately pay for the Wi-Fi services?
A. Many of these resorts do not charge for the Wi-Fi connectivity service separately.
Q4. Is the room service to be separately paid for?
A. No, room service is usually complimentary. It is still suggested to confirm before finalizing any of the resorts. مكان يورو 2024
Q5. Do the resorts provide bike or car rentals?
A. Yes, some of these resorts do offer bike rentals.
Every Kata Beach resort is available as the ideal lodgings to stay during a vacation. Spend a few days of relaxation, enjoyment, comfort, pleasure, and luxury at these resorts that are maintained by a staff and management that is ever ready to serve the travelers for the best. Nearly all the refined resorts like The Shore At Katathani resort, Beyond Resort Kata, Katathani Phuket Beachfront Resort etc provides a wheelchair accessible entrance for the comfort of their customers. Come and live some memorable days of the vacation at the Kata Beach Resorts and transform them into the joys of a lifetime.