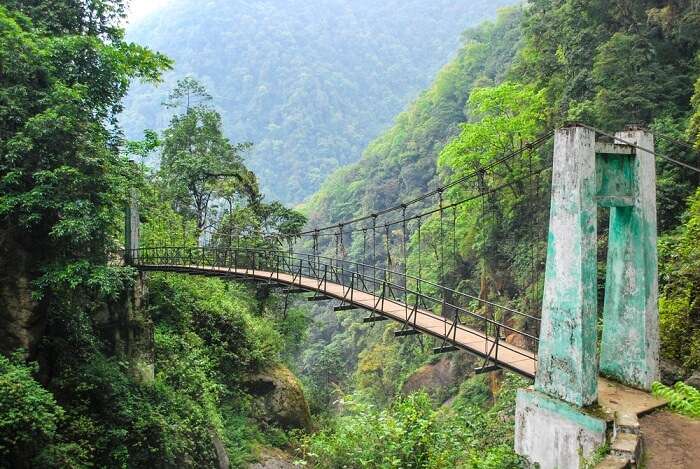 Khangchendzonga National Park of Sikkim, India, also popularly known as Kanchenjunga National Park was declared as a UNESCO's World Heritage Site on Mixed criteria by the 40th World Heritage Committee in 2016, recognizing its significant natural and cultural heritage.
Beautifully nestled in the heart of the Himalayan Range, this park has rich biodiversity and over 19 mountain peaks including the majestic Mt. Khangchendzonga (also called Kanchenjunga) towering at a height of 8,586 metres making it the third highest in the world. Kanchenjunga National Park, is also a biosphere reserve called Kanchenjunga Biosphere Reserve. The national park of Sikkim got its name from the mountain Khangchendzonga as it has a religious connotation and thus, deeply revered by the local people.
Why Mt. Khangchendzonga Is Known As The "Abode of the Gods"?
Khangchendzonga literally means the "abode of the Gods". This park is the sanctum sanctorum for the Buddhists. The legend says religious masters have hidden holy texts and treatises across the park, which are destined to be discovered by treasure revealers from all the sacred spots. Sikkimese people worship Khangchendzonga as their Guardian Deity whose divine grace on the land ensures peace and prosperity, offerings are made to this sacred presence, ceremonies are carried out in his name and dances are dedicated to him. One of the famous festivals of Sikkim, Pang Lhabsol, is a thanksgiving celebration in honour of the presiding deity – Khangchendzonga.
Khangchendzonga National Park Basic Information
AREA: 1784 Sq km2
LOCATION: Sikkim, India.
ELEVATION: 1,829 metres to over 8,586 metres
LATITUDE: 27.6672° N | LONGITUDE: 88.3246° E
GEOGRAPHY: Situated in the northern and western districts of Sikkim, Khangchendzonga National Park adjoins the Qomolangma National Nature Preserve in Tibet in North, and Kanchenjunga Conservation Area in Nepal in the west. This park is home to about 18 glaciers including the magnificent Zemu glacier and has a unique diversity of plains, rivers, valleys, lakes and gorgeous snow-capped mountains covered with forests.
Climate Of Khangchendzonga National Park
The park gets heavy snowfall for most part of the year as it is located between 27° 42'0"N and 88° 08'0"E. The climate of Khangchendzonga National Park is pleasant in the summer months that are between April and May while the monsoon season begins from May extending throughout October. Khangchendzonga National Park's climate in winters is colder and easily goes below 0° C.
Best Time To Visit Khangchendzonga National Park, Sikkim
The best time to visit the Kanchenjunga national park is between the moths of April and May. Snowfall is in its full swing during the winter months and showers start to occur from May continuing till mid-October. So, it will also be a good idea to visit this fascinating Kanchenjunga National Park in the time between September to mid-December.
How To Reach Khangchendzonga National Park, Sikkim
By Air
Nearest airport is Bagdogra Airport in Darjeeling, in West Bengal, which is about 122 kms away from Gangtok, the capital of Sikkim. And distance from Gangtok to Khangchendzonga National Park is 45.9 kms. You can also hit the road to directly reach the park from Bagdogra Airport and taking a taxi may cost you around INR 3500-4000.
By Rail
Nearest railhead to Khangchendzonga National Park is in New Jalpaiguri, the Siliguri Junction which is about 120 kms from Gangtok, and which is well connected with other main cities of the country like Delhi, Kolkata and Guwahati. Distance between New Jalpaiguri to Yoksam is about 170 kms. A bus journey from Siliguri to Yuksom would only take 5 hours.
By Road
Nearest highway to Khangchendzonga National Park in Sikkim is the 92 km long National Highway 31A, which connects Sevok in Darjeeling to Gangtok. And distance from Gangtok to Khangchendzonga National Park is only 45.9 kms. The nearest town is Yuksom in the West and Chungthang in the North. The Nearest city to the Kanchenjunga National Park is Gangtok. There are regular bus services available from Gangtok to Bagdogra (4 hours ride).
Distance from Darjeeling to Khangchendzonga National Park: 66 kms
Distance from Gangtok to Khangchendzonga National Park: 45.9 kms
Distance from Yuksom to Khangchendzonga National Park: 34.3 kms
Distance from Chungthang to Khangchendzonga National Park: 32.5 kms
Distance from Lachen to Khangchendzonga National Park: 23.6 kms
Park Timings
Monday-Saturday: Open 24 hours
Sunday: Closed
Wednesday: Timings may differ
Park Entry Fees
According to the provisions of the Wildlife (Protection) Act, 1972, the Chief Wildlife Warden of the State Government grants permission to visitors looking to visit the Kanchenjunga National Park for the purpose of photography, tourism, scientific research, studying wildlife and transaction of lawful business on the payment of the following prescribed fees:
Entry Fee:
For Indian Nationals:
INR 350/- per head for the first 7 days.
INR 40/- per head-per day for additional days.
For Foreign Nationals:
INR 560/- per head for the first 7 days.
INR 80/- per head -per day for additional days.
For Students (Indian Nationals):
INR 80/- per head for the first 7 days
INR 20/- per head -per day for additional days.
For Local Guides and Porters with the Team: 10/- per head per day
Tent Pitching Charge: 50/- per tent per day
Bed Charges in Log Hut: 100/- per bed per day
Camera Operating Fee:
Still Camera: 30/-
Video Camera: 1000/-
Movie Camera: 35000/-
Expeditions to the high altitude peaks for scaling & climbing, permissions have to be taken from the Government of Sikkim.
Ideal Duration Of The Trip To Khangchendzonga National Park
An ideal duration would be 2 nights 3 days for a trip to Khangchendzonga National Park and one can also choose to travel to the beautiful places around it like Gangtok, Darjeeling, Lachen, Lachung, Kalimpong to add some more days to their itinerary.
Things To Do At The Khangchendzonga National Park
If you want to explore the wildlife of The Khangchendzonga National Park, there are a lot of things to be discovered in the national park. If you are an adventure lover, you can go trekking through wonderful trails where you will be exploring gorgeous rhododendron trees, the flowing water of Samiti lake and many more.
1.Explore Goechala
At an altitude of 4947 mts, one of the highest mountain passes located in Himalayas, Goechala is a popular option among tourists visiting Sikkim. The base is located at Yuksom, from where the trek begins. The trek is known to be a delight to eyes with gorgeous rhododendron trees, quiet peaks and flowing water of Samiti lake.
2. Khecheopalri Lake
Located in West Sikkim, around 150 kms away from Gangtok, this lake holds special significance for Buddhists and Hindus and draws thousands of pilgrims every year for Maghe Purne (March) and Chho-tsho (October). Do not forget to check out this Buddhist Pagoda near the famous Khecheopalri Lake.
3. Yuksom Valley
A serene, quiet village located on the top of Khangchendzonga National Park. It is popular, both among tourists and pilgrims. The best time to visit is from February to November. Dubdi Monastery, one of the oldest Sikkim monastery is just an hour's trek from the village.
Flora and Fauna In Khangchendzonga National Park
Established in 1977, spread over an area of 1750 sq km, Khangchendzonga National park has the advantage of being located in not so easily accessible part of Sikkim and hence is a virgin home to flora and fauna and a delight to travellers.
Flora
The flora blossoming in the national park can be divided mainly into three zones –
1.Temperate broad leaved forest (uptil 2730 mts)
This forest type is home to varieties like Quercus Lineata, Acer Campbellii and Juglans Regia.
2. Mixed coniferous forest (uptill 3650 mts)
This forest type covered by varieties like Abies Densa, Junipers and Rhododendrons.
3. Alpine scrub above (3650 mts)
This type is home to common herbs and medicinal plants like Picrorhiza and Rheum emodi.
Fauna
The area is home to diverse and some of the endangered mammal species like snow leopard, red panda (Sikkim's state animal), Blue sheep, Barking deer, Marmont monkeys, Musk deer, wild dogs and Rodents to name a few. Reptiles like rat snakes and russell's viper also inhabit the region.
Avifauna
More than 500 species and subspecies of birds can be found in Sikkim. Monal pheasants, Tragopan pheasant, osprey, Asian emerald cuckoo, sunbirds, now pigeon, Blood pheasants (state bird of Sikkim), satyr tragopan, impeyan pheasant, Tibetan snow cock, Himalayan griffon, lammergeier, forest eagle owl, falcons and Rock pigeons are just some of them. The birds fly down to lower altitude in winters as upper altitudes immerse in snow. A new species Himalayan forest thrush was found in the region in 2016 and its scientific name is Zoothera salimalii.
Khangchendzonga National Park Accommodation
The hospitality industry is still developing in Sikkim and hence the Forest Rest Houses are the best bet for the tourists. These forest rest houses at the Range office provide its visitors with comfortable accommodation facilities. Other options include home stays and decent budget hotels. The Khangchendzonga Conservation Committee, Hotel Yak, Trekkers hut, hotel 10zing, and Hotel Tashigang are some of the most cosy and popular options among tourists.
Now that you know about this magnificent Khangchendzonga National Park, make sure you include it in your visit to Sikkim. And if you are looking for a more personalised experience, plan your trip to Sikkim and enjoy a customized tour!
Disclaimer: TravelTriangle claims no credit for images featured on our blog site unless otherwise noted. All visual content is copyrighted to its respectful owners. We try to link back to original sources whenever possible. If you own the rights to any of the images, and do not wish them to appear on TravelTriangle, please contact us and they will be promptly removed. We believe in providing proper attribution to the original author, artist or photographer.
Please Note: Any information published by TravelTriangle in any form of content is not intended to be a substitute for any kind of medical advice, and one must not take any action before consulting a professional medical expert of their own choice.
Frequently Asked Questions About Khangchendzonga National Park
Where is Khangchendzonga National Park situated?
Also known as Kanchenjunga Biosphere Reserve, this national park is situated in the Indian state of Sikkim. This national park is considered to be one of the best places to visit in Sikkim.
How do I get to Khangchendzonga National Park?
Reaching Khangchendzonga National Park is not a hassle, as this tourist place located at a distance of 222 kilometers from Bagdogra airport. From there, you can easily call a cab to reach the destination. If you prefer traveling via train, then you can take the one that will make you reach at Jalpaiguri railway station, which 221 kilometers from the national park.
Has Kanchenjunga Biosphere Reserve been given UNESCO recognition?
Yes, Kanchenjunga Biosphere Reserve in Sikkim, India has been added to the UNESCO-recognized sites. Other biosphere reserves of India that have been added to this list are – Sunderban, Nanda Devi, Pachmarhi, Achanakmar-Amarkantak, Simlipal, Agasthyamala, Great Nicobar, Nilgiri, and Gulf of Mannar.
What is the best time to visit Khangchendzonga National Park?
The ideal time to visit Khangchendzonga National Park is between the time period of March and May as well as September and mid-December.
When was Khangchendzonga National Park established?
Khangchendzonga National Park was established in the year 1977 and in the year 2016 it was recorded as one of the UNESCO World Heritage Sites.
What are the opening hours of Khangchendzonga National Park?
Khangchendzonga National Park is open throughout the day and all the days of the week.
Which Biosphere Reserve in India has the highest altitude in the world?
Khangchendzonga Biosphere Reserve in the Indian state of Sikkim has the highest altitude in the world. The national park is established 1,220 metres above the sea level.
People Also Read:
Namadgi National Park Jim Corbett National Park Kui Buri National Park
Comments
comments