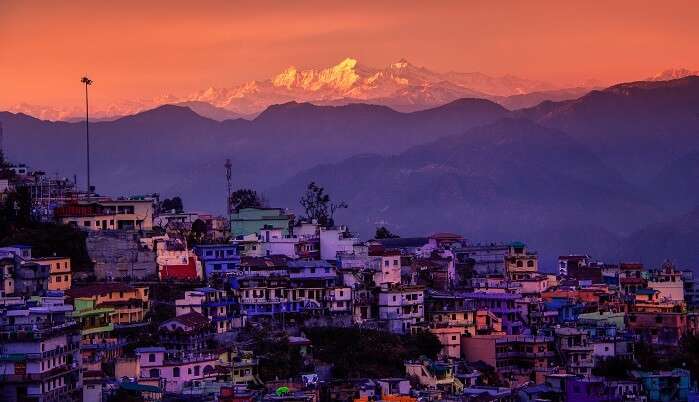 Khirsu village, a dreamy hamlet is surrounded by the enormous pines, oaks, and old deodar trees. Nestled at an altitude of 1900 meters above sea level, the serene village located in the Pauri district of Uttarakhand offers 180-degrees view of the spectacular Himalayas. The place is home to apple orchards and this lesser-known place is ideal for backpackers or those interested in spending days amid nature.
Now-a-days holidayers are enthusiastically planning their vacations, and Khirsu village in Uttarakhand is winning hearts of those who are interested in refreshing isolated escapes. If you wish to pacify your soul and mind amid the immaculate valleys of Uttarakhand then Khirsu is certainly a place where you can head in 2023.
The Captivating Beauty Of Khirsu Village

According to the latest media reports, Dilip Jawalkar, the secretary of Uttarakhand Tourism said, "Uttarakhand is blessed with many beautiful and unexplored places such as Khirsu. Amid Covid, the trend of workation is booming in the state. We are constantly working to turn this pandemic into an opportunity and offer more such options to the tourists visiting Uttarakhand."
Similarly Kushal Singh Negi who is DTDO in Pauri district mentioned, "Khirsu which is situated in the outskirts of Pauri is indeed a hidden gem for travelers. After travel restrictions were removed by the government in the state we have received good responses from the tourists. The authentic cuisine of any state is also one factor that attracts tourists from different places. As a result, we have Basa Homestay in Khirsu which is being run by the local women of the place. They offer some of the yummiest food to the visitors and share our folklores. Some similar projects are underway namely Basa Homestay 2, Hunter House and Fishery Homestay."
Read on to know the spell-binding experiences of Khirsu!
11 Resorts in Binsar: Worthwhile, Affordable Yet Luxurious Staying Option For Your Uttarakhand Trip
Top Places To Visit In Khirsu Village
Being home to spell binding escapes of nature, every turn and street of Khirsu is worth exploring. However, there are also a few temples and religious sites that belong to the bygone era and give you a chance to sneak peek at the past days of this place. The following are the most beautiful places to visit in Khirsu:
1. Jwalpa Devi Temple

Image Credit: TV TUBE AMAZING WORLD
Jwala Devi Temple is located on Pauri-Kotdwar road and welcomes visitors throughout the year. The temple hosts religious fairs during Navratri and locals from the nearby villages perform exclusive rituals here. The temple is dedicated to the Hindu goddess Jwalpa Devi and has been a site of strong faith for villagers. The temple also hosts marriages with no costs.
2. Ghandiyal Devta Temple

Image Credit: Uttarakhand News
Another interesting temple is Ghandiyal Devta Temple that dates back to the 13-14th century. The site is popular among the local worshipers. The deity of the temple, Rashak Dev is believed to be an incarnation of Lord Abhimanyu and you will come across numerous narrations and beliefs, describing the importance of the temple in the lives of local residents.
10 Chopta Resorts: Perfect Stays In This Mini Switzerland Of Uttarakhand
Things To Do In Khirsu Village
The following are the most amazing things to do on a refreshing getaway to Khirsu:
1. Nature Walks

Khirsu is a proud home to the thick forests of Pine, Deodar, and Oak. Due to these forests, Khirsu is quite popular among wanderers who love to walk amid impeccable nature.
2. Bird Watching

Khirsu has exclusive flora and fauna, and when it comes to bird watching, the experience is truly spell binding. The place is often visited by photographers and wildlife enthusiasts who wish to capture the undisturbed beauty of the earth.
 Camping In Uttarakhand: 25 Best Spots To Treat The Adventure Junkie In You!
3. Village Tourism

The place has remained unspoiled as it is not much popular among tourists and hence, acts as a perfect window for those who wish to sneak peek at the village life. The village has its own leisurely vibe with rustic sights.
Khirsu is located in proximity to numerous popular destinations of Uttarakhand, Himachal, and Kashmir that lets one plan a refreshing break amid nature for a few days. Plan your next trip to Uttarakhand with TravelTriangle, and get an itinerary customized exclusively according to your needs. And when you do that, don't forget to add Khirsu to your itinerary on your next trip.
For our editorial codes of conduct and copyright disclaimer please click here.
Frequently Asked Questions About Khirsu Village
What hotels are near Khirsu?
The following are the most popular hotels in and around Khirsu:
1. GMVN Khirsu
2. V Resorts Mumukshu Pauri
3. IvyTop Resort
4. Himalayan Eco Lodges & Camps, Jayalgarh
5. Alaknanda Tourist Complex
What attractions are near Khirsu?
The following are the major attractions near Khirsu:
1. Neelkanth Mahadev Temple (9.23 km)
2. Dhari Devi Temple (9.65 km)
3. Kandoliya Temple (9.07 km)
4. Chaukhamba Viewpoint (9.07 km)
Is it safe to travel to Khirsu during COVID times?
You need to follow all the mandatory guidelines mentioned by the government such as maintaining social distance, wearing a mask at public places, washing or sanitizing hands after entry & exit etc.
People Also Read:
Road Trip During Covid-19 Covid-19 State-wise Advisory Essentials For Travel During COVID Times