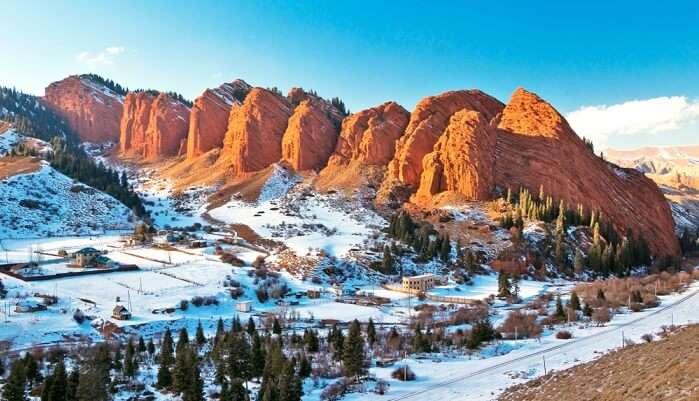 Kyrgyzstan is one of the biggest countries in Central Asia. The entire country has a rugged topography with various mountains and hills. The country provides you with various adventure activities like hiking, trekking and camping. It is suitable to visit the country during the summer season as the weather during this time of the year is comparatively pleasant and calm. It is extremely cold during the winter season so try to avoid this time only if you don't want to experience skiing and snowboarding. Since the country is witnessing a steep rise in its international visitors, the country has stepped up its visa processing and application. Kyrgyzstan provides iVISA to many countries. Kyrgyzstan visa for Indians is easily available through this e-visa service.
Kyrgyzstan Visa For Indians
Many Indians have started to visit the beautiful country of Kyrgyzstan in the past few years. Kyrgyzstan offers iVISA to a number of countries, one of them being India. This is the easiest and the best way to apply for a visa if you are planning to stay in the country for a maximum of 30 days.
Documents Required

Applying for an iVISA is very simple and straightforward, unlike the visa forms that you fill in the embassies. Here is a list of the documents and other requirements to successfully apply for an iVISA in Kyrgyzstan.
1. The most important document is to have a passport valid for at least 6 months from the date of your application for the visa.
2. Photocopy of the first and the last page of your passport.
3. Photocopy of one visa form.
4. Two passport-sized photographs.
5. Confirmed flight tickets of your arrival and departure of Kyrgyzstan airlines.
Must Read: 10 Things To Do In Karakol, Kyrgyzstan To Start Your Adventurous Tour In The City
Things To Remember

There are numerous things that you must remember while applying for the Kyrgyzstan visa for Indian nationals.
1. Remember to download the Kyrgyzstan tourist visa form online and fill it properly without any mistakes.
2. Do check your passport validity before applying for the visa. The passport should be valid for 6 months from your arrival date in Kyrgyzstan.
3. It is very important that your arrival and departure flight tickets have been confirmed of any Kyrgyzstan airlines.
4. Write an application dating your reason and duration of visit to the country, addressed to 'The Embassy of Kyrgyzstan".
5. Make sure that all the documents you provide are in the English language. If not, provide translated copies of the documents as well.
6. If you are residing in a different address than what you mentioned on the passport then kindly remember to provide an address proof along with two government authorised address proof of your current residence.
7. It is advisable to attach your confirmed hotel bookings in Kyrgyzstan, even though it is not necessary to do so.
Suggested Read: 8 Best Restaurants In Bishkek To Please Your Palate With The Best Authentic Cuisines
Steps For Filling The VISA Application

After you have checked and prepared all your documents, it is time to move on to the most important part, that is, to fill the application form. Unlike normal government visa forms, an iVISA hardly takes 20 to 30 minutes of your time, and if you face any kind of problems then the iVISA provides you with a 24/7 customer service who you can contact easily.
1. Fill all your basic information correctly and recheck once you are done just to be sure. Like all other visas. iVISA too takes some time to get processed.
2. It is important to remember that the visa fees are submitted online, so you must have some means of online payment. Below is the list of Visa fees for tourists:
Single tourist visa (15 days)- Rs.2,950/-
Single tourist visa on an urgent basis (15 days)- Rs.4,720/-
Single tourist visa (30 days)- Rs.3,540/-
Single tourist visa on an urgent basis (30 days)- Rs.5,900/-
3. The next step is a crucial one, as now you have to upload all your documents. Try uploading scanned images of your documents rather than clicked images. After, submitting all documents, press the submit button and you are done.
Further Read: 10 Hostels in Bishkek That Will Beat Your Pocket-Friendly Budget
Kyrgyzstan visa for Indian nationals takes around 4 to 5 days to get processed once it is submitted by the Authorised Visa Agents. These days would be excluding weekends and other public holidays. Once you receive the good news that your visa has been approved, start thinking about the beautiful memories you will make in the mesmerizing country of Kyrgyzstan. Book your vacation to Kyrgyzstan and have the best time of your life.
People Also Read