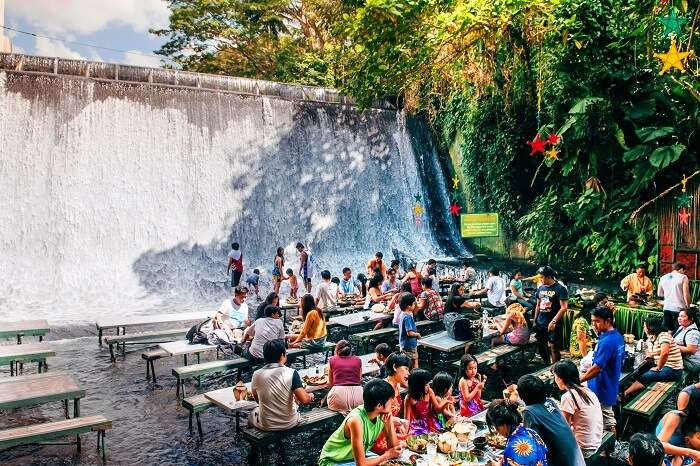 Yes! You read that right. The Labassin Waterfall Restaurant in Philippines is one of the most unusual restaurants as it gives one a chance to dine in the middle of a waterfall! Situated amidst the Villa Escudero Plantations and Resort, this restaurant is one-of-a-kind as it serves authentic seafood on bamboo tables while you enjoy the cool breeze of the surrounding forest and the refreshing waterfall.
While coming here you can give your footwear a break and enjoy a scrumptious Filipino platter with your feet dipped in the cold water. You might also get drenched while having your meal, but eating amidst the gushing waterfall is worth an experience which you cannot miss while in the Philippines.
Is the Labassin waterfall real or artificial?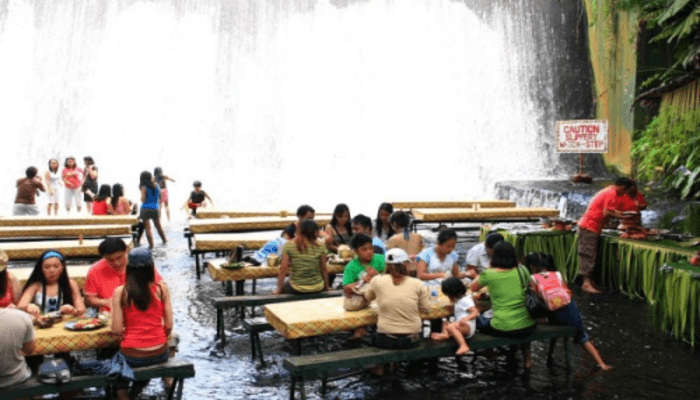 The Labassin is not actually a natural waterfall, instead, it is a runoff from the Labassin Dam which is the Philippines first hydroelectric plant. But even though it's an artificial waterfall, the experience is nothing less than reality.
Location: Villa Escudero Plantations and Resort, San Pablo City, 4000 Philippines
Suggested Read: 15 Gorgeous Places To Visit In Philippines To Swim, Dive, Trek, & Explore
Highlights of the restaurant apart from the delicious food
The ambiance of the place is very soothing and the visitors can enjoy the soft tunes of traditional music and performances by local dancers. Apart from this, the place is also a great spot for adventurers as it is located close to many hiking trails. One can also spot many types of birds in the surrounding jungle.
Further Read: 10 Mactan Resorts For A Dreamy Vacation On A Gorgeous Island
Excited enough? Plan a Trip to Philippines and Make sure to add this place to your bucket list and gift yourself the experience of eating in a restaurant as unique as this.
People Also Read
Places To Visit In Malaysia Places To Visit In Cambodia Places To Visit In Bali