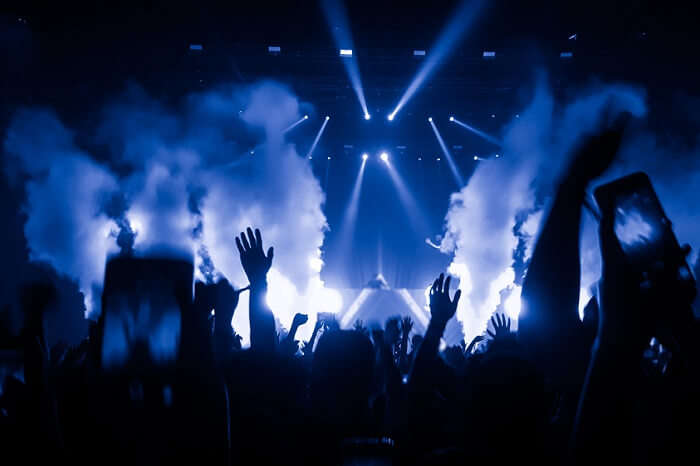 Lithuania might not be the very first place of interest when it comes down to tourist attractions but the place does have an amazing reputation for its ecstatic nightlife. If you are someone who wishes to experience the Lithuania nightlife, it does go without saying that you need to spend extensive time crawling across the pubs, hotels, and clubs that make this statement true. Irrespective of what kind of budget you are stuck with, it is not surprising that the options are quite extensive and not limited to one. If you get bored with one, you do have the option to jump onto the next best option. So, get ready to rock and roll!
10 Top Places To Enjoy The Lithuania Nightlife
These are the 10 best places to witness the charming beauty of Lithuania at night. From shaking a leg to treating your taste buds, there's a lot you can do here.
Bambalyne
Alaus Biblioteka
Cocktail Bar Alchemikas
Who Hit John
Spunka
Nomads Cocktail Bar
Cocaine Nightclub
The Bubbles. Champagneria
Sanatorija
Bardakas
1. Bambalyne
If beer is something that entices you and you have your life revolving around the same, Bambalyne is possibly the most popular spots amidst all the Lithuania nightclubs without a speck of doubt. It is often regarded as the beer lover's heaven and all for the right reasons. Trying Lithuanian beer is a must do when you are there. Majority of the people who have visited this club have mentioned that they like the amazing interior of the place. The cellar-like appearance makes it even more enticing to be in. This place is often the best spot to start the night with light drinking of beers and then moving onto the stronger ones in the next best spot.
Location: Stikliu g. 7, Vilnius 01131, Lithuania
Must Read: Bucharest Nightlife: All About The Glamorous Nightclubs & Electrifying Parties!
2. Alaus Biblioteka
If you are looking around things to do in Vilnius at night, visiting Alaus Biblioteka is actually an amazing option. Even this one is a conceptual beer bar which specializes in providing their customers from a wide selection of 60 beer styles from 15 beer taps. If the craft beer is not your thing and you want to do something new and different, they do have 400 different variants of beer for you to try out from around the globe. The one thing about this place that might be a downer is the fact that it is situated up the stairs around the place so many people end up missing it. Be very alert and look around the place to locate it. Visiting this place is definitely worth it and if you are there, make sure to try the different variants of beer.
Location: Traku g. 4, Vilnius 01132, Lithuania
3. Cocktail Bar Alchemikas
Moving on from the different kinds of beers, if you are looking around for Lithuania nightlife tips, visit Cocktail Bar Alchemikas without a speck of doubt. This is quite a popular cocktail bar which prides in its unique cocktail concoctions. The place does accommodate just around 30-40 people so its amazing if you want a secluded and private place to enjoy the night in. They have over 400 different bottled variants of alcohols that they mix and swerve to come up with their own twist to the drink. They also serve aperitivo till 8 at night so if you wish to eat something along with the drinks, go before that. The drinks are quite affordable too which is definitely an added bonus.
Location: Islandijos Str. 1, Vilnius 01402, Lithuania
Suggested Read: Slovenia Nightlife: Don't Miss Out On These Experiences When The Sun Goes Down
4. Who Hit John
As weird as the name of the place is, this is one of the most popular yet quaint bars around Vilnius. It is located around the Town Hall Square. The main point of attraction around the place is the amazing back in the day's rock and roll vibe that it gives off. It has been in operation since 2013 and has been serving up some of the most amazing combinations of cocktails and branded whiskeys to keep the conversation flowing. Majority of the people who have visited this place have time and time recommended to absolutely not missing out while in Lithuania.
Location: Didzioji Gatve 19, Vilnius 01128, Lithuania
5. Spunka
Yet another one of the amazing spots to visit around in Vilnius is Spunka. The best thing about this place is the fact that it does have an amazing atmosphere to spend some quality time in. Even this is a quaint place and doesn't accommodate and a lot of people so you can have the privacy you need and want. You can quality drinks for amazing prices there which is always a bonus.
Location: Uzhupio g. 9, Vilnius 01202, Lithuania
Suggested Read: George Nightlife: 10 Glamorous Spots To Experience South African Nightlife!
6. Nomads Cocktail Bar
The name of the bar substantiates for the kind of drinks one can enjoy there. If you are out on an adventure trying the Kaunas Lithuania nightlife, you will definitely love the kind of drinks the bartenders serve around in the Nomads. They have a wide range of specialty cocktails to the amazing range of personalized ones which you can get made to taste something new and out of the box.
Location: Didzioji str. 5, Vilnius 01128, Lithuania
7. Cocaine Nightclub
From beers and bars, it is time for some carefree dancing and the best place you will get that is in the Cocaine Nightclub. This nightclub is one of the most popular ones around in Lithuania and all for the right reasons. The amazing blast of the music played by the DJ and the drinks accompanying the night won't necessarily let you till down on the fun you will have while there. It is open from Tuesday to Saturday, so avoid going around on Monday and Sunday.
Location: Gedimino pr. 2a, Vilnius 01103, Lithuania
Suggested Read: Bari Nightlife: 7 Best Places To Visit For A Happening Vacay Experience
8. The Bubbles. Champagneria
If you wish to experience something fancy and something a bit posh, The Bubbles Champagneria is possibly the best spot to be in. They offer over 100 different types of champagnes ranging from Prosecco to Cremant. They don't always sell by the glass because some of the champagnes are only sold by the bottle so make sure to hurdle around in groups. If lucky, you can even enjoy some fresh oysters along with the champagne for the full experience if they are in season.
Location: Vilniaus g. 35, Vilnius 01119, Lithuania
9. Sanatorija
Back to the bars, Sanatorija is a popular gin bar around in Lithuania. They are famous around for their natural gin springs. If gin is something you like and want to explore around with, this bar is the one you absolutely can't miss visiting out on. For safety measures, make sure to try out some of the weird and unique combinations to get the hang of it, literally.
Location: Vilniaus g. 22, Vilnius 01402, Lithuania
Suggested Read: Queensland Nightlife: 10 Scintillating Spots To Experience It's Wild And Decadent Side
10. Bardakas
Last but not the least on the list of the amazing places to enjoy the nightlife in Lithuania is Bardakas. It is a themed bar which has gained amazing popularity over time with the kind of service and ambiance it provides the customers with. If you are in town and want to explore a treat of alcohol, fun with a dose amazing philosophy meddled into it, this bar is the one-stop answer for every question you possibly have.
Location: Laisves Aleja 93, Kaunas 44297, Lithuania
Further Read: Townsville Nightlife: 10 Best Places Where You Can Go To Explore The Electrifying Night Experience!
Lithuania is known around for its amazing nightlife and if you are visiting this country, it is mandatory for you to swerve around and visit most of the places that the country's nightlife prides itself on. So don't keep waiting and plan your trip to Europe right away. You'll surely have a great time there!
For our editorial codes of conduct and copyright disclaimer, please click here.
---