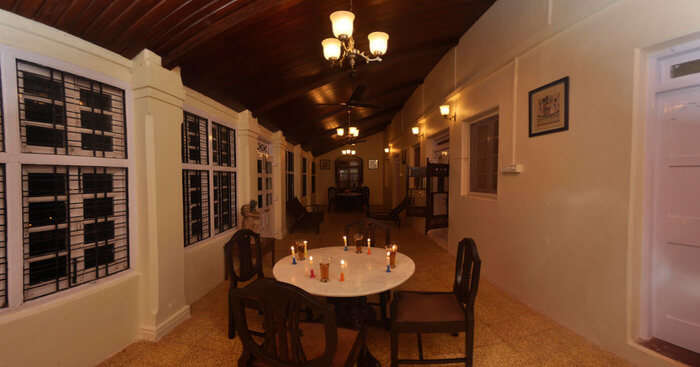 Perched at 803 m above sea level, endowed with dense forests and lush meadows, Matheran still retains its colonial-era charm. Even after its continues commercialization and thousands of visitors every year, this place is the most peaceful and spectacular weekend getaway from Mumbai. And these gorgeous Matheran resorts make it even more appealing to families and couples who wish to spend a few nights amid the serenity of Sahyadri hills.
Best time to visit Matheran

Summer (March – June): Maximum temperature in Matheran during summer can reach 35 degrees Celsius. It's pleasant during summer and is a great season for trekking.
Monsoon (July – September): During these months Matheran receives heavy rainfall. This is the time when this little patch of beauty comes back to life, but it's not a good time to indulge in adventure activities.
Winter (October – February): Temperature can drop as low as 10 degrees Celsius during winter. The days a slightly warm and nights are chilly here. It's the the best time to visit Matheran and a perfect season for those planning road trips from Mumbai.
4-star resort in Matheran
1. The Verandah In The Forest

The Verandah In The Forest is one of the best Mathern resorts amid the beautiful forests where you wake up to the melodious songs of birds. Surrounded by lush green hills, it is a 19th century house turned into a wonderful resort. The charm of the the bygone times can be seen in its rooms, furniture, walls, and architecture. Its diverse range of beautiful rooms that include Chenoy, Kotwal, Jehangir, Peerbhoy, and Shakershet make it among the finest resorts in Matheran for couples.
Starting tariff: INR 4,500
Website | Reviews
Location:
3-star resorts in Matheran
2. Adamo The Resort

One of the best resorts in Matheran, Adamo The Resort is an unbelievably peaceful accommodation inspired by colonial architecture. It has beautiful cobbled pathways, landscaped lawns, a pure-vegetarian restaurant, and an ayurvedic spa. Adamo is one of the most wonderful resorts in Matheran with swimming pool and other luxurious amenities.
Starting tariff: INR 3,700
Website | Reviews
Location:
3. Radha Cottage Village resort

Radha Cottage Village Resort is among the most beautiful Matheran resorts. An old British house turned into a resort, it offers brilliant views and soothing silence. Its ethnic cottages, antique furniture, and old-world charm feel make it a perfect place to stay with family or your partner. You are surely going to love the hospitality and the delicious food.
Starting tariff: INR 4,500
Website | Reviews
Location:
Suggested Read: 19 Hotels In Matheran For Couples: Romantic Havens Nestled In Nature
4. Usha Ascot

Usha Ascot is a gorgeous little resort in the lush valleys of Matheran. This pure vegetarian resort not only offers warm hospitality but also some lip smacking food that includes Chinese, Indian, and Continental dishes. From Jacuzzi and in-house disco to massage facility and swimming pool, this resort has everything you'll ever need for a luxurious and comfortable vacation.
Starting tariff: INR 4,500
Website | Reviews
Location:
5. Brightlands Resort

Amongst the most pocket-friendly and luxurious Matheran resorts, Brightland Resort comes with big swimming pool where you swim and relax under the sun. Equipped with all modern amenities, this place offers a perfect hideaway to visitors. This cottage style hotel also features a courtyard garden where you can have your evening tea while birds sing melodiously.
Starting tariff: INR 2,000
Website | Reviews
Location:
2-star resorts in Matheran
6. The Byke Heritage

One of the best Matheran resorts, The Byke Heritage has small cottages amid the green and peaceful hill station. Spread across 7 acres, it was built in 1854 by Huge Malet, the guy who discovered Matheran. This heritage property is equipped with modern amenities to ensure comfort and luxury. It has a multi-cuisine vegetarian restaurant with a highly talented chef. It's among the most gorgeous resorts in Matheran with swimming pool and an in-house disco.
Starting tariff: 3,500
Website | Reviews
Location:
Suggested Read: 8 Best Cottages And Homestays In Matheran For Those Who Love To Stay Like Locals!
7. Green Hill Resort

Green Hill Resort is probably one of the cheapest Matheran resorts that's equipped with modern amenities like a big swimming pool, garden, in-house disc, and basic yet comfortable rooms. The food served in the in-house restaurant is delectable and the hospitality is unmatchable.
Starting tariff: INR 1,000
Website | Reviews
Location:
Further Read: Top 22 Places To Visit In Maharashtra In Summer For A Cool Vacation
Are your feet already itching to traverse the criss-cross trails in the shady forest of Matheran? Explore our Mumbai weekend tour packages that are perfectly awesome for your vacation in the hills.