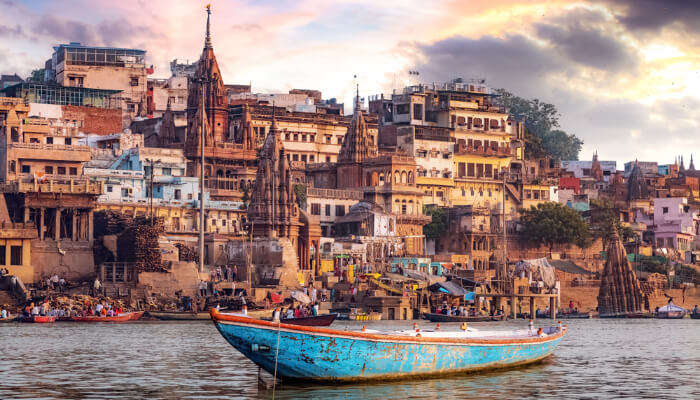 Varanasi is a very beautiful north Indian city set in the state of Uttar Pradesh. If we look at the history of this city then it goes backdating to 11th century B.C. Being considered as the spiritual capital of India, the city is for sure a home to endless number of Hindu pilgrims. There are many things to do in Varanasi that will leave you spellbound and compel you to stay there forever. From seeking prayers at the temple to bathing in the holy Ganges, there is a lot to experience in the spiritual city.
12 Things To Do In Varanasi
Varanasi, one of the oldest cities in the worls, is also one of the liveliiest ones. Sign yourself up for most unique and enlightening experiences in Benaras for a fulfilling visit. Below is a list of the best things to do in Varanasi that will give you a soul-soothing experience of holidaying there. Read along!
Tour Of The Oldest Temple
Relive Your History
Explore The Ghats
Witness The Buddhist Intervention
Take The Holy Bath In Ganges
Witness The Magnificent Sunset
Explore The Magnificent Weaver's Village
Boat Ride On Ganges
Watch Evening Aarti
Take A Tour To Sarnath
Taste Street Food
Shopping
1. Tour Of The Oldest Temple

Kashi Vishwanath Temple is one of the most popular and sacred Hindu Temples in Varanasi which is said to be a sincere dedication to Lord Shiva. It gracefully lies on the western bank of the river Ganges. There are altogether 12 Jyotirlingas (Holiest Shiva Temples) in the globe and the sacred Kashi Vishwanath Temple is one of them. Varanasi was once known as Kashi hence the name of the temple itself was inherited from there. Several visitors pay their tribute to Lord Shiva throughout the year and the place is often known to be extremely crowded. If Varanasi is a hub of temples then Kashi Vishwanath Temple has to be the most visited temple amongst all. Location: Lahori Tola, Varanasi, Uttar Pradesh 221001
39 Places To Visit In Varanasi In 2022 For The Best Of Culture, History, & Spirituality
2. Relive Your History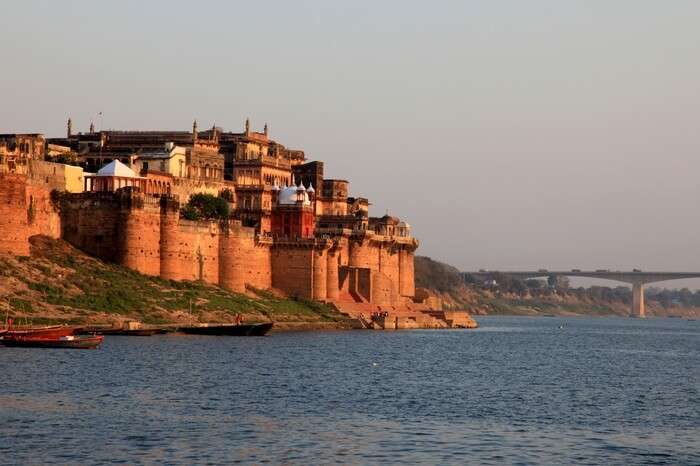 The magnificent Ramnagar Fort is an efficient fortification in Varanasi. It lies near the Ganges on its eastern bank. The famous Tulsi Ghat can be seen right from here as it is just opposite to the fort. The fort is built mainly out of pure sandstone and reflects the true Mughal style architecture and it is said to be built in 1750 by the renowned Kashi Naresh Raj Balwant Singh. The visitors can witness the Veda Vyasa Temple and the king's residential complex which are truly worth a view. There is an adorable museum which gives you a glimpse of our rich history let alone the vicinity also includes the sacred Dakshin Mukhi Temple of Hanuman. Location: Mirzapur – Varanasi Road, Purana, Ramnagar, Uttar Pradesh 221008
3. Explore The Ghats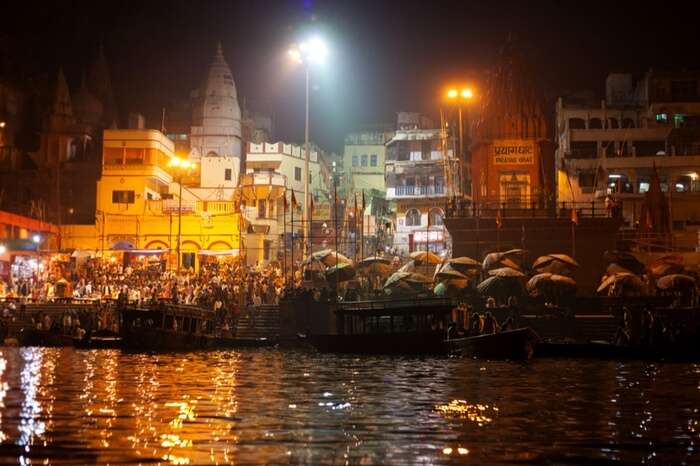 Dashashwamedh Ghat is one of the major Ghats located in the beautiful city of Varanasi which lies in the Ganges. As for directions, it is decently close to the popular Vishwanath Temple. To give a brief background of this spectacular Ghat, it is said that Lord Brahma created it in respect to welcome Lord Shiva. Some also believe that Lord Brahma is said to have sacrificed ten horses while Dasa-Ashwamedha Yajna was performed here. These ghats are also the venue for Varanasi festivals that are celebrated from centuries and you should be a part of them. As per the history of this said Ghat, it was built by Peshwa Balaji Baji Rao in 1748 and later it was rebuilt by the Queen of Indore Ahilyabahi Holkar in the year 1774. The visitors can also witness the observatory built by Maharaja Jai Singh of Jaipur built-in 1737 which lies right in the Ganges. Location: Dashashwamedh Ghat Rd, Ghats of Varanasi, Godowlia, Varanasi, Uttar Pradesh 221001
The Ultimate List of Adventure Holidays In India For Summer 2022
4. Witness The Buddhist Intervention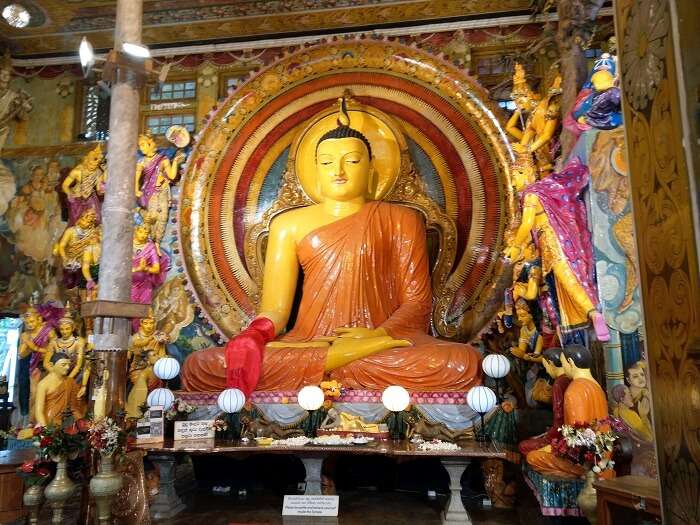 Dhamek Stupa is a remarkable and massive stupa which is well situated at Sarnath about 13 km away from the magnificent city of Varanasi. The stupas were originated as pre-Buddhist tumuli which are said to have ascetics buried in an appropriate seated position known as chaitya. This is considered to be a very holy and sacred place for Buddhist, the reason being, right after the par Nirvana (Liberation) of Buddha, his remains are said to have been cremated and then the ashes were divided and buried under eight mounds. (Two mounds own the urn and embers). Tracing back to its inception, the Dhamek Stupa was built in 500 CE which replaced an earlier structure said to be commissioned by the great and recognised Mauryan king Ashoka. Visitors are welcome here to witness and relive the history and get a glimpse of our past. Location: Dharmapala Rd, Singhpur, Sarnath, Varanasi, Uttar Pradesh 221007
5. Take Bath In The Ganges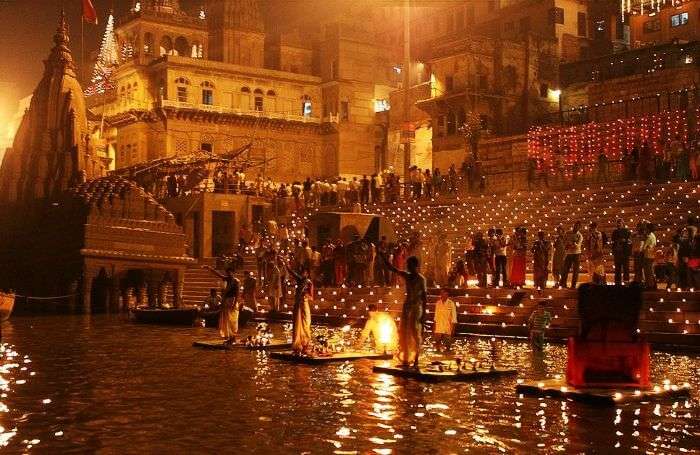 As we all are aware, the great Ganges is a very sacred river in Hinduism and it is widely believed to wash away our sins only by taking a bath in the waters of the holy Ganges River. The Ganges is known to offer spiritual charm to Varanasi for decades. Believers are seen chanting prayers to appease and get blessings from the River Goddess. It is highly considered to be of salvation and purification and there is an endless number of pilgrims throughout the year visiting the Ganges. People are flooding down here from the different parts of the country let alone, the world in pursuit of attaining moksha and liberation from the cycle of birth and death just by taking a dip in the holy Ganges River. There are more than 84 Ghats in Varanasi leading to these waters and you can experience and witness the pilgrims bathing since the early crack of dawn. Location: Varanasi, Uttar Pradesh
25 Amazing Wildlife Sanctuaries In India For Adventurous Safaris And Encounters With The Wild
6. Witness And Experience A Magnificent Sunset

The Ghats which graciously lies along the Ganges River rightly set in Varanasi is without a doubt the most adorable and fascinating sight to behold in this holy city. Visitors can stroll along the Ghats at sunset hours and experience a mind-blowing and some memorable moments with your near and dear ones. While in Varanasi, exploring the Ghats is a must and nothing beats witnessing the sunsets here. With several Ghats to visit, you can always choose your spot to witness the mesmerising sunsets. As the Ghats are often crowded so it is advisable to reach there early to witness the best views which shall remain in your heart for the rest of your lives. Location: Varanasi, Uttar Pradesh
---
Planning your holiday but confused about where to go? These travel stories help you find your best trip ever!
---
7. Explore The Magnificent Weaver Villages

The weavers of Varanasi have certainly earned their decent share of name and fame at an international level for their fascinating creation of some of the magnificent masterpieces. When it comes to silk weaving, nothing beats the Sarai Mohana village as the villagers here are blessed with their weaving skills which they have received in inheritance from their ancestors. Who hasn't heard about the popular Varanasi sarees considered to be among the finest sarees in India and they are certainly made right here in the heart of Varanasi. The sarees made here are known for their gold and silver brocade (zari), opulent embroidery and of course for their great quality of silk. Almost every Indian bride desires to wear these saris on their wedding day. The visitors are welcome to visit the said village and enlighten themselves about the craftsmanship of the weavers and get some insights and information about the secret behind the masterpiece of the sarees made here which takes around 15 days to 6 months for completion. Location: It is a small village panchayat about 5 km away from Varanasi
6 Best Waterfalls Near Varanasi For A Blissful Vacation
8. Boat Ride

Image Source Sunset Boat Ride on the Ganges is one of the top things to do in varanasi. Your trip is incomplete without the soul-stirring ride on the quaint waters of the holy river. There is no dramatic moment than soaking in the view of setting sun on the river. Ask your rower to sing some folk songs to make it even more memorable. Take inspiration from Bollywood movies that have featured this scene time and again. FYI, it also one of the best things to do in Varanasi for kids. Cost: INR 200 for 60 minutes
9. Watch Evening Aarti

Image Source One of the most spiritual things to see in Varanasi is watching the evening aarti by the Ghats. You may have witnessed the magical experience in Rishikesh or Haridwar which is why you already know how enlightening this experience in Varanasi is going to be for you. The ghats get crowded during the aarti time. So, make sure you reach before time. Don;t forget to buy aarti thali to fully enjoy the experience. When the sonorous sound of aarti falls on your ears, you feel a true bliss. Location: Dasaswamedh Ghat
7 Guest Houses In Varanasi To Enjoy A Calm & Serene Stay in 2022
10. Take A Tour To Sarnath

Image Source Just 10 km outside Varanasi lies the famous Buddhist pilgrim spot called Sarnath. In case you didn't know, Sarnath is that place where Lord Buddha preached for the first time after achieving enlightenment. So, if you are in search of enlightenment or spirituality, then you know where to go when you are on a vacation in Varanasi. A lot of stupas and structures have been built by the kings who followed Buddhism. Apart from being the centre of spitituality, it also poses an amazing picnic spot near Varanasi.
11. Taste Street Food

Image Source The ghats of Varanasi are little paradise for foodies. There is an endless variety of local street food that you will get to enjoy in the streets of Varanasi. From crispy kachoris to spicy aloo puri, gorge on yummy local cuisine served with love and. The best part is that the food in Varanasi is so cheap. You can get a plat of puri aloo for only rupees ten. Nobody ever starves in Varanasi. That's for sure. It is one of the most adventurous things to do in Varanasi in 3 days if you ask your taste buds. Location: Puran Das Road, Gol Ganj, Kachori Gali, Mandir Gali
4 Awesome Waterparks In Varanasi That Will Add A Touch Of Excitement To Your Trip In 2022
12. Shopping

Image Source
One of the fun things to do in Varanasi is shopping. There are many famous things to buy in Varanasi like Banarsee silk sarees, chikankari, and religious items. Those who visit Varanasi bring a bottle of holy Ganges water to keep in their home. You could also buy rudrakh mala, shiva linags, or glass beads. Varanasi has a number of malls but the best place to go shopping in Varanasi are the local bazaars. Famous items: Benarasi silk saree, chikankari, Ganges water
Varanasi is without a doubt the finest tourist destination. Besides its spiritual significance, the city is well-reputed and recognised for its beauty in diversity. The city has so much to offer to its visitors that they will be left astonished and fascinated by the sights and views which are worth to behold for the rest of their lives. Visit this beautiful city of Varanasi then make sure not to miss visiting and exploring the places mentioned above.
For our editorial codes of conduct and copyright disclaimer, please click here. 
Frequently Asked Questions About Things To Do In Varanasi
What are the top attractions to visit in Varanasi?
Kashi Vishwanath Temple, Ramnagar Fort, Dhamek Stupa, Dasaswamedh Ghat, Assi Ghat are some of the top attractions to visit in Varanasi owing to its beautiful views and undoubtedly fascinating rich history.
What are the best outdoor activities in Varanasi?
Apart from all the amazing sightseeing points and temples, there are many activities that you can indulge in. Few of them are: Cultural Walk, Varanasi Walking Tour, Attend evening artis at ghats, Musical tour, Visit archeological museum.
Is it safe to visit Varanasi, given the covid situation?
Yes, it is safe to visit Varanasi, given that you follow all guidelines and take all the necessary precautions. Make sure to get yourself vaccinated before planning a trip, also wear masks at all times, maintain social distance at public places and sanitize your hands regularly.
How can I spend 2 days in Varanasi?
A city in the northern state of Uttar Pradesh, Varanasi is famous for its temples, iconic sightseeing points and ghats. There are bunch of activities when it comes to spending 2 days in Varanasi such as: Varanasi Walking Tour, Attend evening artis, visiting temples, musical tours, visiting museums and much more.
Where is Varanasi located?
It is located at an elevation of 80.71 m and it is rightly set in the centre of the Ganges valley of North India, Uttar Pradesh.
What is the best time to visit Varanasi?
Owing to its spiritual significance, the city is often crowded by visitors throughout the year however the best time to visit Varanasi is certainly winter months between November and February.
Is Varanasi expensive?
Well, there are many places in Khajuraho which are considered as some best-known tourist attractions out of which few falls in the budget, some are even free and few others may be expensive comparatively. In simple words, the visitors can plan their trip accordingly taking into consideration their time and budget wisely.
Can Varanasi be visited with children?
Yes, Varanasi can be visited with children. They can get to know many facts about our rich Indian culture and history. There are several places which are known for their beauty and significance in the city's vicinity and the children are more than welcome to explore the city with their parents.
---
Looking To Book An International Holiday?
---
People Also Read:
Things To Do In Uttarakhand  Things To Do In Chopta  Things To Do In Gangotri