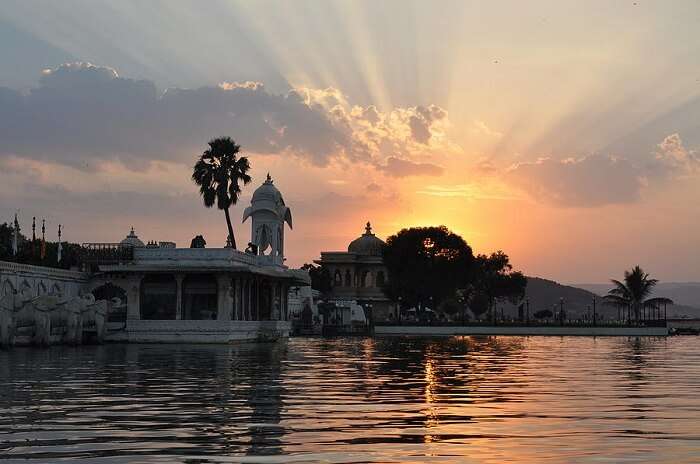 Known to many as City of Lakes or Venice of the East, Udaipur is one of the charming cities lying deep in the western reaches of Rajasthan. The city has a rich history that runs more than a thousand years deep. Udaipur is primarily known for its lakes, palaces, forts, and gardens. However, it also offers many engaging activities to tourists of all ages.
Read on as we explore and ponder on the various things to do in Udaipur that makes it such an enticing place to visit for people all around the world.
Best Time To Visit Udaipur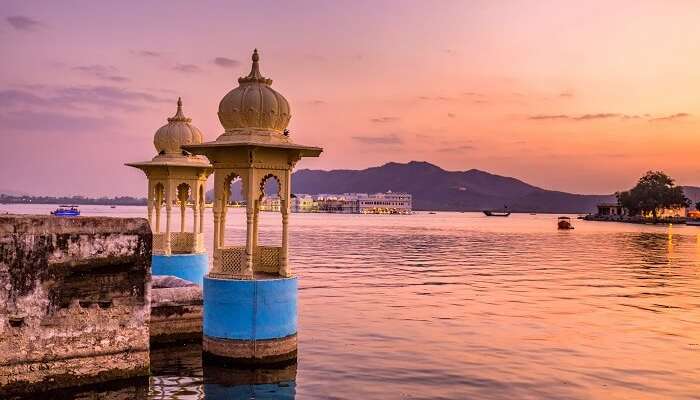 The best time to visit Udaipur is the winter season, which starts from November and ends in mid March.
Top 30 Things To Do In Udaipur
It is quite easy to reach Udaipur and once you're here, you can indulge in these exciting things to do in Udaipur:
1. Lake Pichola – Take A Sunset Boat Cruise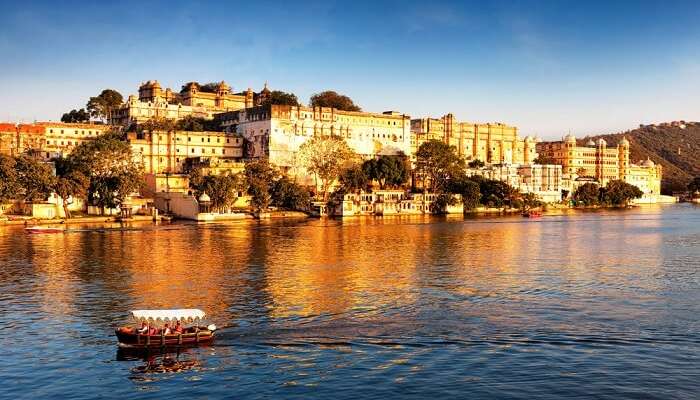 One of the first things to notice once you enter Udaipur is the magnificent Lake Pichola. The setting of the lake almost takes you into a surreal movie-like environment. A lake which contains four islands, namely – Jag Mandir, Jag Niwas, Mohan Mandir and Arsi Vilas.
Taking a boat cruise around the freshwater lake during sunset is one of the most blissful and relaxing things to do in Udaipur, Rajasthan. Enjoy the crisp final few rays of sunlight as they hit the lake giving it a glimmering reflection.
Admission fee: Adult- INR 300/- per hour, Children- INR 150/- per hour
Timings: 9 am to 6 pm
Must Read: Pocket Planner For Your Destination Wedding In Udaipur In 2020
---
Rajasthan Holiday Packages On TravelTriangle
Explore Rajasthan, the land of Maharajas. Experience its royal cultural heritage, luxurious hotels, camel safaris, pristine lakes, and magnificent forts and palaces. Cover the best of Jaipur, Udaipur, Jodhpur, Jaisalmer, Pushkar and Ranthambhore at best prices with TravelTriangle.
---
2. Saheliyo Ki Bari Garden – Indulge In Nature Photography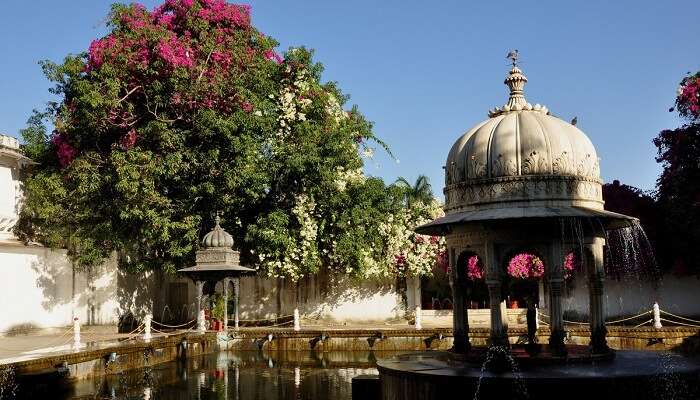 Saheliyo ki Bari (Courtyard of Maidens) is a popular garden and tourist visiting spot in Udaipur. It is a garden which has been beautifully constructed with fountains, marble elephants and lush green lawns.
Doing photography in the picturesque gardens is one of the upcoming and fun things to do in Udaipur for the younger generation traveling to the city of lakes.
Admission fee: INR 5/- per person
Timings: 9 am to 5 pm
Permission required for photography: No
3. Bagore-Ki-Haveli – Explore The Classic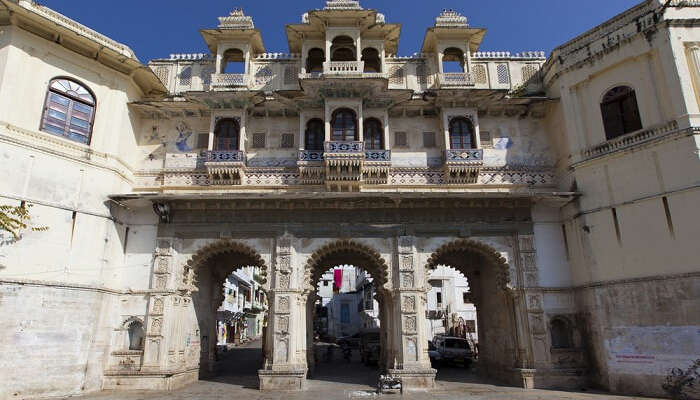 Bagore ki Haveli is a mansion turned into a museum in Udaipur built by the ruler of the Mewar province in the 18th century. Situated in the Gangori Ghat, Bagore ki Haveli has an astounding 138 rooms. The mansion is also home to many cultural attractions like the longest turban and gallery containing many art pieces.
Admission fare: INR/- 25 per person
Timings: 10 am to 5.30 pm
Suggested Read: 10 Best Street Food In Udaipur 2020: The Delicious Side Of The City Of Lakes
4. Karni Mata – Seek Blessings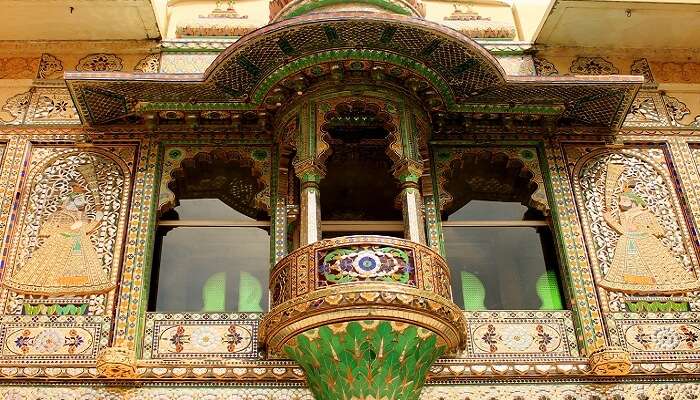 Image Source
One of the best things to do in Udaipur (along with the craziest), is to visit the Karni Mata temple. Shri Manshapurna Karni Mata is a temple dedicated to the hindu goddess Karni Mata located on the Machla Magra Hills in Udaipur. This temple in Udaipur often attracts people from all across the globe who are looking for fun things to do in and around Udaipur. You should surely include this temple in your list of places to visit in Udaipur.
5. City Of Lakes – Ride The Ropeway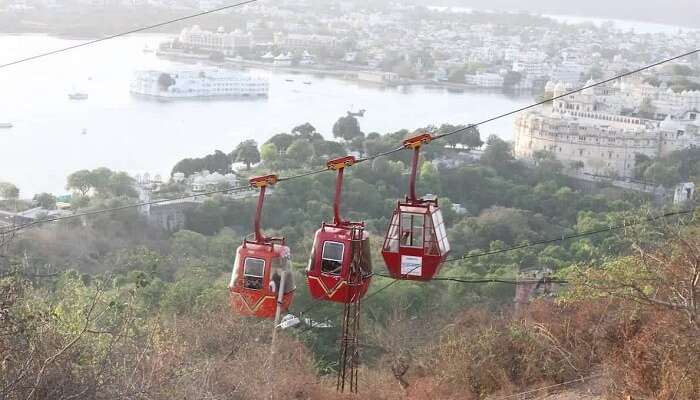 Image Source
And if you're wondering how to get to Udaipur's Karni Mata temple, we'll tell you a fun way to do that!. Riding the ropeway has become a popular tourist activity for people coming into Udaipur because of the thrill and the view they get upon traveling in it, which adds to the charm of the City of Lakes.
The tickets are affordable, the views are scenic and the experience is quaint. The ride won't give you a rush of blood, but it's a must try if you are looking for adventure things to do in Udaipur.
Admission fare: INR 80/- per person for a round trip
Timings: 9 am to 5 pm
Suggested Read: 20 Stunningly Colorful Festivals of Rajasthan
---
Planning your holiday in Rajasthan but confused about what to do? These Rajasthan travel stories help you find your best trip ever!
Real travel stories. Real stays. Handy tips to help you make the right choice.
---
6. Jagat Niwas – Get A Whiff Of Rajasthani Cuisine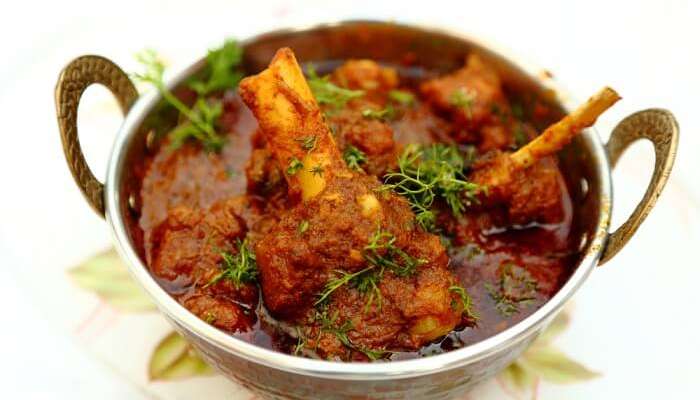 Try the deliciously spicy Rajasthani cuisine on your trip to Udaipur. Laal maas literally translates into red meat, a traditional Rajasthani non vegetarian dish that is made from mutton, red chilli curry and herbs. One of the best places that offer good Laal Maas is the Jagat Niwas located in Lal Ghat, Chandpole. If you are a food lover and you travel to places solely because of food, then this is one place you should eat at for sure.
7. Hathi Pol Bazaar – Do Traditional Shopping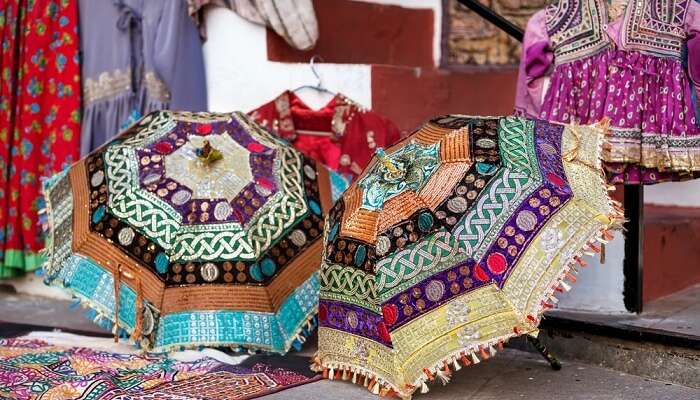 Rajasthani cities often provide a good variety of options for people who love to shop. If you are looking for interesting things to do in Udaipur, look no farther than Hathi Pol Bazaar. The market is littered with souvenirs, paintings and artisanal products at negotiable prices if you're there to look at a good bargain and is among the best places for shopping in Udaipur. Add colors to your wardrobe as you shop for ethnic things at this market in Udaipur.
Suggested Read: Shopping In Udaipur: 13 Popular Places To Pick Rajasthan Specials In 2020
8. Jag Mandir Palace – Visit The Beautiful Temple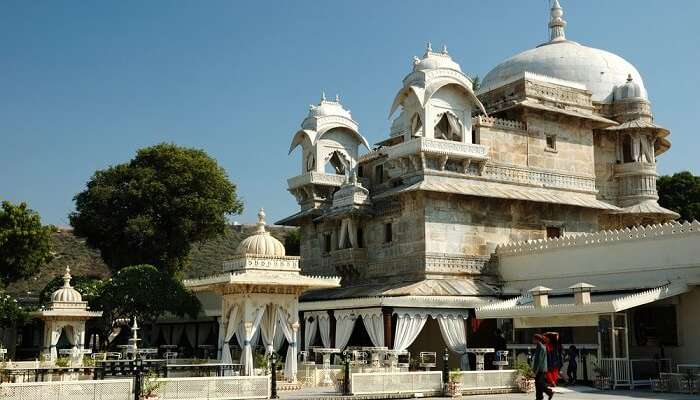 People often seek a magical story and a fairytale marriage. The international music superstar Katy Perry got just that when she got married in a wedding done with Indian rituals in Udaipur's Jag Mandir Palace.
Jag Mandir Palace is built on the Jag Mandir Island in the Lake Pichola. The medieval architecture, luxurious and royal surroundings make it a dream place to be in, which is why it is a splendid option for sightseeing in Udaipur. This is that very place where Katy Perry got married.
9. Vintage Car Museum Udaipur – Witness The Classical Beauties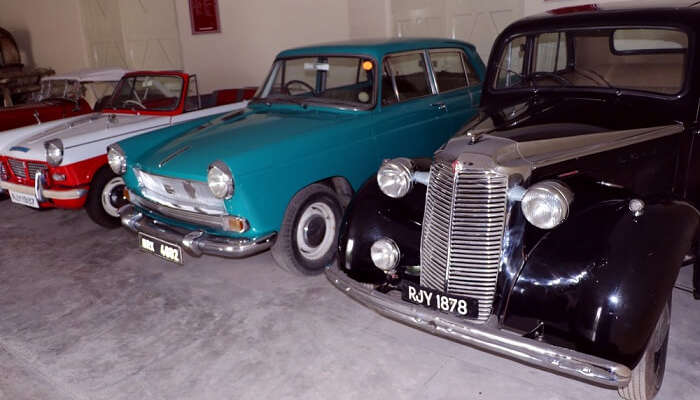 One of the best things to do in Udaipur for vintage car lovers and thrill junkies is checking out the Vintage & Classic Car Collection Museum. Often people are interested in witnessing the preservation of vintage and classical cars. This museum gives a golden chance to all car lovers to get a rare insight into the maintenance and upkeep of the cars of old or those which had appeared in our favourite movies and television shows.
Suggested Read: 35 Glamorous Places To Visit In Udaipur In The Year 2020 For A Laidback Holiday!
10. Taj Lake Palace – For A Royal Stay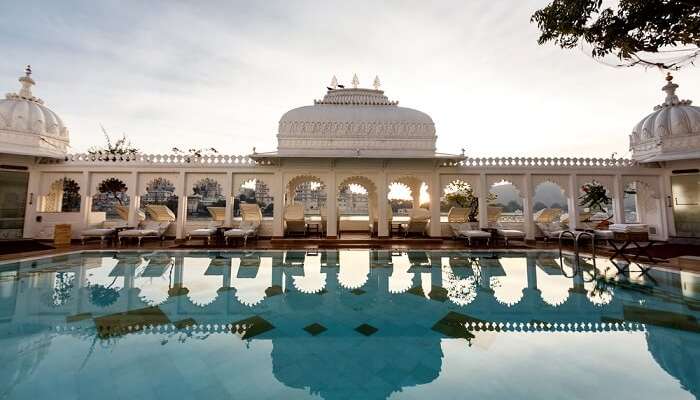 If one were to name a few of the most revered hotels in India and probably Asia, then the Taj Lake Palace would definitely be up there among the best. Moroever, if one was seeking for things to do in Udaipur for 3 days at least, residing and rejuvenating in this palace is certainly the answer.
A hotel situated in the center of Lake Pichola, it's a place straight out of your dreams. The palace turned hotel has been intricately constructed with white marble featuring detailed art, ornate carvings, and beautiful glasswork. Often known as the benchmark for luxury stays in India, Taj Lake Palace is a dent on your pocket, but you definitely worth every penny you pay.
11. City Palace – Tour The Majestic Palace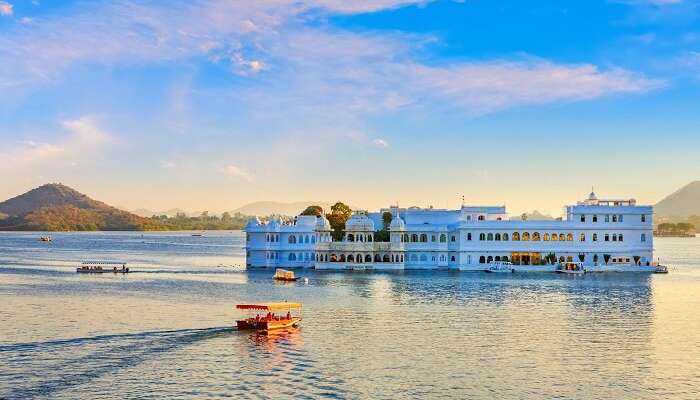 Image Source
Constructed over a period of 40 decades, the City Palace is a majestic sight. Taking a tour of the palace is one of the unique things to do in Udaipur. The City Palace is built on the east bank of the famous Lake Pichola. There are more palaces in the complex of the City Palace of Udaipur. Perched on a hill, it is a beautiful example of both Rajasthani and Mughal architecture.
Timings: 9:30 am to 5:30 pm
Suggested Read: 24 Best Hotels In Udaipur In 2020 For A Comfortable Stay In Every Budget
12. Jagdish Temple – Pay Respects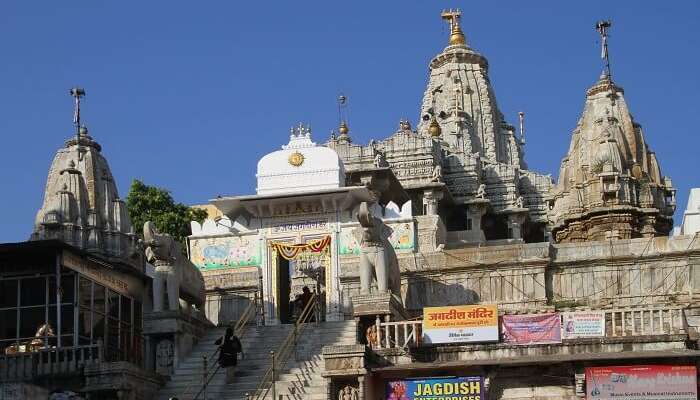 Image Source
Other than forts, palaces, and lakes, Udaipur also has some famous temples that one should visit on their trip here. If you are looking for things to do in Udaipur in 1 day, then a visit to Jagdish Temple should be on your one day list. Located in the center of the city, this is a large Hindu temple. Earlier known as the temple of Jagannath Rai, this is one of the top attractions in the city of Udaipur.
Timings: 5 am to 10 pm (Closed 2:30 pm to 4 pm)
13. Monsoon Palace – Head To The Hilltop Palace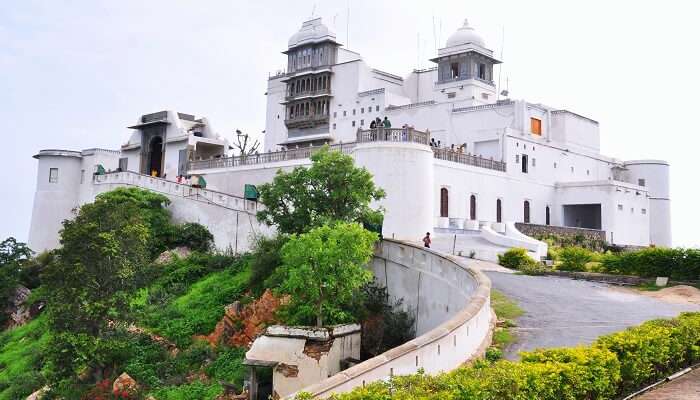 Situated atop a hill, the Monsoon Palace is also known as the Sajjan Garh Palace. It overlooks the beautiful Fateh Sagar Lake. As the name suggests, the palace looks exceptionally beautiful during the monsoons but otherwise too it is a magnificent structure. This palace was built in 1884 and offers one stunning views of the lakes in the city, other palaces, and the serene environs. The palace was earlier owned by the royal family of Mewar and opened to the public only after it came under the Forest Department of the Government of Rajasthan.
Suggested Read: 15 Spectacular Resorts Near Udaipur
14. Fateh Sagar Lake – Watch The Sunset Over The Lake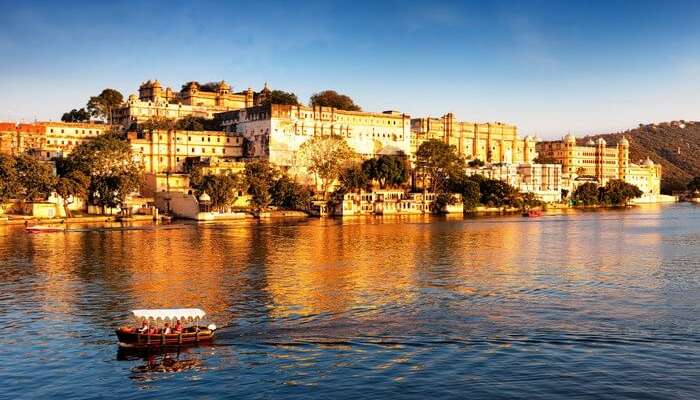 Amidst hills and forests lies this beautiful artificial lake, the Fateh Sagar Lake. This is one of the four famous lakes in Udaipur. The other three are the Lake Pichola, Udai Sagar Lake, and Dhebar Lake. The lake was first built in 1678 AD to the north of Lake Pichola and has three small islands which are the top attractions here. Also, watching the sunset over the Fateh Sagar Lake is one of the most romantic things to do in Udaipur for couples.
15. Sajjangarh Wildlife Sanctuary – Wander Into The Wild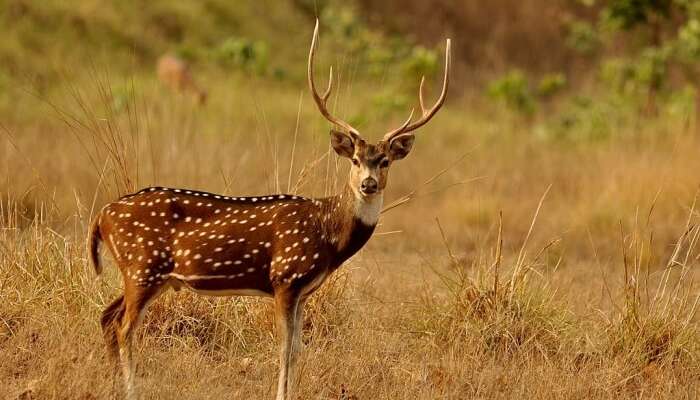 The Sajjangarh Wildlife Sanctuary was built in 1987. It was once a royal shooting preserve of the rulers of Udaipur. In 1764 during an attack, the sanctuary was used as an artillery, and one can see today too, some canons in the area. The top attraction here is the Tiger Lake which is also known by the names of Jiyan Sagar or Bari Lake. One can go for a jungle safari here, or also trek and wander into the wild at the sanctuary.
Suggested Read: 5 Majestic Villas In Udaipur For An Exotic Vacation In This Royal Paradise!
16. Eklingji Temple – Seek Blessings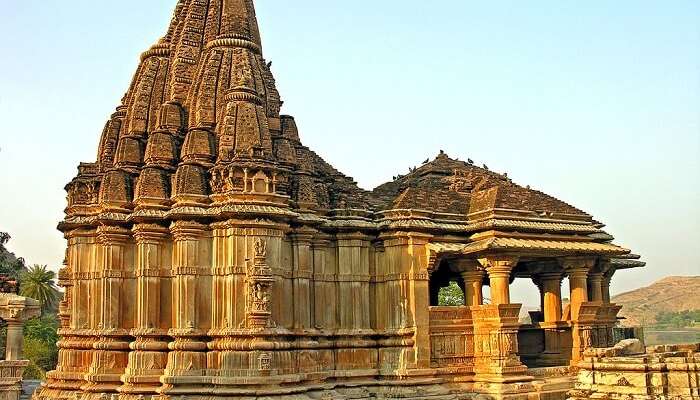 Another temple in the district of Udaipur is Eklingji Temple. It is a Hindu temple and it was believed that Eklingji was the ruling god of Mewar. The original temple was built by the 8th-century ruler but the idol and temple space were invaded and destroyed by the Delhi Sultanate rulers. The temple was rebuilt again in the 14th and 15th century. If you are looking for things to do in Udaipur in 2 days, then you can add this temple to your list.
17. Tiger Lake – Trek To The Lake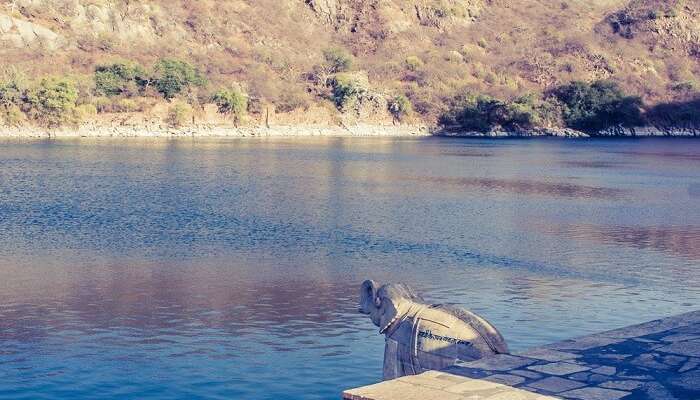 Built by Maharana Raj Singh of Mewar in the 17th century, this lake is also known as the Bari Lake. One can trek to the Tiger Lake and enjoy the local sights on the way. If you are looking for offbeat things to do in Udaipur, then a visit to this lake should definitely be on your list. One can take a walking tour through the Aravali mountain range to reach this serene lake. It is a uphill climb that leads one to this amazing lake. Enjoy the views on the way!
Suggested Read: Udaipur Honeymoon: A Rich, Romantic, And A Royal Start To Your Happily Ever After!
18. Sheesh Mahal – Dine In Royalty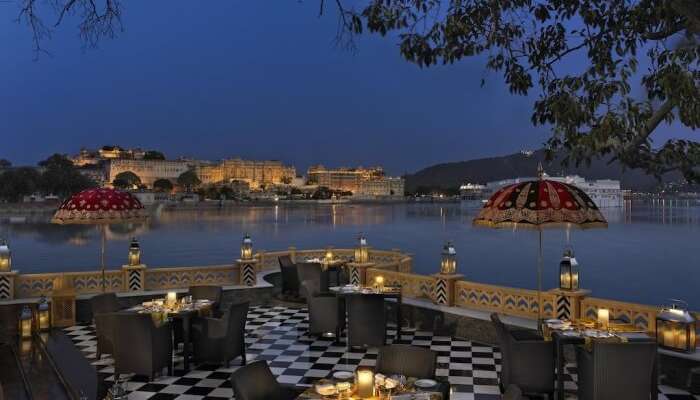 Does the day feel sorted, but still wondering about things to do in Udaipur at night? You can head to Sheesh Mahal and enjoy your dinner by the lake. Sheesh Mahal is an open-air restaurant. Enjoy your meals overlooking the stunning lake here, at Sheesh Mahal. You can enjoy authentic meals and feel like royalty here. Plan a dinner date under the stars by the lake and surprise your partner!
19. Aravali Mountains – Go Horse Riding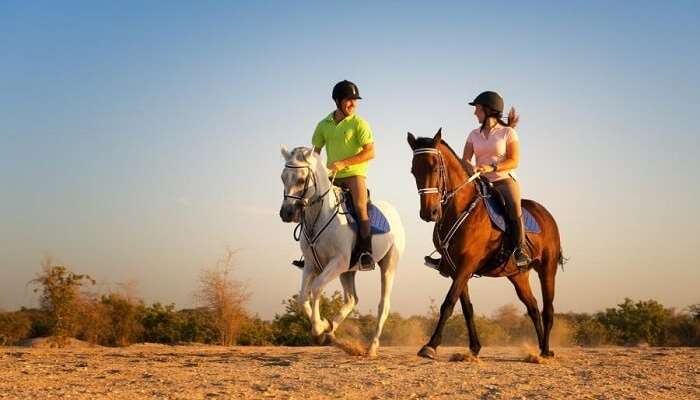 One of the top things to do in Udaipur city is going horseback riding. There are quite a few places where you can ride a horse in Udaipur. One can enjoy a safari too. Some trails where one can enjoy horse riding go through the Aravali mountain ranges. Enjoy the beautiful sights of the city while riding. It is one of the most fun experience and also an offbeat thing to try. Explore the countryside as you ride across villages and nearby rural areas.
20. Charcoal By Carlsson – Eat Here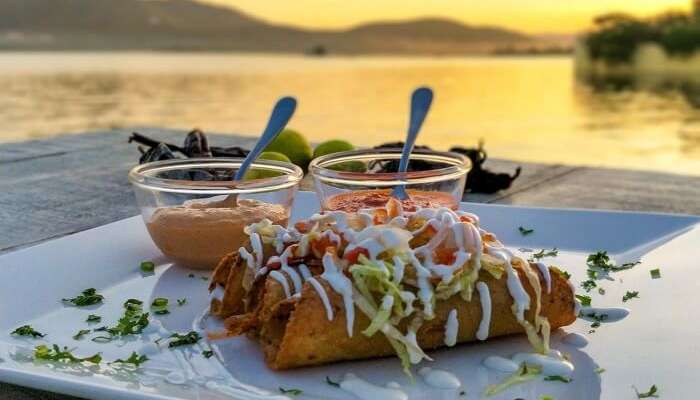 Image Source
This is a famous barbecue restaurant in Udaipur. The restaurant specialises in everything cooked on charcoal. Head here and relish the flavors that Udaipur has to offer to you. The head chef is also opening another place right on the shores of Lake Pichola, and one can then enjoy amazing food with stunning views. Reserve a table in advance to avoid any queue.
Address: 12, Lal Ghat Road, Near Jagdish Temple
21. Sound & Light Show At Kumbhalgarh Fort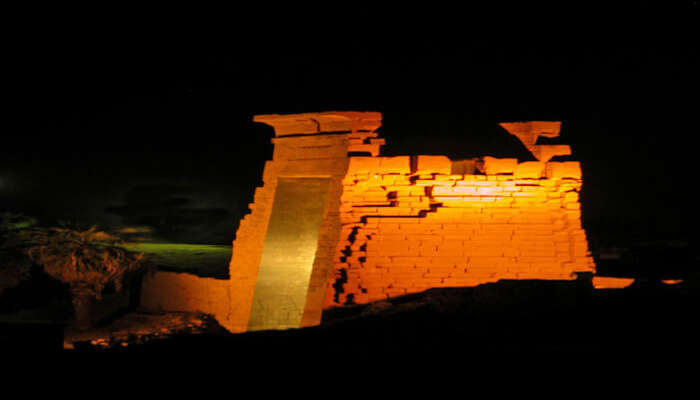 This sound and light show that is held at the magnificent Kumbhalgarh Fort in Udaipur is one of the amazing things to do in Udaipur in night. A spectacle to watch, witness the flamboyant performances that depict the history and rich culture of the royalty of Mewar and the Kumbhalgarh Fort.
Timings: 6:30 pm – 7:30 pm
22. Udaipur Solar Observatory- Get In Touch With Science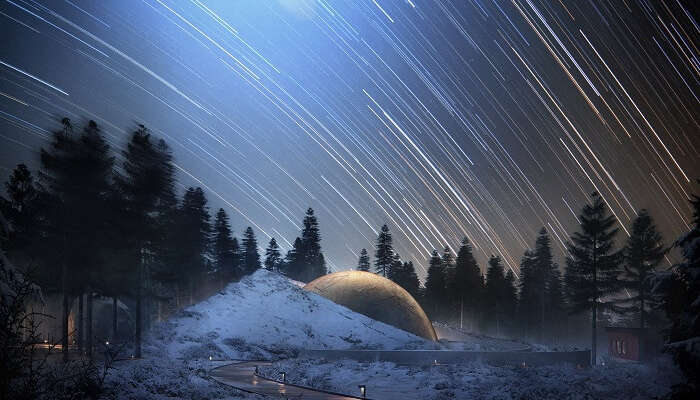 If you love astronomy and star-gazing fascinates you then visit this solar observatory that will empower your knowledge about the sun and the astronomical discoveries. This site is considered to be among the best in the whole of Asia. Sitting in the lap of Fateh Sagar Lake on an island, this observatory makes use of an extensive variety of telescopes for studying solar behaviors.
Timings: 10 am to 6 pm
23. Shilpgram- Get An Insight Into The Local Life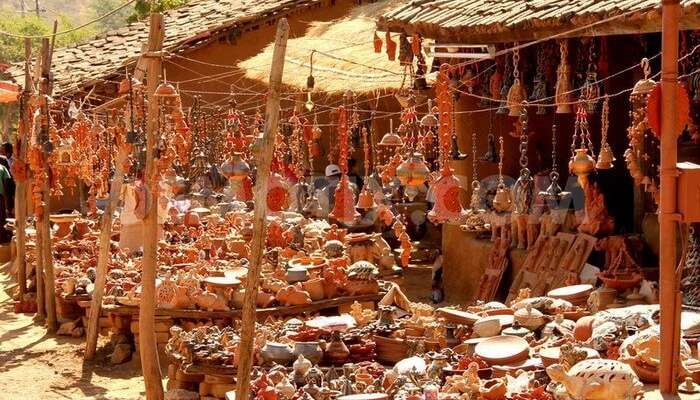 Shilpgram is a complex showcasing arts and crafts by the locals of Rajasthan. Visit Shilpgram to take part in the most celebrated and well-organized crafts fair, it happens every year in Udaipur to mainly promote the textile, crafts, and handicrafts of the state. Taking place in December, the Shilpgram festival is dedicated to the folk culture and diverse people of western Rajasthan.
Admission fare: INR 15/- per child, INR 30/- per adult, INR 50/- per foreigner
Timings: 11 am to 7 pm
Suggested Read: 7 Places To Visit In Kishangarh – Unveiling The Best Of Rajasthan

24. Sas Bahu Temple- Witness The Marvelous Architecture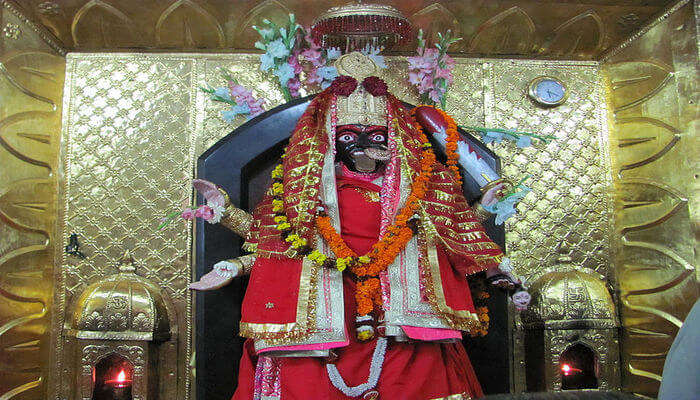 This temple dates back to the 10th century, dedicated to Lord Vishnu which was built by Kachwa King Mahapala at the Nagda villa in Udaipur. Be spellbound by the intricate carvings and stroll through the galleries of this finely crafted ancient temple. Known for its traditional and authentic haveli-influenced architecture, the temple houses the Saharsra-Bahu form of Vishnu that is believed to have a thousand arms. The perfect geometry and fascinating ruins of the temple leave visitors awestruck.
Timings: 5 am to 12 pm; 4 pm to 9 pm
25. Kumbhalgarh Wildlife Sanctuary- Paradise For Animal Lovers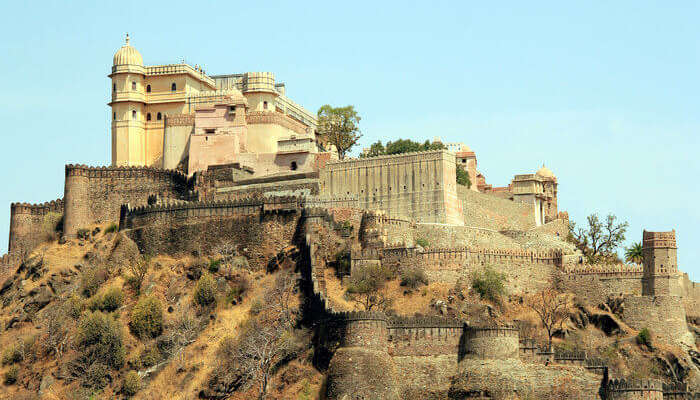 A paradise for wildlife enthusiasts, this sanctuary spreads across 578 sq ft area and covers a large district of Rajsamand and Pali. Housing an extensive variety of magnificent animals including leopard, hyena, sloth bear, jackal, and much more, Kumbhalgarh Wildlife Sanctuary is a must-visit to witness the mystical and marvelous creatures residing in the forests of Udaipur. The foliage greener than usual makes it one of the must-visit places to visit in Udaipur.
Admission fare: INR 100/- per person (weekdays), INR 75/- per person (weekends), INR 15/- per school student
Timings: 9 am to 6 pm
Suggested Read: 14 Places To Visit In Rajasthan In Monsoon In 2020 For Those Who Love Rains!

26. Heritage Walk- Stroll Through The Historic Landmarks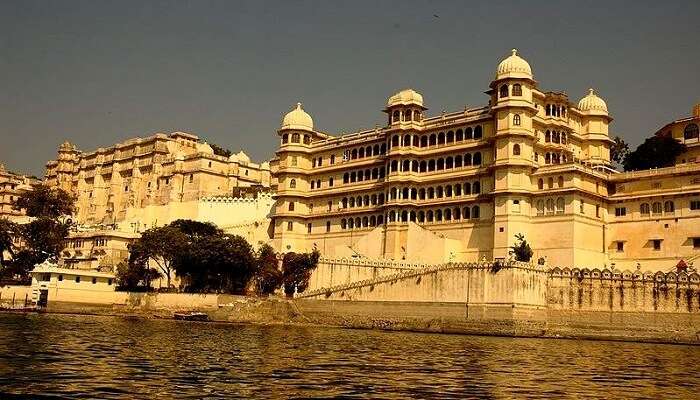 If you are visiting Udaipur, a walk on its glorious streets is a must. Heritage Walk is certainly one of the must-try things to do in Udaipur early morning. Each street, each corner of the road in Udaipur has an untold story. This city of lakes has so much history still undiscovered which you can witness with a walk in the city. The beauty and serenity surrounding this city will make you dig deeper and deeper into how Udaipur has managed to remain so peaceful and serene since this long.
Admission fare: INR 650/- per person
Timings: 7:30 am to 9:30 am
Suggested Read: Monsoon In Jaipur 2020: A Guide To Explore The Pink City Of Rajasthan!

27. Aravali Nature Trekking- Challenge Your Inner Daredevils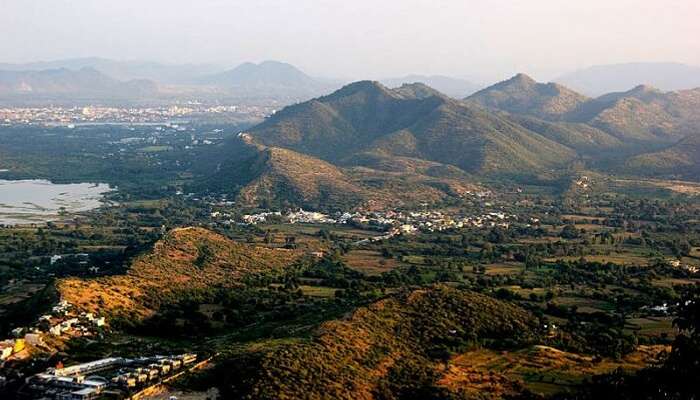 If you want to discover the fun and are looking for adventure activities in Udaipur, you should try Aravali nature trekking. Walking on the laps of Aravalli and having an amazing time in the pleasant weather amidst the mystic hills, you'll see the most beautiful trekking track here. The starting point of this trail is Ubeshwar Temple and the ending location is Morvania village. Meet and greet locals and have fun with your co-trekkers.
28. Under The Sun Aquarium- Take A Look At The Marine Life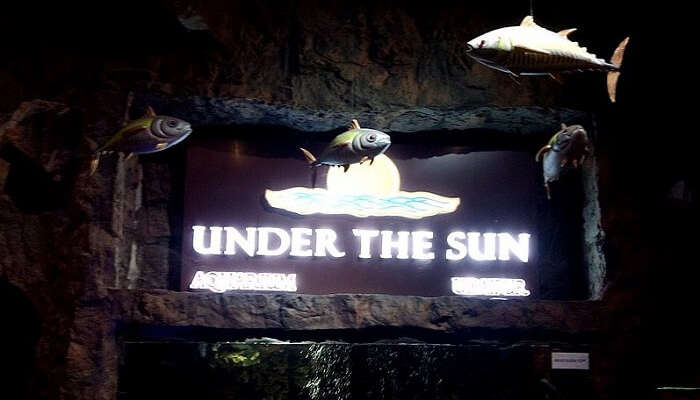 With the biggest public aquarium in India, Under The Sun Aquarium is the pride of Udaipur. Here you'll meet some 200 different species of marine life, and guess what, at the same time enter the tank, feed them, and live a life of a fish yourself. Enjoy amidst the aquatic life and cherish the moment of giant fishes passing your fingers while you wait and watch.
Address: Fateh Sagar Lake | Near overflow, Udaipur 313001, India
Timings: 8:00 AM – 11:00 PM
Admission fare: Rs. 120
29. Haldighati- Revisit The History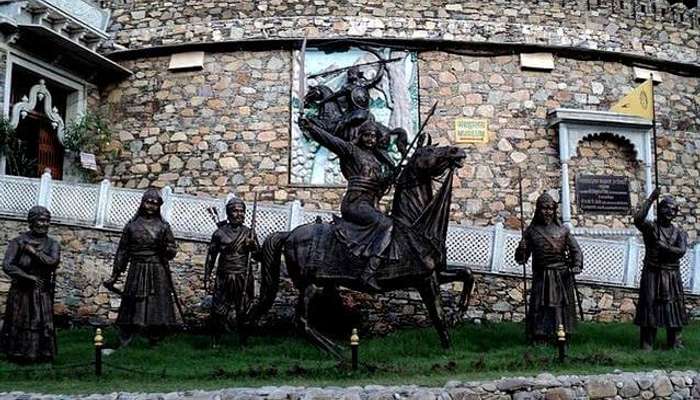 Dedicated to Maharana Pratap and his horse Chetak, Haldighati is the place where the great warrior fought Raja Man Singh of Amber. The place is named Haldighati because of the color of the soil is turmeric like yellow. There is also a cenotaph built in the memory of the loyal horse Chetak who served his master till death. If a historian in you is curious all the time to know more and more about the destination you are visiting, Haldighati is the location which you can't miss.
Admission fare: INR 30/- per person
Timings: 8 am to 7 pm
30. Ranakpur Jain Temple- Feel The Essence Of Spirituality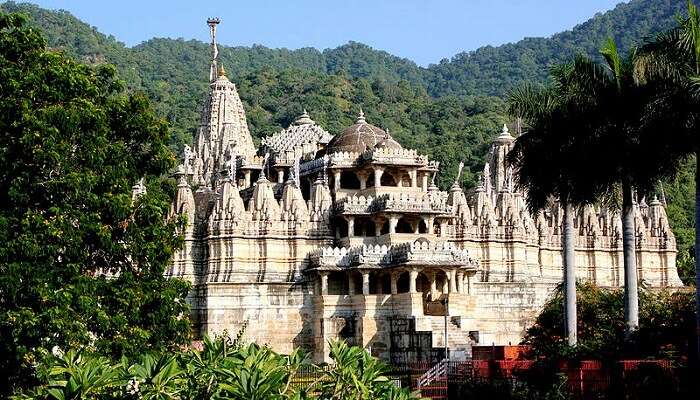 Carved with great opulence, Ranakpur Jain Temple is an architectural marvel. The temple with its towering domes and turrets rise majestically amidst the hills. It is a treat for the eyes to look at and must-visit for history fanatics. It covers an area of 48000 sq. km and is also one of the largest temples of Udaipur.
Timings: 7 am to 7 pm
How To Reach Udaipur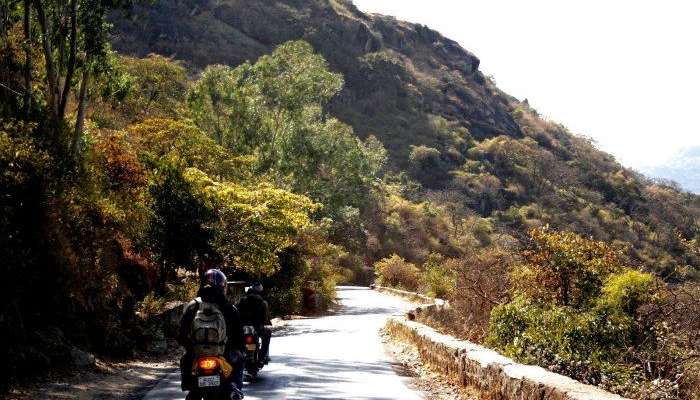 By Air: Maharana Pratap Airport is situated 22 km from the city. The airport is well connected with all the major metropolitan cities of India, with regular flights flying from Mumbai, Delhi, Kolkata, and Jaipur.
By Train: Udaipur is well connected with the major railway stations in India. Tourists who are looking for a more luxurious and expensive option can opt for traveling by Palace on Wheels.
By Road: Udaipur with a high influx of foreign tourists has developed and established a high quality road network and good infrastructure by the state to support the highway that leads to Udaipur. Owing to this, one can have a smooth road trip from Delhi to Udaipur which takes about 11 hours.
Further Read: 13 Romantic Things To Do In Udaipur In 2020 With Your Sweetheart
Intrigued? Book yourself a happening adventure and a magical holiday in Rajasthan. Know of any more rocking things to do in Udaipur? Let us know in the comments below and share this with your friends.
Frequently Asked Questions About Things To Do In Udaipur
Q. Is Udaipur worth visiting?
A. A beautiful city in Rajasthan famous for its lake Pichola, palaces, and forts, Udaipur is definitely worth visiting. The heritage hotels to chic hostels, make it a place suitable for everyone from backpackers to honeymooners.
Q. What is famous in Udaipur for shopping?
A. If you are looking for places for shopping in Udaipur, then these are a few options to consider:
Hathi Pol Bazar – For paintings
Bada Bazaar – Rajasthani Jutis
Chetak Circle – Craft items
Bapu Bazaar – For crockery, clothing, gadgets, and more
Q. What is famous in Udaipur?
A. Udaipur is famous for its pristine beauty and the royal architecture like forts and palaces. The Sajjan Garh fort is the best place for sunset view and the City Palace is a must visit.
Q. Which are the famous palaces in Udaipur?
A. There are two iconic palaces in the Udaipur district of Rajasthan, India – the Sajjangarh Palace and the City Palace of Udaipur.
Q. What is the best time to visit Udaipur?
A. The best time to visit Udaipur is in between the monsoons and summers. October to March is a great time to head here as the weather is pleasant during this period.
Q. How many days are enough for Udaipur?
A. 3 to 4 days are good to explore the different places to visit in Udaipur like Lake Palace, City Palace, Jag Mandir, The Monsoon Palace, Fateh Sagar Lake, Kumbhalgarh Fort, and Saheliyon Ki Bari.
Q. What is there to do in Udaipur at night?
A. Some of the things that one can enjoy in Udaipur after dusk are:
1. Mewar Light and Sound Show
2. A cultural show and dance performances at Bagore ki Haveli
3. Candlelight dinner by Lake Pichola
---
Looking To Book A Holiday Package?
Book memorable holidays on TravelTriangle with 650+ verified travel agents for 65+ domestic and international destinations.
---
People also read:
Things To Do In Coimbatore Things To Do In Delhi Things To Do In Assam
Comments
comments