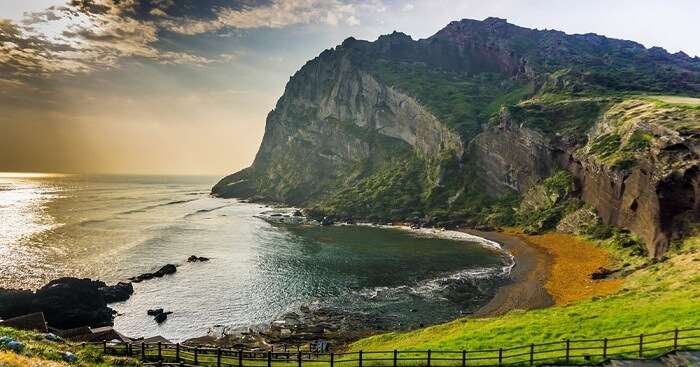 The elusive, exotic land of South Korea beckons every traveler and backpacker to experience its many wonders. You'll be spoilt for choice when shortlisting places to visit in South Korea, which offers such an unbelievable range of unexplored natural sites and urban delights.
There are tradition folk villages and swanky cities, gorgeous islands and breathtaking natural vistas. Here is a list of our top picks of places to visit in South Korea, from the popular to the unexplored, from countryside villages, grand Buddhist temples & palaces to ancient fortresses and high-tech urban cities.
Top 13 Places To Visit In South Korea
If you're planning to visit South Korea soon, here is the perfectly curated list of places to visit in South Korea on your next trip. Keep scrolling down and read along!
Seoul
Jeju Island
The Korean Demilitarized Zone (DMZ)
Busan
Gyeongju
Dadohaehaesang National Park
Pyeongchang County
Suwon
Seoraksan National Park
Andong Hahoe Folk Village
Upo Marsh
Juknokwon
Boseong Green Tea Field
1. Seoul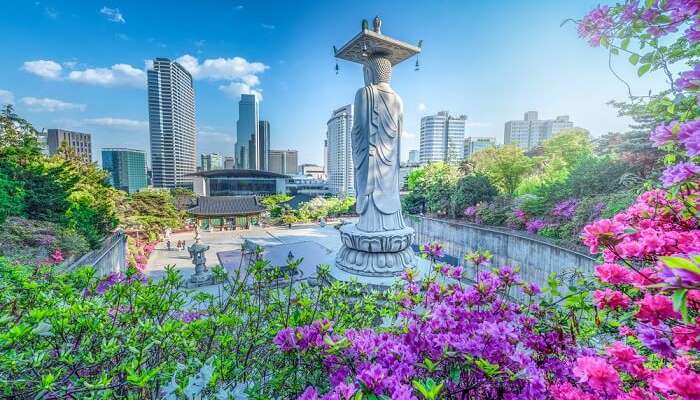 The dazzling capital city will impress you with its dizzying mix of modern architecture, party vibes, pop culture, beautiful parks & glittering promenades. Vibrant Seoul is not just a buzzing urban hub but also rich in history and culture. With gorgeous palaces, chic restaurants and stylish boutiques, Seoul is charming all the way. The National Museum and War Memorial take you through the history of the country, while the cool shopping district of Gangnam gives you a taste of the city's ritzy side.
Ideal for: Nightlife, Shopping, Culture, Architecture
Key attractions: Changdeokgung Palace (with an amazing Secret Garden), Gyeongbokgung Palace, Bukchon Hanok village (for its pagodas and old world charm), Lotte World amusement park, Bukhansan National Park, N Seoul Tower for panoramic views.
Suggested Read: 10 Places To Visit In Korea In 2018 During Winter That Would Hook You With Their Charm
2. Jeju Island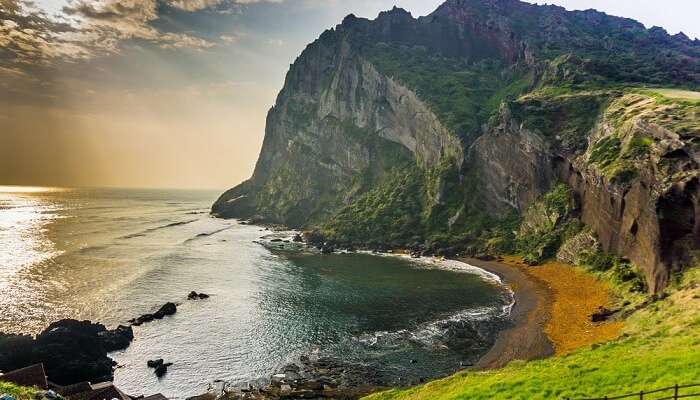 This stunning island just 85Km off the coast is one of the most beautiful places in South Korea. Having been voted as one of the New Seven Wonders of Nature, the pristine beauty of Jeju-do will take your breath away. Surreal white sand beaches surrounded by pine forests, volcanic craters and lava caves, beautiful botanical gardens and a rich culture are some of the high-points of this natural paradise.
Ideal for: Nature, Photography
Key attractions: Seongsan Sunrise Peak, Halassang national park, Seopjikoji promontory, Hyeopjae & Hamdeok beach, Cheonjiyeon Waterfalls
Suggested Read: These 12 Places To Visit In Beruwala Will Make Your Trip To Sri Lanka In 2019 Memorable

3. The Korean Demilitarized Zone (DMZ)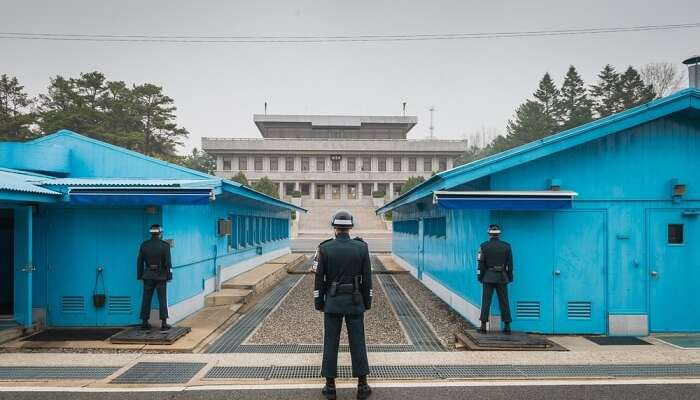 The DMZ is one of the most famous places to visit in South Korea to get a better understanding of the conflict between North and South Korea & the current state of affairs. The DMZ is full of interesting sites that make for an engaging lesson in modern history. You can take a peek into North Korea at the Observation Post and feel the rush of adventure while walking through the Infiltration Tunnel. It is advisable to take a guided tour that includes a visit to the Joint Security Area (JSA).
Ideal for: Historical Sites
Key Attractions: Freedom Park, Dorasan Station & Observatory
Suggested Read: 11 Places To Visit In Korea During Winter 2019 That Would Hook You With Their Charm
4. Busan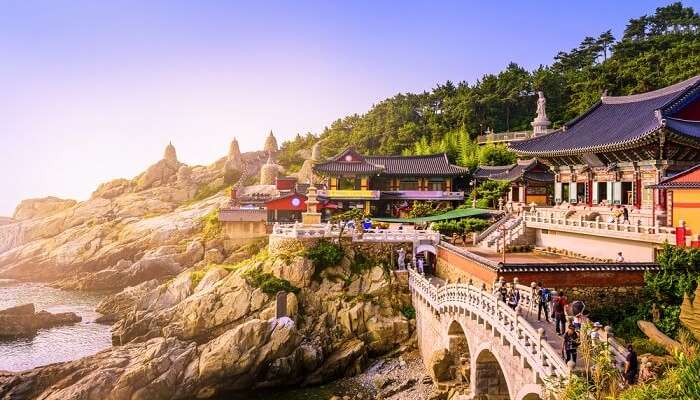 This second largest city of South Korea is known across the world for hosting Asia's largest International film festival. Busan is an interesting amalgamation of skyscrapers, majestic mountains, beautiful beaches and magnificent Buddhist temples. Amongst the popular places to visit in Busan is the Haedong Yonggungsa temple along the coast and the interesting Jagalchi fish market. Foodies can relish the sea food spread at the numerous restaurants and enjoy local delicacies at the ubiquitous street food stalls.
Ideal for: Beaches, Culture, Food
Key attractions: Haeundae Beach (with the Sea Life Aquarium and Folk Square), Beomeosa Temple, Gwangalli Beach with beautiful views of the Diamond bridge, Hurshimchung Hot Springs
Suggested Read: 7 Star Hotels In The World That Are Too Perfect For A Once-In-A-Lifetime Kind Of Holiday
5. Gyeongju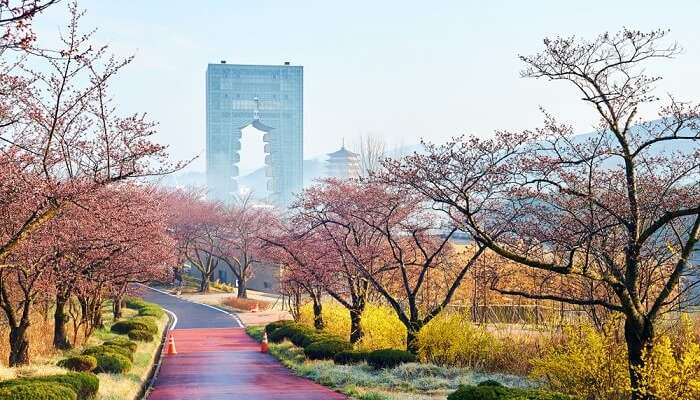 The coastal city of Gyeongju, often called an open-air museum, is one of the best places to visit in South Korea to discover its traditional roots and rich heritage. The erstwhile capital of the ancient Silla kingdom, Gyeongju is a treasure trove of cultural and historical sites and ruins going back to a thousand years. With the UNESCO world heritage site, Bulguksa temple and the National Museum with its unparalleled collection of artefacts, this city gives you a glimpse into South Korea's cultural roots.
Ideal for: Culture, History, Nature
Key attractions: Anapji pond, Tumuli Park (the giant burial mounds covered in grass), the majestic Seokguram Grotto
Suggested Read: 5 Places Worth Exploring On Korea Tour-Land Of Morning Calm
6. Dadohaehaesang National Park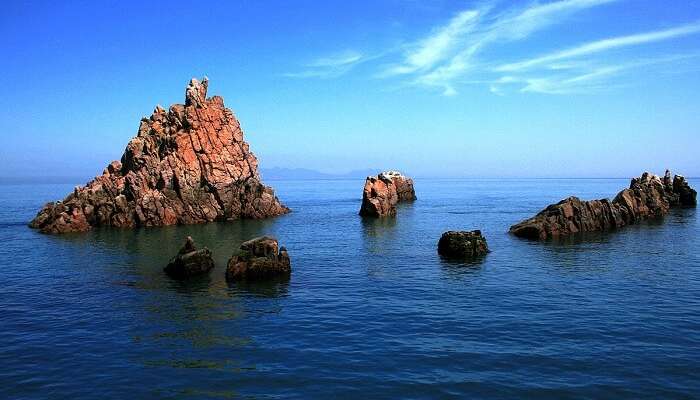 The largest National Park in Korea, this slice of paradise covers 1700 large and small islands and some rock structures. One of the most scenic and islands is the Cheongsando island considered one of the best places to visit in South Korea for it surreal landscapes and the slow city movement. Hongdo and Heuksando are the other popular islands where you can take a boat trip to admire the overwhelming natural sites. This is one of the top famous places to visit in South Korea for your next vacation!
Ideal for: Nature, Tranquility, Photography
7. Pyeongchang County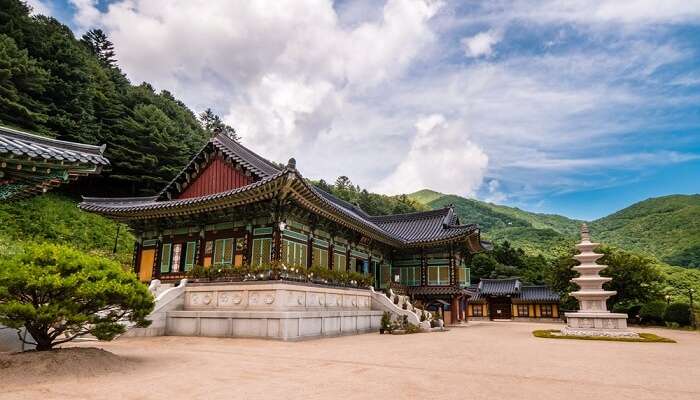 This is one of the best places in South Korea to experience tranquillity and awe-inspiring scenic beauty all around. Located in the Taebaek Mountains, this picturesque county 180 Kms away from Seoul hosted the prestigious Winter Olympics in February 2018. The Odaesan National Park is a hikers' delight with trails going up the snow-peaked mountains, while the ski resorts Alpensia and Yongpyong are popular with skiers and snowboarders. The mountains are also home to many beautiful Buddhist shrines. This place is surely one of the best places to visit in South Korea during winters!
Ideal for: Nature, Photography, Spirituality
Key Attractions: Woljeongsa temple, Pyeongchang Hyanggyo
Suggested Read: 7 Star Hotels In The World That Are Too Perfect For A Once-In-A-Lifetime Kind Of Holiday
8. Suwon
Capital of the Gyeonggi province bordering Seoul, Suwon is known for its unique Hwaseong Fortress with its imposing stone walls and impressive archways. Built by the Joseon dynasty the fortresses wall is a UNESCO world heritage site with four pagoda style gates, artillery towers and observation decks. Another magnificent structure at the site is the Hwaseong Haenggung Palace. With many more exciting things to do, Suwon is one of the top places to visit in South Korea.
Ideal for: History, Architecture
Key Attractions: Suwon Hwaseong Museum to understand the history of the majestic fortress, Gwanggyosan Mountain (for hiking trails), Samsung Innovation Museum
9. Seoraksan National Park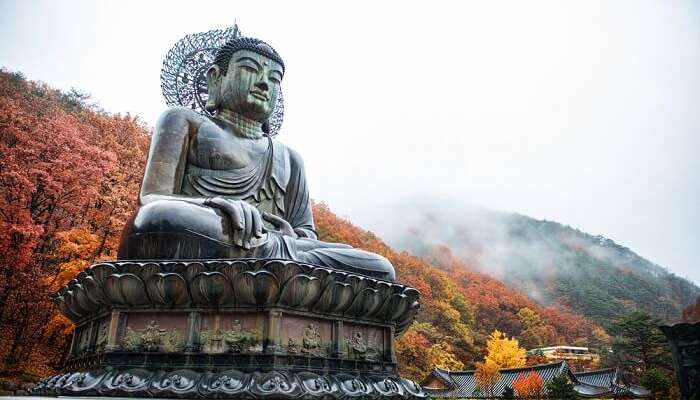 The vivid strokes of nature will greet you every step of the way in the UNESCO protected Seoraksan National Park. Literally meaning the Snowy Crag Mountains, the Seoraksan range with its snow-covered peaks forms a majestic backdrop to the park temples. It is a great place to hike the myriad trails including the formidable Ulsan Rock or simply enjoy the gondola ride up the mountain for some spectacular views. As you stroll through the 400000 sq km biosphere protection site, prepare to be awestruck by the giant Buddha statue on your path.
Ideal for: Hiking, Adventure, Photography, Nature
Key Attractions: Baekdam sa Buddhist temple, Gyejo-am hermitage, Yukdam-Pokpo waterfall
10. Andong Hahoe Folk Village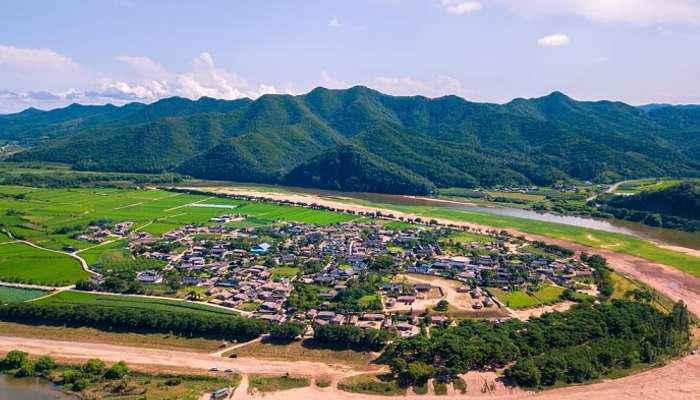 Literally meaning 'the village enveloped by water' this charming traditional Korean village located in Andong is a UNESCO World Heritage site. Entering the Hahoe village is like travelling back in time to the simple Korean village way of life displaying local traditions and culture. The beautiful setting alongside the Nakdong river is accentuated by the rural tile and thatched roof houses, sandy beaches and pine trees. The village is also a great place to try out traditional Korean delicacies and marvel at the mask dance performed by the locals.
Ideal for: Culture, Tranquility, nature
Nearby attractions: Bongjeongsa temple, Buyongdae Cliff (take a boat for breathtaking views of the village)
11. Upo Marsh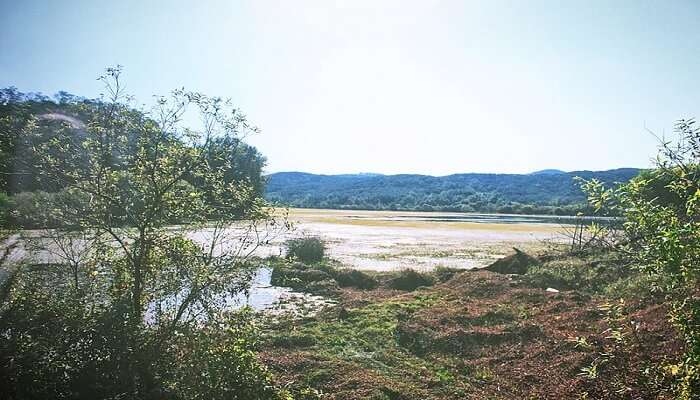 Considered to be the largest inland wetland in Korea, Upo March is a must-visit site for all tourists. It is said that this land was formed over almost 140 million years ago and it is home to about 1500 species of plants and animals too. Some of these animals are, however, currently endangered. You can also spot a few migratory birds here which are found to be flying low as you walk or bike through the land. This surely tops the list of good places to visit in South Korea!
Ideal for: Biking, nature walks, photography, bird-watching
Nearby attractions: NA
12. Juknokwon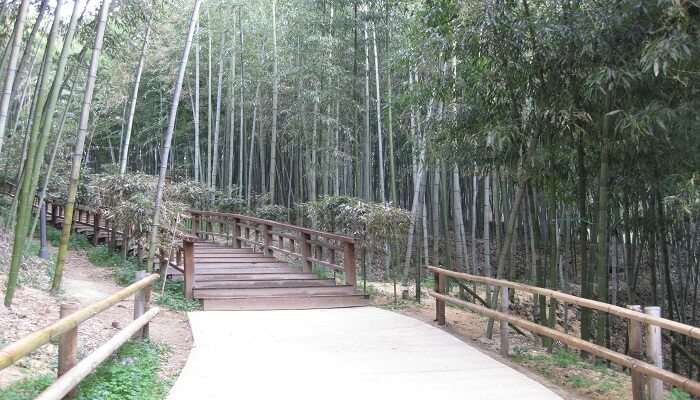 Also known as the 'slow city', Damyang offers a variety of tourist attractions, out of which, Juknokwon cannot be missed for sure. The thick bamboo land that has 8 different trails has 8 unique themes that you can walk through. If you look close enough, you can spot some green tea shoots growing from the dew that falls off the bamboo leaves, known as Jukro tea.
Ideal for: Nature walk, photography
Nearby attractions: Gwanbangjerim, May 18th National Cemetery and Gangcheonsan County Park
13. Boseong Green Tea Field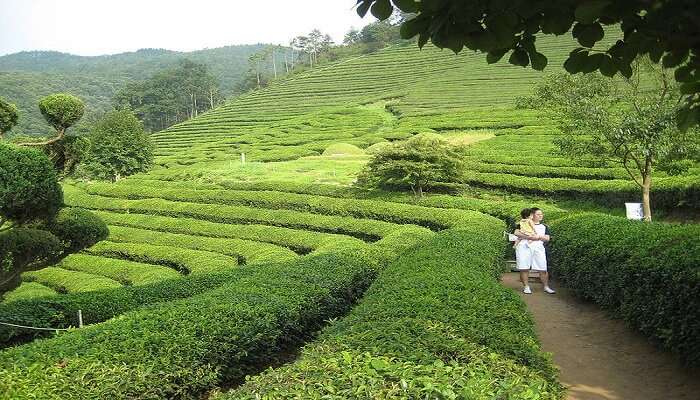 With a major 40 % of the total tea produced in Korea being produced at these famous fields, this place is nothing less than a scenic beauty in itself which is also used as a backdrop of many Korean movies and drama shows. If you're planning to visit this place in May, make sure you don't miss out on the grand Green-tea festival or click a picture of the stunning scenery as this place is well lit by light bulbs during winter season. This field is amongst the best places to visit in South Korea during summer!
Ideal for: Nature walk, photography
Nearby attractions: Songjeong Station Market, Darangee Village
Further Read: Top Adventure Honeymoon Destinations: Perfect Combination Of Thrill And Romance!
Looking at the above places, South Korea sure looks like an awesome destination for a holiday. From nature to the best of lifestyle and modern experiences – do what you love here and tell us about it in the comments section below. So, pack your bags and book your trip to South Korea right away!
Frequently Asked Questions About Places To Visit In South Korea
Q. What is the most beautiful place in South Korea?

A. It is impossible to pick one beautiful place in South Korea as there are several places to explore. Some of the most beautiful places to visit are Busan, Seoul, Jeju, Jinhae, Boseong, and Bukchon Hanok Village.
Q. Where should I visit in South Korea?

A. There is no dearth of places to visit in South Korea so you can opt for as many places as you want. But make sure that you visit Juju Island, Boseong, Seoraksan National Park, Boseong Green Tea Field, Gyeongju, Chuncheon, and Suwon to name a few. 
Q. Is South Korea safe to visit?

A. Despite being at war with North Korea, South Korea is one of the safest places to visit in the world. Although no peace pact has been made between the two countries, the flights to South Korea are always full of travelers because there is no threat in the country.
Q. Is Korea expensive to visit?

A. Expenses in any country depend on how many days you are planning to stay. If you go all basic then expect to spend from $50 to $150 dollars per person, every day. Depending on your level of comfort and budget, you can choose several lavish stays or the number of days you want to stay here.
Q. What Korea is famous for?

A. South Korea is famous for its booming economy and entertainment industry. Moreover, the food segment does not lag behind and offers a variety of tasty foods to relish like Kimchi and Bibimbab that no one can afford to miss.
Q. What should I buy in Korea?

A. A trip to South Korea is incomplete if you haven't bought Korean beauty products, ramen, soju, Zodiac figurines, Hanji (paper), and Hadong tea. So, make sure that you buy any of these items to make your South Korean trip a successful one.
Q. What is Korea's famous food?

A. Some of the most famous food offered in Korea are Kimchi, Hoeddeok, Bulgogi, Bibimbap, Soondae, and Hobakjuk to name a few.
Q. Are 3 days enough in Seoul?

A. Three days are just perfect to explore top tourist places in Seoul. Some of the places that you can visit are Gyeongbokgung Palace, Insadong, Jogyesa Temple, and many more.
Comments
comments