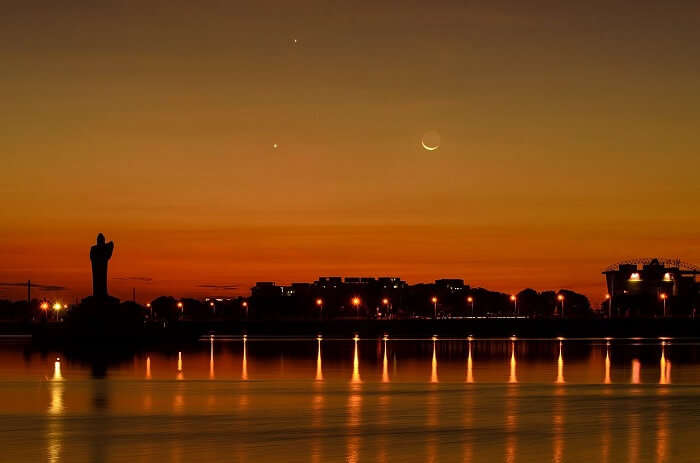 Owing much of its fame to the historical Nizam's culture, it is hard not to agree when Hyderabad is often referred to as the New York of India. Be it the racing lifestyle, the young crowd, modern-day culture, old traditions, historical attractions, or the local population, these glorious places to visit in Hyderabad will take you through the length and breadth of the city, beyond the city's much hyped biryani scenes. And without a doubt, travelers can totally look forward to having a time of their lives at these 15 must-visit and famous tourist and hangout places in Hyderabad.
25 Must-Visit Tourist Places In Hyderabad
A trip to Hyderabad will be incomplete if you miss out these tourist places while exploring the rich glory of this city of Nawabs.
1. Charminar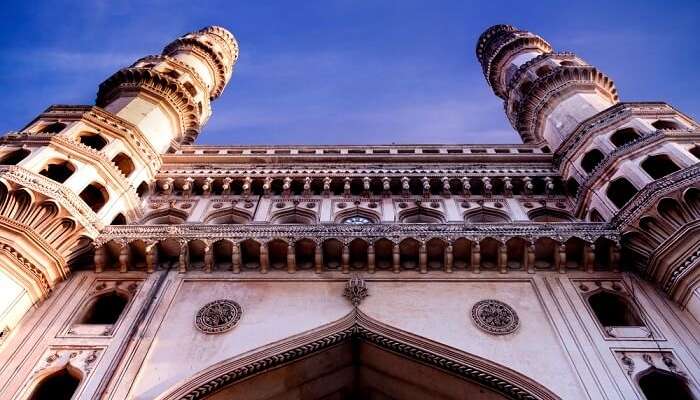 Tracing its origin back to the late 1500s, Charminar is one of the most reckoned structures of all the historical places in India. Serving as a iconic landmark to look forward to, it indeed one of the best places to visit in Hyderabad for all travelers alike. Originally built as a mosque, the glorious Charminar stands as an epitome of art and architecture in the heart of the city. Also, it is a must for the food lovers to relish some of the best Hyderabad street food near Charminar.
Location: Charkaman, Ghansi Bazaar, Hyderabad, Telangana 500002
Timings: Monday to Sunday – 9:30 AM to 5:30 PM
Must Read: 50 Places To Visit In India Before You Turn 30
---
South Weekend Holiday Packages On TravelTriangle
A trip to South India has a lot to offer – from tranquillity of forests to charm of sizzling beaches and from lost kingdoms to chills of a hill station. Visit Kerala, Coorg, Ooty, Mysore, or Kodaikanal. Book holiday packages inclusive of airport transfers, cab, resort, sightseeing, and meals.
---
2. Golkonda Fort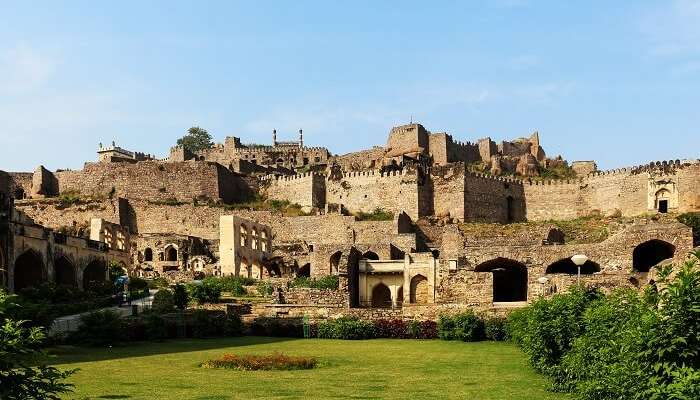 A treasure in the chest of Hyderabad, the the Archaeological Survey of India considers the Golkonda Fort as an archaeological gem which is one of must places to visit to near Hyderabad within 200 Kms. A former capital of the Qutb Shahi Dynasty, this citadel now serves as one of the famous picnic spots in Hyderabad. An architectural masterpiece of all times, it is a strict no no to miss out on this fort of all the Hyderabad attractions.
Location: Khair Complex, Ibrahim Bagh, Hyderabad
Timings: 9 am to 5.30 pm – Everyday
Suggested Read: New Year Eve Parties in Hyderabad For A Remarkable Entry Into 2019
3. Mecca Masjid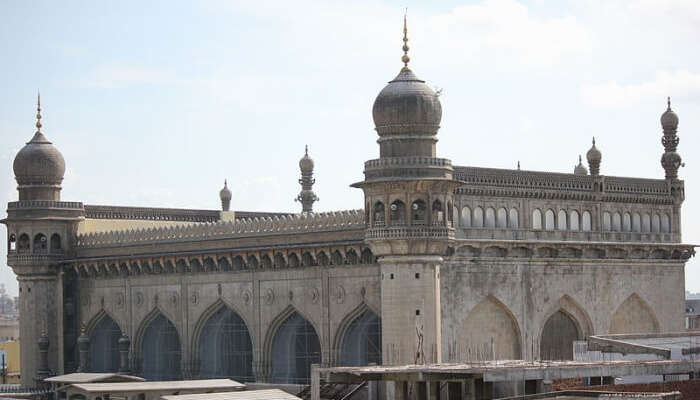 A religious site by nature, Mecca or Makkah Masjid happens to be one of the oldest places to see in Hyderabad. Listed as one of the top heritage sites in India, the Masjid got its name after the bricks that were brought for construction from the famous city of Mecca in Saudi Arabia. Standing tall at a height of 23 meters, this fascinating Masjid is not only the most spectacular places to visit in Hyderabad but also one of the largest mosques in India.
Location: Near Charminar, Ghansi Bazaar, Hyderabad, Telangana 500002
4. Qutb Shahi Tombs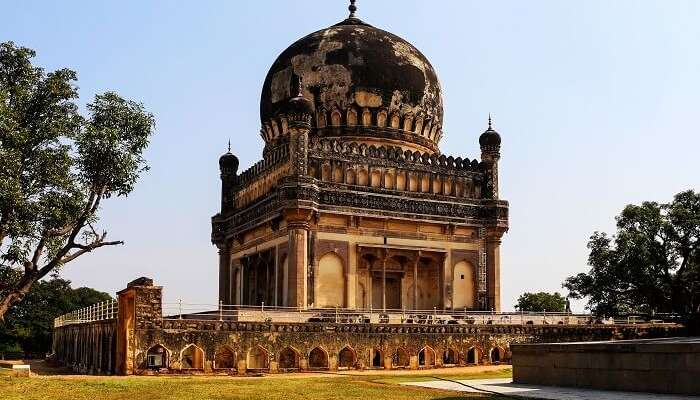 Located within the premises of Ibrahim Bagh, the Qutb Shahi Tombs is reckoned to be one of the most historical places in Hyderabad as it houses the tombs of all the seven rulers of Qutub Shahi Dynasty. Casting a magical spell on the visitors with its grandeur, travelers will surely be charmed to witness the tombs that strike a perfect balance between the Indian and Persian style of architecture.
Location: Qutub Shahi Tombs, Hyderabad, Telangana 500008
Timings: Saturday to Thursday – 9:30 AM to 4:30 PM; Closed on Fridays
Entry Fee: INR 5 Per Child; INR 10 Per Adult; INR 20 Per Camera
Suggested Read: 10 Super Cool Places Near Hyderabad For The Quirky Explorers
5. Hussain Sagar Lake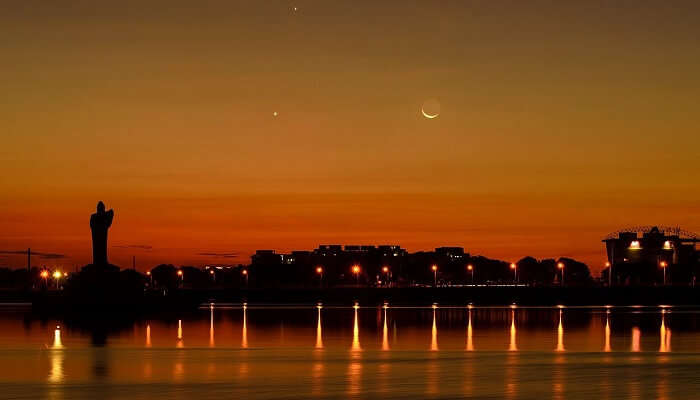 Considered to be one of the largest man-made lakes in the heart of the city, Hussain Sagar Lake is one of the most romantic places to visit in Hyderabad for couples. Other than offering majestic views of the massive Buddha statue located in middle of the lake, one can also enjoy boating and parasailing activities that also makes it one of the most happening places to visit in Hyderabad at night.
Location: 2 kms from the Hyderabad Center, Hyderabad, Telangana
Timings: Tuesdays to Sundays – 9 AM to 9 PM; Closed on Mondays
Entry Fee: INR 5 per person
Boat Transfers: INR 30 for adults and INR 20 for children
6. Ramoji Film City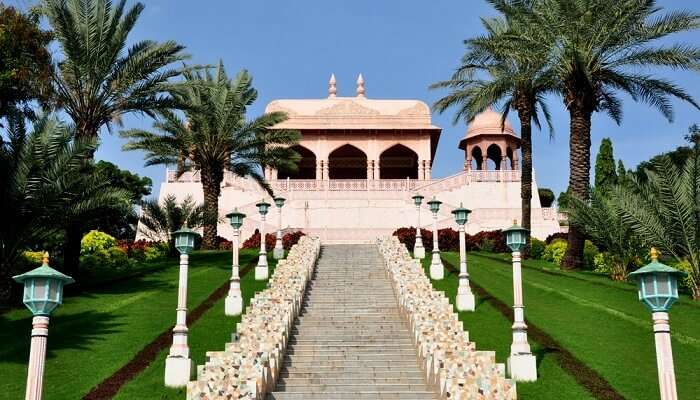 Ever heard that big surprises come in small packages? Well Ramoji Film City sure does live upto that expression. It not only is one of the famous tourist places in Hyderabad but also holds a Guinness World Book Record for being a home to more than 50 well-equipped film sets at a single location. Did you know that before?
Location: Anaspur Village, Hayathnagar Mandal, Hyderabad
Timings: Monday to Sunday – 9 AM to 5.30 PM
7. Nehru Zoological Park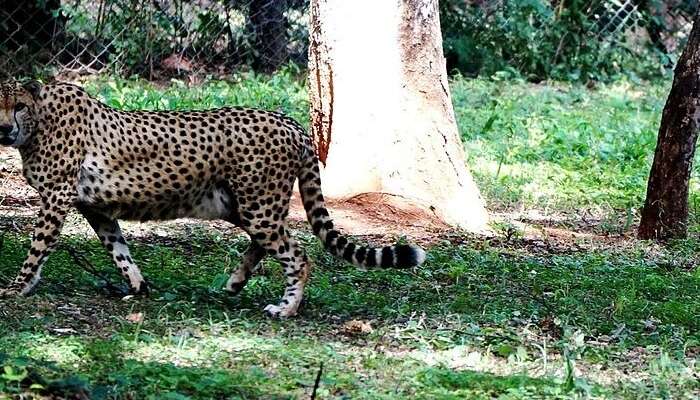 A home to about 1500 odd animals across various species, Nehru Zoological Park is one of the must visit attractions on a Hyderabad city tour. Spread across an area of about 380 acres, it also happens to be one of the largest zoos in the whole of Asia. Surprised much?
Location: Zoo Park Main Road, Kishan Bagh, Bahadurpura, Hyderabad
Timings: Tuesdays to Sunday – 8.30 AM to 4.30 PM; Closed on Mondays
Entry Fee: INR 20 per adult; INR 10 per child; INR 20 per still camera; INR 100 per video camera; INR 500 for professional shoots; and INR 1000 per car or jeep
Suggested Read: 6 Haunted Places In Hyderabad That Will Make You Hide Under Your Bed
8. Snow World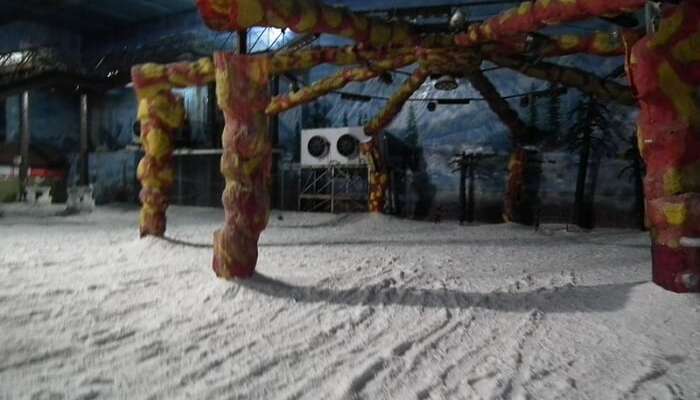 Considered to be one-of-a-kind Hyderabad attractions, Snow World is an unique amusement park located in the heart of the city and right next to the Hussain Sagar Lake. Spread across a land of about 2 acres, Snow World promises a fun-filled day amidst the snow for friends, families, and all travelers alike.
Location: Survey No. 57, Lower Tank Bund Road, Near Lake View Hotel, Hyderabad, Telangana 500080
Timings: Monday to Sunday – 11 AM to 9 PM
9. Lumbini Park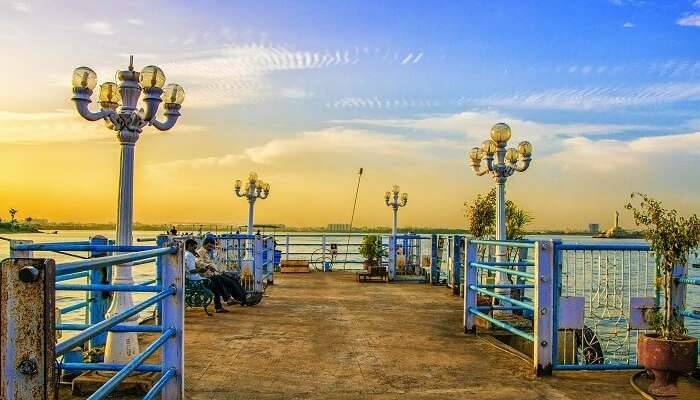 A modern urban park located at the core of the city, Lumbini Park is one of the refreshing places to visit in Hyderabad in evening. Letting the locals unwind after a tiring day and entertaining the travelers with the magical light and sound show, the park is dedicated to Lord Buddha and is named after Lumbini of Nepal.
Location: Opposite Secretariat New Gate, Khairatabad, Hyderabad, Telangana 500004
Timings: Monday to Sunday – 9AM to 9PM
Laser Show Timings: Weekdays – 7.15 PM; Weekends: 7.15 PM and 8.30 PM
10. Birla Mandir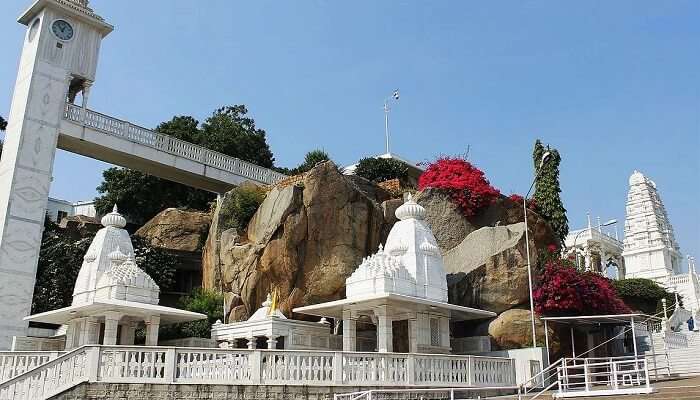 Spread across a land that measures about 13 acres, and perched high on a hill at a height of around 280-feet, Birla Mandir is one of the famous religious places to visit in Hyderabad in 2 days. Popular amongst the Hindu population and all travelers across the country, it is set on a hillock called Naubat Pahad and was inaugurated by Swami Ranganathananda himself who runs the Ramakrishna Mission.
Location: Hill Fort Rd, Ambedkar Colony, Khairatabad, Hyderabad, Telangana 500004
Timings: Monday to Sunday – 7 AM to 12 Noon; 3 PM to 9 PM
Suggested Read: 10 Reasons Why You Should Never Visit Hyderabad
11. Salar Jung Museum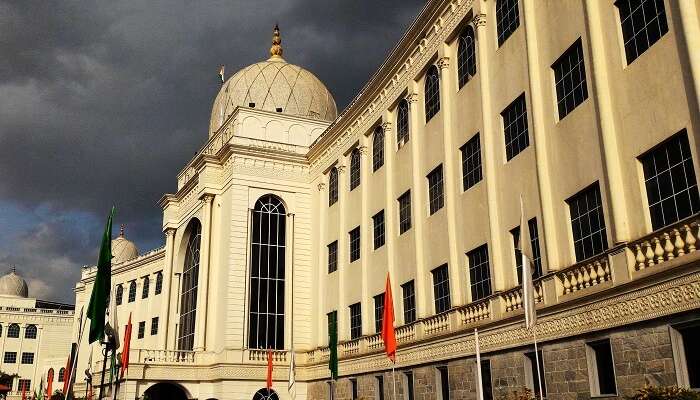 Renowned to be one of the largest and one amongst the only three National Museums in India, Salar Jung Museum is one of the best places to visit in Hyderabad that is dedicated to every form of age-old art. Enjoying a favored location at Darushifa, this popular museum is set on the banks of River Musi and is home to paintings, sculptures, manuscripts, carvings, artefacts, and lots more from all over the world.
Location: Salar Jung Road, Near Minar Function Hall, Darulshifa, Hyderabad, Telangana 500002
Timings: Saturday to Thursday – 10 AM to 5 PM
Website
12. Nehru Centenary Tribal Museum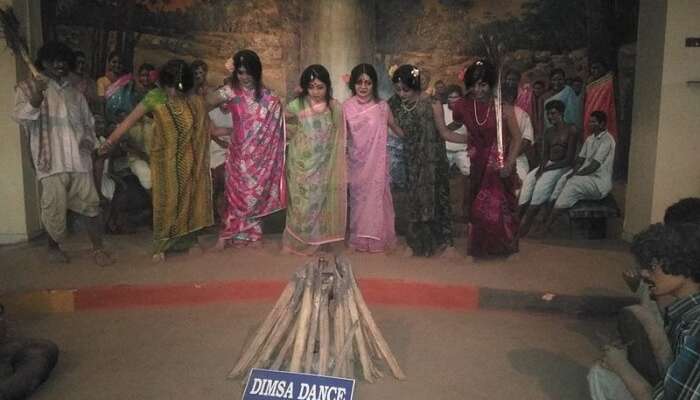 Portraying the beauty of different cultures, traditions, customs, and lifestyle of the various local tribes of Andhra Pradesh, the Nehru Centenary Tribal Museum is one of those Hyderabad attractions that unites all the locals of the city. While Hill Reddy, Bagata, and Kondareddy are some of the main tribes that are being represented here, the museum is one of the best places to learn more about the heritage and history of Hyderabad and its people.
Location: Owaisi Pura, Masab Tank, Hyderabad, Telangana 500028
Timings: Monday to Saturday – 10:30 AM to 5 PM
13. Chowmahalla Palace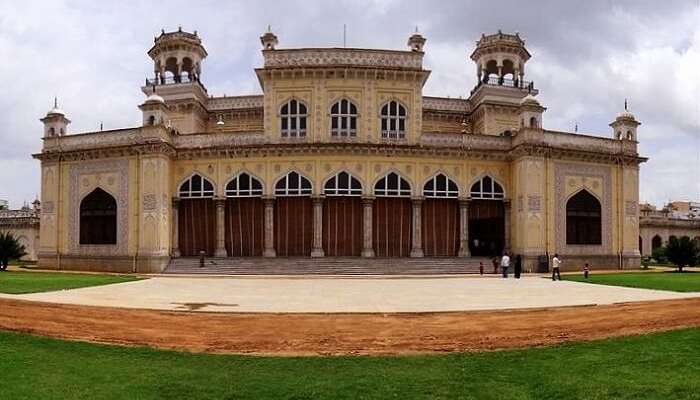 As it is popularly known as Chowmahallatuu among the locals, the fascinating Chowmahalla Palace is undoubtedly one of the best places to visit in Hyderabad in 3 days that manifests the real essence of Nizam's culture. Having served as the royal residence of the Nizams, and the royal seat of Asaf Jahi Dynasty in the bygone era, the palace continues to impress the travelers with the grandeur and rich historical past.
Location: 20-4-236, Motigalli, Khilwat, Hyderabad, Telangana 500002
Timings: Saturday to Thursday – 10 AM to 5 PM; Closed on Fridays
Further Read: 7 Quick Retreats Near Hyderabad That Don't Need You To Skip Office
14. NTR Gardens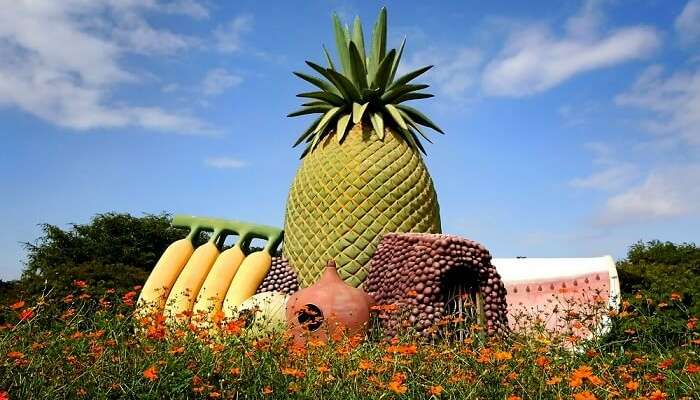 Of all the places to visit in Hyderabad, NTR Gardens is comparatively a newest addition to the family of tourist attractions in the city. Dedicated and built in the memory of Late Shri N.T. Rama Rao, a visit to the lush NTR Gardens is a must for those who're in search for a place to revive their mind, body, and soul.
Location: NTR Marg, Central Secretariat, Khairatabad, Hyderabad
Timings: Monday to Sunday – 24 Hours
Entry Fee: INR 15 per adult; INR 10 per child; INR 30 per camera; INR 65 per video camera
15. Shilparamam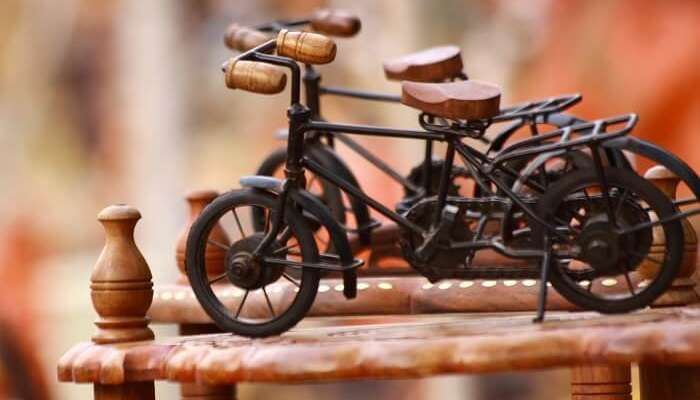 A quaint little man-made village, Shilparamam is one of the best tourist places in Hyderabad which is dedicated to arts, handicrafts, and culture. Putting up a lot of cultural and traditional shows for the visitors and all travelers, Shilparamam is built on a village theme which also houses a museum as well as a lake inside. Also, for when you visit this gorgeous attraction, do not miss out on treating your taste buds to authentic Awadhi cuisines at Sahib's Barbeque which is one of the best restaurants in Hyderabad.
Location: Jubilee Enclave, Hitech City, Near Cyber Towers, Hyderabad, Telangana 500081
Timings: Monday to Sunday – 10:30 AM to 8 PM
Entry Fee: INR 40 per adult; INR 20 per child; INR 30 per person for boating; INR 15 per person for battery-operated cars
Website
16. Jalavihar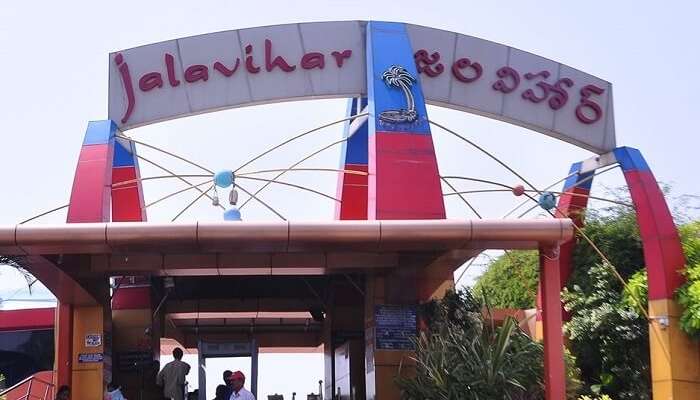 Located at the Necklace road, Jalavihar is one of the popular amusement parks in Hyderabad which is a perfect day-out place for the families and kids. It has varied options for entertainment within its boundaries. From the water rides like the Mini Aqua Trailers and Tilt bucket to the various options of dry rides, this place makes a great place to head towards with kids.
Location: 22/9, Necklace Road, Hussain Sagar, Hyderabad, Telangana, 500063, India
Timings: 10:30AM – 7PM (Open Daily)
17. Birla Planetarium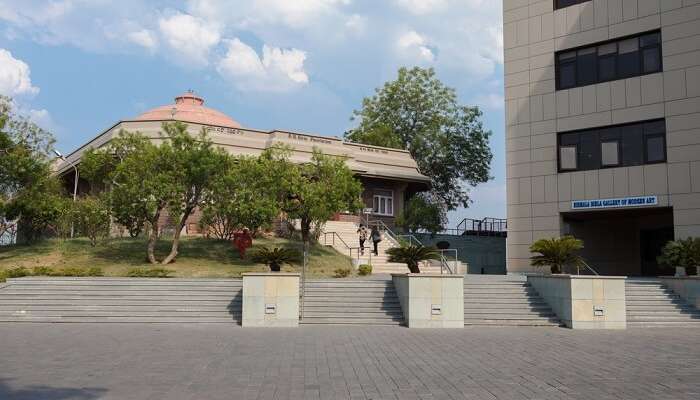 Birla Planetarium ranks among the most modern planetariums in the country, located at the Naubat Pahad in the heart of Hyderabad. Established in the year of 1985, this is one of the popular sightseeing places in the city which is not only favourite amongst the children but also the adults. This was the first phase of the Birla Science centre which was indeed a landmark in terms of innovation and bridging the gap between common masses and the science.
Location: Near Birla Temple, Ambedkar Colony, Hyderabad, Telangana, 500004, India
Timings: 11:30 AM- 8 PM
18. Purani Haveli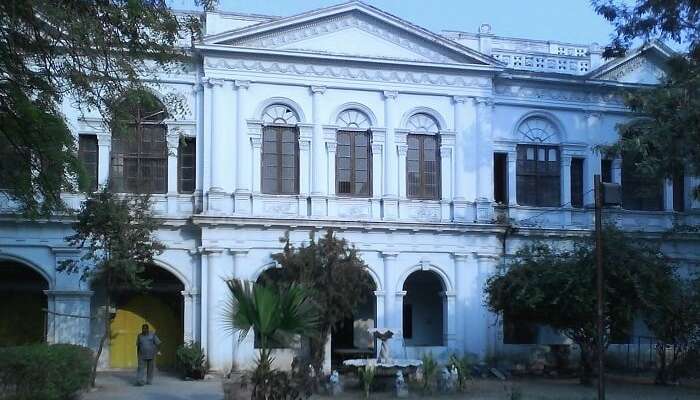 Purani Haveli is a beautifully built European style architecture which was built in the 19th century by the Peshwa of Mohammed Quli Qutub Shah. It is crafted in a U-shaped complex with only a single storied central building. One of the top tourist places in Hyderabad, this heritage building was acquired by Asaf Jha II and in the 18th century it was renovated by the Nizam of Hyderabad. Currently this haveli is converted into a Nizam's Museum where various artefacts are preserved.
Location: Pathar Gatti, Near Princess Durru Shehvar Hospital, Hyderabad, Telangana, 500002, India
Timings: 10 AM- 5 PM (Daily except Friday)
Entry Fee: INR 15 – Child, INR 80 – Adult
19. Laad Bazaar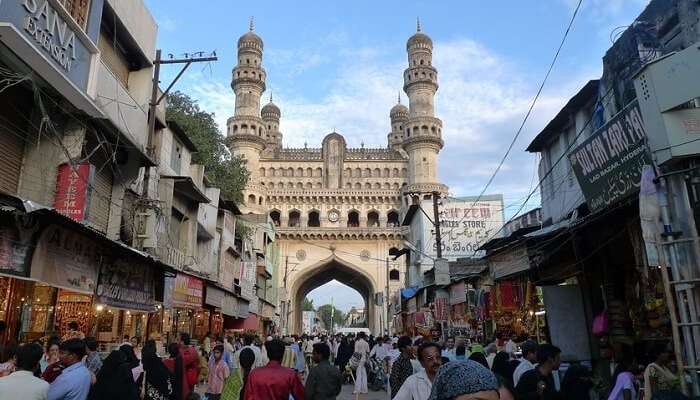 Image Source
Situated close to Charminar, Laad Bazaar is a place famous for bangles and many other traditional items which makes it a shopper's paradise. Stretched across on four roads which starts from Charminar and spreads across at least one kilometre. This market showcases the living heritage of the city and it is believed that this market exists since the time of Qutub Shahis and era of Nizams and now it is one of the major places to shop bangles made of Lacquer or Laad from where the name has been derived.
Location: Char Kaman, Ghansi Bazaar, Hyderabad, Telangana, 500002, India
Timings: 11AM-11PM
20. Durgam Cheruvu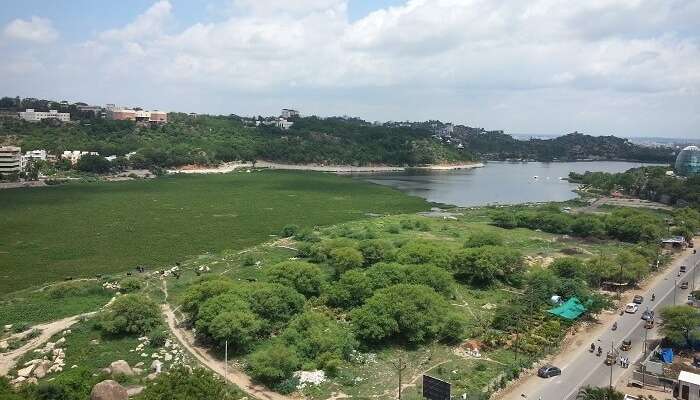 Durgam Cheruvu is a hidden lake located just close to the Hi-Tech city. The lake stands hidden between an amalgamation of granite rocks hence this is also called the secret lake. Spread across an area of 63 acres, the lake is surrounded by many rocks which are around 2500 million years old. According to the locals, the water of the lake was also used for drinking in the Golconda fort. One can indulge into various activities like pedal boating, camping as well as trekking around the lake.
Location: Road Number 46, Masthan Nagar, CBI Colony, Jubilee Hills, Hyderabad, Telangana, 500033, India
Timings: 10 AM-6:30 PM
21. Chilkur Balaji Temple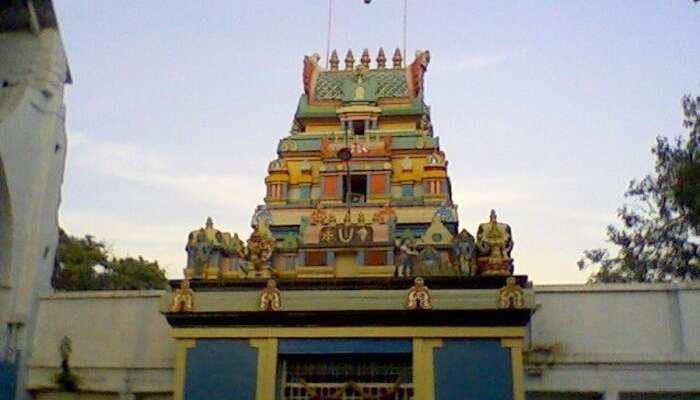 Located around 30 Kms from the main city of Hyderabad, the Chilkur Balaji Temple is an ancient temple situated at a small village named Chilkur. Resting at the banks of Osman Sagar Lake, this temple is commonly called the Visa Balaji Temple. This is quite a popular temple at the outskirts of the city where hundreds of devotees arrive every year with their wishes.
Location: Chanda Nagar Village, Hyderabad, Telangana, 501504, India
Timings: 5AM – 8PM
Suggested Read: 15 Airports In India That Make A Dreamy Halt For Every Traveler
22. Taj Falaknuma Palace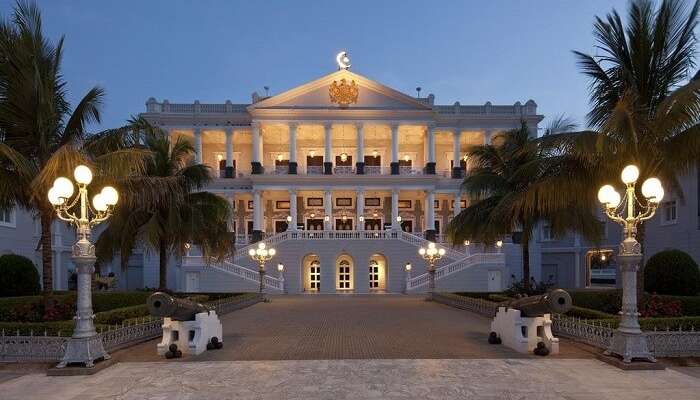 Often called the "mirror of the sky", Taj Falaknuma Palace is a magnificent architecture which stands at a height of 2000-foot high hill. Located just 5 Kms away from Charminar, this majestic palace was built by Nawab Vikar-ul-Umra. Spread across an area of 32 acres, this palace is made of marble. With an accommodation of 22 halls and 220 rooms, this place also has an impressive library, magnificent chandeliers and staircase made of marble. In 2000, this historic palace was taken over by the Taj Group and converted into a 5-star luxury hotel.
Location: Engine Bowli, Falaknuma, Hyderabad, Telangana, 500053, India
23. Gandipet Lake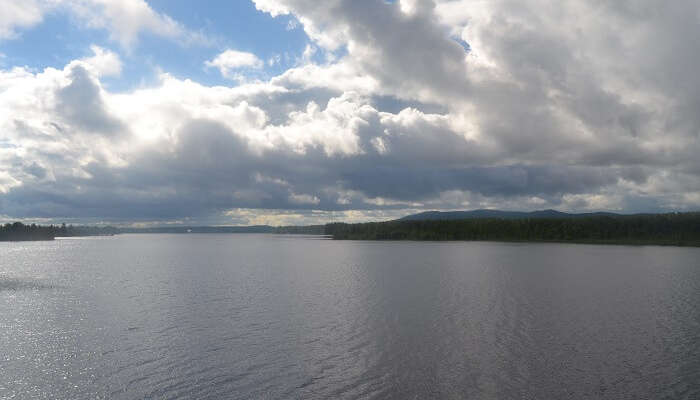 Gandipet lake is the main reservoir of the twin cities, Hyderabad and Secunderabad. The lake is spread across a region of 46 Kms, this was built by the Hyderabadi Nizam Mir Osman Ali Khan to protect the land from the floods. Made in the year of 1920, standing at this reservoir one can enjoy a scenic sunset.
Location: Ranga Reddy district, Telangana, India
Suggested Read: 10 Festivals In June That Will Draw You To India Instantaneously In 2019
24. Mount Opera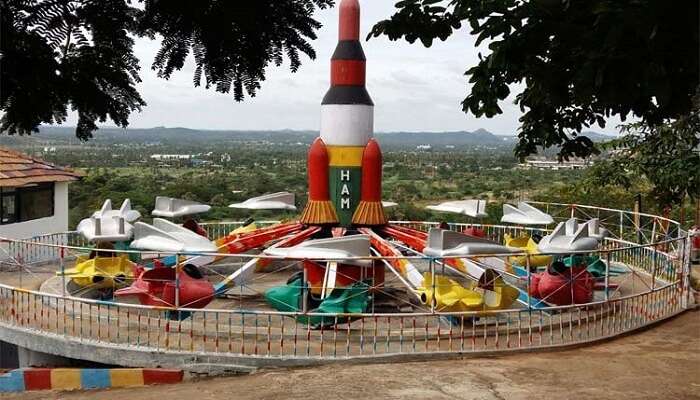 Mount Opera is an exciting and entertaining water park located in the main city of Hyderabad. Just 4 kms away from the Ramoji Film City, this place is a great escape for a family day out. Located at a hilltop, this water park offers exciting activities like boating, rain dance and discotheque which makes the night more thrilling.
Location: Batasingaram, Hyderabad-Vijayawada Highway, NH-9 Ranga Reddy District, Hyderabad, Telangana, 501528, India
Timings: 11AM – 6PM (Open Daily)
25. Paigah Tombs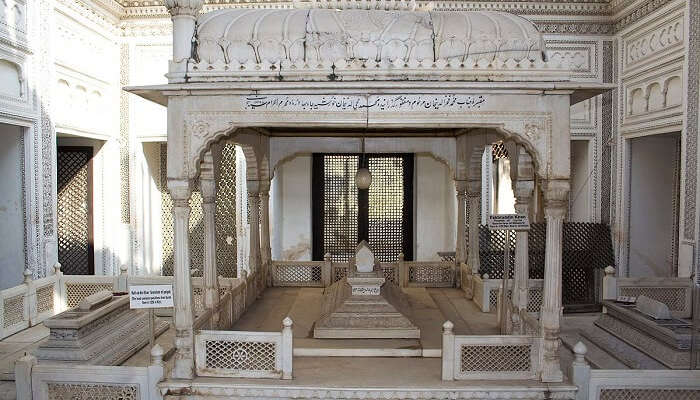 The Paigah tombs reflects the beautiful blend of Asaf Jah and Rajputi style in its architecture. Located just 10 Kms away from the Charminar, these tombs are a perfect example of the Indo-Saracenic architecture. Built of marble and with mesmerizing interiors, the tombs also showcases the beautiful Jaali work at the windows.
Location: Qalandar Nagar Rd, Santosh Nagar, Kanchan Bagh, Hyderabad, Telangana, 500058, India
Timings: 10AM – 5PM
Further Read: 12 Jyotirlingas In India To Visit In 2019: See The Spiritual Side Of The Country
Are you packing your bags already? If yes, then make sure you don't forget to include these amazing places to visit in while on your trip to Hyderabad and get soaked in the goodness of this beautiful city!
Frequently Asked Questions About Hyderabad
Q: What is famous in Hyderabad for shopping?
A: Hyderabad is known as the city of pearls and colorful lac bangles which are available at the Laad Bazaar. Apart from that the Ikkat pattern cloth is also available for shopping.
Q: What can we do in Hyderabad on Sunday?
A: Hyderabad is the city which has abundant places to visit around and spend the Sunday. People can go and explore the various water parks and historical places like the Golconda fort and Charminar.
---
Looking To Book A Holiday Package?
Book memorable holidays on TravelTriangle with 650+ verified travel agents for 65+ domestic and international destinations.
---
Comments
comments