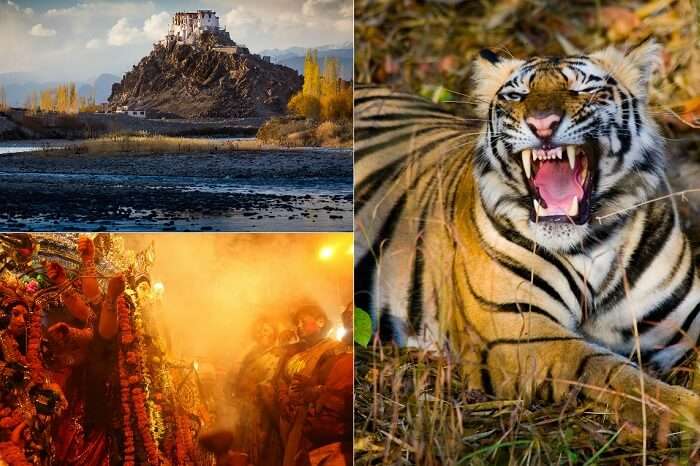 India, being a paradise for travel aficionados, has some special places that exhibit the true colors of the fall. Autumn is the season when our surroundings undergo a subtle change, and the weather becomes pleasant. With so much oozing charm around us, there are many places to visit in October in India that wear fresh cologne & oodles of colors and compel us to step out of our homes and get enthralled by nature's magnificence. So, pack your bags and encash your wanderlust by embracing these top places to visit across the length of India in October.
39 Best Places to Visit in October in India
October is the month when winter steps into India. There is a pleasant chill in the air which makes it a great month for vacations. Here are some of the top places to visit in October in India.
1. Jammu And Kashmir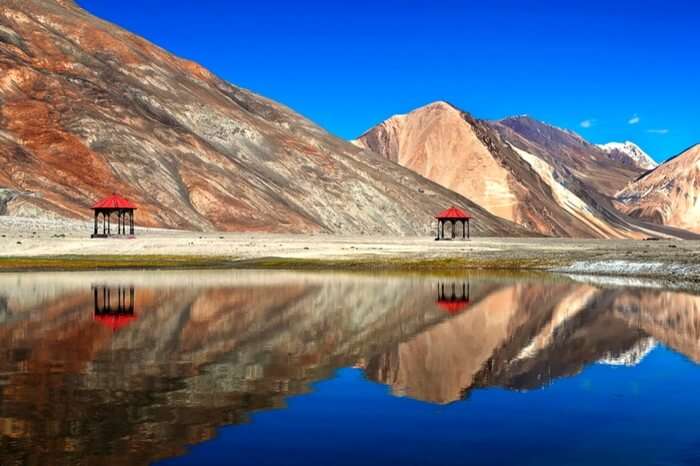 Aamir Khusro merely described the place that sings the lore of beauty and belittles the paradise itself if there exists any. Ranked as one of the best places to visit in India in October, Jammu & Kashmir constitutes all the spectrum of nature and because of its natural splendour, this is considered as one of the best family holiday destinations in India. Be it Leh-the highest desert city in the Himalayas or a brimming Jhelum river originating from the foot of Pir Panjal range, Kashmir definitely belongs to heaven.
Places To Visit In Jammu : Sonamarg, Kupwara, Pahalgam, Hemis National Park, Gulmarg
Things To Do In Jammu : Shikara Ride, Houseboat Stay, Trekking, Camping, Skiing
How To Reach Jammu:
By Air: Jammu airport is 8 km far from the main city.
By Rail: Jammu Tawi railway station is in the middle of the city.
By Road: Buses to Jammu is easily available from tourists hotspots like Delhi, Himachal Pradesh, and Punjab.
Must Read: 20 Best Places To Visit In Asia In October That Make For The Best Tourist Destinations
2. Bir Billing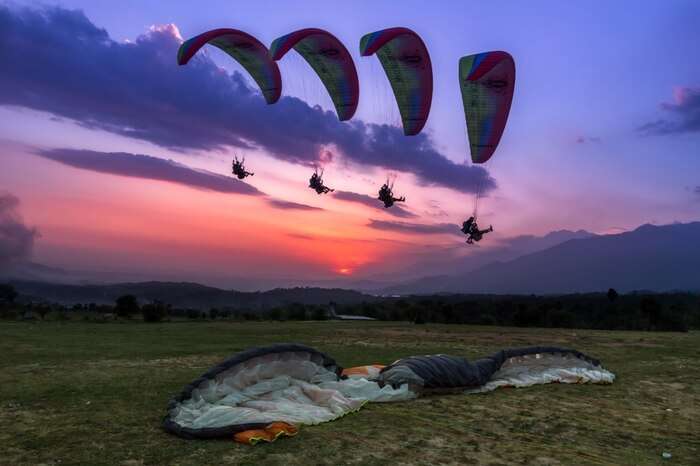 Breathe in, breathe out; watch the sun go down beyond the horizon and enjoy the weightlessness. These are some of the freakish experiences that completely contain you as you go paragliding in Bir-Billing– an off-beat village in Himachal, which is also among the best places to visit in India in October with family. Here, go for some grueling treks, stroll the seminomadic villages nearby, and relish the awesomeness. 
Places To Visit In Bir-Billing: Deer Park Institute, Baijnath Temple, Bangoru Waterfall, Chokling Monastery
Things To Do In Bir-Billing: Paragliding, Trekking, Camping, Skiing
How To Reach Bir-Billing:
By Air: Gaggal Airport is 68 km far from the main city.
By Rail: Pathankot railway station is about 118 km from the main city.
By Road: Buses to Bir is easily available from tourists hotspots like Delhi, Himachal Pradesh, and Punjab.
3. Lahaul And Spiti

The splendid Himalayan district of Lahaul – Spiti is one of the most popular places to visit in North India in October. The fact that you can only travel to Lahaul & Spiti before the onset of winter makes them the best place to travel in October in India. Enjoy the wide and variety of flora and fauna found in Pin Valley National Park, catch the breathtaking view of the Milky Way galaxy lying under stars, and take the challenge of completing the Spiti Trek all at Lahaul & Spiti. Because nothing is as beautiful as the unscathed beauty of nature. This is undoubtedly the best place to visit in India in mid October.
4. Rishikesh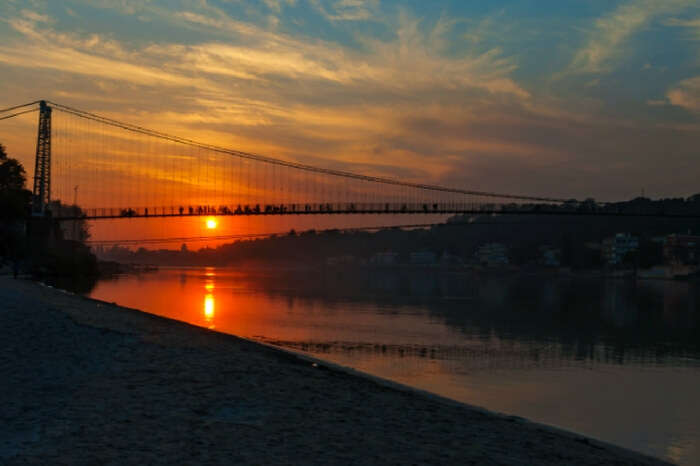 Sitting pretty on the northern frontier of the Himalayas is Rishikesh; a holy city that thrives by the banks of the Ganges. There are quite a few religious places and plenty of adventurous activities that make Rishikesh an ideal holiday destination in India in October. Take a dip at the Triveni Ghat- the confluence of Ganga, Yamuna, and Saraswati, and wash all your sins coz it's time to begin afresh! The easy and relaxed vibe of Rishikesh makes it one of the best places to go in October in India. 
Places To Visit In Rishikesh: Laxman Jhula, The Beatles Ashram, Rishikund, Vashishta Gufa, Kunjapuri Temple
Things To Do in Rishikesh: Bungee Jumping, Giant Swing, Ganga Aarti, River Rafting, Visit Triveni Ghat
How To Reach:
By Air: Jolly Grant airport, Dehradun is 35 km away from the city
By Rail: Haridwar railhead is 25 km away
By Road: A ride from Delhi to Rishikesh in your own vehicle would take you around 7 hours. NH 58 connects Rishikesh with other Indian cities
5. Jodhpur

If you are still fiddling with the thought of visiting the best tourist places in India in October, Jodhpur is the answer. Number 3 on our list of most colorful places in India, it is a city that is characterized by museums, vibrant colors, traditions, weapons, paintings, and the never-ending history of the Rajputs. When in Jodhpur, take the desert safari and play by the sand dunes as you ride your favorite SUVs. The finely scattered sun rays playing along the contours of sand make a pleasant sight as you contain every bit your mesmerizing trip at one of the best places to visit in October in India.
Places To Visit In Jodhpur: Mehrangarh Fort, Jaswant Thada, Umaid Bhawan Palace, Mandore Gardens
Things To Do in Jodhpur: Dine at Indique Restaurant, Sunset at Pal Haveli, Make a wish at Jaswant Thada, Enjoy Desert Safari, Relish Makhani Lassi at Mishrilal Hotel
How To Reach:
By Air: Jodhpur airport is at a distance 5 km from the city
By Rail: Jodhpur railhead is right in the city and is well connected with metro cities like Delhi, Mumbai, Chennai, and Kolkata
By Road: Jodhpur is easily accessible from cities like Delhi, Ahmedabad, Udaipur, and Jaipur. Delhi to Jodhpur ride takes 14 hours (nearly 600 km)
Suggested Read: 20 Things To Do In Rajasthan That Make It The Ultimate Vacation Destination
---
Planning your holiday but confused about where to go? These travel stories help you find your best trip ever!
---
6. Bandhavgarh National Park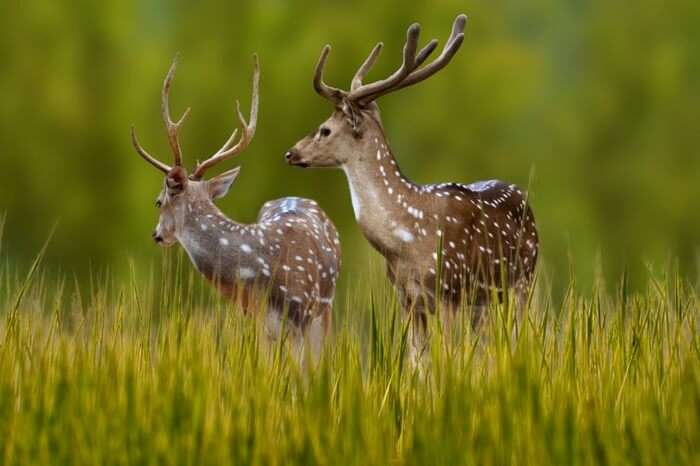 Nothing matches the eternal bliss of watching fierce animals in their natural habitat. Bandhavgarh National Park in Madhya Pradesh is home to some rare species of flora and fauna, which puts it among the best places in India to visit in October. Apart from the rich biodiversity, the park boasts of a good number of Bengal Tigers in the world. Come October, a trip to Bandhavgarh is in the reckoning.
Places To Visit: Bandhavgarh Hill, Shesh-Saiya, Baghel Museum, Climbers Point, Ancient Caves
Things To Do: Birding Tour, Jeep Safari , Visit the Khajuraho temples , Explore the Bandhavgarh Fort
How to reach:
By air: Nearest airport from the park is Khajuraho. Further, Tala Park entrance at Bandhavgarh is 8-hour drive
By rail: Nearest railhead is Umaria after Katani railway station. Another 40-minute drive takes you to the national park
By road: At 169 km, the nearest town is Jabalpur. There are regular taxis services that take close to 3 hours to reach the park
7. Pachmarhi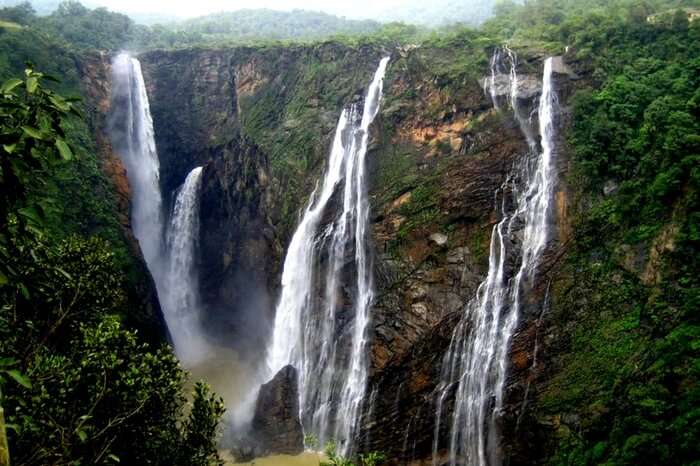 The queen of Satpura is one of the most popular hill stations and also a primary holiday destination in India in October. Sitting pretty at an altitude of 1100 meters above sea level, Pachmarhi lies beautifully entangled amid lush green nature, ancient caves, and waterfalls exuding beads of life. Don't forget to keep it on the bucket list of your favorite locations when you are shortlisting the most beautiful places to visit in India in October.
Places To Visit in Pachmarhi: Handi Khoh, Apsara Vihar, Pandava and Jatashankar Caves
Things To Do in Pachmarchi: Nature Walks, Explore the Rajat Pratap Waterfalls, Sunrise at Hathi Shikhar
How To Reach:
By Air: At a distance of 195 km from Pachmarhi, lies Bhopal airstrip
By Rail: Pipariya is the nearest railway station at a distance of 47 km
By Road: Private and state transport buses operate from Bhopal. It is a 4.5-hour journey covering a distance of 206 km
Suggested Read: Monsoon In Delhi: 10 Ways To Enjoy The Romantic Rainy Season
8. Hampi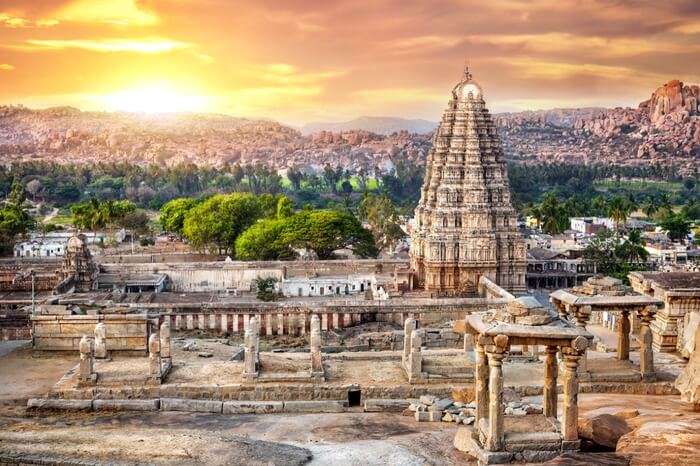 Located amid the remains of the ancient city of Vijayanagar, Hampi is also known as the richest and one of the most prosperous cities during its prime. Call it a cult, seat or an everlasting monument, Hampi even in its ruins, continue to be a backpackers paradise, and a pilgrim's delight, which puts it among the top-notch places to visit in India in October. Go around and relish the marvel of this UNESCO World Heritage Site which is undoubtedly one of the best places to visit in South India in October. Clustered with temples and exceptional pieces of architecture, the Hampi town encompasses royal and sacred centers and plenty of other attractions that continue to enthrall its visitors.
Places To Visit in Hampi: The Islamic Quarter, The Sacred Centre, The Royal Centre, A Legion Of Temples
Things To Do: Visit Tungabhadra River, Explore The Stepped Tank, Shop At The Hampi Bazaar, Tour The Elephant Stables
How To Reach:
By Air: Nearest airport is Hubli at 143 km
By Rail: Hospet railhead is in the close proximity of Hampi, located at a distance of 13 km
By Road: Traveling from Hospet is preferable which is well connected to major cities and towns like Bangalore, Hyderabad, and Goa. Goa is the closest major city at a distance of 300 km
9. Mysore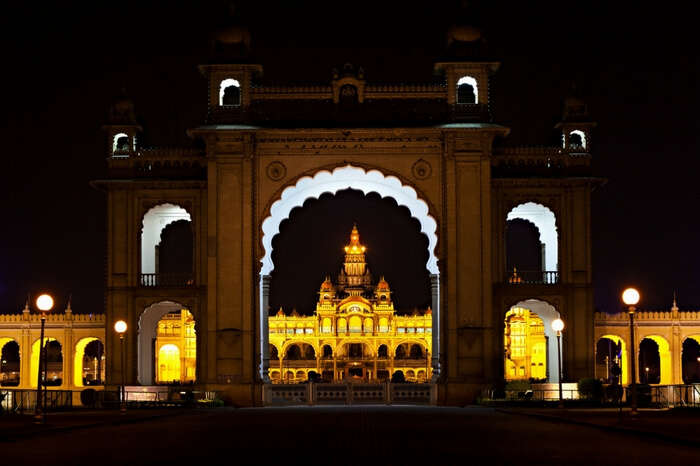 Of all the best places to visit in India during October, Mysore looks nothing less than a perfect destination. While the entire city of Srirangapatna stands testimony to the heroics of Tipu Sultan- the tiger of Mysore, the Krishnaraja Sagar Dam bedazzles the visitors with its prevalent charm and the beautiful Brindavan Garden located at its feet. God's own country- Kerala stays in its close proximity and to top it all, the cozy weather won't let you go away. Dussehra only adds to the allure of Mysore that remains one of the most sought after places to visit in October in India
Places To Visit In Mysore: Mysore Palace, Srirangapatna, Mysore Zoo, Railway Museum, Maharaja's Palace
Things To Do In Mysore: Visit The Mysore Fountain, Visit The Sandalwood Oil Factory, Tour The Silk Factory, Drive To The Chamundi Hills
How To Reach:
By Air: Nearest airport is Bangalore International Airport, which is 170 km from Mysore
By Rail: Mysore railway station is the nearest railhead
By Road: It takes around 3 hours to reach Mysore by road. KSRTC buses operate in tandem
Suggested Read: These Best Places To Visit In Karnataka Will Totally Knock You Out

10. Wayanad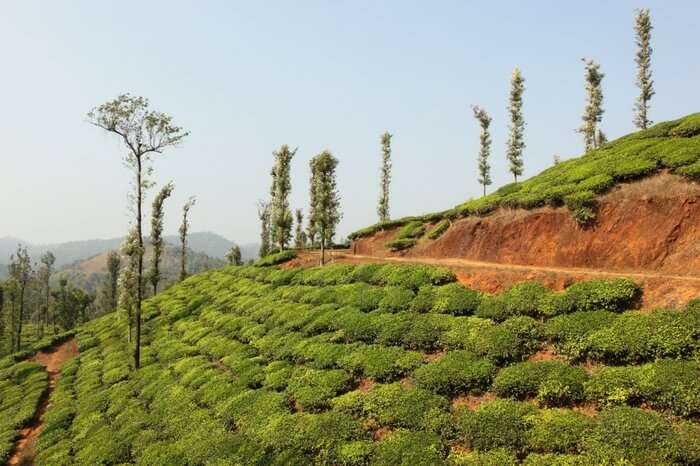 Wayanad is among the best places to visit in South India during October. Inheriting the charisma of the gorgeous Kozhikode and Kannur, Wayanad district is one of the different shades that Kerela flaunts with pride. Nestled among the mountains of the Western Ghats, Wayanad boasts of several tea estates. The hushing aura of nature, the surreal experience of fluffy clouds brushing past your face, and near to perfect escapades around make it the best place to visit in India in October for a honeymoon.
Places To Visit In Wayanad: Chembra Peak, Kuruva Island, Pookode Lake, Muthanga Wildlife Sanctuary, Edakkal Cave
Things To Do In Wayanad: Trekking, Backpacking, Wildlife Refuge, Nature Walks, Tea Estates
How To Reach:
By Air: Karipur international airport at Kozhikode is the nearest and only airport in the vicinity of Wayanad. It is about 100 km from Wayanad city
By Rail: Nearest railway station is Kozhikode
By Road: From Kozhikode, take a taxi or your own vehicle, whatever you prefer and head north-east, after 3-hour drive and covering 110 km you reach Wayanad
11. Rajgir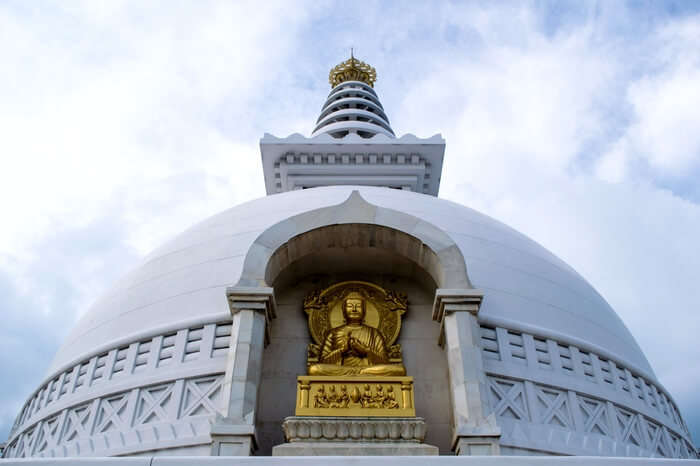 The first capital of the biggest and invincible Mauryan empire is Rajgir, which is also one of the best holiday destinations in October. A major tourist attraction in Nalanda district, Rajgir is a notified place that means the abode of kings (Rajgir- Rajgriha). The fact that Rajgir played host to Lord Mahavir and Buddha puts it closer to the hearts of Hindus, Buddhists, and Jains. This is one of the best places to visit in October in South India.
Places To Visit: Ratnagiri Hills, Jarasandha ka Akhara, Jivaka Avan Gardens, Ajatshatru Fort, Venu Vana
Things To Do: Ropeway to Shanti Stupa, The Ruins of Nalanda University, Visit The Cyclopean Wall, Hot Springs, Boating in Ghora Katora Lake
How To Reach:
By Air: At 101 km, the nearest airport is Patna
By Rail: Rajgir has a railway station; however, Gaya railway station is 78 km
By Road: Patna is 110 km far and Nalanda is 12 km from Rajgir. Regular buses operate from Gaya, Pavapuri, Nalanda, and other nearby cities
Suggested Read: Ziplining in Wayanad: Find Adventure At The Heart Of Kerela
12. Digha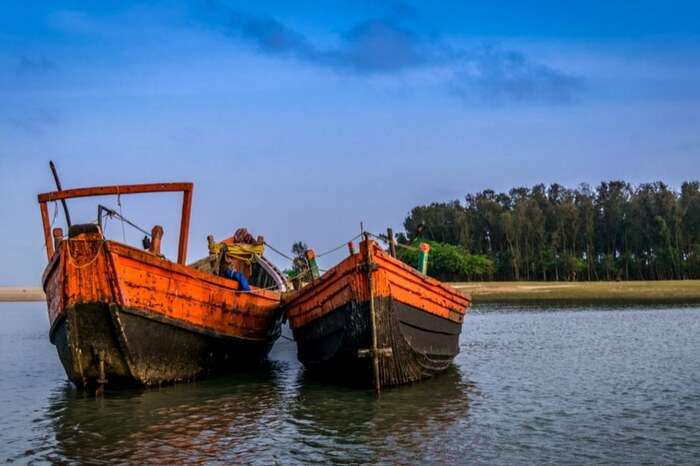 This romantic holiday beach destination in West Bengal is your answer to where to go in India in October. Also known as the Brighton of the East, Digha has shallow sand beaches that greet its visitors with mesmerizing sea waves. Dotted with casuarinas plantations along the coast, Digha also presents beautiful sunrise and sunset views to the romantic couples who flock to the place to especially catch the breathtaking shades of nature.
Places To Visit: Shiva Temple, Kapal Kundala Temple, Talsari, Junput, Amarabati Park
Things To Do: Visit The Marine Aquarium, Explore Shankarpur, Shopping in Digha, Visit the Mandarmani Beach, Explore The Subarnarekha Delta
How To Reach:
By Air: Netaji Subhash Chandra Bose Airport is the nearest airport at 139 km
By Rail: Digha Flag Station is 2 km from Digha city
By Road: Regular buses from Digha to other cities are easily available
13. Kolkata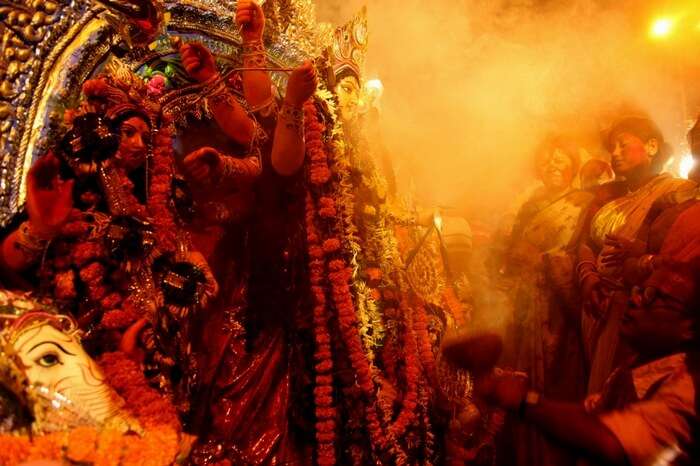 October is the time when the whole Kolkata city awaits Durga Puja- the 10-day carnival! Residents adorn the city meticulously and turn it into a grand spectacle thus making Kolkata into one of the top holiday destinations in India in October. As you negotiate your way through cramped spaces of the serpentine bylanes, you can actually feel the camphor infused air around and people hailing the goddess. But there's much more to explore when you are in the city. Kolkata is dotted with museums and buildings of historical relevances. Go around and find it for yourself, you can still find pulled-rickshaws and trams on the city streets.
Places To Visit In kolkata: St. Paul's Cathedral, Victoria Memorial, Eden Gardens, Mother Teresa House, Howrah Bridge
Things To Do In Kolkata: Relish The Street Food, Ride The Legendary Trams, Visit The National Library, Explore The Acharya Jagadish Chandra Bose Botany Garden, Try Rosogollas
How To Reach:
By Air: Netaji Subhash Chandra Bose International Airport is about 17 km away from the city
By Rail: Howrah Junction Railway Station is in the heart of the city and is well connected to different parts of the country
By Road: Kolkata is well connected with most of the Indian cities by road
Suggested Read: 29 Super Romantic Places In Kolkata For Couples Hit By Cupid's Bow
14. Lachen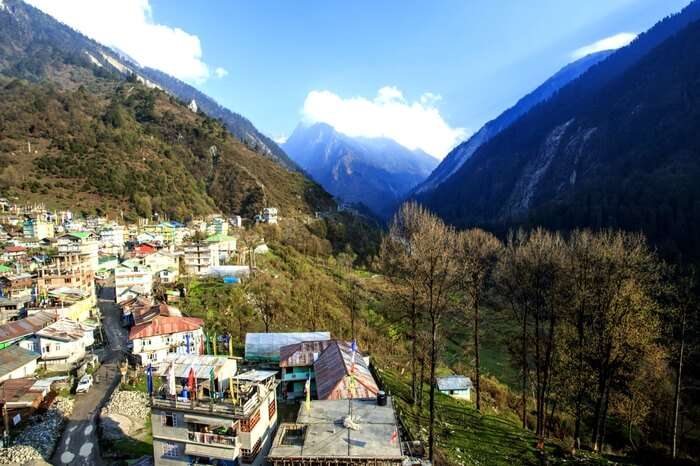 The scenic mountain village is home to Lanchen pass where lives the distinct Sikkimese-Bhutia community. Another best place to visit in the month of October, Lanchen exhibits the best that nature could probably offer. From snow-capped mountains to grass-clad slopes, and from trails leading to the country's highest mountain peak to the valley painted by different hues of flowers, Lanchen has it all. Nature trek, local tradition, and few sumptuous local cuisines on your platter make this place another alluring prospect where you could plan your next visit.
Places To Visit In Lachen: Gurudongmar Lake, Lachen Monastery, Yumthang, Thangu Valley, Chungthang
Things To Do In Lachen: Cholamu Trek, Visit The Tso Lhamo Lake, Explore The Chopta Valley
How To Reach:
By Air: The nearest airport, Bagdogra- 210 km, takes close to 7 hours to reach
By Rail: Nearest railhead in New Jalpaiguri (Siliguri); take a taxi to reach Lachen
By Road: Gangtok is 106 km from Lachen and takes road drive takes around 3.5 hours to reach
FYI– Inner line Permit must be obtained for visiting Lachen, and roads from Gangtok to Lachen are generally very rough. Drive safely!
15. Manas National Park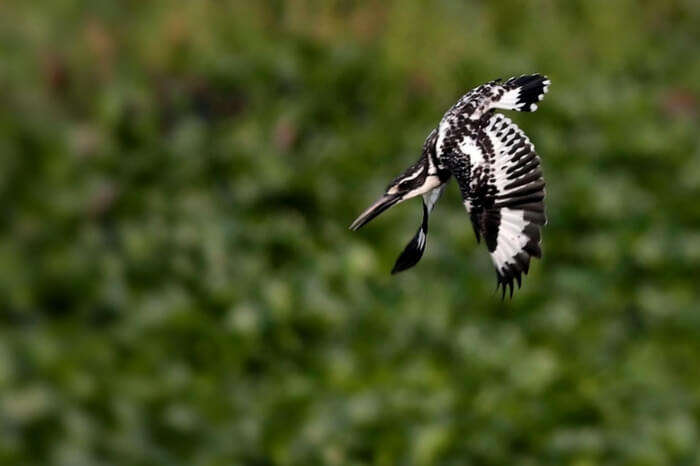 One of the first reserves dedicated to the tiger conservation project started way back in 1973, Manas National park has come a long way and today it boasts of biosphere reserve spanning 2837 sq km. Official number states that there are close to 60 Royal Bengal Tigers but a sighting it never guaranteed unless you spend some time in the park. Apart from animals, the bird life in the park is also notable and birdwatching is another preferred activity there. Manas National Park must be there on your list of best tourist places to visit in October in India.
Places To Visit: Bansbari Tea Plantation, Bodo Society, Summer Palace Of The King Of Bhutan
Things To Do: Boat Riding, River Rafting, Jungle Safari, Bird Watching, Elephant Ride
How To Reach:
By Air: Guwahati (180 km) is the nearest airport
By Rail: Guwahati is the nearest railhead at a distance of 22 km from the park
By Road: Manas is connected by NH 31 from Guwahati. Located at a distance of 176 km from the capital city of Assam, the journey from Guwahati by road takes close to 5 hours
Suggested Read: 29 Super Romantic Places In Kolkata For Couples Hit By Cupid's Bow
16. Agra

The best of tourist attraction in Agra of Uttar Pradesh is the wonderful white beauty, the Taj Mahal. Though, tourist flood in throughout the year to see this marvelous creation by Emperor Shah Jahan, it doesn't mean it's always on season. Agra and Uttar Pradesh in whole experiences a very hot summer. The soothing weather during the month and the most celebrated attraction, Taj Mahal, makes it one of the best places to visit in India in October with family.
Places To Visit In Agra: Taj Mahal, Agra Fort, Fatehpur Sikri, Akbar's Mausoleum
Things To Do In Agra: Bird Watching, Shopping At Kinnari Bazaar, Relish Authentic Mughlai cuisine
How To Reach:
By Air: Kheria Airport (13Km away from Agra city) connects Agra with other cities
By Rail: Agra has a good rail – connectivity with other cities and regions in India. You can reach Agra from Delhi in 1.30 hours.
By Road: You can reach Agra through Taj Express Highway or Yamuna Expressway. Agra is 217 Kms from Delhi and can be reach in 4 hours.
17. Jaisalmer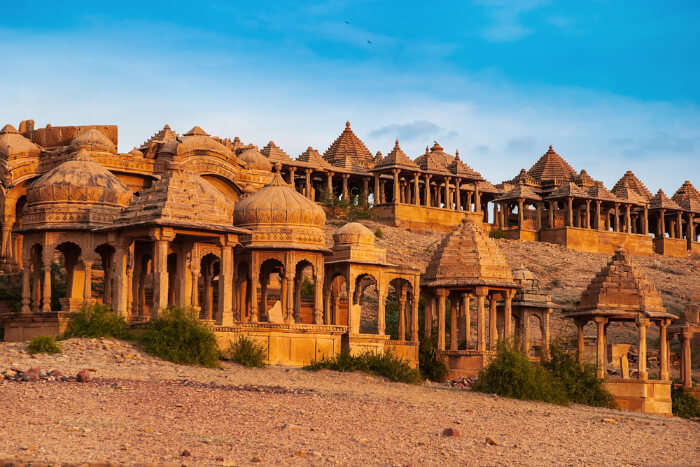 The medieval trading centre in the Western Indian state of Rajasthan, Jaisalmer is a land of deserts. The climate is usually hot during the day but in October the sand dunes will be pleasant to visit. You stand a chance to enjoy Camel safari and overnight stay in the desert in a luxurious tent. You can also enjoy Rajasthani food and cultural dance performances. Moonlit dinner with your partner is going to be an absolutely romantic experience for you. Spend your time visiting various monuments and forts in the place. If you are searching for places to visit in October for 2 days, you should definitely consider going Jaisalmer.
Places To Visit In Jaisalmer: Jaisalmer Fort, Patwon Ki Haweli, Jaisalmer War Museum
Things To Do In Jaisalmer: Desert Safari, Desert Camping, Parasailing, Dune Bashing, Paramotoring
How To Reach:
By Air: Jaisalmer is not directly connected through air with any part of India. Jodhpur Airport (300Km) is the nearest airport connecting Rajasthan with all the major cities of India.
By Rail: There are trains connecting Delhi, Mumbai and other cities to Jaisalmer
By Road: Jaisalmer can be from Delhi via NH11 (828 Kms) in 14 hours.
Suggested Read: 30 Budget Honeymoon Destinations In India To Sweep You Off Your Feet
18. Ziro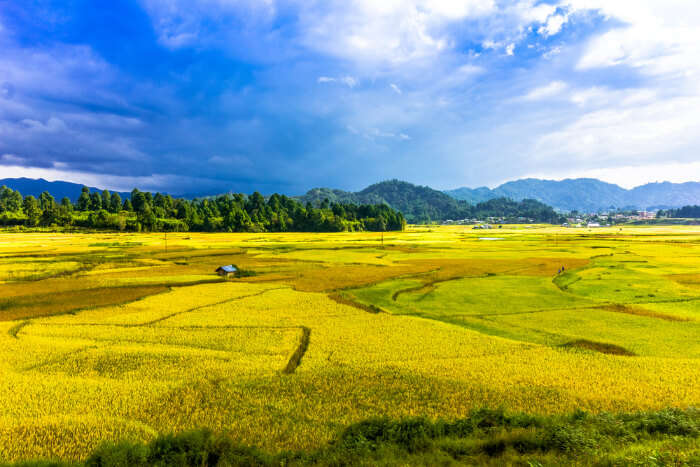 Ziro is a beautiful hilly tourist spot in Arunachal Pradesh. During October, the place is at its best with a climate you would fall in love with. The green hills and pastures is a reason why Ziro is famous among photographers and nature lovers. Ziro is among those offbeat good places to visit in October in India.
Places To Visit: Talley Valley Wildlife Sanctuary, Orchid Research Centre, Shiva Linga, Tarin Fish Farm
Things To Do: Try local cuisine, Sightseeing, Trekking, Nature Trails, Shopping
How To Reach:
By Air: Tezpur Airport (280 Kms) is the nearest to Ziro. There are no direct flights and most of them are via Guwahati. You can board a flight to Guwahati and take a different mode of transport as the flights take a lot of time.
By Rail: The nearest railways stations to Ziro are Naharalagun (100kms) & North Lakhimpur(117kms). Intercity trains from Guwahati are regular. There is one train from Delhi to Naharalagun every week.
By Road: Arunachal Pradesh SRTC night bus runs 4 days a week from Guwahati to Ziro. You can also take a shared taxi from North Lakhimpur or Itanagar to Ziro.
19. Ladakh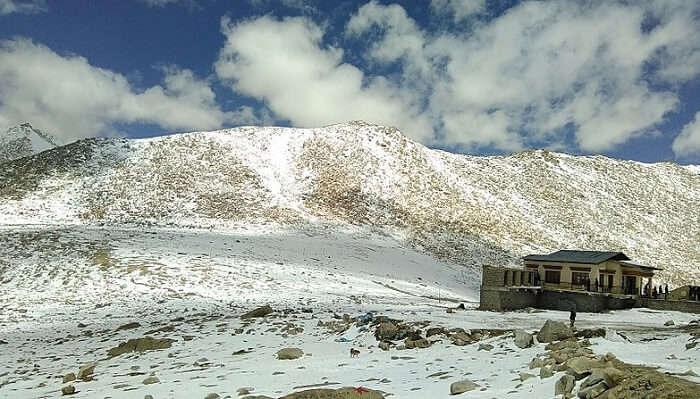 Also known as heaven on Earth, Ladakh is magical. It has beauty and elegance like no other and you'll agree to it once you get a chance to witness it with your own eyes. It is surrounded by the world's mightiest of mountain ranges named Great Himalayas and Karakoram. Ladakh is the result of the division of Jammu and Kashmir which is further divided into Leh and Kargil. If you are planning to visit Ladakh via roadways which you must be considering, Mid May to Mid October is the best time to visit Ladakh via road. Visit this beauty and feel blessed to be a human. This is one of the places to visit in October in north India. 
Places To Visit In Ladakh: Pangong Lake, Magnetic Hill, Chadar Lake, Zanskar Valley
Things To Do In Ladakh: Spot A Snow Leopard, Visit World's Highest Cafeteria, Morning Prayer At The Monastery
How To Reach:
By Air: Nearest airport is Kushok Bakula Rimpochee Airport located in Leh
By Road: If you are planning to visit Ladakh by road you can choose for two ways- Manali Highway and Srinagar Highway
Suggested Read: Top 10 Restaurants In Maharashtra For Tasting The Best Foods Of This Indian State
20. Goa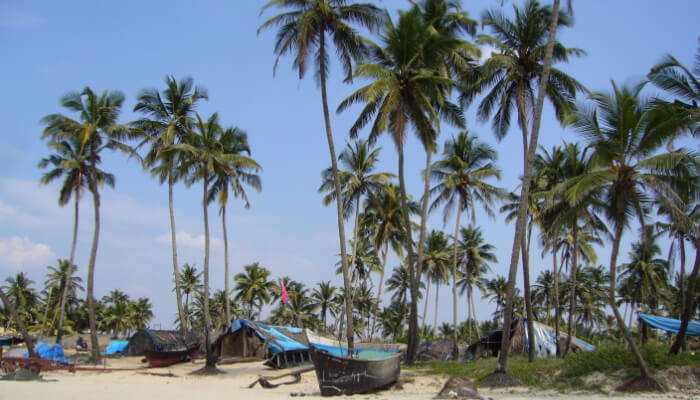 One of the smallest yet the most exciting state of the country, Goa needs no introduction. From turquoise blue beaches to tall palm trees, Goa is simply amazing. Goa is also known for its Portugues architecture and colorful culture. Primarily famous for its beaches and churches, Goa will not leave you disappointed. India's pocket sized paradise-Goa is a beautiful blend of mesmerizing nature, aesthetic architecture and outstanding food. Everything seems right in Goa. If you are looking out for a wonderful place to visit in, to explore adventurous activities then scuba diving in India, Goa will be the perfect spot. Goa in October is all the way more warm and pleasant, which will make you fall in love with the city even more. 
Places To Visit In Goa: Baga Beach, Panjim, Colva Beach, Dudhsagar Waterfalls
Things To Do In Goa: Scuba Diving At Grande Island, Parasailing, Spot Fishing
How To Reach:
By Air: Nearest airport is Dabolim situated at Vasco Da Gama.
By Rail: Nearest railway station is Margao in Vasco Da Gama, it is well interlinked with major metropolitan cities of the country.
21. Varkala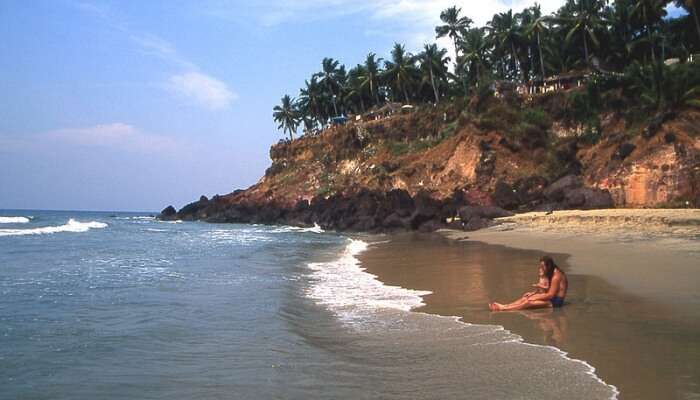 If you are looking for a hippy place to visit in October, there cannot be a better place than Varkala. The beaches here are way more beautiful than Goa and also unique in landscape and scenery. The black rocky cliffs and lighthouses along the coastline make it a beautiful place to visit. The best thing is that it is mostly frequented by hippies. So, if you really want to escape, you know where you should go.
Places To Visit In Varkala : Varkala Beach, Sivagiri Mutt, Edava Beach, Anjengo Fort, Thiruvambadi Beach
Things To Do In Varkala: Beach hopping, Visit Lighthouse, Temple Visit, Climb Varkala Cliff
How To Reach:
By Air: The nearest airport to Varkala is in Thiruvananthapuram
By Rail: Varkala Train Station is the closest station that has trains coming in from Thiruvananthapuram.
By Road: You could take a bus from Kollam or Thiruvananthapuram
Suggested Read: 6 Remarkable Resorts Near Varkala That Cater To Every Needs And Preferences Of A Traveler!
22. Nainital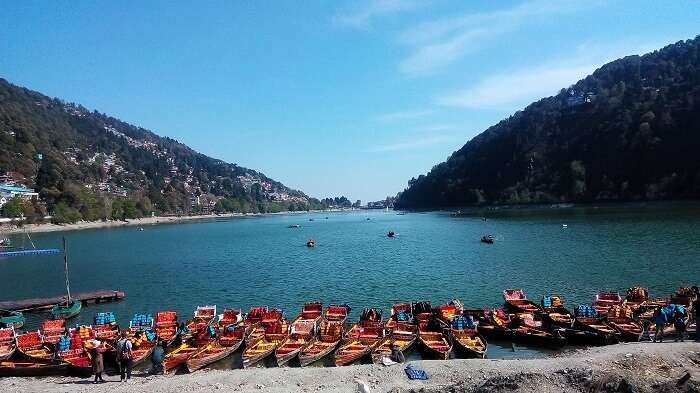 October is an amazing time to Nainital as the mountains prepare to welcome the winter season with all arms open. The climate is nippy and the skies are clear. The lake indubitably looks beautiful be it any season. You could enjoy boating or cable ride from where you could get the sweeping views of the valley.
Places To Visit In Nainital: Naini Lake, Tiffin Top, Snow View, Eco Cave Garden, Naukuchiatal
Things To Do In Nainital: Boating, Shopping, Cable Ropeway, Cafes, Stroll on Mall Road
How To Reach:
By Air: The nearest airport to Nainital is Pantnagar, one hour drive from the city.
By Rail: Kathgodam is the nearest railhead to Nainital. It has direct trains from Delhi.
By Road: You could take a bus till Kathgodam and then a shared cab or taxi all the way to Nainital.
23. Ganapatipule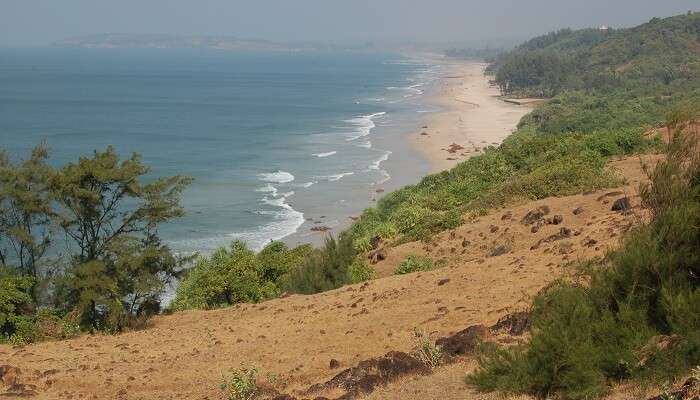 Not many people have heard about this place which is why you should go, see this place. Another reason is that you will find a divine Ganesha Temple amidst the whote sandy beaches of this beautiful beach town. It is a quiet and serene place apt for those who have been looking for a peaceful getaway.
Places To Visit: Ganapatipule Beach, Prachin Konkan, Malgund Beach, Ganpatipule Temple, Jaigad Lighthouse
Things To Do: Visit Beach, Temple Visit, Water sports
How To Reach:
By Air: Mumbai International Airport (375 km) is the nearest airport to Ganpatipule
By Rail: Ratnagiri is the nearest railhead
By Road: There are a number of public and private buses running between Ratnagiri and Ganpatipule
Suggested Read: Top 5 Wildlife Sanctuaries In West Bengal That Are Home To Some Of The Most Exotic Species
24. Nalanda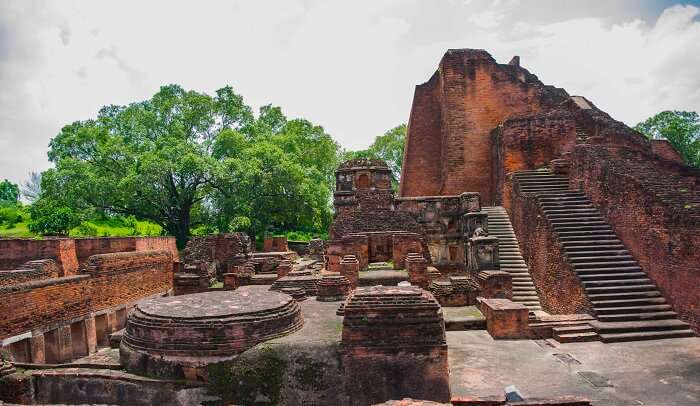 Nalanda may not appeal to you as a typical tourist destination but it is a place worthy of visit. Nalanda is where the first university was set up. So, it comes with a glorious past and academic lineage. If history and knowledge excites you, then October is the best time to plan a trip to Nalanda.
Places To Visit In Nalanda: Venu Van, Jal Mandir, Saptaparni Cave, Son Bhandar Caves
Things To Do: Have lunch at Cafeteria Nalanda, Visit Nalanda Ruins, Check out the Archaeological Museum
How To Reach:
By Air: Patna is the nearest airport, 89 km away.
By Rail: Gaya is the most convenient railhead to Nalanda, 95 km away
By Road: You can hire a taxi or cab from Bihar cities to Nalanda.
25. Munnar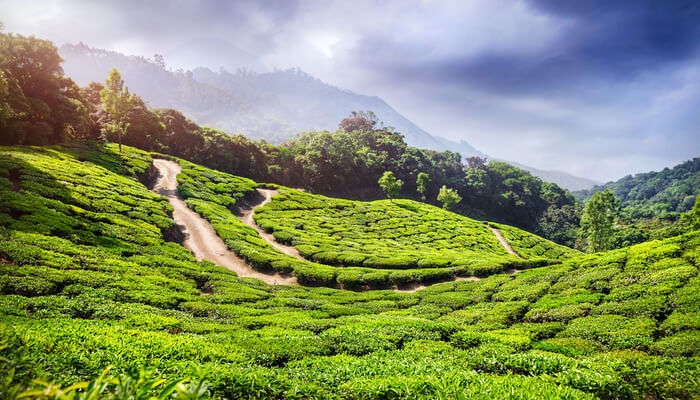 There could not be a better time to visit Munnar than October. The weather is salubrious and amazing to go out and participate in outdoor activities like hiking and driving to the waterfalls. The air is nippy and the lush greenery is at its peak. The rolling tea plantations are evergreen as ever. If you are planning an autumn honeymoon, you should really book your tickets to Munnar.
Places To Visit In Munnar: Mattupetty Dam, Anamudi, Pothamedu View Point, Eravikulam National Park
Things To Do In Munnar: Camping, Trekking, Mountain biking, Rappelling, Climbing, Tea Estate Museum
How To Reach:
By Air: Cochin International Airport (125 km) is the nearest airport to Munnar.
By Rail: Ernakulam or Kochi is the nearest railhead.
By Road: Hire a taxi from Cochin to Munnar.
Suggested Read: Top 10 Restaurants In Maharashtra For Tasting The Best Foods Of This Indian State
26. Andaman & Nicobar Islands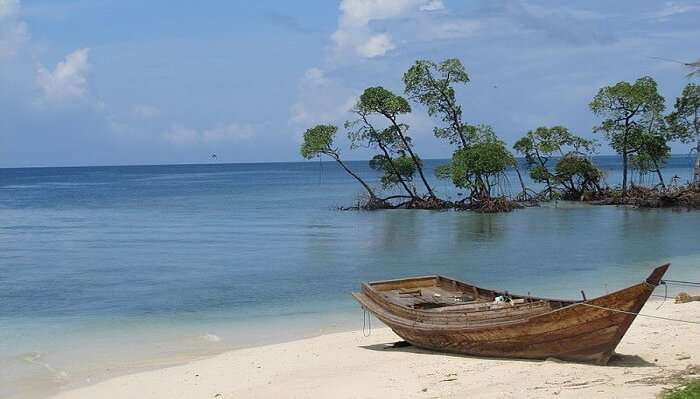 There are two main seasons to visit Andaman; one is October and other one is December. If you cannot wait till the end of the year or hate crowds, skip December and fly to the most beautiful islands in India in the month of October. There are plenty of things you can do and explore on the islands.
Places To Visit In Andaman: Havelock Island, Port Blair, Radhanagar Beach, Elephant Beach, Neil Island
Things To Do In Andaman: Day trip to Baratang Island, Water Sports, Sunbathing, Island hopping
How To Reach:
By Air: The only way to reach Andaman is by flight. You can take a ferry to transport from one island to another. A railway line on Andaman is also under pipeline.
27. Ooty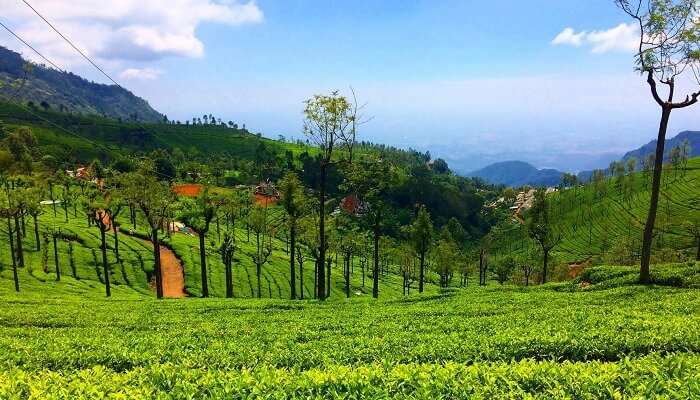 Image Credit: Ajay Baby for Pexels
If anyone hears the 'Queen of the Nilgiris, the first thought that comes to mind is Ooty which is nothing but a vast green area that lures nature lovers from all over India. Also known as Udagamandalam, Ooty oozes with simplicity and picturesque lanes with roots into its culture and traditions. The colonial structures, as well as freshness, are the main reasons for the rising tourist inflow. If you are in search of respite from the scorching heat in the plains then you must pay a visit to Ooty.
Places To Visit In Ooty: Emerald Lake, Ooty Lake, Avalanche Lake, Rose Garden, Botanical Garden
Things To Do In Ooty: Camping, boating, trekking, sightseeing
How To Reach:
By Air: Coimbatore International Airport is 88 kms away which will take two and a half drive to reach Ooty.
By Rail: Mettupalayam railway station is located 40 kms away from Ooty.
By Road: There are several ways to reach Ooty via road. 
Suggested Read: 10 Best Hotels Near Ooty For A Relaxing And Peaceful Vacation
28. Sunderbans Tiger Reserve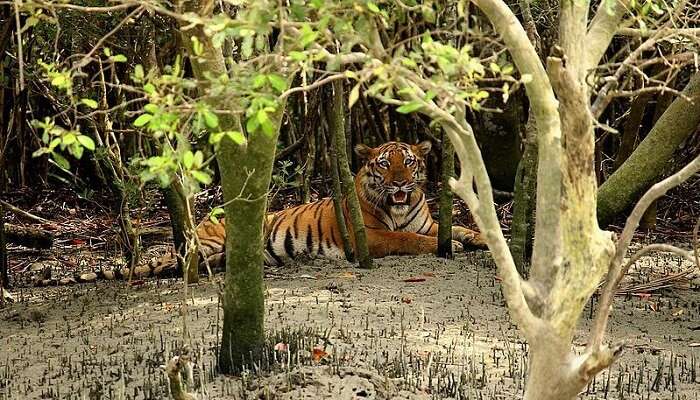 Image Credit: David V Raju for Wikimedia Commons
One of the best places to visit in India in October is Sunderbans Tiger Reserve where one can witness a variety of birds and animals. It is mainly famous for Royal Bengal Tigers and is home to endangered species like Ganges River dolphin and estuarine crocodile. The area is covered with mangrove trees, tributaries, and creeks that add to the beauty of the national park. It covers an area of 40,000 sq. km that is divided in India and Bangladesh. It is now included in the list of UNESCO World Heritage Site.
Places To Visit: Sajnekhali Watch Tower, Henry Island, Kalash Island, Burirdabri, Netidhopani
Things To Do: Boating, Birdwatching, Safari
How To Reach:
By Air: Netaji Subhas Chandra Bose International Airport is located at a distance of 120 kms from the tiger reserve.
By Rail: Canning is the nearest railway station at 45kms.
By Road: You can hire a taxi from Kolkata to reach the tiger reserve. 
29. Char Dham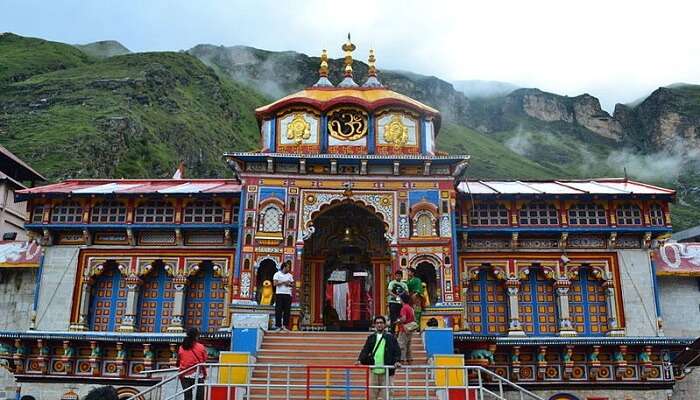 Image Credit: Neilsatyam for Wikimedia Commons
As the name suggests, Char Dham comprises four religious places and they are Puri, Dwarka, Badrinath, and Rameshwaram. It is believed that by visiting these pilgrimage sites, one can achieve salvation (moksha) which is why Vaihnavite Hindus try to visit these places at least once in their lifetime. There is another small circuit that goes by the name Chota Char Dham – Kedarnath, Yamunotri, Badrinath, and Gangotri. The Char Dham Yatra commences in April or May and ends in October or November. The dates are not fixed and are decided every year by the concerned authorities.
Places To Visit: Jagannath Puri, Rameshwaram Temple, Dwarkadheesh Temple, Badrinath Temple
Things To Do: Visiting temples, praying
How To Reach: Char Dham yatra helicopter services are available for all the destinations.  
Suggested Read: Top 10 Restaurants In Maharashtra For Tasting The Best Foods Of This Indian State
30. Jim Corbett National Park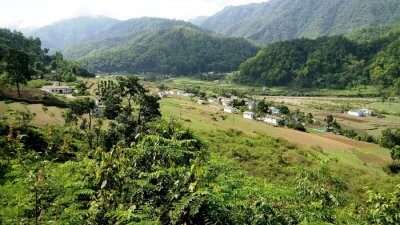 Image Credits: A. Kumar for Pixabay
The place known for housing the endangered Bengal tigers cannot be far behind on our list. Jim Corbett National Park exudes pleasant and rather chilly weather during October due to which your safari tour becomes a huge success. The travel aficionados will like the peaceful ambiance of Jim Corbett which is supported by a plethora of hills, lovely resorts and rivers. Adding to its elegance is the opportunity to spend a prolonged vacation in the region which is pretty close to hill stations like Nainital, Bhimtal and Sattal.
Places To Visit: Girija Devi Temple, Sitabani Wildlife Reserve, Corbett Falls, Dhangarhi Museum.
Things To Do: Elephant safari, jeep safari, rafting, fishing, camping, river crossing.  
How To Reach:
By Air: Pantnagar airport, 50 km away.
By Rail: Ramnagar is the nearest railway station connected with Delhi, Haridwar and Lucknow. 
By Road: There is absolutely wonderful road connectivity between Ramnagar, the nearest town to Jim Corbett and rest of India, especially direct buses from Delhi.
31. Shimla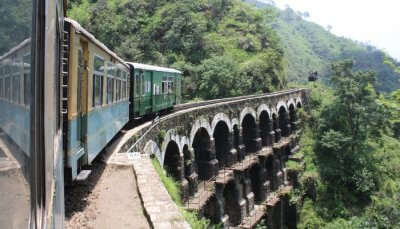 Image Credits: Wolfgang Reindl for Pixabay
As surprising as it might sound, the summer capital of British India deserves to be on the list of Indian places to visit in October. Although you won't find snow during October, the fact that October marks the onset of winters is more than enough to plan a trip. With a plethora of attractions and destinations to choose from, a prolonged Shimla vacation is highly recommended. 
Places To Visit In Shimla: The Ridge, Jakhoo temple, Viceregal Lodge, Christ Church, State Museum.
Things To Do In Shimla: Toy train ride, shopping, trekking, hiking, camping, cycling.
How To Reach:
By Air: Shimla airport, 23 km away.
By Rail: Toy train between Shimla and Kalka.
By Road: Being close to Chanadigarh and Delhi, there is fantastic road connectivity.
Suggested Read: 7 Best Resorts In Bekal That Guarantees The Most Comfortable Stays
32. Alleppey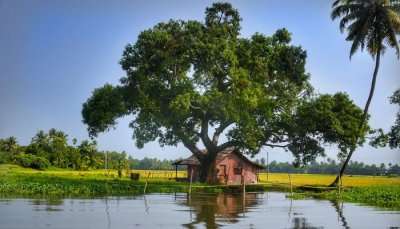 Image Credits: Richard Mcall  for Pixabay
Here is an expected destination in the southern state of Kerala. Alleppey or Alappuzha becomes more than pleasant and popular during October. With rainfall coming to its end, the backwaters and water bodies all across Kerala are full to the brim. As much as you will enjoy exploring, the tranquil network of canals, lagoons and houseboats in Alleppey will astonish you. Let's also not forget to hit the beaches as we discover the elegance of Alleppey.
Places To Visit In Alleppey: Alappuzha Beach, Vembanad Lake, Marari Beach, Pathiramanal Island, Krishnapuram Palace.
Things To Do In Alleppey: Houseboat ride, museum tours, boating, beach activities.
How To Reach:
By Air: Cochin International Airport, 75 m away.
By Rail: Alleppey Railway Station is connected to to Kochi and Trivandrum.
By Road: Alleppey is 4 hours away from Thiruvananthapuram so a bus ride is recommended. If you want to drive, then take Highway 66 from Thiruvananthapuram and reach Alleppey.
33. Shillong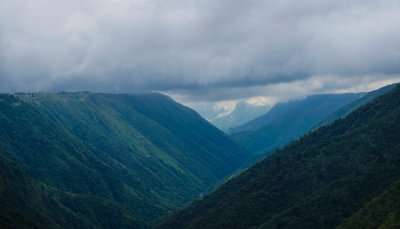 Image Credits: Tareq Shuvo for Pixabay
Shillong is a beautiful city full of natural splendor and a sleepy atmosphere. October is neither too cold nor too hot – in short, pleasant enough to freely explore Shillong. Being the capital city of Meghalaya, Shillong has good connectivity and stay options. Coupled with the fact that there are plenty of attractions and rejuvenating things to get involved in, makes Shillong the perfect escapade for a long trip in October.
Places To Visit In Shillong: Umiam Lake, Ward's Lake, Shillong View Point, NohKaLikai FallsDon Bosco, Museum, Lady Hydari Park.
Things To Do In Shillong: Lake tours, boating, shopping, museum tours, water sports, trekking.
How To Reach:
By Air: Guwahati airport, 125 km away.
By Rail: Guwahati railway station is located about 135 km away.
By Road: Good motorable roads makes hiring cabs, taking a buses or hiring rental cars to Shillong very convenient.
Suggested Read: Andaman In October: Guide To Enjoying A Fun And Paradisaical Vacation
34. Kutch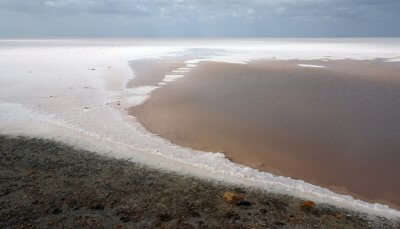 Image Credits: Bishnu Sarangi for Pixabay
Little do we know about the western borders of Gujarat. But we have heard quite a lot about Kutch and the Rann of Kutch and the Rann Utsav. October is the month when the Rann of Kutch begins to dry up and takes the form of a sea of salt. You can explore this natural elegance right in front of your eyes. A long trip to Kutch might help you with observing such a natural phenomenon in addition to the other beautiful attractions around the city.
Places To Visit In Kutch: Rann of Kutch, Kalo Dungar, Kutch Fossil Park, Bhanjano Hills, Lakhpat Fort, Aaina Mahal Palace, Prag Mahal Palace, Mandvi Beach.
Things To Do: Explore museums and palaces, explore the beach, and nature, visit Dholavira – the ancient civilization.
How To Reach:
By Air: Bhuj airport, located 80 km away.
By Rail: Bhuj is the nearest railhead located 70 km away. Major cities across India are connected to the railway station.
By Road: There is good road connectivity from Bhuj to Kutch and buses ply regularly. It is a fascinating journey and is the best possible way to explore Kutch.
35. Puri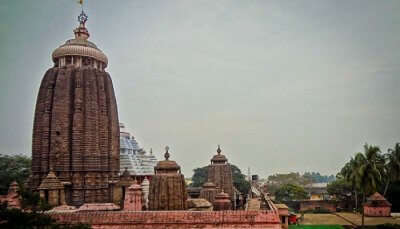 Image Credits: Abhishek Barua for Wikipedia 
From western front to the eastern front, we welcome you to the beautiful, spiritual and beach destination of Puri in Odisha. Quite popular as one of "Char Dham" and housing the glorious Jagannath Temple, the city of Puri is laced with a golden beachline. This might be the perfect place to visit in October in India where you get a full-scale rejuvenation. Keeping the coastline and attractions aside, the absolutely scrumptious seafood and traditional meals level your  vacation up to a new level.
Places To Visit In Puri: Shri Jagannath Temple, Golden Beach, Gundicha temple, Sudarshan Crafts Museum, Narendra Pokhari, Pratyush Ocean World.
Things To Do In Puri: Temple tours, beach sports, exploring seafood. 
How To Reach:
By Air: Bhubaneswar airport, 57 km away.
By Rail: Puri has its own railhead and trains from all over India visit Puri.
By Road: There is excellent road connectivity between Puri, Bhubaneswar and Cuttack.
Suggested Read: 14 Best Places To Visit In South India In October For A Pre-Winter Vacation

36. Lakshadweep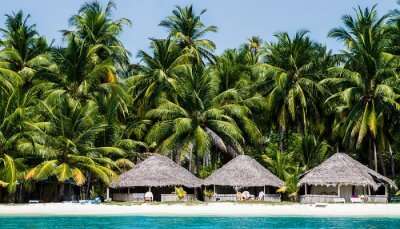 At last, a destination known for promoting what a traveler truly desires from a destination. A lot of solace and isolation from the everyday world. Lakshadweep islands are situated off the coast of Kerala and Karnatak It is so small that you will hardly be able to locate it in a map, at least till the time you use a microscope. What favors Lakshadweep are the endless beaches, private islands, pleasant weather and lots of beach sports.
Places To Visit In Lakshadweep: Minicoy island, Kadmat island, Kavaratti, Kalpeni.
Things To Do At Lakshadweep: Island hopping, water sports, beach sports, sunbathing.
How To Reach:
By Air: Agatti Aerodrome is located in Lakshadweep.
37. Kodaikanal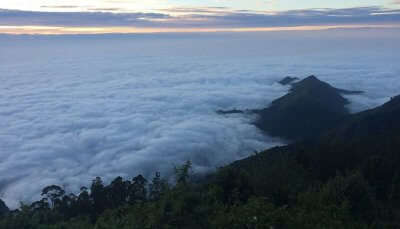 Kodaikanal is a hill station in the harmonious state of Tamil Nadu. It is dotted with plantations, lush green forests, a serene landscape and attractions that keep you come back for more. October is the first month of post monsoon autumn and this alone really makes Kodaikanal a top notch destination. Some of the greatest Kodaikanal travel tips that we can suggest  you is to explore the hills and valleys by the day and settle down with a fabulous Kodai meal at night. 
Places To Visit In Kodaikanal: Kodai lake, Coaker's Walk, Bryant Park, Silver Cascade Falls.
Things To Do In Kodaikanal: Boating, trekking, hiking, enjoying local food, touring the waterfalls.
How To Reach:
By Air: Madurai Airport is the closest.
By Rail: Kodai Road is the major railway station, 95 km away.
By Road: There is good road connectivity to Kodaikanal from cities like Madurai, Coimbatore and Trichy.
Suggested Read: 38 Ultra Exciting Things To Do In Rishikesh With Your Travel Pals
38. Majuli Island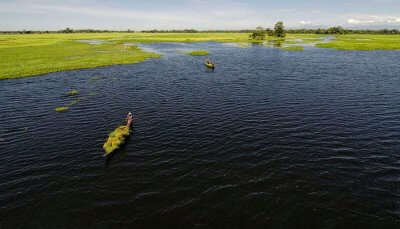 One of the finest but less talked about Indian places to visit in October is Majuli Island. Being a river island in the Brahmaputra river, Majuli has been slowly gaining traction as a top tier destination, especially after 2016 when it was declared as a district. Another awesome fact about Majuli is that it is the world's largest river island. This gem of Assam is known for its rustic rural life, wooden boats and lush green fields. The remoteness and untouched beauty add a new dimension to your October trip.  
Places To Visit: Dakhinpat Satra, Molai Forest Reserve, Uttar Kamalabari Satra.
Things To Do: Biking through village, nature photography, bird watching, and being a part of Ras Mahotsav.
How To Reach:
By Air: Jorhat is the nearest airport.
By Ferry: Ferries play regularly from Jorhat to Major Sapori and then Majuli. 
By Road: There is well-round connectivity between Jorhat and Majuli via road.
39. Keibul Lamjao National Park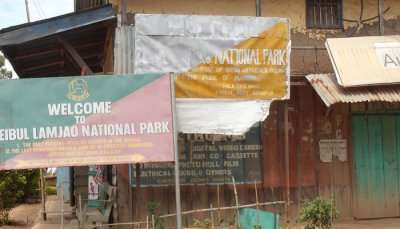 Here's a hidden gem you are hardly familiar with. The Keibul Lamjao National Park is the only floating sanctuary in the world. Home to the Sangai Deer, the national park forms a misty and vivid appeal after rain showers in September. Therefore, October gets the real beauty of Keibul out when the waters are full and the aquatic life comes out. This magical place in Manipur's Bishnupur district comes straight out of your childhood books!
Places To Visit: Loktak lake, Langthabal, wildlife.
Things To Do: Boating across the Loktak lake, nature photography.
How To Reach: 
By Air: Imphal is the major airport, 53 km away.
By Rail: Dimapur is a railhead close to the park, 245 km away.
By Road: Imphal has a good road connectivity with the park.
Further Read: 10 Best Hotels Near Ooty For A Relaxing And Peaceful Vacation
These places to visit in October in India are a unique mix of adventure, thrill, and unspoiled nature has a bunch of compelling spots that are yet to be consumed and long for your footsteps. Go ahead and treat yourself as you book a holiday in India, and who knows, they too would be waiting to get mesmerized!
For our editorial codes of conduct and copyright disclaimer, please click here.
Frequently Asked Questions About Places To Visit In October In India
Which place is best to visit in October in India?
The following are the best vacation spots in October in India:
1. Kashmir: Impeccable landscapes
2. Bir Billing: Fun-filled adventures
3. Spiti: Enthralling expeditions
4. Rishikesh: Mystic ambiance
5. Jodhpur: Vibrant getaways
6. Badhavgarh National Park: Wild interactions
7. Mysore: Witness royal abodes
8. Ladakh: Colours of the Himalayas
Is it safe to visit India in October given the current situation of Covid-19?
Yes, it is perfectly safe to visit these places as the place has a relatively low number of cases. But don't take our word for it: check up on the latest travel advisory, Covid-19 measures, and the number of cases before your departure. It is safer to undertake solo travel or with a small group of people to somewhere that is not overly crowded at the moment.
Where should I go for honeymoon in the month of October?
Weather in October is amazing if you are planning a romantic getaway. Some of the best places for couples in October are:
1. Goa: The party captial
2. Andaman and Nicobar Islands: Tranquil beachy escapes
3. Munnar: Lush green vistas
4. Manali: Icy surroundings
5. Mussoorie: Gorgeous hill station
What are the best places to visit in October near Delhi?
Rishikesh, Nainital, Bandhavgarh National Park, Jodhpur, and Spiti are some of the most popular places to visit in October in India near Delhi. Delhi experiences an extreme type of climate when it comes to plains. October is a month when the weather is kind and tripping in the nearby destinations is suitable. These places are perfect for long weekends or festival holidays.
Where does it snow in October in India?
Rohtang, Pahalgam and Lachung are among the few places where you can expect to spot snowfall in October in India. Since the main snow season starts in November end, it is not guaranteed you will witness snow if you're visiting during this month.
Which are the famous October month festivals in India?
There are numerous experiences that can be captured in the month of October. It is the time when numerous festivals are organised across the country. From sneak peeking at the Dussehra celebrations to vast music celebrations such as Boots & Hearts, and theme based festivals including Tropical Beer Fest, Garba Fest, Sharad Navratri, etc. are organized across the country in this month.
---
People Also Read:
Places To Visit In India In December Places To Visit In January In India Places To Visit In July In India