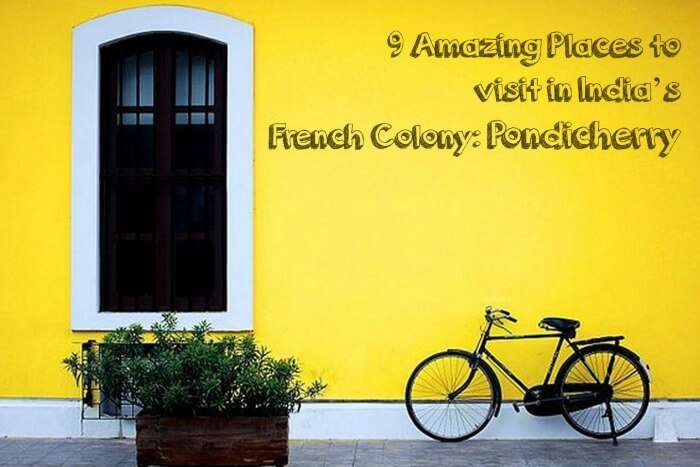 Right beside the sea, the beautiful Pondicherry – the French capital of India, offers some spectacular tourist attractions. Known for its urban architecture style, Pondicherry is one of the most popular tourist destinations in South India. From post-card perfect yellow buildings to sunny beaches, we bring you some of the best places to visit in Pondicherry with your friends and family right here. Make sure you put all of these in your Pondicherry itinerary when you plan your trip!
Top Places To Visit In Pondicherry
But what all should you see while you're there? Here's a list of the best renowned places to visit in Pondicherry for your holiday:
Shri Aurobindo Ghosh Ashram
Auroville
Paradise Beach
Gingee Fort
Sri Gokilambal Thirukameswar Temple
Basilica Of The Sacred Heart Of Jesus
Jawahar Toy Museum
Le Club
Promenade Beach
White Town
Chunnambar Boat House
Sita Cultural Centre
Serenity Beach
Goubert Avenue
Ousteri Lake
Old Lighthouse
Pondy Bazaar
Raj Niwas
French War Memorial
Pondicherry Botanical Garden
1. Shri Aurobindo Ghosh Ashram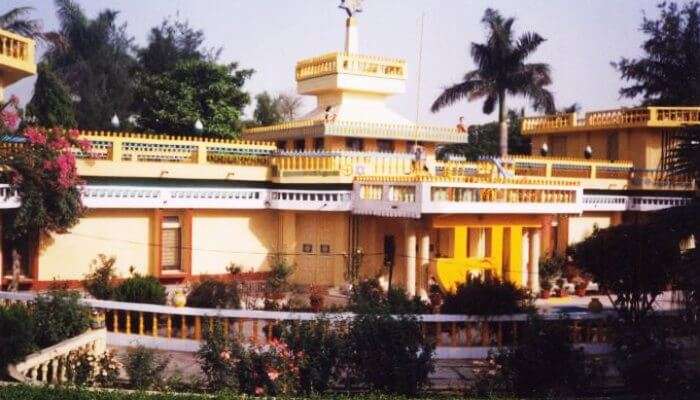 Image Source
Pondicherry was the residence of Sri Aurobindo (Indian freedom fighter), was founded in 1926. It is one of the well known and wealthy ashrams of India. The ashram has one of the prime destinations for tourists and spiritual seekers. If you're looking for peace and serenity in Pondicherry, this place should definitely be on your list.
Opening hours: From 8 am to 12 noon and from 2 pm to 6 pm
Must Read: 21 Road Trips From Bangalore You Must Plan With Your Friends
---
South Weekend Holiday Packages On TravelTriangle
A trip to South India has a lot to offer – from the tranquillity of forests to charm of sizzling beaches and from lost kingdoms to chills of a hill station. Visit Kerala, Coorg, Ooty, Mysore, or Kodaikanal. Book holiday packages inclusive of airport transfers, cab, resort, sightseeing, and meals.
---
2. Auroville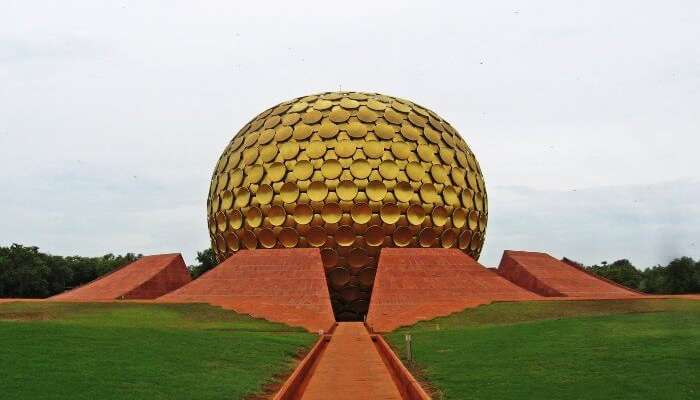 Image Source
The name means 'the city of Dawn', founded in 1968. It is a Universal town where men and women of any country can live together to progress harmony and realize human unity. It's one of the best tourist places near Pondicherry within 100 kms that exudes utmost tranquility and peace.
Distance: 8 km from Pondicherry
Opening hours: Mon to Fri (9:30 AM – 12:30 PM & 1:00 PM – 4:00 PM)
Good for: Nirvana Seekers Experience Seekers
Visit Duration: 1 hour
Suggested Read: 11 Top Homestays In Pondicherry For An Unforgettable Holiday
3. Paradise Beach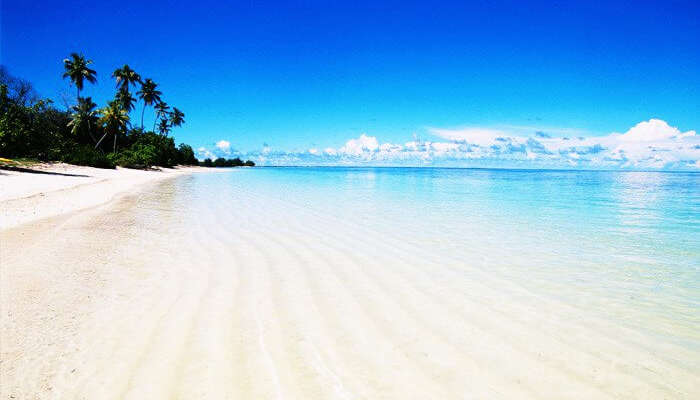 Image Source
Sand of the Paradise beach is soft in nature, unlike coarse sand of the Auroville beach. Thus making them a perfect ground for sports and having fun. The beach is truly paradise in sense that the water color is really blue; sand is golden and silvery. And the boat ride through backwaters that gets you to this golden paradise is simply remarkable!
Opening hours: All days of week(12:00AM – 12:00PM)
Good for: Experience Seekers,Fun Lovers, Adventure Seekers,Photo Fanatics
Visit Duration: 1-2 hours.
Must Read: The Ultimate Weekend Getaway Destinations From Bangalore
4. Gingee Fort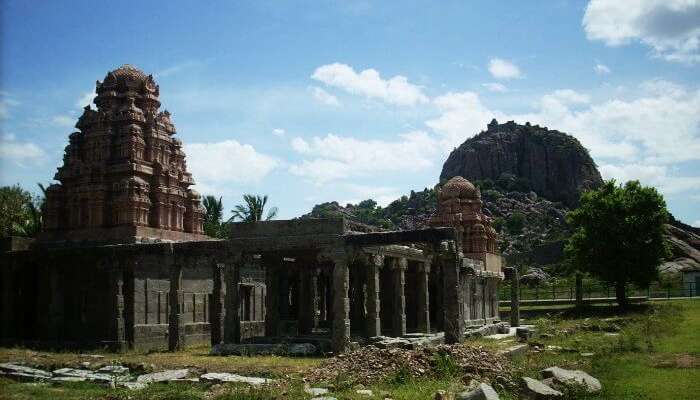 Image Source
Gingee fort is one of the best places to visit in Pondicherry. The Fort is declared as a National Monument in 1921. Apart from being a unique architectural feat it is one of the few forts in the State. History geeks and architecture lovers must not miss out this place during their holiday in Pondicherry.
Opening hours: All days of the week (9:00 AM – 7:00 PM)
Good for: History Buffs,Wanderers,Loners, Photo Fanatics,Experience Seekers
Visit Duration: 1-2 hours.
Must Read: 18 Cycling Road Trips You Must Take In India
5. Sri Gokilambal Thirukameswar Temple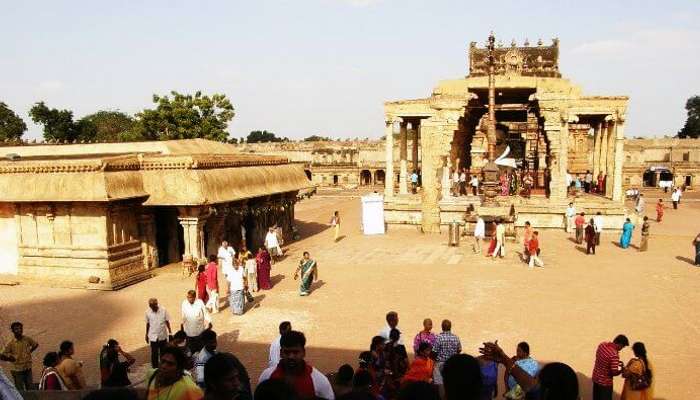 Image Source
It is popularly known as the Villianur Temple. It has a huge 15 meters tall temple chariot that is normally taken out on a procession during the Brahmotsavam, which is basically the annual festival of Pondicherry. It makes up for one of the best places to visit in Pondicherry in 2 days .
Opening hours: All days of the week (5:00 AM – 12:00 PM & 4:00 PM to 9:00 PM)
Good for: God Lovers Experience Seekers Photo Fanatics
Visit Duration: 1-2 hours
Best time to visit: May to June
Suggested Read: 6 Best Beaches In Pondicherry You Must Visit Before They Go Mainstream
6. Basilica Of The Sacred Heart Of Jesus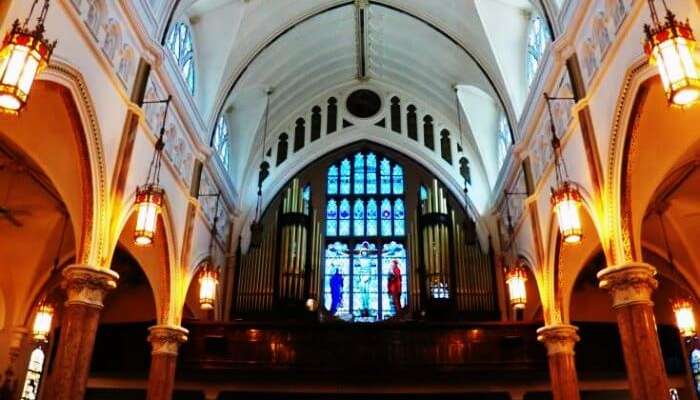 Image Source
It is also known as the Parent church for Catholic diocese for Pondicherry and Cuddalore. Located at the south boulevard, the Basilica Of The Sacred Heart Of Jesus was consecrated on December 17th, 1907. The structure of this church is 50 meters long, 48 meters wide and 18 meters high and is held by 24 columns. This is one of the best places you will visit in Pondicherry.
Opening hours: All days of the week except Sunday (7:00 AM – 6:30 PM)
Good for: God Lovers Experience Seekers Nirvana Seekers Photo Fanatics
Visit Duration: 1-2 hours.
Must Read: 8 Places Every Girl Wants To Go On a Girls Only Trip
7. Jawahar Toy Museum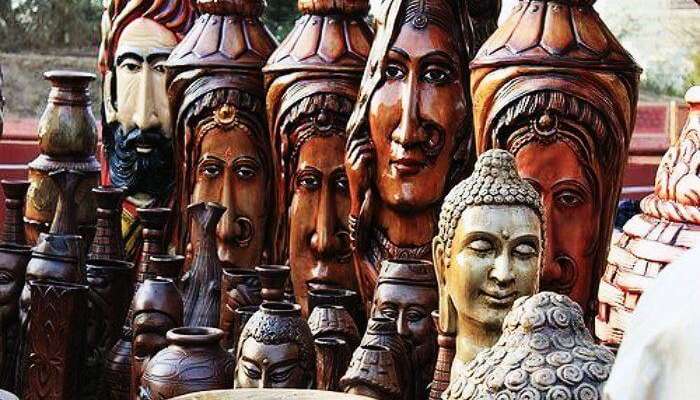 Image Source
It is a doll house which has more than 140 dolls brought from different Indian states. The Jawahar Toy Museum is situated in the main town, at the old lighthouse, which is near Gandhi Maidan. This museum has some of the rare decorated dolls and toys. It is not just a delight for children and school students, but people from all walks of life can enjoy it!
Opening hours: All days of the week except Monday (10:00 AM – 5:00 PM)
Good for: Connoisseurs, Experience Seekers, Wanderers
Visit Duration: 1-2 hours
Suggested Read: 18 Things To Do In Pondicherry In 2019 For A Fulfilling Retreat
8. Le Club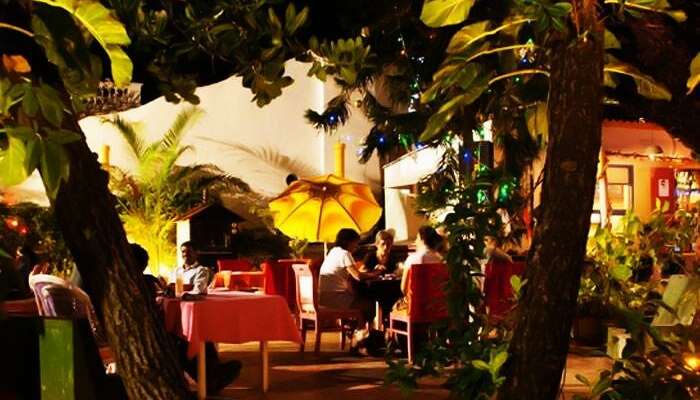 Image Source
The steaks (with sauces like blue cheese or Béarnaise), pizzas and crepes are all top-class at this super-popular romantically lit garden restaurant. Le club serves a wide selection of quality liquors, and our knowledgeable bartenders even make their own signature cocktails. Le Club is famous in doing Mohito cocktail. Get here and you'll know why it's the favourite place of all foodies and night crawlers visiting Pondicherry.
9. Promenade Beach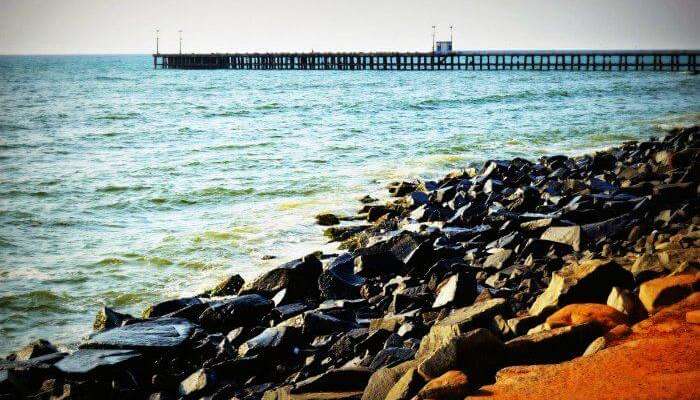 Image Source
If you need a calm and quaint place perfect for an evening stroll, this is a place you want to be at. The sea breeze and the sights and sounds work as a relaxing potion on your min and make you forget about all your worries of the world and work. A leisurely stroll at this beach during sunset or sunrise with your better half by your side will surely be one of the most romantic things you do in Pondicherry.
Opening hours: All days of week(12:00AM – 12:00PM)
Good for: Experience Seekers,Fun Lovers,Adventure Seekers,Photo Fanatics
Visit Duration: 1-2 hours
10. White Town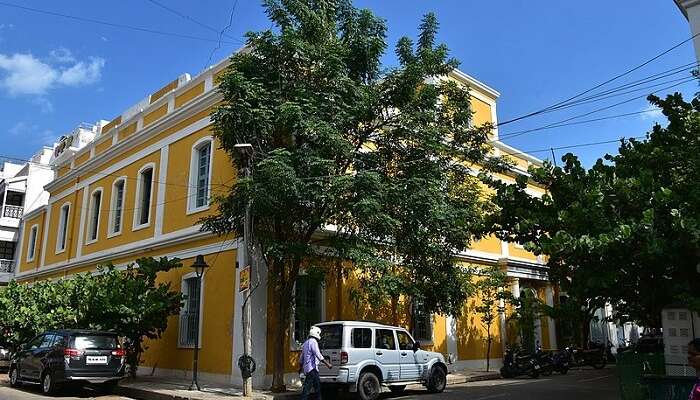 Image Source
Pondicherry is, without a doubt, one of the best places to explore owing to the varied experiences it offers in a tiny space. It's bright and vibrant culture and heritage is showcased in its multi-coloured lanes, smiling locales, jazzy nightlife, and bustling marketplaces. You can head to the White Town if you truly wish to explore this erstwhile French town to the fullest. Take a walk around this culturwlly rich part of Pondy and see chic cafes, high-end boutiques, eye-warming yellow architecture, and much more. You can also interact with locals and get acquainted with their everyday life. While you're here, don't forget to dine at the Promenade Hotel popular for its finger-licking Tamilian cuisine and seafood delicacies.
Good for: Couples, architecture fans, history lovers, foodies
Visit Duration: 2-3 hours
11. Chunnambar Boat House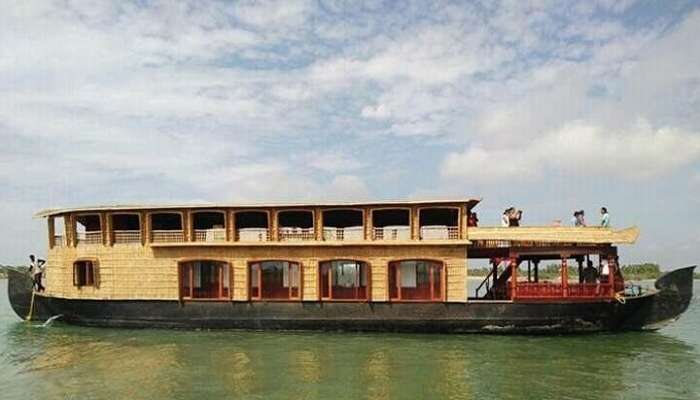 Image Source
Take a boat ride over the pristine backwaters of Pondicherry and they will surely bring you closer to nature. The Chunnambar Boat House is a delight for all nature lovers, not only because of the boat rides it offers, but also because of its stunning natural location where people can relax and rejuvenate. Either experience a thrilling boat ride over one of their traditional wooden cruises or head out into these lush environs for picnicking, hiking, and camping. It's a great experience for couples and honeymooners as the ride and these activities allow them total seclusion in the lap of nature in an idyllic destination.
Location: National Highway 45A, Near Water Sports Complex, Nonankuppam, Pondicherry
Opening hours: 9:30 AM – 5 PM
Good for: Hiking, boating, picnics, camping, couples, nature lovers
Visit Duration: 2 hours
Best time to visit: September to March
Reviews
12. Sita Cultural Centre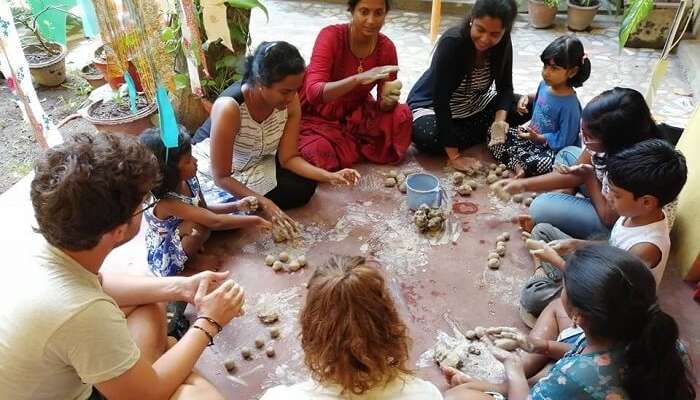 Image Source
The Sita Cultural Centre is a very famous Franco-Indian cultural centre in Pondicherry. Located on the Candappa Mudaliar Street, it happens to be one of the finest tourist attractions in Pondicherry that offers plenty of fun classes to visitors and locals. From Indian cooking, Kolam learning, Ayruvedic medicine, yoga, Pilates, and Tamil language, there are various interesting multiple and single session classes you can take here depending on your schedule. It's a beautiful way to learn about the charming Pondy culture and be a part of it for a day or two!
Location: 22 Candappa Mudaliyar Street, Pondicherry 605001
Opening hours: 9 AM – 1 PM, 3 PM – 7:30 PM (Monday to Saturday)
Good for: Families with kids, art lovers, spiritual nomads
Visit Duration: 2-3 hours
Best time to visit:
Reviews
13. Serenity Beach
Imagine a pristine shoreline sprinkled with sparkling sand, glittering waves, and colorful fishing boats – yes, we are talking about the picture-perfect Serenity Beach in Pondicherry. Studded with swaying palm plantations, this stunning fishermen's village and beach provide travelers with utmost relaxation and a chilled out ambiance. When here, visitors can also indulge in activities like surfing, sunbathing, and even fishing. Various trained guides on the beach also offer surfing lessons to travelers at dirt cheap rates. This offbeat yet spectacular beach is your perfect refuge if you're looking for a pretty beach without the noisy tourist crowd. You can also get some Catch Of The Day from the fishermen (use your pro bargaining skills).
Location: Kottakuppam, Puducherry, Tamil Nadu 605101
Good for: Surfing, fishing, sunbathing, relaxation, photographers, couples
Visit Duration: 1-2 hours
Best time to visit: January and February
14. Goubert Avenue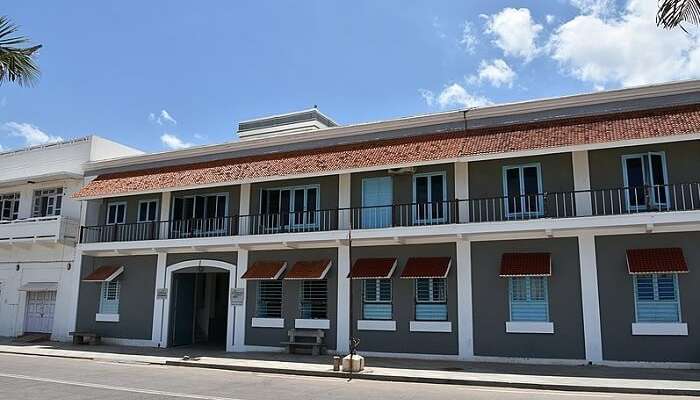 Image Source
Owing to Pondicherry's perfect coastal location, Goubert Avenue beach road is an ideal place to hang out at for some thrilling and offbeat things to do in this city, especially if you're visiting with kids. You can take a leisurely stroll on the beach road, go cycling, watch the surreal sunset and sunrise from here, or indulge in any other recreational activity. It's a great place to spend the day with your loved ones without worrying about anything. The weather is usually always pleasant here because of its location and the cool sea breeze. And the best part – this seafront doesn't allow traffic movement from 6:30 PM in the evening till 7:30 AM the next morning in order to provide visitors a peaceful and hassle-free outing here. This surely makes it one of the best places to visit in Pondicherry at night.
Location: White Town, Puducherry
Opening hours: 6:30 PM – 7:30 AM (ideal)
Good for: Romantic walks, sunset views, jogging, cycling
Visit Duration: 1-2 hours
15. Ousteri Lake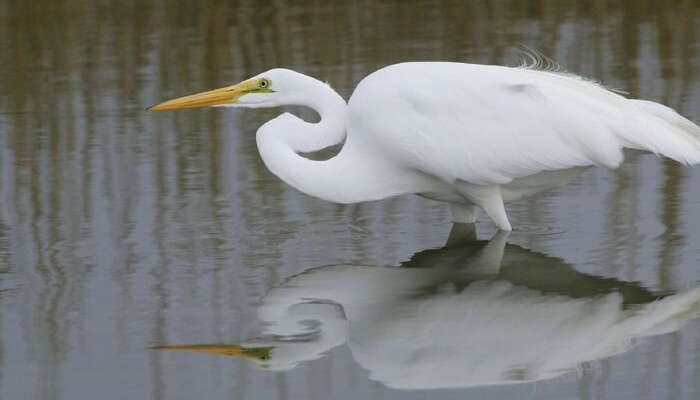 Image Source
Also known as the Osudu Lake, the Ousteri Lake happens to be the most Instagrammable and crucial freshwater man-made lake in Pondicherry. The lake is made up of marshes and mudflats and has been designated as one of the most important wetlands of Asia by the International Union for Conservation of Nature And Natural Resources Serene and spectacular, Ousteri provides some jaw-dropping views of the sunset as well as the rising sun. Out of the many good places to visit in Pondicherry offering a close affair with nature, Ousteri definitely wins the race! The region is rich in biodiversity and is home to various birds, even migratory during the onset of Spring.
Opening hours: 9 AM – 5 PM
Good for: Birdwatchers, nature lovers, photographers, couples, families with kids
Visit Duration: 2-3 hours
Best time to visit:
16. Old Lighthouse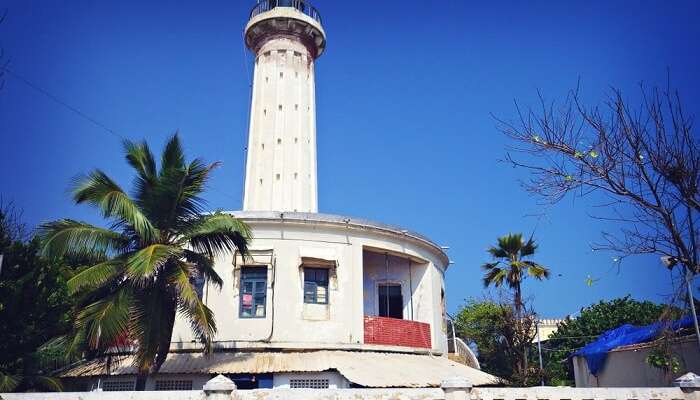 Pondicherry's beloved Old Lighthouse was built by the French in the 19th century and serves as one of the most significant historical landmarks of the colonial rule in Pondicherry. It once served as the only guiding light for passing or docking ships in the ocean spread across the Red Hills. But today, it merely stands as a humble reminder of the engineering and architecture of those days, while also serving as a picturesque attraction for tourists. It's a delightful place for history geeks, architecture fanatics, as well as photographers.
Location: Rock Beach, White Town, Pondicherry
Opening hours: 9 AM – 5 PM
Good for: Sunset views, architecture, history lovers, couples
Visit Duration: 1 hour
17. Pondy Bazaar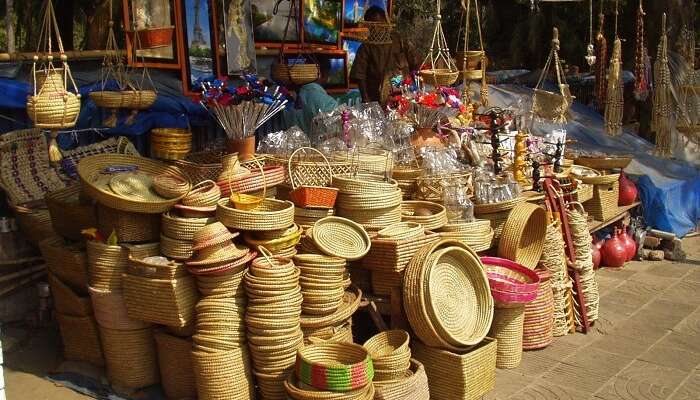 Image Source
If you wish to buy handmade art pieces and traditional souvenirs during your Pondicherry trip, you must head to the pondy Bazaar. A haven for shopaholics, this market showcases traditional merchandise from the best craftsmen and artisans in the region so that you can buy delightful Pondy handicrafts at rock bottom rates in the best quality. When here, you can also witness goldsmiths and silversmiths going about their daily tasks in their respective shops and interact with them to know how they convert raw materials into such beautiful artworks with such skill and dexterity. When you're tired, you can try local delicacies at any of the famous cafes.
Location: T. Nagar, Pondicherry
Good for: Handicrafts, silver and gold art pieces, metalware, home decor items
Visit Duration: 1-2 hours
18. Raj Niwas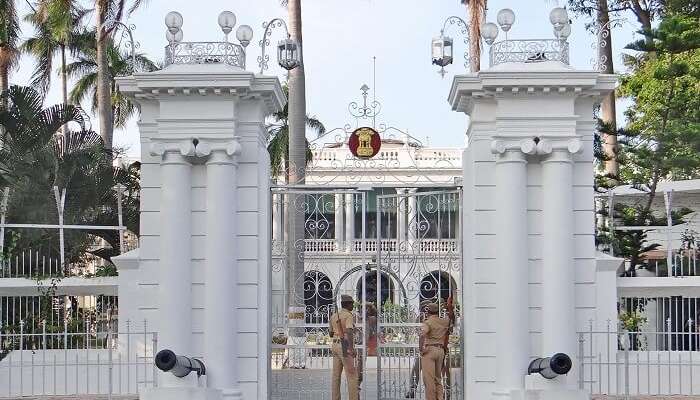 Image Source
The official residence of the Lieutenant Governor (currently Dr. Iqbal Singh), the stunning Raj Niwas is among the most important buildings in Pondicherry. It has once served as a palace to the French royals during the colonial rule, wherein it was the residence of Dupleix, the official French Governor of that time who had gained notoriety for his attempt at destroying the prestigious Manakula Vinayagar Temple. It is presently located in the Government Park and only a few parts of this building are open for public viewing. It's a delight for tourists owing to its well-kept parks and gardens, along with the sculptures belonging to the medieval and contemporary era that drives history lovers here. A visit to this place is sure to give you meaningful insight into the culture and life of Pondicherry.
Location: Ranga Pillai St, White Town, Puducherry, 605001
Opening hours: 12 noon – 6:30 PM
Good for: History geeks, architecture, families with kids
Visit Duration: 1-2 hours
19. French War Memorial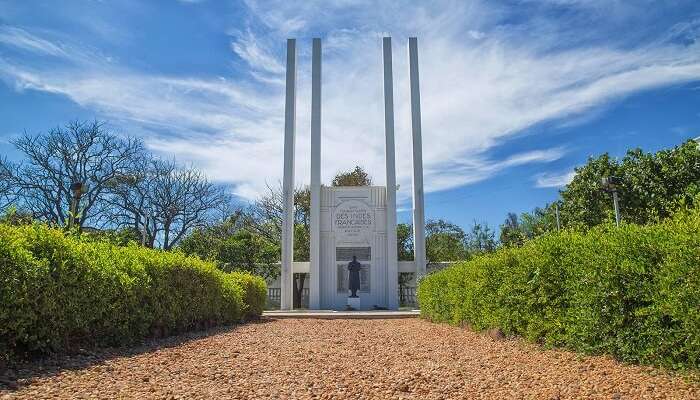 Image Source
The French War Memorial was built in 1971 on the Goubert Avenue (The Promenade) to serve as a reminder of the brave soldiers who laid down their lives during World War-I (1916-1919). Other than remembering their sacrifice, the memorial tries to convey that war leaves nothing but fatalities behind and doesn't ever provide solutions. If you wish to see this place in its full glory, try and visit on the Bastille Day that takes place on 14th July every year when the memorial is lit up in a fascinating manner. When here, you should also visit the Gandhi Statue located nearby.
Location: Mahe de Labourdonnais St, White Town, Puducherry, 605001
Opening hours: 10 AM – 5 PM
Good for: Patriots, history lovers, photographers, students
Visit Duration: 1-2 hours
20. Pondicherry Botanical Garden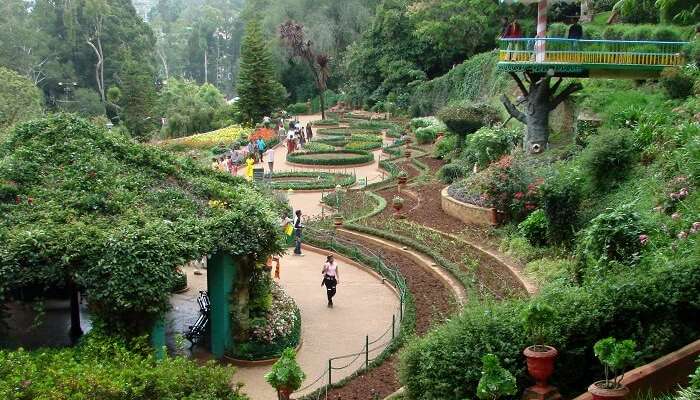 Image Source
The Pondicherry Botanical Garden is an absolute enchantment! Other than providing a refreshing respite to travelers from the blazing sun and heat, the park also gives them a chance to roam amid old-world French architecture and walk amidst rare and beautiful species of flora. You and your loved ones will definitely love to go out on a picnic at this park while also enjoying children's train rides, charming sights of fountains, sweet flowerbeds, aquariums, as well as the sounds of birds chirping from inside pruned trees. Other than endless natural beauty, it houses over 1500 exotic varieties of plants brought in from around the world. Don't forget to attend the musical fountain shows held here every weekend.
Location: Marimalai, Maraimalai Adigal Salai, Near Anna Statue, Orleanpet, Puducherry, 605001
Opening hours: 9 AM – 6 PM
Good for: Nature lovers, couples and honeymooners, botany enthusiasts, picnics, families with kids
Visit Duration: 2-3 hours
Best time to visit: Year-round
So, now that your exhaustive list of the best places to visit in Pondicherry is ready, when do you plan to leave? What can be a better time than now? Plan your trip to Tamil Nadu with the help of TravelTriangle at once and savor all that this delightful little seaside town has to offer to you and your loved ones! Happy Tripping!
---
Looking To Book A Holiday Package?
Book memorable holidays on TravelTriangle with 650+ verified travel agents for 65+ domestic and international destinations.
---
Comments
comments