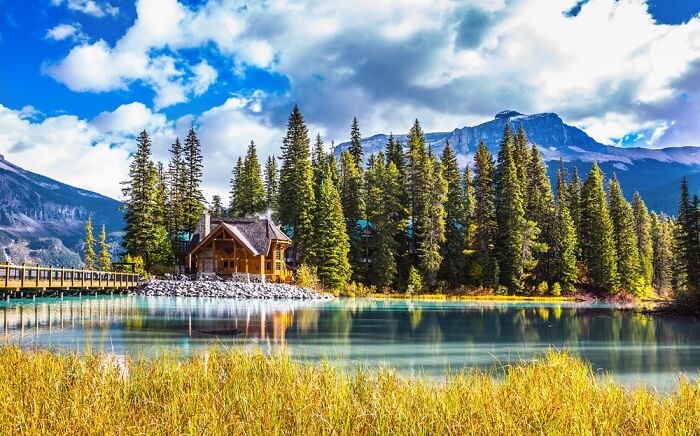 The best places to visit in Canada are a proof that the country has a heart bigger than its size when it comes to satiating the wanderlust of every type of traveler. And you would happily agree with us once you see them with your own eyes. Be it the lakes, the gardens, or the cities as a whole, Canada has got it all that would make your holiday worthwhile!
Take a look at these 20 places in Canada so that you know which ones you need to put on the top of your list!
20 Best Places To Visit In Canada In 2019
Thinking about exploring Canada? Here is the perfect list of places to visit in Canada on your trip. Take a look!
1. Niagara Falls
If there is one destination you'd find in every 'best places to visit in Canada' list, it is the Niagara Falls. Built along the spellbinding waterfalls by the same name, this famous city is an ideal place to explore if you're looking for a magical experience.
Things To Do:
Witness the gorgeous waterfalls
Get your game on at the Niagara Fallsview Casino Resort
Spend time at the MarineLand
Location: Ontario, Canada
Must Read: 10 Vancouver Hotels For Luxury And Budget Travelers
2. Whistler
Home to one of the largest ski resorts in North America, Whistler is your winter holiday destination! Skiing, snowshoeing, and tobogganing are few of the thrilling sports to indulge in for enjoying in this captivating snow land.
Things To Do:
Indulge in snowmobiling
Witness the town's vibrant culture by visiting the art museums and cultural centres
Dine at 21 Steps or Alta Bistro
Location: British Columbia, Canada
Suggested Read: Christmas In Chicago: Time To Celebrate Christmas Of 2018 In Mud City!
3. Quebec City
Renowned as North America's oldest walled city, this is amongst those Canada tourist places, which you must visit with your partner if magic, romance, and all things french is what tickles your fancy the most.
Things To Do:
Visit the historic attractions like The Citadel
Relax at the BattleFields Park
Walk along the scenic Terrasse Dufferin
Location: Québec, Canada
Suggested Read: 10 Things To Do In Niagara Falls, Canada: An Experience Below A Majestic Waterfall
4. St. John's
Popular for its jelly beaned & crayon colored houses, and being an artist's retreat, St. John's is like a mini San Francisco. Despite being the oldest city, the vibe of this place is as refreshing as that of any metro town, which is perfect for any of your holidays.
Things To Do:
Visit the Cape Spear Lighthouse
Learn about the local culture and history at The Rooms
Shop and eat at the famous Water Street
Location: Newfoundland and Labrador, Canada
5. Tofino
If you can't imagine a holiday without a beach, Tofino is the place for you! It's a paradise for water lovers, and a haven for people seeking comfort in their cosy hotel rooms after spending a long day out in the town.
Things To Do:
Explore the famous beaches like Long Beach and Chesterman Beach
Try the popular fish tacos
Indulge in kayaking and camping at Pacific Rim National Park Reserve
Location: Vancouver Island, Canada
Suggested Read: Niagara Falls in Canada: A Guide To A Majestic Waterfall In North America
6. Churchill
This small town located on Hudson Bay definitely counts as one of the best places to visit in Canada. Known as the polar bear capital of the world, Churchills is the perfect hotspot for travelers who love having a close encounter with wildlife.
Things To Do:
Swim or snorkel with Beluga whales
Explore Fort Prince of Wales
Take a Tundra Buggy tour
Location: Manitoba, Canada
Suggested Read: 10 Best Alaska Hotels For A Sojourn Amid Nature
7. Old Montreal
Old-world charm, spectacular buildings, and horse-drawn carriages are pretty much what describes the fascinating aura of this oldest area in Montreal. For travelers in pursuit of a peaceful & unique experience, this is the perfect place to be!
Things To Do:
Explore the underground city
Rejuvenate at the Spa Scandinave
Take the Old Montreal food tour
Location: Montreal, Quebec, Canada
Suggested Read: 10 Budget-Friendly Hostels In Canada For Enthusiastic Backpackers!
8. Banff National Park
Image Courtesy: Traveldigg.com
Chances are, you have already heard of Banff a lot of times. And why not, it is amongst the top Canada destinations every traveler must visit. Turquoise colored lakes, spectacular glaciers, snow capped peaks, and mesmerizing landscapes, everything beautiful can be witnessed here at once.
Things To Do:
Capture the beauty of Lake Louise and Bow Lake
Take a ride in the Banff Gondola
Go for hiking or whitewater rafting
Timings: 9:00 AM to 7:00 PM every day
Location: 224 Banff Avenue, Town of Banff, Alberta, Canada
9. Stanley Park
If the red-orange colored trees shown in movies have always tickled your fancy, Stanley Park is one place you have to visit in Canada. The red cedar and Douglas fir trees around with a gorgeous view of the city would not only leave you spellbound, but also make you fall for nature again.
Things To Do:
Walk through the majestic cedars and firs
Indulge in biking or rollerblading
Take a ride in the Miniature Train
Timings: 9:00 AM to 5:00 PM every day
Location: Vancouver, BC V6G 1Z4, Canada
Suggested Read: Canada Travel Tips: For A Perfect Holiday In The Largest Country Of North America
10. Butchart Gardens
Of all the top tourist attractions in Canada, Butchart Gardens is the best place to explore with a camera in hand. With an enchanting display of flowers around, fun boat tours, night illuminations & more, there's a lot to see and do here that will make your holiday vibrant!
Things To Do:
Capture the gorgeous flowers around
Witness the fireworks show designed by Disney
Indulge in ice skating
Timings: 8:45 AM to 10:00 PM
Location: 800 Benvenuto Ave, Brentwood Bay, BC V8M 1J8, Canada
11. Okanagan Valley
Image Courtesy: Photoshelter.com
Known for its wineries and fruit orchards, the Okanagan is a beautiful place to visit in Canada. A walk into the regions here makes you feel like you have stepped right into heaven. So, try and savour the beauty around not just with your eyes, but also with your camera.
Things To Do:
Visit the Sperling Vineyards or Mission Hill Winery
Spend time at the Okanagan Lake
Take a tour of the Kelowna region
Location: British Columbia, Canada
Suggested Read: Festivals of Canada: 8 Unmissable Extravaganzas That Will Give Celebration A New Meaning
12. Gros Morne National Park
Image Courtesy: Roottie.com
This national park is one of the Canada points of interest you must definitely visit and explore. Geologically diverse and beautiful, it is a part of Long Range Mountains, which makes it even more attractive for a nature admirer like you!
Things To Do:
Walk through the Tablelands
Enjoy mesmerizing views from the Western Brook Pond Cruise
Go on a wilderness hike in the Long Range Mountains
Location: Newfoundland and Labrador, Canada
13. Algonquin Provincial Park
With lush green forests, enchanting rivers & lakes, this place makes for a perfect tourist spot for anyone who loves nature. You can indulge in wildlife spotting, camping, canoeing, and more activities during your visit, which ensures you take back home more than just pictures.
Experience backcountry camping
Enjoy dog sledding, fishing, and whitewater canoeing
Indulge in wildlife spotting
Location: Ontario 60, Ontario K0J 2M0, Canada
Suggested Read: Temples in Canada: 9 Places That Are A Testament To This Country's Diverse Culture
14. Yoho National Park
Of all the Canada tourist places, Yoho National Park located in the heart of the Canadian Rocky Mountains is a place every nature lover must visit. Its gorgeously massive Wapta and Takakkaw Falls make it ideal for your Canada holiday pictures.
Things To Do:
Enjoy a serene drive up to Takakkaw Falls
Stroll along the Emerald Lake
Take a bike ride on the Yoho Valley Road
Location: Field, BC V0A 1G0, Canada
15. CN Tower, Toronto
Touching and beautifying the Toronto skyline, this great tower is home to a lot of experiences. Be it dining at the 360 Restaurant, indulging in edge walking on the glass outside, or just admiring the views of the city from the top, this iconic landmark is the most apt place to visit.
Things To Do:
Indulge in the world's highest 'hands-free' walk
Eat at the award winning 360 Restaurant
Capture the beauty of Toronto from the top of the tower
Timings: 8:30 AM to 10:30 PM
Location: 301 Front St W, Toronto, ON M5V 2T6, Canada
Suggested Read: 10 Best Canadian Rivers That'll Let You Soak In The Mesmerising Nature Vibes!
16. Lake Louise
There is no doubt that this lake is one of the most beautiful places in Canada. Apart from admiring the turquoise lakes, the Victoria Glacier, and spectacular mountains in the backdrop, you can also indulge in kayaking or fishing in the summer, and snowshoeing & skiing in the winters.
Things To Do:
Indulge in snowboarding at Lake Louise Ski Resort
Explore the village of Lake Louise
Attend the Ice Magic Festival
Location: Banff National Park, Alberta, Canada
17. Bay Of Fundy
Popular for offering the famous 'walk on the ocean' experience, this tourist attraction is Canada's most natural wonder. You can witness the highest tides in the world here, and also various species of whales at the same time.
Things To Do:
Enjoy the tidal bore rafting
Take pictures of the whales
Go for golfing in the Canadian Maritimes
Location: New Brunswick, Canada
18. The Yukon
Image Source
Sometimes a gorgeous sight is all you need to make your holiday magical. The dance of the northern lights in the sky easily visible from Whitehorse or Dempster Highway makes Yukon one of the best places to travel in Canada, especially during winter. So, do make sure you put this on your list.
Things To Do:
Witness the northern lights in Whitehorse or Dempster Highway
Fly over the Kluane National Park
Explore the Takhini Hot Springs
Location: Yukon, NW, Canada
19. Garibaldi Lake
The turquoise waters and the snowy mountains make this place a postcard-perfect beauty. While you can indulge in hiking and a lot of activities here, leaving your camera alone is something you wouldn't want to do even for a second.
Things To Do:
Enjoy overnight camping
Experience the fun of snowshoeing
Relax by the lake and capture the picturesque beauty as memories
Location: Garibaldi Provincial Park, British Columbia, Canada
Suggested Read: Christmas In Chicago: Time To Celebrate Christmas Of 2018 In Mud City!
20. Pyramid Lake
If you're looking for the best places to visit in Canada, this lake should definitely be on your list. Apart from experiences like windsurfing, canoeing, and ice skating, the picturesque beauty of this place make it a famous tourist spot and a paradise for photographers.
Things To Do:
Admire the beauty of the lake with the Pyramid Mountain in the background
Indulge in kayaking, canoeing, or sailing
Spot birds like herons, loons, and chickadee
Location: Jasper National Park, Alberta, Canada
Further Read: Top Beaches In Canada That Remain Unavoidable For The Ardent Beach Lovers
So, which of these places in Canada are you planning to visit during your holiday? Don't think much, pack your bags and book your trip to Canada and try visiting all of them!
Frequently Asked Questions
Q. What are the best places to visit in Canada in December?
A. Whistler, Ottawa, The Yukon, and Saskatchewan are some of the best places to visit in Canada in December.
Q. Which are the best places to visit in Canada with family?
A. Banff National Park, Butchart Gardens, West Edmonton Mall, Hopewell Rocks, and Niagara Falls are some places you can consider visiting in Canada with your family.
Q. Which are the most beautiful places in Canada?
A. Bay of Fundy, Lake Louise, Niagara Falls, and Dempster Highway are the most beautiful places to visit in Canada, especially for photography enthusiasts.
Q. What is the best time to visit Canada?
A. While Canada can be visited any time during the year, the best time depends on your budget and for what you are going. While September and October offer a pleasant weather & reasonable holiday expenses, the winter time is the best for experiencing the beauty of the snow. However, if you wish to have a value for money holiday, the spring time, i.e. mid- March to mid-May is the most apt time to plan your vacation.
Comments
comments