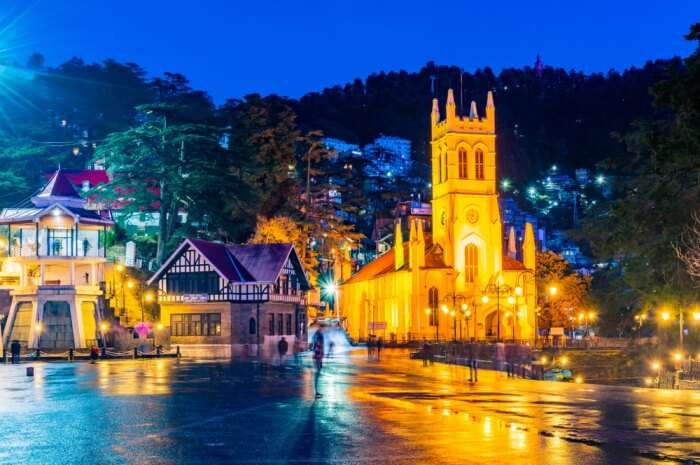 Shimla, the most sought after hill station, needs no introduction. Its lush greenery, pleasant climate, and snow-clad hills have attracted tourists for years. With a plethora of activities and places to visit in Shimla, the Queen of Hills offers more than you can hold onto.
But before we take you through the best things to do in Shimla, let us quickly scan through some essential information that will help you plan your trip to this beautiful hill station.
Best Time To Visit Shimla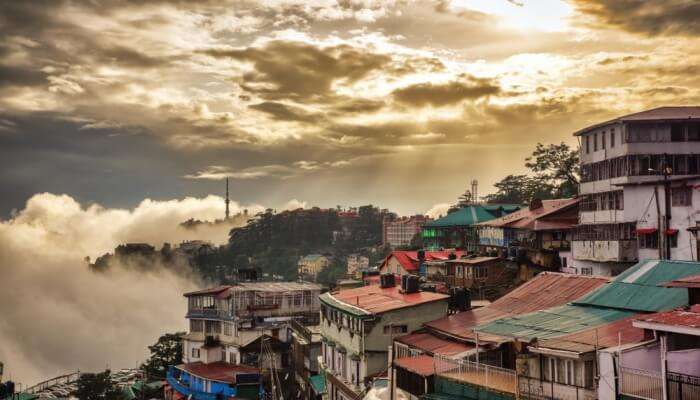 Shimla is a year-round destination. However, due to heavy rainfall and the high possibility of landslides, it must be avoided during the monsoon season (July – September).
March – June: Summers in Shimla are pleasant and perfect for trekking, camping, and rafting. The temperature varies between 15 ° & 30 ° and you would need light woolens during the night hours.
October – February: Winters in Shimla are popular for snowfall and snow activities. The temperature varies between – 2 ° & 8 ° and you would need thick woolens.
The best time to visit Shimla is December – February, especially for those who wish to enjoy the snow. One can go skiing and ice-skating during this period.
Must Read: 5 Most Haunted Places In Shimla: Exploring The Eerie Side
How To Reach Shimla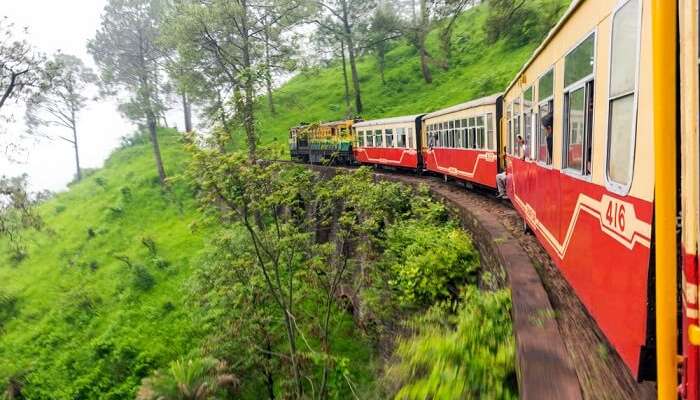 By Air: The nearest airport, Jubbarhatti, is located 23 km from the main city. The other nearby airports are Chandigarh and New Delhi.
By Train: The world heritage narrow gauge railways connect Shimla to Kalka. This toy train route is quite popular with kids. Further, Kalka is abundantly connected to all the major cities of India.
By Road: Shimla is approximately 350 km from New Delhi, and 118 km from Chandigarh. Regular buses, both private and state-run, ply from Delhi en-route Chandigarh.
26 Things To Do In Shimla
It is now time to explore the activities you can undertake in the hill station if you're thinking what to do in Shimla. To save you from the never-ending chaos of narrowing your list, we have prepared a list of most popular things to do in Shimla.
1. Toy Train Ride: Passing through the green hills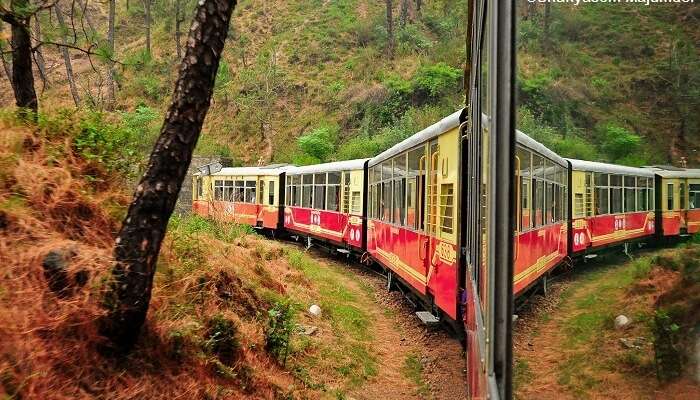 Enjoying the Kalka – Shimla toy train ride is, indeed, one of the best things to do in Shimla. The old railway line along the mountains paints a tranquil picture of the place. Watch the other end of the train from your window as the toy-train moves like a snake on the curved tracks. And boy you are lucky if it starts to drizzle! Also, on this route is the famous tunnel no 33, which is one of the 35 most haunted places in India.
Suggested Read: Top 17 Hill Stations Near Shimla That Are Perfect For A Himalayan Getaway!
---
Himachal Holiday Packages On TravelTriangle
Head to Himachal to witness lush valleys surrounded by snow-capped hills. Indulge in skiing, paragliding, and other adventure sports. Book holiday packages inclusive of airport transfers, cab, resort, sightseeing, and meals to Shimla, Manali, Kasol, Dharamshala, and more.
---
2. Shopping at Lakkar Bazar: For The Shopaholics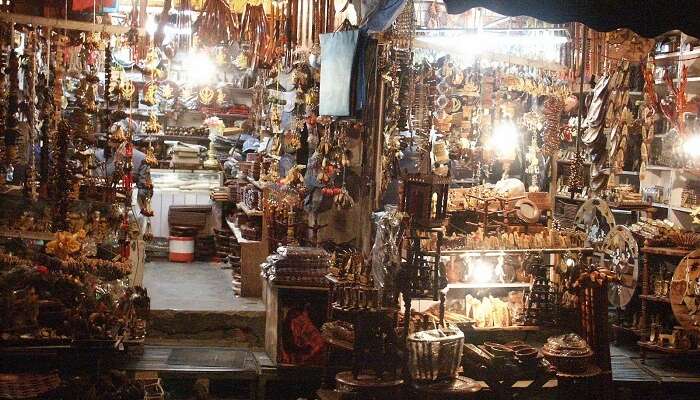 Looking for things to do in Shimla at night? Well, shopping at Lakkar Bazaar can be one. When the sun reaches the horizon in the evening, Lakkar Bazar is a different sight, altogether. The long stretch of shops on either side offers some of the finest woodwork artefacts. Apart from artefacts, you can also buy winter wears at a very cheap price. It is a good place to pick souvenirs and little gifts for your loved ones.
Don't miss: Checkout the local handmade shawls and Nehru jackets.
Suggested Read: Shimla Vs Manali Honeymoon: Which Is Better For You And Why?
3. Ice skating: Asia's Only Open-Air Ice Skating Rink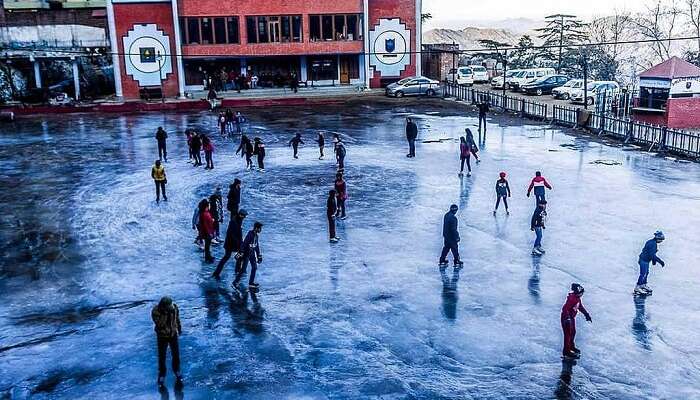 Show off your skills at the open-air ice skating rink is one of the things to do in Shimla during peak winters. The rink attracts thousands of people every year in search of an amazing ice skating experience. The ice is formed by a special technique that the British taught the Garhwali highlanders. The thickly forested hillside keeps it shaded and the low temperatures in winters prevent it from melting.
Timings: 8 am – 11 am and 5 pm – 8 pm; December – March
Cost: INR 100 – INR 200
Suggested Read: Himachal Pradesh In April 2020: An Escape For Our Family To Unveil The Wonders Of The Hills
4. Rafting At Tattapani: Feel The Adventure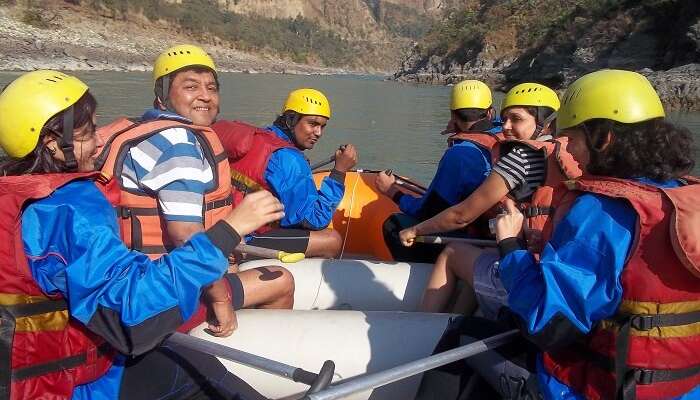 Located 50 km from Shimla, Tattapani is simply a heaven for adventure lovers. Nestled on the banks of Satluj, the region is popular for its natural hot water springs, lush green valleys, and one of the finest rafting experiences that attract thousands of tourist every year. A perfect weekend getaway, Tattapani will surely rejuvenate your soul.
Cost: INR 1,500 per person per ride
5. Chadwick Waterfall: See The Splendid Beauty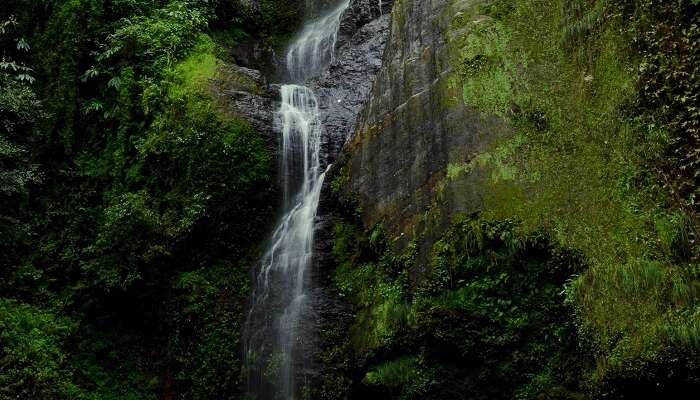 Amidst the Glen forest lies the tranquil Chadwick waterfall. Located 7 km from Shimla, the waterfall is an ideal place to start your day with. The combination of aesthetic beauty and a serene environment makes it perfect for catching up on some solitude. And yes, witnessing sunrise at Chadwick fall is one of the best things to do in Shimla if you are a nature lover. The trek to the waterfall itself is extremely peaceful & enthralling.
Suggested Read: Plan A Scenic Escape To One Of These 16 Resorts In Shimla In 2020
6. Jakhu Temple: Trek To The Top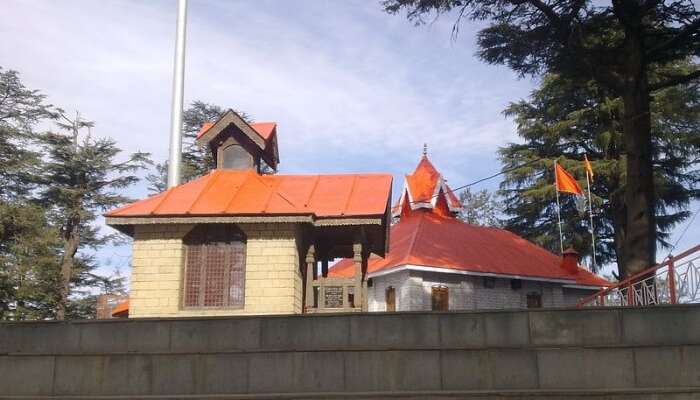 At an elevation of 2,455 m above the sea level, the Jakhu Hill is said to be the highest peak in Shimla. Trekking to the top of Jakhu Hill is one of the popular things to do in Shimla. Though it can be tiring on a sunny day, cloudy, windy and rainy days can turn this 2.5 km trek into one of the most enjoyable activities of your trip.
Don't miss: While climbing, check out the famous colonial architecture of the Rothney Castle.
7. Pine Forests: Take A Walk Amidst The Nature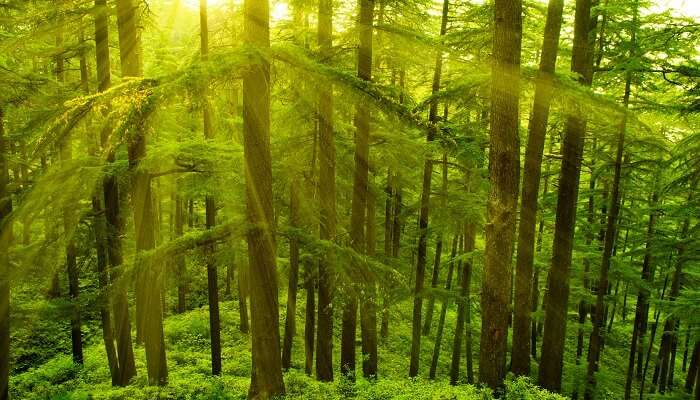 There are many interesting short hikes from Shimla that take you through the pine forests in and around the city. Some of the beautiful trails lead you to the Glen, the Summer Hill, the Prospect Hill, and the Kamna Devi Temple. Owing to their beauty and the romantic weather, these nature walks are among the best things to do in Shimla for couples.
Don't miss: Sunsets from the hills.
Suggested Read: 11 Secret Homestays In Himalayas That Will Possess You For Life
8. Indian Institute of Advanced Studies: Capture The Beauty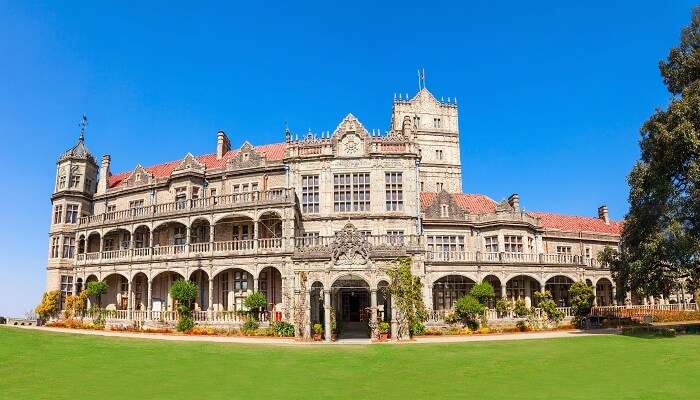 Built by the British, the building was made as a summer retreat for the Indian President. But it was passed on to the nation by Dr. S Radhakrishnan, the then President of India, as an institute to promote advanced studies in arts & humanities. The grand architectural beauty and the soothing surroundings make it one of the popular tourist attractions in Shimla. And the colonial building is perfect for some wonderful camera shots.
Don't miss: Take a tour to the Viceregal Lodge – formerly the residence of the British Viceroy of India – that houses ancient articles and photographs dating back to the times of the British rule in India.
Timings: 8 am – 6 pm
9. Military Museum At Annandale: Walk Through The History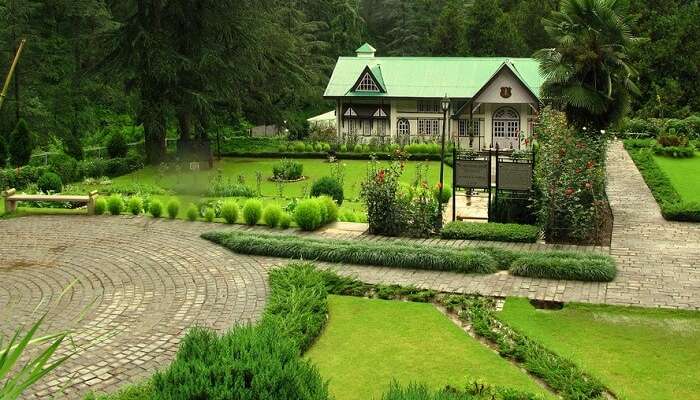 If arms and ammunition excite you, then you must visit the Army museum located in Annandale. The museum exhibits various guns, uniforms, and the document of India – Pakistan war of 1971 which will make you feel patriotic all of a sudden. 
Don't miss: The mini-golf course and helipad near the museum
Timings: 10 am – 5 pm
Suggested Read: These Cafes In Shimla Are A Heavenly Pit Stop For Food Loving Travelers!
10. Scandal Point: Watch The Beautiful Sunset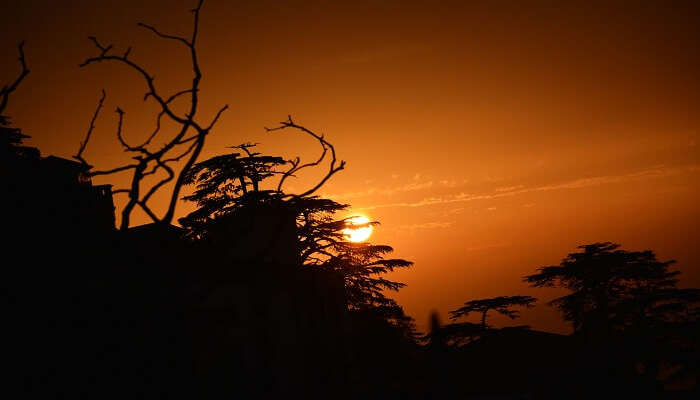 Scandal Point, one of the major tourist attractions in Shimla, is a flat platform on the Ridge Road. It offers mesmerising views of the snowcapped mountains and the lush valley. A paradise for photographers and nature lovers, Scandal Point offers splendid spectre of the sunrise and sunset.
Don't miss: The famous Tudor Library located on Ridge Road, near the Scandal Point
11. Camping: Stay Amidst The Woods
Apart from the lavish hotels, camping is another adventurous thing to do in Shimla. Resting amidst the nature's finest setup's, this gives a truly different experience. Since this hill station is also an abode for many trekking expeditions, trekkers can find some great spots to set up camp and spend the night amidst the woods.
Famous Camping Sites: RedWood Camp, Mashobra Greens, Kheerganga Camping Company
Suggested Read: The First-Ever Glass Roof Train From Kalka To Shimla Is Set To Be On Tracks Soon!
12. River Rafting: Sail Across The Crystal Clear Water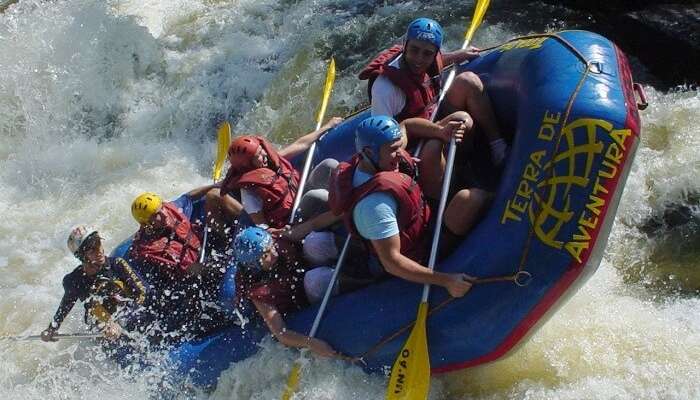 For the adventure junkies out there, River Rafting is one of the most adventurous things to do in Shimla. The free-flowing rivers in this queens of hills makes the ideal condition to this exciting water sports. The river Sutlej which flows near the city is the common place for river rafting in Shimla. The most popular river rafting places carries out from Chabba to Tattapani which is stretched across a region of 12Kms and takes at least 2 hours to finish.
Best Time To Visit: March-June
13. Paragliding: Take A Dive In The Sky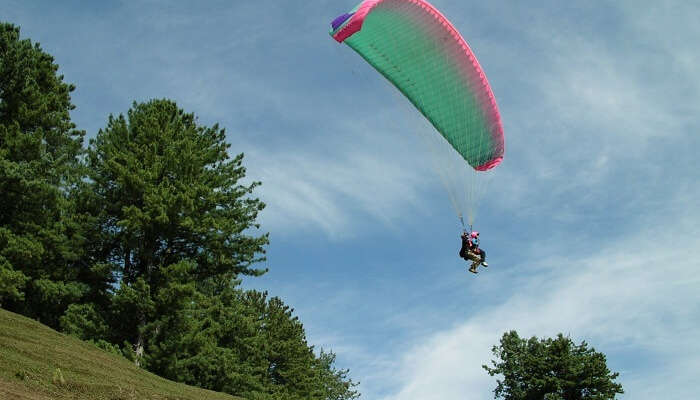 Paragliding is one of the adventure activities in Shimla that you must try. Glide across the crystal blue skies by experiencing paragliding in Shimla. Often called the 'queen of hills', Shimla is blessed with the finest natural landscapes which makes a perfect place to take a dive in the sky. The best place to experience Paragliding in Shimla is Kangra Valley which is located at a distance of 233 Kms and 6 hours to reach.
Best Time To Visit: March-June
Suggested Read: Shimla In Winter: An Ultimate Guide For The Best Snowy Vacay Ever!
14. Cycling: A Relaxing Ride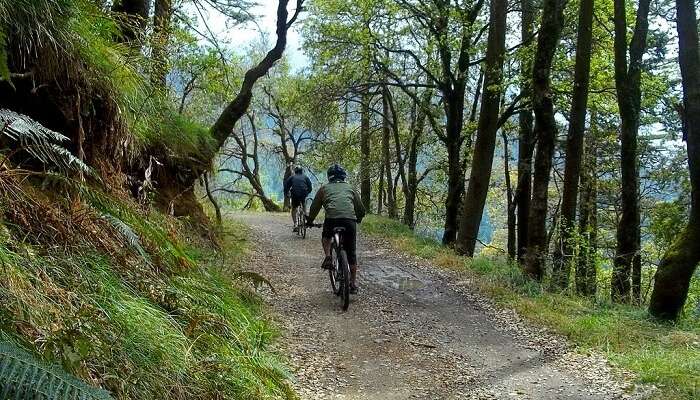 Take a break from the hustle-bustle of city life and enjoy cycling around the water catchment wildlife sanctuary which will be perfect pick for a lazy day. While the place is quite famous because of being a home to wildlife, this place is also a great location to go cycling without any worry and spend time with yourself.
Location: Kufri, East of Shimla
15. Kuthar Fort: Blend Of Architectural And Nature's Beauty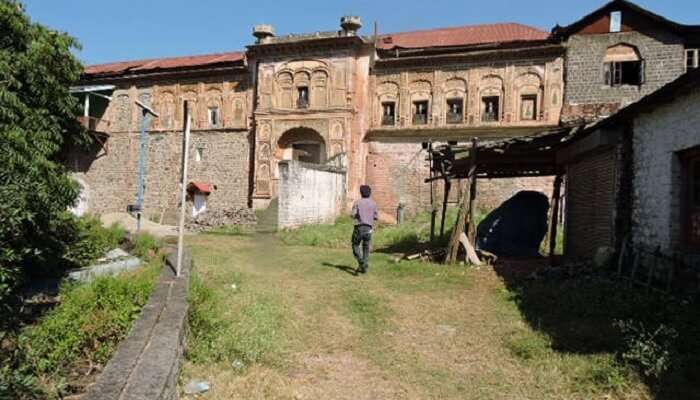 Resting in the Himalayas eternally beautiful landscapes, Kuthar Fort is one of the best places to visit in Shimla to enjoy the historical charm of the hill station. The fort is spread across an area of 52.8 square kilometres and surrounded by an exotic pool and beautiful gardens. Apart from a blissful set-up, the fort also boasts a fresh water springs and sectors which were built around 800 years ago.
Location: State Highway 9 Kishangarh, Kuthar, Himachal Pradesh 173206
Best Time To Visit: Any time of the year
Suggested Read: Snowfall In Shimla: Experience The Winter Chill In The Summer Capital Of British India!
16. Cottage Stay: Enjoy Phenomenal View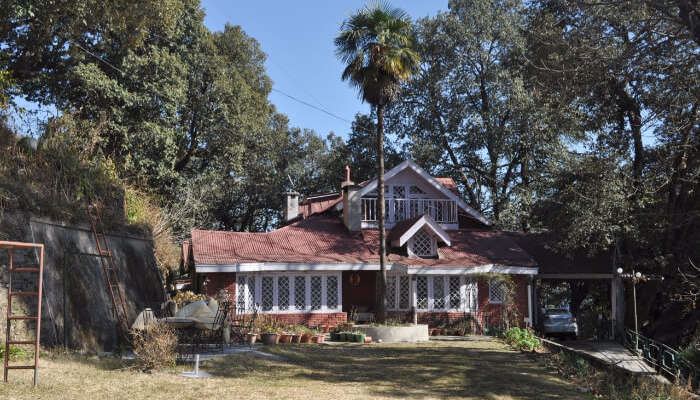 Stay in a cottage in the woods of Shimla in the midst of forests for an unforgettable experience. Set in dense forest of oak and pine trees, these cottages near Shimla have a simple yet warm ambience. Not only this, but highly experienced chefs are also present that won't let you go anywhere in order to try your favourite dishes.
Check-in time: 2 P.M.
Check-out time: 11 A.M.
17. Shimla Ridge: Cultural Hub Of Shimla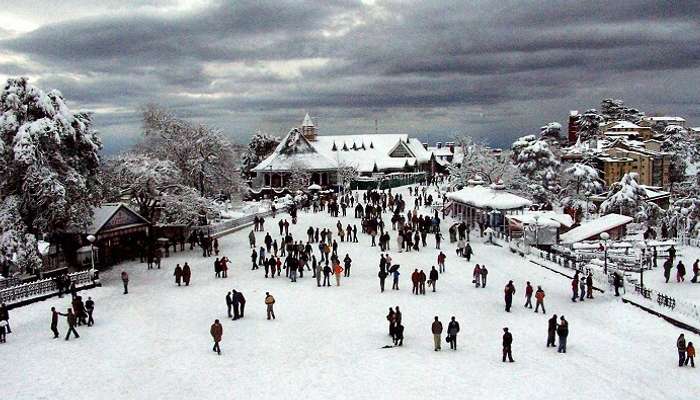 Well known as the cultural hub of Shimla, visiting the Ridge must be on your list of things to do in Shimla. If you are looking for a cup of coffee or simply want to relax after a long day of sightseeing, Ridge is your stop. It is also the centre of the city during festivals and events. The best time to visit is from April to August and December to January. You can add it to your list of things to do in Shimla at night for a different experience.
Price: No entry fee
Timings: 8 AM to 6 PM
Suggested Read: Travel Tips For Himachal Pradesh: 11 Things You Should Know Before Visiting It In 2020
18. Kufri: Alluring Beauty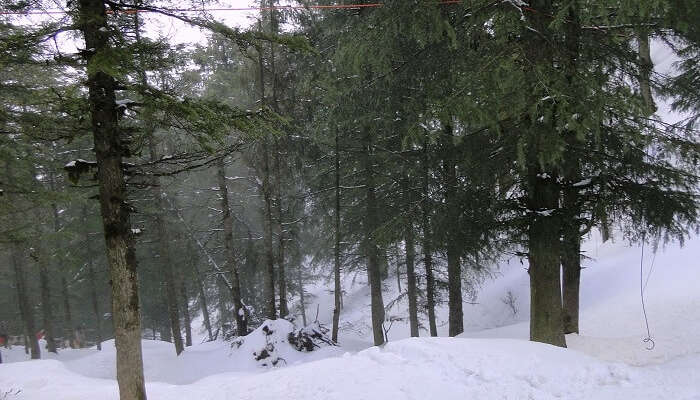 Kufri is a small hill station located in Shimla at 8000 ft above sea level and one of the most popular Shimla attractions. The scenic beauty attracts tourist from all across the world and visiting this place is one of the most exciting things to do in Shimla. There are many places of interest – from the highest peak in Kufri, Mahasu peak to the Himalayan nature park. It is also an ideal destination for photo enthusiasts.
Location: 16km from the heart of Shimla
19. Johnnie's Wax Museum: See The Life Size Statues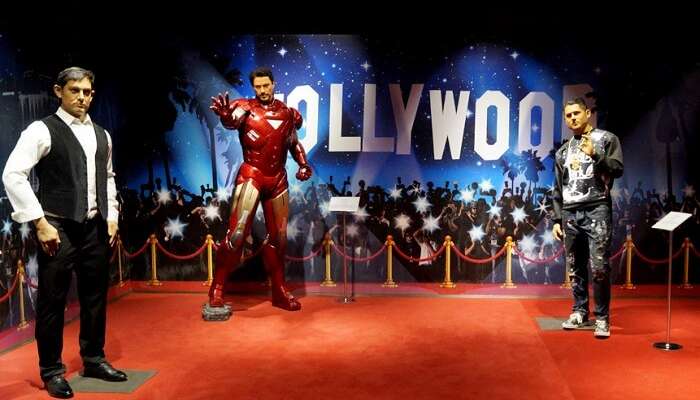 Looking for fandom activities to do in Shimla in Shimla? Well, the Johnnie's Wax Museum lets you do that. Johnnie's Wax Museum is one of the most recent tourist attractions in Shimla, inaugurated in the year 2016. The Museum houses 16 life size statues of popular personalities from varied fields from fields on movies to sports and politics. Don't forget to add this place to your things to do in Shimla and meet Harry Potter, Tony Stark, Barack Obama and Amir Khan amongst others.
Location: Near Willow Bank, 2, Mall Road, The Mall, Shimla, Himachal Pradesh – 171001
Price: INR 250 per person
Timings: 10 AM to 10 PM
Suggested Read: 10 Secret Places In Himachal Tourists Haven't Discovered Yet In 2020
20. Summer Hill: Delightful View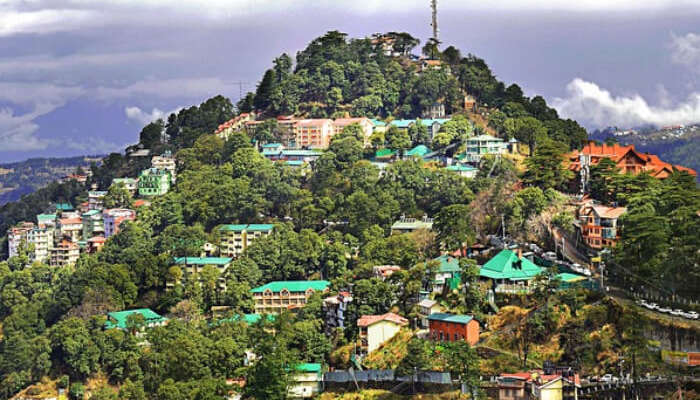 The mesmerizing view from Summer Hill is one such view that you will never forget. It is a part of seven hills that form Shimla and today it houses the famous painter, Amrita Shergil. Also known as Potter's hill, it is a perfect escape from hustle-bustle of the city. During winters, the hill is covered in snow and in the summer season, it is a pleasant sight which will completely allure you.
Location: 5 km from The Ridge
Price: No entry fee
Timings: Open at all time
21. Kiala Forest: Nature Lover's Delight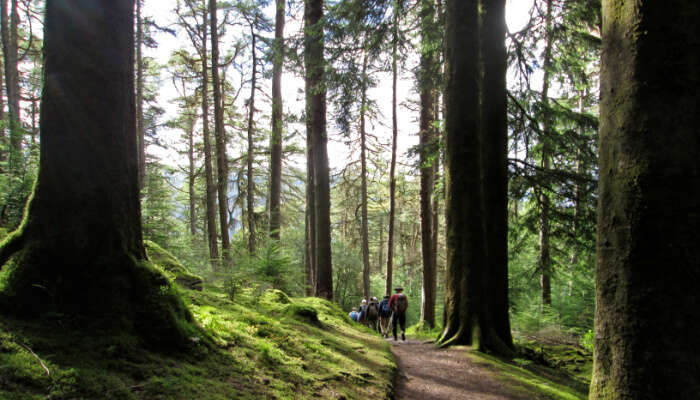 Enjoy a panoramic view of the city at Kiala forest which is a located little far away from the main city. It is one of the topmost Shimla attractions and a perfect spot for nature and wildlife lovers and also adventure sports enthusiasts. Don't forget to capture beautiful memories in the wilderness area. Add this to the list of your things to do while in Shimla, if you are a nature admirer and want to spend some time peacefully in nature's lap.
Location: Kotkhai, Shimla, Himachal Pradesh – 171202
Price: No entry fee
Timings: Open at all time
Suggested Read: Nightlife In Shimla: Head To These Glamorous Places For A Memorable Time In 2020
22. Golfing At Naldhera: Most Alluring Golfing Experience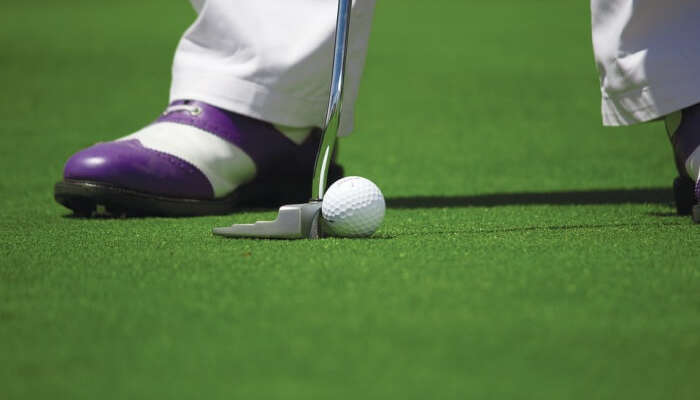 If you are looking to try out the exciting activities to do in Shimla in Shimla, then Golfing at Naldhera is one of the best things to do in Shimla. This place has the most attractive golf course surrounded by charming splendours. The wonderful atmosphere adds up to amazing golfing experience providing you with 18 hole golf course.
Location: P.O. Durgapur, Naldehra, Shimla, Himachal Pradesh 171007, around 22 km from the heart of Shimla.
Timings: 7:00 AM to 7:00 PM on all days from April to September and, 8:00 AM to 5:00 PM from October to March.
Cost: INR 400/- (Green fee) for Indians and INR 570/- (Green fee) for Foreigners
23. Water Catchment Sanctuary: Bird Watcher's Paradise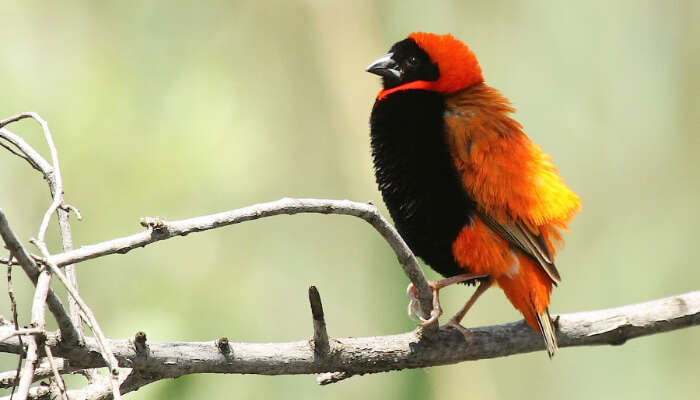 Blessed with bounties of wildlife, water catchment sanctuary is truly a heaven for bird lovers. Here you can get lost in the mesmerizing view of the sparkling streams which houses wildlife creatures like Tits, Barbets, Musk Deer, Flycatchers, Thrushes and other varieties of birds chirping in the quiet forest. Undoubtedly, Shimla is blessed with an abundance of flora and fauna.
Timings: 10:00 AM to 4:00 PM on all the days.
Cost: The fees is INR 100/- per person.
Suggested Read: Shimla Summer Festival: An Extravaganza For A Vibrant And Festive Atmosphere
24. Tara Devi Temple: Seek Peace And Blessings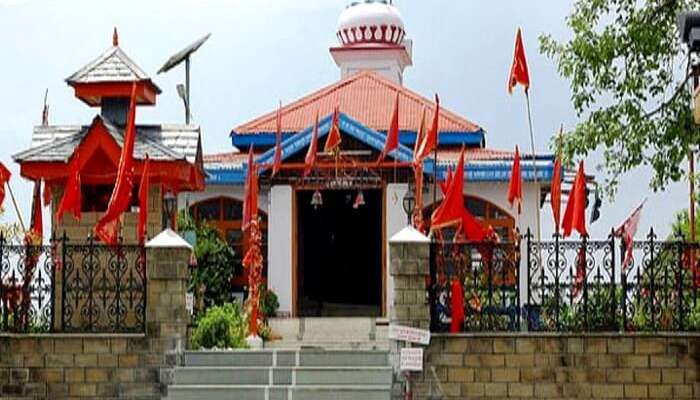 If you love visiting a spiritual place, add Tara Devi Temple to your things-to-do list. Situated at a height to 6070, the journey of the temple itself is charming. De-stress yourself at this historic temple. Try visiting the temple during Shardiya Navaratras and Ashtami which happens during Dussehra to be a part of the grand celebrations.
Suitable for: Devotees and peace seekers
25. The Glen: Famous Picnic Spot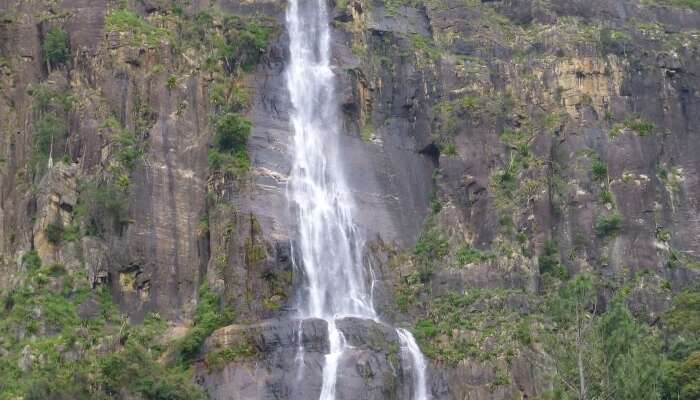 Located 4 km away from Shimla, The Glen is an ideal place for adventure seekers and nature lovers. For an experience like never before, hike across the valley and pass through the conspicuous area covered with pine and deodar. Believably so, it is one of the best adventure activities in Shimla you can try. The abundance of flora and fauna, as well as natural streaming water, provides a wonderful opportunity for pictures.
Location: Near Chadwick Falls, Shimla, 171001, Himachal Pradesh
Suggested Read: This September, Enjoy A Blissful 5-Day Retreat With Pahadi Pure Experience In Himachal!
26. Photo Art Gallery: Explore Fine Pictures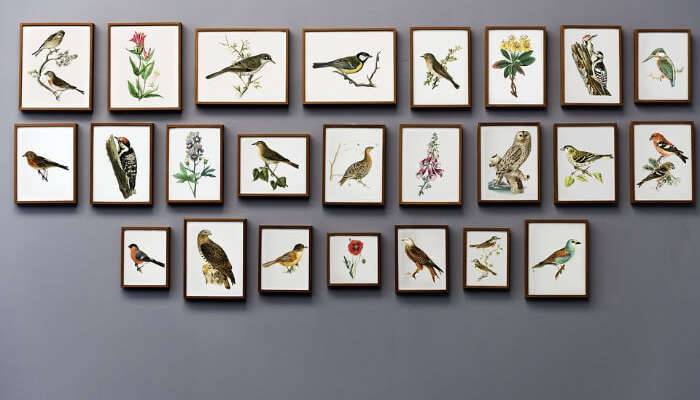 Photo Art Gallery of Shimla displays over 20,000 pictures. There is a various theme of pictures varying from nature to wildlife and travel to fine art. The pictures are taken and maintained by the famous photographer Inder Pal. The significant works include Viceregal Lodge, Bhima Kali Temple, Christ Church and Chandratal Lake. The art gallery allows you to take pictures but the use of flash is strictly prohibited.
Location: Nature Park Potter's Hill, Summer Hill, Shimla, 171005, Himachal Pradesh
Entry Fee: INR 5 per person
Timings: 09:00 AM to 05:00 PM (Weekdays)
09:00 AM to 06:30 PM (Weekends)
Further Read: 9 Boutique Hotels In Shimla Near Mall Road
So, what are you waiting for? Pack your bags and explore these amazing things to do in Shimla in the upcoming summer vacation and explore the best sights of the Queen of hills while indulging into these exciting activities. If you're all charged up now, then plan your vacation to Shimla and enjoy the finest views of nature.
Frequently Asked Questions About Things To Do In Shimla
Q. Is Shimla worth visiting?
A. The enchanting beauty of the lush green landscape, the pleasant weather, beautiful valleys and waterfalls, aromatic foods, and the ever welcoming people of this place makes it totally worth visiting.
Q. How many days are sufficient for Shimla?
A. Considering the size of Shimla town, 1 day is sufficient to explore a few of the popular locations of the town. 2 days stay will allow you to explore a lot of interesting places around the town or even go up to Kufri.
Q. What is the famous food of Shimla?
A. For non-vegetarians, the most popular food is chaa ghosht or lamb cooked in yogurt gravy, or murgh anardana. While for vegetarians, it is Himachali dal channa or split gram with fennel seeds, and mathri choware, lentil fritters in spinach gravy.
Q. What should I carry for the Shimla trip?
A. Some of the basics that you must carry when traveling to Shimla are:
1. Sunscreen lotion/ Moisturising lotion.
2. Warm woolens & socks.
3. Rubber-soled shoes.
4. Day to day medications
5. Camera
6. Sunglasses
7. Id Proofs
Q. Which month does it snow in Shimla?
A. Shimla experiences snowfall from mid-December to January. However, is an all year round destination and it is great to visit any time of the year. 
Q. Which month is best for Shimla?
A. March to June is one of the best times to visit Shimla as the weather is quite pleasant and perfect for outdoor activities. If you would like to try adventure sports then this is the ideal time to try paragliding, trekking, camping, and rafting.
Q. Which are the best places to visit in Shimla?
A. Some of the most alluring places to visit in Shimla are: 
1. Jakhoo Hill
2. The Scandal Point, Ridge
3. Naldehra And Shaily Peak
4. Chadwick Falls
5. Kufri
Q. When is the best time to go camping in Shimla?
A. October to November and March to June is the best time to go camping in Shimla as the weather is pleasant and great for outdoor activities.  
---
Looking To Book A Holiday Package?
Book memorable holidays on TravelTriangle with 650+ verified travel agents for 65+ domestic and international destinations.
---
People also read:
Weekend trip to Shimla with family Camping in Shimla Travel tips for Himachal Pradesh
Comments
comments