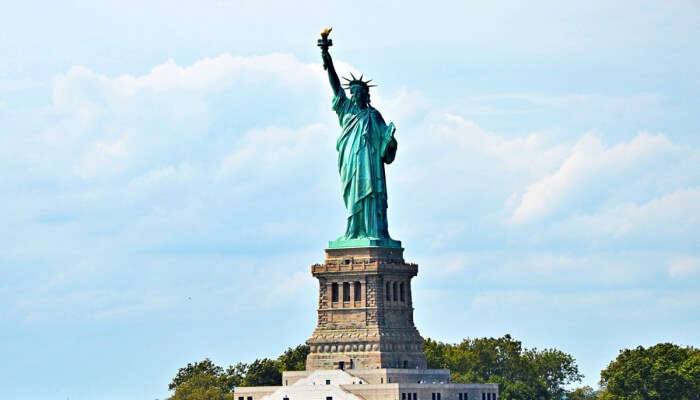 The United States of America is the third largest country in the world by area. Within this vast country, there are a number of world-class cities and tourist attractions built by the gut and guile of the numerous immigrants that have landed on its shores. The USA is a fairly young country which has risen to its current powerful stature with help from pioneering people who have contributed to its robust technological and economical prowess.
Some of this economical prowess is thanks to the fact that a lot of tourists visit the country to experience the diverse cities and attractions. The people come here to witness the modern marvels and natural beauty of the country. We have listed some of the most popular places to visit in USA to help you get a glimpse of this great country.
15 Places To Visit In USA
There are 50 states and even more places to visit in USA. However, we have tried to list some of the most popular among all these places:
1. New York
2. Los Angeles
3. Big Sur
4. Florida
5. Sedona And The Grand Canyon
6. Hawaii
7. Ashville
8. New Orleans
9. San Francisco
10. Las Vegas
11. Kissimmee
12. Savannah
13. Chicago
14. Yosemite National Park
15. Utah National Parks
1. New York

New York City aka The Big Apple is the most popular city in America. Containing people from all races and ethnicities from around the world, New York City has to be the most diverse city in the world in terms of its population. Domestic as well as international travellers to the USA have this city at the top of their itineraries. Here you will find iconic sites like The Times Square, Empire State Building and The Statue of Liberty.
Not just that, you can shop on 5th avenue, or stroll in Central Park. The Guggenheim museum and Broadway are some of the best places to visit if you like musicals, plays and the performing arts. You can also visit local Delis and Bodegas to get a taste of the cities Jewish and Irish heritage.
Places to visit: Statue of Liberty, Central Park, Empire State Building, Rockefeller Center & Top of the Rock Observation Deck, Metropolitan Museum of Art, etc.
Things to do: Visit the High Line, See the Times Square Ball drop on New Year's Eve and Ice skate at the Rockefeller Center on Christmas.
Ideal Duration: 4 Nights/5 Days
Currency: U.S. dollar
Language: English and Spanish
 8 Surreal Islands In North America That You Must Visit
2. Los Angeles

Los Angeles, also known as the city of angels, is home to the richest and most famous movie industry in the world. Serving as the not so humble abode of Hollywood celebrities, Los Angeles can be a pretty expensive place to visit. In spite of that, visitors are lured into the lifestyle and sheer magnetic personality of the city.
In terms of sites and places to visit in Los Angeles, you have many options. Malibu beach along with Santa Monica are a luxurious spot to board up in. Venice beach and boardwalk are also chock full of people who come there to spend the evening.
Places to visit: The Getty Center, Griffith Observatory, Petersen, Automotive Museum, Battleship USS Iowa Museum, Universal Studios Hollywood, etc.
Things to do: Huntington Library, Art Collections and Botanical Gardens.
Ideal Duration: 4 Nights/5 Days
Currency: U.S. dollar
Language: English and Spanish
 Niagara Falls in Canada: A Guide To A Majestic Waterfall In North America
3. Big Sur

The Pacific Coast Highway has been immortalised in numerous books, movies and plays. It is a three hour long drive from San Simeon to Carmel. On the way you will go past the Central coast and the Big Sur. The winding road and gorgeous cliffs present a panoramic view of the west coast. The blue Pacific will be forever etched in your memory for its magnificence.
Places to visit: Julia Pfeiffer Burns State Park, Pfeiffer Big Sur State Park, Limekiln State Park, Andrew Molera State Park, etc.
20 Scenic Beaches In America Known For Their Vibrant Atmosphere
4. Florida

Visiting Florida is mostly about just relaxing and unwinding and sipping a cocktail while you sunbathe in the glorious weather. Endless stretches of emerald beaches serve as a great stop for party goers and surfers. Miami, Tampa Bay and the more family friendly Disneyworld are the most popular attractions of Florida. Whether you are there to part or with your family, there's something for every age group to enjoy in Florida.
Places to visit: Miami, Daytona, Tampa, Key West, Sanibel Island, St. Petersburg, Fort Myers, etc.
Things to do: Explore Miami In A Speedboat Ride, Watch Sunset At Key West On A Sail and Explore Miami In A Speedboat Ride.
Ideal Duration: 4 Nights/5 Days
Currency: U.S. dollar
Language: English
 12 Places To Visit In California: A Short Trip To Experience Miniature America
5. Sedona And The Grand Canyon

Stretching over 300 kilometers, the Grand Canyon is one of the most popular places to visit in USA. Over thousands of years, the Colorado river carved the landscape to form these canyons. Now it is one of the most recognizable and magnificent destinations to visit in the world. A couple hours away is Sedona, which has stone formations that can change colours depending upon how much light falls on them.
Places to visit: Devils Bridge, Out of Africa Wildlife Park, Red Rock State Park, Blazin' M Ranch, Area Indian Ruins, etc.
Currency: U.S. dollar
Language: English
10 Best Places To Visit In Maryland To Capture The Stunning Views Of Little America
6. Hawaii

Hawaii is one of the top places to visit in USA. The paradise island is made of volcanic landscapes, pretty beaches and rich indegenous culture. It is a great destination for you to relax and spend some quality time away from the hustle and bustle of life. In Hawaii you get excellent opportunities to see humpback whales, go on a hike or be a part of many local festivals.
Places to visit: Molokai, Lanai, Kauai, Maui, O'ahu, etc.
Things to do: Visit The Hawaii Volcanoes National Park, Admire The Beauty Of Akaka Falls and Explore The Paradise Cove Luau.
Currency: U.S. dollar
Language: Hawaiian and English
Canada Travel Tips: For A Perfect Holiday In The Largest Country Of North America
7. Ashville

Asheville sits in the middle of the Blue Ridge in the Appalachian mountain range. The place is great to view the great mountains of the area while you are driving through the twisty roads of the Appalachian trail. It is famous for having the biggest home built in America. Other than that you get to hike, taste great food and attend music and art festivals in the city.
Places to visit: Biltmore, Biltmore Gardens, Craggy Gardens, Asheville Pinball Museum, etc.
Currency: U.S. dollar
Language: English
 10 Memorable Things To Do In Portland Just Like How They Do It In The States!
8. New Orleans

The city of New Orleans is known for its laid back and partying lifestyle. This city is all about french culture and popular festivals is among the best places to see in USA. The biggest party in New Orleans is the world famous Mardi Gras. If you are not in the mood for that then the annual Jazz Fest may be right up your alley. Bourbon street and Frenchman street are especially popular for their restaurants and cool atmosphere.
Places to visit: City Park, St Louis Cathedral, Jackson Square, Mardi Gras, French Quarter, etc.
Things to do: Attend the Jazz & Heritage Festival, Spend a few days at the French Quarter Festival and Enjoy a boat ride in The Swaps.
Currency: U.S. dollar
Language: English and French
 10 Charming Places To Visit In North Carolina To See The Best Of The US
9. San Francisco

The Golden gate bridge in San Francisco has to be one of the most famous landmarks of the city. Apart from this, the city of San Francisco is also home to historical neighbourhoods. The city is also close to Sonoma county and the wine capital of America, the Napa Valley. Other than that you can also visit the gargantuan tech campuses of Silicon Valley.
Places to visit: Golden Gate Bridge, Fisherman's Wharf, Golden Gate Park, Chinatown, Legion of Honor
Things to do: Engage In The Walking Tours, Enjoy Entertaining Games and Tour San Francisco With A City Pass.
Ideal Duration: 4 Nights/5 Days
Currency: U.S. dollar
Language: Filipino, Chinese and Spanish
 10 Best Places To Visit In Chile Which Are You Ready To Give You A Glimpse Of South America
10. Las Vegas

Las Vegas is like an oasis in the middle of the Nevada desert. It is most famous for its numerous casinos and a variety of people that land here to try their hand and luck in these casinos. Other important attractions in the city include many restaurants, theatre acts, top notch shopping and many museums.
Places to visit: Fountains of Bellagio, High Roller, Red Rock Canyon National Conservation Area, The Mob Museum, etc.
Things to do: Catch the Cirque du Soleil, Visit Caesars Palace, Visit The Mob Museum and Jump off the Stratosphere.
Ideal Duration: 2 Nights/3 Days
Currency: U.S. dollar
Language: English and Spanish
 10 Places To Visit in Colombia That Showcase A Never Seen Before Side Of The Country
11. Kissimmee

Kissimmee is the place to visit for kids and families. The city is famous for theme parks like Universal studios, SeaWorld and Walt Disney Resort. These are the spots where kids enjoy the most. However, the adults can also enjoy the rides and theme parks. There are other options for travellers like restaurants, sports and great shopping. The holiday season is particularly busy but there is no dearth of good accommodation in the city.
Places to visit: Walt Disney World Resort, SeaWorld Orlando, Gatorland, Discovery Cove, Old Town, etc.
Currency: U.S. dollar
 Hang Gliding In USA: Swoosh Through The Air & Feel The Adrenaline Rush
12. Savannah

Savannah is a small city in the south of America. It has beautiful parks, lush greenery and waterfront stores selling all kinds of stuff. The city did not develop with tourism in mind. The people are quiet and friendly, usually minding their own business.
The city center is a very calm and small area. You can normally explore the city in a couple of days, but you may want to stay back because of the simplicity and slow pace of life here.
Places to visit: Savannah Historic District, Forsyth Park, Cathedral of St. John the Baptist, Sorrel Weed House, Forsyth Park, etc.
Currency: U.S. dollar
13. Chicago

The magnificent metropolis of Chicago is situated by Lake Michigan. It is a great destination to visit in summers as winters here are cold and brutal. The city has a waterfront view and beautiful parks.
The city is also a great destination for cultural tourism, art installations and great shopping avenues. Some important attractions are the Navy Pier, Millenium Park and the fantastical architecture.
Places to visit: Millennium Park, Navy Pier, Buckingham Fountain, Willis Tower SkyDeck, 360 Chicago, Field Museum of Natural History, etc.
Things to do: Attend Art Exhibitions And Concerts, Meet Queer Animals And Birds and Take A Tour Of Wright's Architecture.
Ideal Duration: 2 Nights/3 Days
Currency: U.S. dollar
Language: Spanish, Polish, Arabic, Tagalog, English and Chinese.
 Valentines Day In Chicago 2021: 15 Ways To Celebrate The Day Of Love In The States
14. Yosemite National Park

The Yosemite National Park along with the Grand Canyon are two of the most popular natural destinations on the itinerary of travellers. The Yosemite valley is a natural wonder and features great sights like cascading waterfalls, dramatic cliffs and tremendous beauty.
It is a tradition among some American families to come here to camp and hike in high season. You can be a part of it on your next trip to the USA.
Places to visit: El Capitan, Yosemite Falls, Tuolumne Meadows, Merced River Rafting, Half Dome, etc.
Currency: U.S. dollar
Language: English
15. Utah National Parks

Utah is a landscape like no other in The USA. The state is home to natural features like great arches, canyons and naturally occurring rock formations. Some of the popular parks in Utah are Zion National Park, Bryce Canyon National Park and Arches National Park. These Parks give you ample opportunities for hiking, camping and mountain climbing.
Places to visit: Capitol Reef and Zion, Bryce Canyon, Canyonlands, etc.
Currency: U.S. dollar
Language: English
 Castles In Texas: 6 Amazing Castles You Must Visit To Experience The American Royalty!
So, there you go. We hope this guide is helpful in giving you a glimpse of the great American Dream. The above list is just the tip of the iceberg considering the sheer number of places that you can visit in USA. However, we will advise you to visit the above-listed places if you are planning a trip to the USA for the first time. We wish you a happy and fulfilling visit.
For our editorial codes of conduct and copyright disclaimer, please click here
Frequently Asked Questions About Places To Visit In USA
What is the best place for a US vacation?
The Grand Canyon has the distinction of being the best vacation spot in the USA. This National Park gives you options like hiking, river rafting and canoeing as well as visiting the nearest rock formations.
What is the nature of the tourism industry in the US?
The tourism industry of the US has been thriving over the last few decades. The country is very liberal and the natural beauty, great cities, theme parks and other such attractions are contributing towards pulling in foreigners and locals alike.
What is the US famous for?
America is arguably the most famous sovereign nation in the world. It has a lot to offer like culture, history, sports, technology, music and films. The Americans are known the world over as pioneers in their respective fields.
Which American state is considered as the most tourist friendly?
The state of Minnesota is considered as the friendliest state in the US, according to many studies.
Which is the most popular state in the US?
California and New York are the most popular states of America. Both have a rich and liberal culture within disciplines like food, music, movies, theatre, living and technological innovation.
People Also Read:
Places To Visit In United Kingdom Places To Visit In India Places To Visit In South Africa