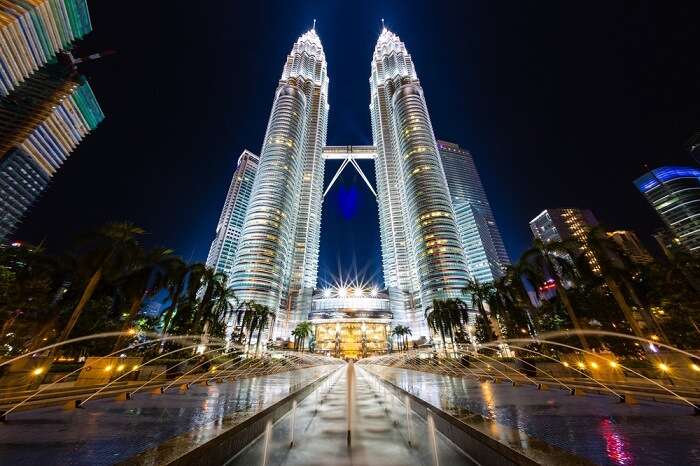 Primarily an Islamic city, Kuala Lumpur depicts royal Islamic architecture beautifully. There are several places to visit in Kuala Lumpur, Malaysia, that bring you closer to the awesome life in this melting pot of the culture and entertainment. Housing several quaint haunts and imposing skyscrapers, Kuala Lumpur has emerged as a popular tourist destination which should not be missed on your trip to Malaysia.
15 Best Places To Visit In Kuala Lumpur In 2019
The city has equal part of elegance and fun seeped into its pores. It caters to tourists of all age groups, and its charm draws people to explore the city's stunning architecture and fair modernism. Extracting the best 15 of the amazing places to visit in Kuala Lumpur, we give you a good number of reasons to visit the city really soon.
1. Petronas Tower – Sky's the limit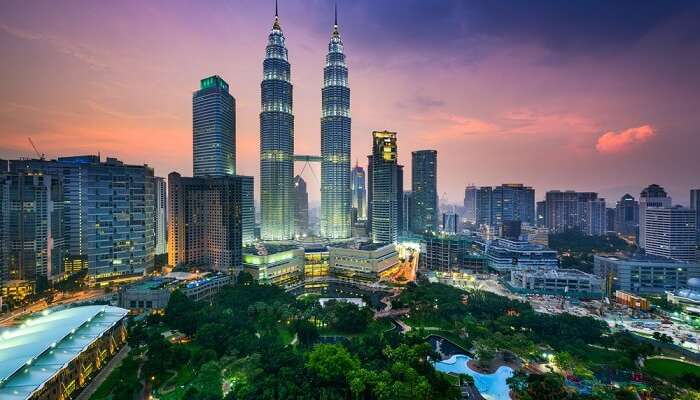 Image Source
World's once tallest buildings, Petronas Twin Towers now claim the spot of world's tallest twin buildings with their towering height of 452 m. Beautifully designed with Islamic-influenced architecture, Petronas Twin Towers primarily hold headquarters of Petronas Company and corporates like Barclays, Boomerang, IBM, McKinsey & Co., Accenture, and Reuters. The 88-storey buildings are connected by a double decker skybridge between the 41st and 42nd levels.
There are Science Museum, Petroleum Museum, Petronas Concert Hall and other attractions that interest global travelers and tourists in Petronas Towers. Also, there are several things to do, and the most amazing one being looking over the whole city from the Petronas Towers' Observation Deck, which set on 86th level. The double-decked skybridge offers mesmerizing views, along with the thrill of walking between two towers. The concert hall hosts some of the world's most respected musical talents and orchestras. The romantic vibe of the Petronas Tower makes it one of the best places to visit in Kuala Lumpur for couples.
Timings: 9 am to 7 pm, daily. On Fridays, the entry is closed from 1 pm to 2.30 pm
Entry fee: MYR 84.40 for adults and MYR 31.80 for children
Must Read: 10 Blissful Beaches In Malaysia
---
Malaysia Holiday Packages On TravelTriangle
Go on a trip to Malaysia. Explore it's lush green landscapes, tropical rainforests or magnificent underwater world. Book customized packages by expert agents on TravelTriangle. Inclusive of airport transfers, cab, resort, sightseeing and meals. Lowest Prices Guaranteed. Book Now
---
2. Menara KL Tower – A Rapunzel-tower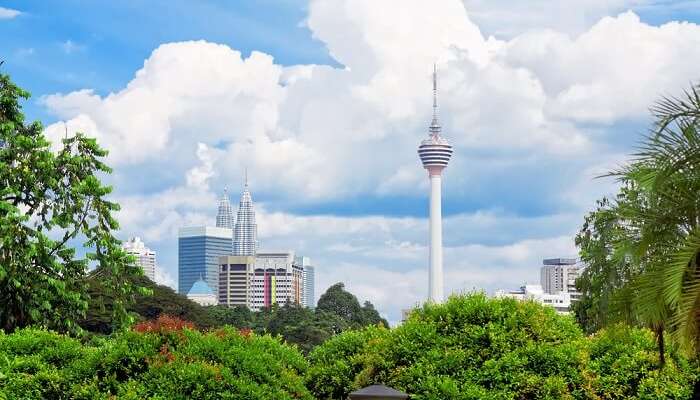 Menara KL Tower is a prominent Kuala Lumpur tourist spot in Malaysia. Though just 421 m in height, it houses the highest viewing deck in Malaysia. At 276 m, it is around 100 m above the one in Petronas Twin Towers. The spectacular views and prime location of the Menara KKL Tower sees to it that people notice and remember the imposing tower. Erected over the Bukit Nanas Forest Reserve, it is surrounded by age old trees and fauna which are indigenous to Malaysia.
The overall design of the tower resembles a tower palace from several fables, most prominent being the tower castle from Rapunzel. The architectural style represents the vibrant Islamic heritage and the perfection of a human life. The walls of the tower are dotted with Islamic tiles, Arabic scriptures, and abstract patterns.
The tower houses the famed Atmosphere 360, the revolving restaurant as its crown. Hailed to be the classiest eat-out place in Malaysia, the restaurant offers authentic and continental cuisines. Also, the tower boasts of an amphitheater, a couple of cascading pools, several fast food restaurants, and so much more.
Timings: 9 am to 10 pm, daily
Entry fee: None. However, different charges are applicable to different activities.
Suggested Read: Here Is The Perfect Recipe For An Ideal Honeymoon In Malaysia, Don't Miss It!
3. Kuala Lumpur Bird Park – A Free World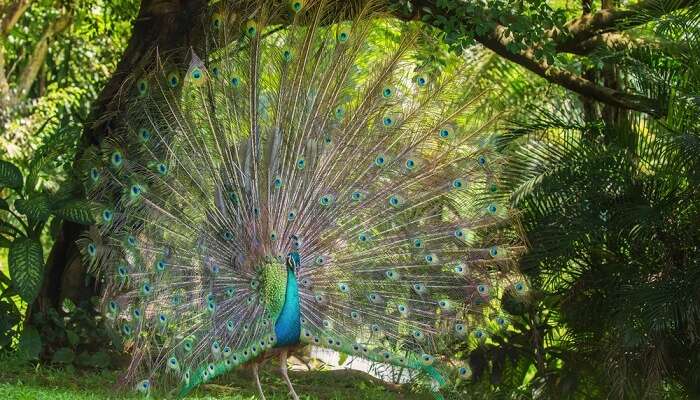 Billed as the world's largest covered bird park, Kuala Lumpur Bird Park is as beautiful as a showpiece. Various colorful birds dancing amidst the flourishing environment of the park add a dash of vibrancy and cheer to the place. The walk-in, free-flight aviary houses over 60 species of local and migratory birds. Feeding sessions are the most fun.
These are several sections for bird watching like World of Parrots, Flamingo Pond, Oriental Aviary, Hornbill Park, Brahminy Land, and Birdlife stations. You may look out for Indian blue peacock, macaws, cockatoos, rhinoceros hornbills, oriental flamingos, parakeets, lories, kites, eagles, and many more interesting birds.
One of the best places to see in Kuala Lumpur for kids, Bird Park is a perfect getaway to educate them and yourselves to everything about world of birds. The landscaped gardens, gushing water streams, cobbled walkways, and extensive playgrounds set perfect background to achieve so. There are rowing boats available to take you through the waterways of the park. Also, you can acquire a binocular-for-hire to actually peruse the interesting activities of your feathery friends.
Timings: 9 am to 6 pm, daily
Entry fee: MYR 50 per adult and MYR 41 per child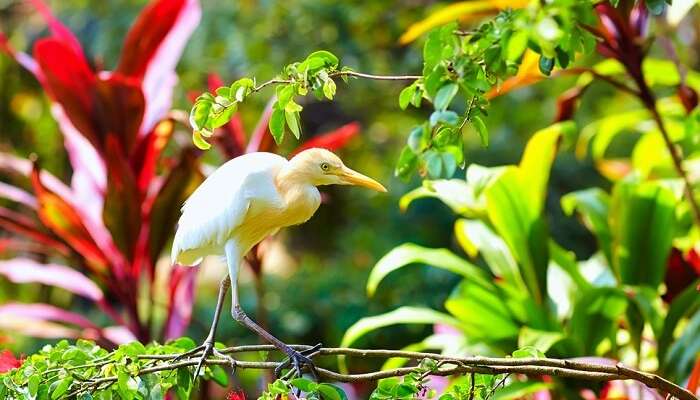 Suggested Read: 13 Glittering Gems Of Nightlife In Malaysia That Will Get Your Heart Racing
4. Batu Caves – Ancient Limestone Wonder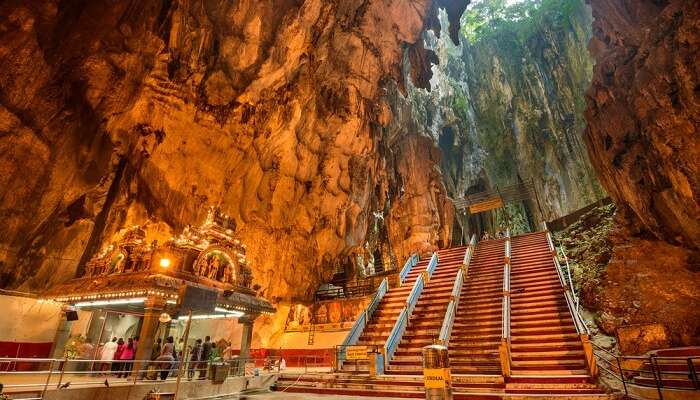 Batu Caves have always been one of the major attractions in Kuala Lumpur tourism.
Batu Caves are illustrious limestone caves that hold three large and several other small temples in them. Touted to be among Kuala Lumpur's most frequented tourist places, these caves are awe-inspiring in their own right. Some of these caves date back to over 400 million years.
The three major caves, Cathedral Cave, Art Gallery Cave, and Museum Cave, house several Hindu shrines and depictions of Hindu mythology. Minimally decorated with paintings and statues pertaining to the mythology, these caves hold special place for the Hindu community.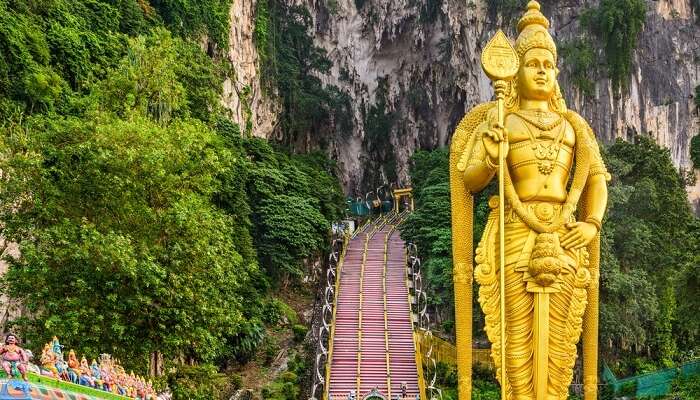 However, the caves' fan-following extends to other communities too. Many non-Hindu tourists and devotees flock to these limestone giants to witness the marvel. There have been many documentaries that showcase the surreal beauty of the caves and also the amazing rituals performed there. You may find 'kavadis' during your traverse of 272 steps to the main cave. These kavadis balance heavy water storing structures on their bare shoulders and carry them to the main cave as their offering to Lord Murugan. Also, don't be astonished if you see a kavadi holding the kavad pierced in his skin.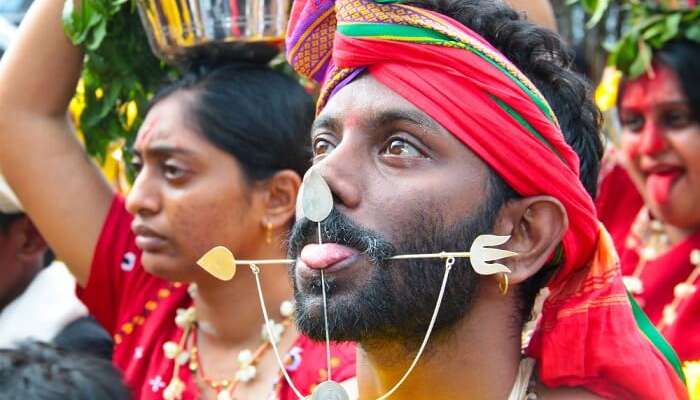 Timings: 6 am to 11 pm, daily
Entry fee: None
PS: Batu Caves are at their prime glory during the Hindu festival of Thaipusam. Large gatherings, cheerful ambience, electrifying processions, and echoes of laughter and energy fill the air. If you are planning your trip to Kuala Lumpur towards the end of January, don't even consider missing this out.
5. Sultan Abdul Samad Building – A Spectacular Heritage Site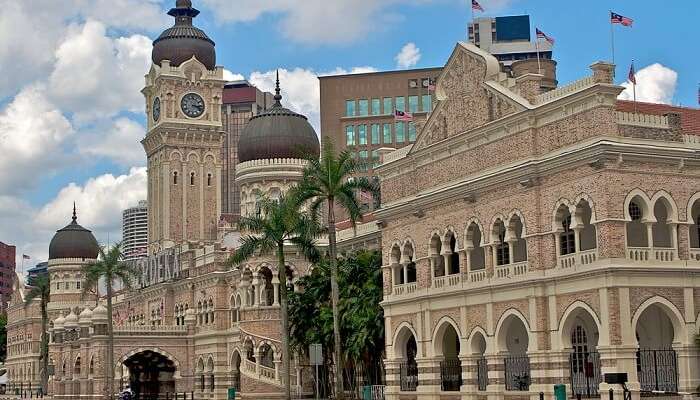 Image Source
Built in 1897, Sultan Abdul Samad Building is one of the oldest Moorish style buildings in KL. Today, even though it doesn't hold any official importance, the building is one of the most visited tourist places in Kuala Lumpur. Its undefinable grandeur and rich heritage make it a historical landmark in the city.
Constructed entirely of bricks, the landmark building features strong, western and Moorish influences in its architecture. There is a wrap-around imposing porch, complete with 42 m high clock tower, towering arches, curved portico topped with copper domes. Named after the then reigning Sultan of Selangor, the Sultan Abdul Samad Building is one of the truly remarkable places for Kuala Lumpur sightseeings and draws in a lot of history buffs and architecture enthusiasts.
Timings: 10 am to 6 pm, daily
Entry fee: None
PS: Its mesmerizing evening lighting and decoration make it one of the must see places in Kuala Lumpur at night.
Suggested Read: Here Is The Perfect Recipe For An Ideal Honeymoon In Malaysia!
6. Sunway Lagoon Theme Park – A top tourist place in Kaula Lumpur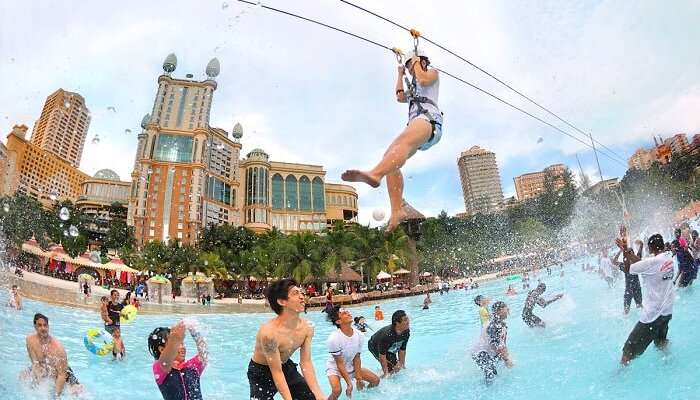 Image Source
Sunway Lagoon Theme Park is a heaven for kids and adults, alike. Full of fun-filled and thrilling activities and rides, the theme park comes very high on the list of best tourist places to visit in Kuala Lumpur, even if it is as short as a 3 days trip. A healthy mix of adventure and rides is what this theme park presents. Sectioned into Water Park, Adventure Park, Nickelodeon Park, Scream Park, and more, the theme park is touted to be one of the largest theme parks in the world.
Popular Rides at Sunway Lagoon Theme Park: African Pythons Ride, Waterplexx 5D, Water zipping, and Giant Ride.
Timings: Accessible 24*7, all days of the week
Entry fee: MYR 120 for adults and MYR 92 for kids. For Tuesday Specials, it will cost you MYR 50 for all.
7. Aquaria KLCC – A day with the sharks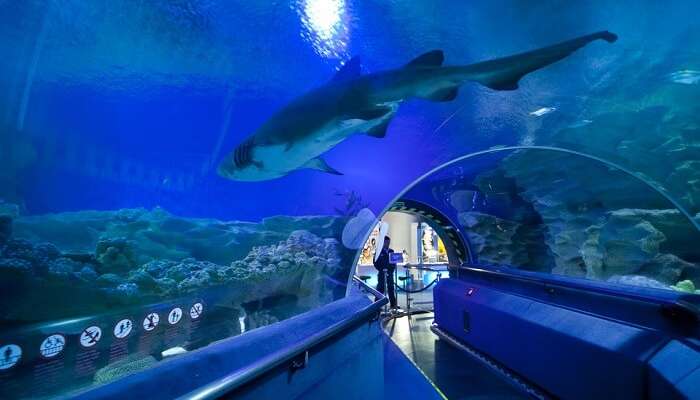 Located in Kuala Lumpur Convention Centre, Aquaria KLCC is an extensive oceanarium in Malaysia. This is one of the most interesting Kuala Lumpur attractions. Home to more than 150 species of aquatic fauna, this 5,000 square feet aquarium is one of the best places to visit in Kuala Lumpur. Beyond just big tanks full of water, it houses various landscapes and biospheres which take you through coral reefs, marshlands, jungles, highlands, Amazon basin, and open ocean. Cute and deadly marine creatures like piranha, arapaima, grouper, gar fish, elephant nosed fish, electric eel, giant catfish, tiger sharks, seahorses, blue rays, sea snakes, and others decorate the see-through aquariums of Aquaria KLCC.
Not just a submerged tunnel aquarium, but Aquaria also has Amazonian forests, DNA live tanks, dive-in with sharks, Waters of Africa, Scream Park, Extreme Park, Amusement Park, Wildlife Park, and Coral Discovery Section. You can watch the sea animals being fed and might get to feed some, if you are lucky. Since it takes few hours to cover all these levels, it suits the itinerary of those who are open to explore the best places to visit in Kuala Lumpur in 3 days or more.
Timings: From 10.30 am to 8 pm, daily
Entry fee: MYR 46 per adult, MYR 35 per child, and MYR 35 per senior citizen
Suggested Read: 11 Honeymoon Destinations In Malaysia: Each To Their Own!
8. National Mosque of Malaysia – A unique steel mosque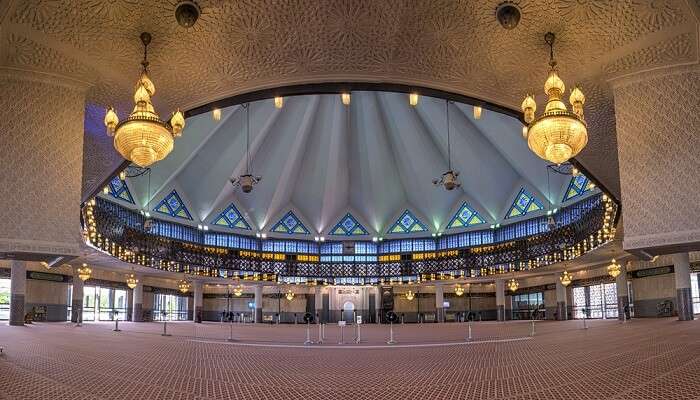 The National Mosque of Malaysia, Masjid Negara is one-of-its-kind steel mosque with exquisite artistry and palatial grandeur. There are several water features and open areas which give you a glimpse into the modern Muslim architecture. Colorful decorations in light pale and turquoise colors highlight the refreshing ambience of this pilgrim.
Open to Muslims as well as non-Muslims, the marvelous mosque is one of the best places to see in Kuala Lumpur. Exhibits depicting Islam culture enrapture many. An hour or two would be enough to complete your circle tour of the mosque, which means it is one of the musts in your itinerary of places to visit in Kuala Lumpur in 2 days.
Timings: 9.30 am to 6.30 pm, from Saturdays to Thursdays. On Fridays, from 3 pm to 6.30 pm. Please note that the mosque is inaccessible to non-Muslims during the prayer time, i.e. 12 pm to 3 pm and 4 pm to 5.30 pm.
Entry fee: None
PS: Tourists with inadequate attire (with any part of arms, legs, or head on display) will be required to adorn a purple robe. The robe will be provided free of cost and from the premises of the mosque. Please ensure that you don't harm sanctity of this religious place. Also, it is a given to remove your shoes before you enter the shrine.
9. Little India – A nostalgic place for Indians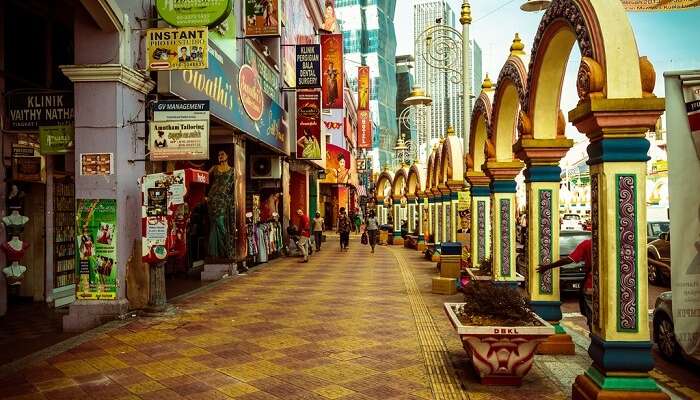 Image Source
Brickfields, or Little India as it is popularly known, is the center for all the Indian junta of the city. A famous tourist place in Kuala Lumpur, people flock to this miniature India to gorge on Indian delicacies and befriend Indian people. Many anecdotes are shared over the cup of coffee in the side food-joints here. Indian clothing with a dash of Malaysian touch is bought by many.
It's surreal to witness the streets of Kuala Lumpur bustling with energy and cheeriness similar to Indian bazaars. Bright decorations, colorful facades, sweet shops, India brands and a lot that reminds you of India awaits here.
Timings: Always accessible
Entry fee: None applicable
PS: The festive, full-blown decorations during the major festivals like Diwali and Holi can take even the Indians for a spin. The richness and authentic nature cannot be questioned by any.
Suggested Read: 9 Romantic Honeymoon Resorts In Malaysia Right Out Of Your Dream
10. Jalan Alor – Haunt for all the foodies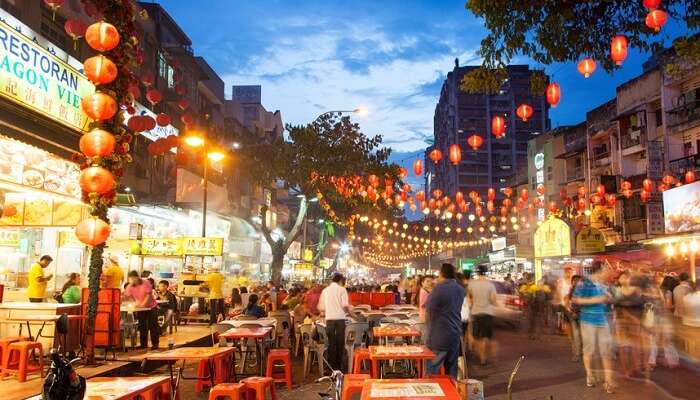 Image Source
This is the best hawker food you can ever get and is also one of the best places to visit in Kuala Lumpur at night! And this is no exaggeration, we are just stating the fact. From air-conditioned restaurants to food hawkers to street side carts, Jalan Alor has it all. Just a whiff of the aromas wafting from this street is enough to tempt and draw you to the delicious food.
At Jalan Alor, taste different cuisines of Malaysia including delicacies like barbecued meat, sprinkled satay, spiced-up seafood, and messy finger-food. Delishness of the dishes goes up tenfold as you savor them amidst the atmospheric breeze and strung up Chinese lanterns. Florescent lights and spaced trees enrich the experience all the more.
For those who don't like the heat emanating from furiously crinkling grills can opt for covered air-conditioned restaurants. While the experience will be altogether different, the food's taste will be equally relishing and fulfilling. Needless to say, it is one of the best places to visit in Kuala Lumpur.
Must try dishes: Beef skewers, barbecued meat, crispy noodles, Chinese woks, fried oyster eggs, crispy omelet, briny prawns, chili dogs, chicken satay, and soy marinade with chicken rice.
Timings: None; you can visit the food street anytime but the real liveliness erupts at nights.
11. Suria KLCC – Visit The Famous Petronas Tower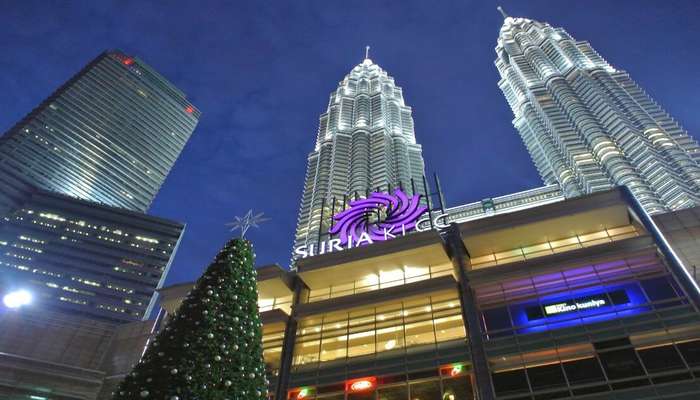 Suria KLCC is one of the best malls to visit in Kuala Lumpur for the locals as well as the tourists. The 6-storey mall offers you some exciting as well as informative galleries here. The mall is not only a place of visit for the brand conscious but also has famous tourist attractions like Petrosains and the Aquaria KLCC. Divided into three centres – Ampang Mall, new Ramlee Mall and Park Mall, Suria KLCC is also home to Malaysia's first concert hall.
Location: Jalan Ampang, Golden Triangle, Kuala Lumpur city centre, 50088
Timings: 10:00AM to 10:00PM
Entry fees: Free
Suggested Read: Visit These 27 Malaysia Tourist Attractions For The Adventure Of A Lifetime In 2019!
12. Kuala Lumpur City Gallery – Know The City Better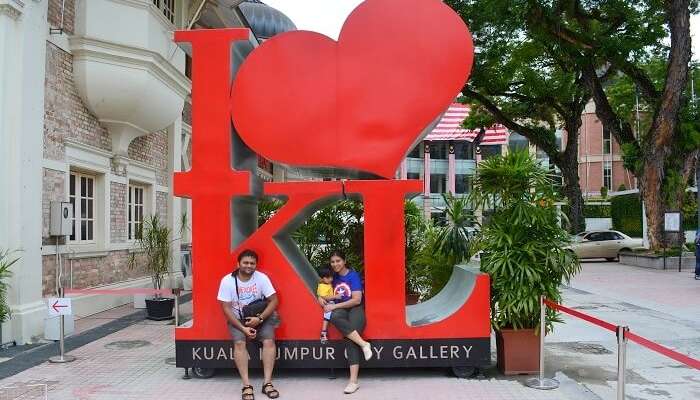 Kuala Lumpur City Gallery is the most famous tourist information centre. This fun place will provide you with all the information about Kuala Lumpur. You can get a free copy of the Kuala Lumpur Tours Map as well as guiding bicycle if you are in a mood to explore the town. The Gold Award winning city gallery owned by ARCH also demonstrates the city's past, present and future with the help of a sound and a light presentation.
Location: Dataran Merdeka, City Centre, 50050 Kuala Lumpur
Timings: 9.00AM to 6.30PM
Entry fees: INR 165
13. Tugu Negara – Explore The National Monument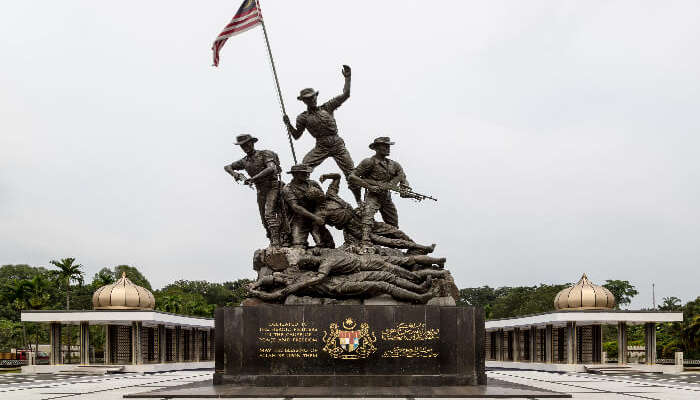 Located at a walking distance from a well known Lake Gardens Kuala Lumpur, the National Monument is a historical sculpture which was built to pay respect to those Malaysians who lost their lives fighting for Malaya's independence. While you are here visiting the National Monument, do drop by the famous nearby attractions such as Kuala Lumpur Bird Park, Deer Park and also Butterfly Park. The historic structure Tugu Negara is also the tallest freestanding group of bronze sculptures.
Location: Jalan Parlimen, Kuala Lumpur, 50480
Timings: 7.00AM to 6.00PM
Entry fees: Not Applicable
Suggested Read: 8 Places Every Backpacker Must See On Their Trip To Malaysia
14. Berjaya Times Square – Shapoholic's Choice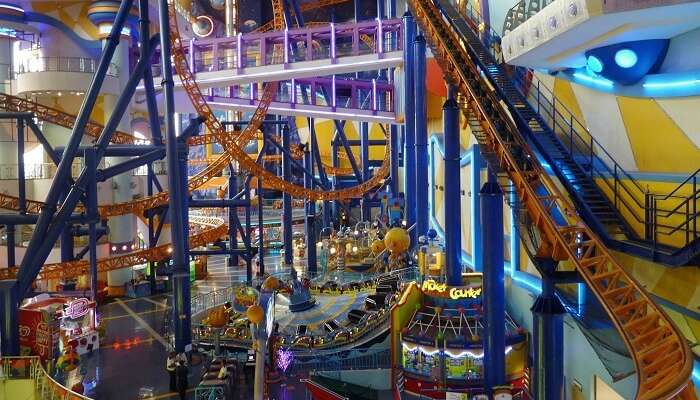 Berjaya Times Square is a one-stop venue for great shopping, entertainment and dining experience. The largest indoor theme park has an adult zone called the Galaxy Station and the kids' area popularly called the Fantasy Garden. It is one of the best places to visit with family when the weather outside is not favourable to explore the city or when you want to shop till you drop.
Location: Level 5, Berjaya Times Square, No.1, Jalan Imbi, Kuala Lumpur
Timings: Monday – Friday 12:00PM to 10:00PM, Saturday & Sunday 11:00AM to 10:00PM
Architectural Style: Postmodern Architecture
Entry fees: Adult RM 70, INR 1160
Child (ages 3-12) RM 65, INR 1077
Seniors (ages 55 and above) RM 30, INR 497
15. Forest Eco Park – Canopy Walkaway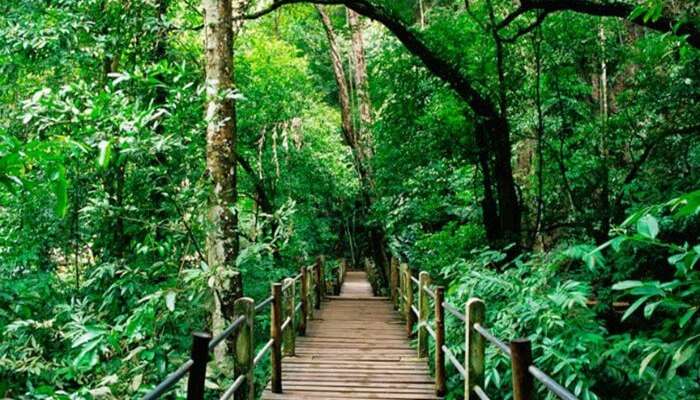 Formerly known as Bukit Nanas Forest Reserve, the eco-forest reserve is one of the oldest forest reserves in Malaysia. The major highlight of the place is an impressive 200m canopy walk that offers visitors with an excellent aerial view of the treetops and the city from a distance.
Famous attractions: Canopy walk, picnicking, information centre, herbal garden and timber product gallery
Location: Bukit Nanas, Jalan Puncak, Off Jalan P. Ramlee, Kuala Lumpur
Timings: 07:00AM to 6:00PM
Entry fees: Free
Further Read: You'd Be Sorry If You Miss These Awesome Malaysian Tourist Attractions
Now, do you feel ready for your trip to Kuala Lumpur? The growing city full of rich history and culture has a lot in store for you. Wait no longer and plan a trip to Kuala Lumpur. Head to this beautiful city with your friends or family and we promise that you willbe spoilt for choice considering there are so many places to see.
Frequently Asked Questions About Places To Visit In Kuala Lumpur
Q. Which are best places to visit in Kuala Lumpur on a 2 day trip?

A. Some of the best places to visit in Kuala Lumpur on a 2 day trip include:
1. Petronas Towers
2. KL Tower
3. Batu Caves
4. Masjid Negara
5. Petaling Street
Q. Which are places to visit in Kuala Lumpur with family?

A. Some of the places to visit in Kuala Lumpur with family include:
1. Petronas Towers
2. KL Tower
3. Selangor River – Firefly Boat Tour
4. Kuala Gandah Elephant Sanctuary
5. Petaling Street
Looking To Book An International Holiday?
Book memorable holidays on TravelTriangle with 650+ verified travel agents for 65+ domestic and international destinations.
---
Comments
comments