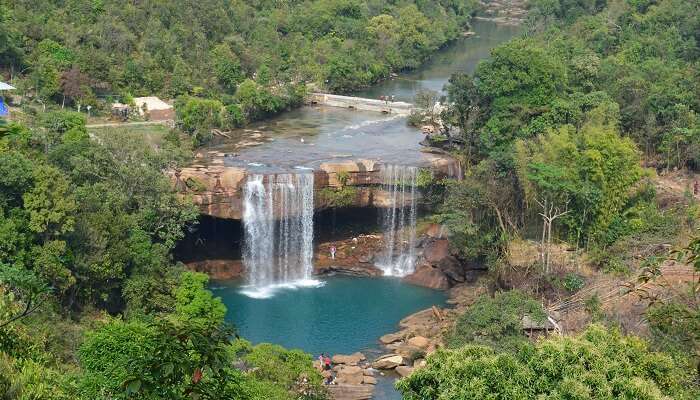 A hilly state, Meghalaya, based in north-eastern India is one of the seven North-eastern states of India. Meghalaya, meaning 'abode of clouds' in Sanskrit, is true to its name. It is famous for dense forests, high rainfall, and also its varied bio-diversity which makes them the best places to visit in Meghalaya. Meghalaya is bound to Assam in the northeast and by Bangladesh in the south. The tribals Khasis, Garos, Jaintias contribute major population.
20 Best Places To Visit In Meghalaya
Meghalaya will surprise you with a myriad of attractions it has in store for you. Escape to lush green valleys and forests that encapsulate Meghalaya, a pine-fresh mountain state in the Northeast. Here are some places to visit in Meghalaya that you should note to explore Meghalaya.
Cherrapunji
Balpakram National Park
Shillong
Elephant Falls
Double-decker Living Root Bridge
Don Bosco Museum
Kyllang Rock
Mawlynnong Village
Baghmara
Nohkalikai Falls
Mawsmai Cave
Umiam Lake
Tura
Jowai
Nongpoh
Dawki
Williamnagar
Laitlum Canyon
Mawsynram
Mawphlang Sacred Forest
1. Cherrapunji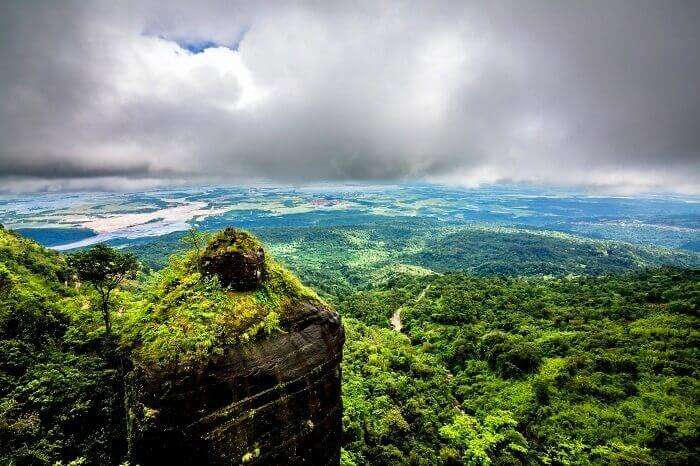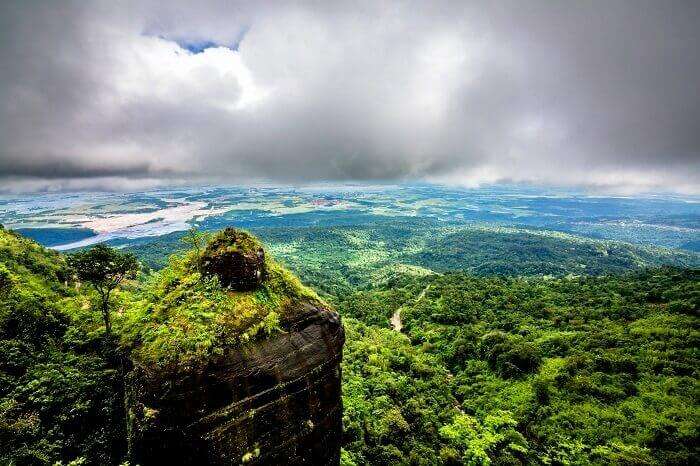 Cherrapunji is regarded as one of the wettest places on earth as the highest rainfall is foreseen during the year. Tourists from around the world come here to see the Dain-Thlen, Kynrem, and Nohkalikai waterfalls that are known as the popular waterfalls of Cherrapunji. The town encompasses some of the best waterfalls in Meghalaya.
Major attractions here are Living-Root bridges, Mawsmai cave, Seven sisters falls, Eco-park and a garden of caves. As it is situated in a forest, it does not have the option of luxury stay rather you will get resorts in Meghalaya and some hotels in the lap of nature which will be a great fit to stay with family and friends.
Speciality: Mesmerizing surroundings and plethora of attractions.
Attractions: Double Decker Living Root Bridges, Nohkalikai Waterfalls, Wakaba Falls, Krem Mawmluh
Places to stay: Jiva Resort Cherrapunjee, Saimika Resort, Polo Orchid Resort Cherrapunjee
How to reach: 79km from Cherrapunji Umroi Airport, 166km from Guwahati Airport.
Must Read: 19 Places To Visit Near Shillong In 2022 For Experiencing Meghalaya's True Beauty
2. Balpakram National Park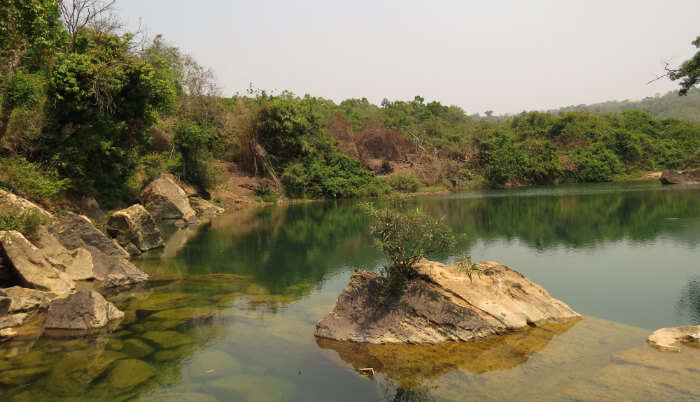 If you are in Meghalaya you should visit Balpakram National park, it is considered as the traveller's paradise. This place is referred to as the 'Land of Spirits' by many tourists that come here to explore the rich biodiversity of Balpakram National park.
A paradise for all the wildlife enthusiasts or wildlife photographers as you can spot animals like Red Panda, Wild Buffalo, Elephant, Tiger, Deer, Leopards, Wild Cows, Marbled Cat, etc. Some rare species include Lesser Panda, Indian Bison, and Sterow.
One of the best places to see in Meghalaya, tourists often compare this pace to the Grand Canyon in the USA. It is one of the best national parks in Meghalaya and you can easily find budget-friendly accommodations here.
Speciality: Rich biodiversity
Location: Garo Hills, Western Meghalaya
Best time to visit: October to March
Entry Fee: NA
Suggested Read: The Ever Growing Living Root Bridges, Meghalaya – A Nature's Marvel In The Northeast
3. Shillong
Scotland of the East, Shillong is one of the most popular Meghalaya tourist places in the Northeast that is on everybody's checklist. Far from the busy life, it has forested hills, pleasant climate, scenic beauty which attracts many tourists from around the world.
Some of the famous tourist spots in Shillong include Shillong Peak, Elephant Falls, Lady Hydari Park, Wards, Lake, and Don Bosco Museum. The local tribes in Shillong are Khyrim, Mylliem, Maharam, Mallaisohmat, Bhowal, and Langrim.
Shillong is also considered as the gateway to Meghalaya as the main airport of Meghalaya is in Shillong. You will find plenty of things to do in Shillong to make your holiday memorable. 
Speciality: Natural beauty, popular landmarks, and astounding views.
Attractions: Shillong Peak, Don Bosco Museum, Ward's Lake, Elephant Falls, Sweet Falls, Air Force Museum, All Saints Cathedral
Places to stay: Tripura Castle, Pinewood Hotel, Hotel Polo Towers Shillong, The Loft – Executive Inn
Location: East central Meghalaya
Best time to visit: September to May
Suggested Read: 20 Best Places To Visit In India During Christmas Holidays For A Grand Celebration in 2022
4. Elephant Falls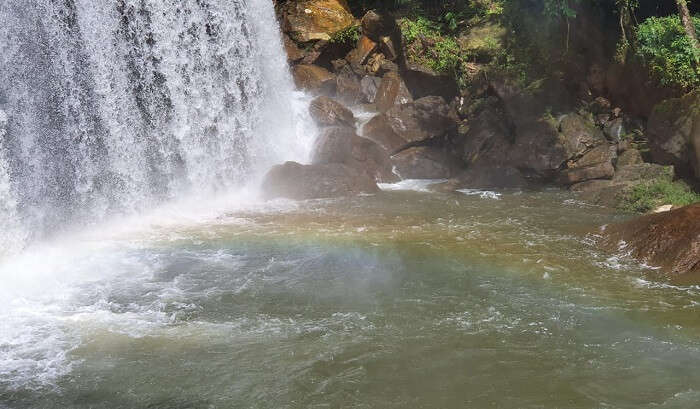 The evergreen Meghalaya which has dense forests spread out everywhere around the state is also known for the amazing waterfalls. Elephant Falls, the beauty of Meghalaya, has the elephant-like stone at its foot. One of the most popular falls in the North-East, visting here in one ofthe best things to do in Meghalaya.
The majestic Elephant falls were alluded to as 'Ka Kshaid Lai Patang Khohsiew' by the nearby Khasi individuals, which signifies 'The Three Step Waterfalls', as these falls comprise of three wonderful falls in progression. The first of the three waterfalls are tucked between the thick trees and are wide.
The subsequent fall decreases to thin strands of water and is practically insignificant in winters because of the retreating water levels. The third and the most visible waterfall to the naked eye is the tallest with clear water streaming like a sheet of milk striking on rocks in the background. With majestic surroundings and scenic views, this waterfall is one of the most sought-after places to visit near Shillong.
Speciality: Surrounded by lush greenery and offers spectacular views.
Location: 12km from Shillong
Best time to visit: Monsoon
Suggested Read: 35 Exotic Places To Visit In December In India 2022 To Enjoy A Surreal Vacation!
5. Double-decker Living Root Bridge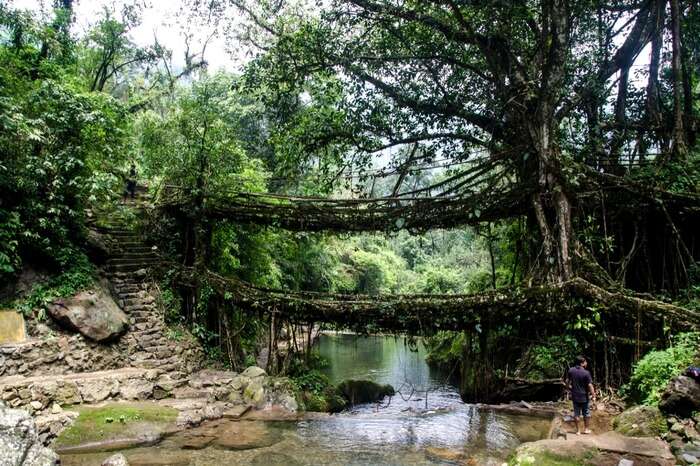 Situated in Cherrapunji, Meghalaya, a double-decker living root bridge is famous for its bridge made up of roots of an Indian rubber tree. The bridge is 3 km long at a height of 2400 feet. The most scenic experience is when the Umshiang river flows beneath the bridge and you are walking over it. It is the oldest natural bridge made around 200 years ago but only 50 people can be accommodated at one time. You have got to visit this place on your Meghalaya honeymoon.
The bridge begins at the town of Tyrna and crosses the Umshiang waterway during its adventure. Getting to the exact location is somewhat of a trek. The climb down to the bridge is an incredible 3500-3600 stages every route to the scaffold and once more from the base town of Tyrna, which is 20 kilometers from the principal town of Cherrapunjee. It is one of the top places to visit in Meghalaya.
Speciality: Oldest natural bridge
Location: Cherrapunji, Meghalaya
Best time to visit: Apart from May to September as it is quite slippery.
Trek time: 4 to 6 hours
Suggested Read: 30 Places To Visit In January In India 2022
---
Planning your holiday but confused about where to go? These travel stories help you find your best trip ever!
---
6. Don Bosco Museum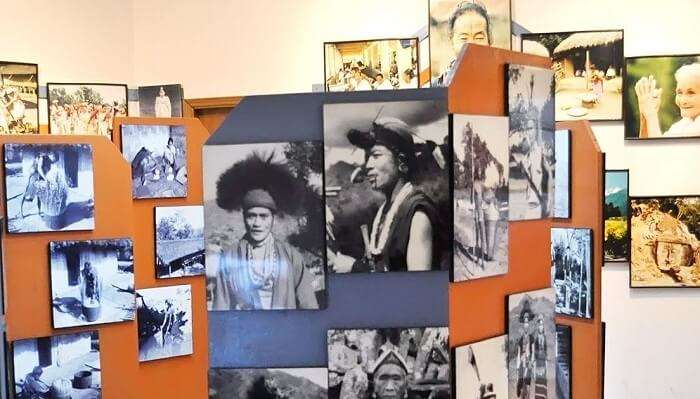 Many tourists are very much interested in knowing the cultural history of the state. Don Bosco Museum, situated in Shillong, is a 7-stored historical center having 17 galleries on shows that take you through the way of life of Northeast India.
Besides, these galleries display a wide arrangement of expressions, antiques, clothing types, weapons, and painstaking work that exhibit the way of life and culture of different tribes and individuals of Meghalaya. Don Bosco Museum is additionally acclaimed as one of the best in Asia.
Speciality: A perfect representation of the cultural history of the state.
Location: East Khasi Hills, Shillong, Meghalaya
Entry Fee: Indians: Rs 100 and Foreigners: Rs 200
Suggested Read: 29 Monsoon Destinations In India That Will Make You Dance In The Rain In 2022!
7. Kyllang Rock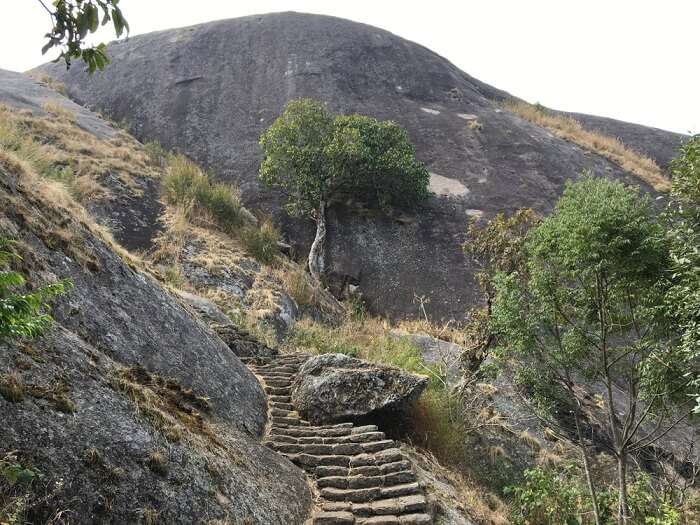 Somewhere in the range of 78 km away from Shillong, an extraordinary giant rock made out of red stone, Kyllang Rock is situated in the West Khasi Hills of Meghalaya. The Rock which is 5400 ft above sea level and has a width of around 1000 ft is a mammoth square of granite stone which is a piece of the Khasi fables and appears to be lovely in its shape.
A climb to the highest point of Kyllang Rock enables you to cherish the magnificent scene of the encompassing zone. Encompassed by age-old Red Rhododendrons, Kyllang Rock is said to have an uncommon attractive field. The mammoth dome is blocked off from its southern side but through the northern side, it is brimming with rhododendrons and shrubs.
Speciality: One of the highest points in Meghalaya.
Location: West Khasi Hills, Shillong, Meghalaya
Best time to visit: Anytime, but good to avoid in monsoon.
Suggested Read: 20 Best Places To Visit In North India In Monsoon For That Much Needed Break In 2022!
8. Mawlynnong Village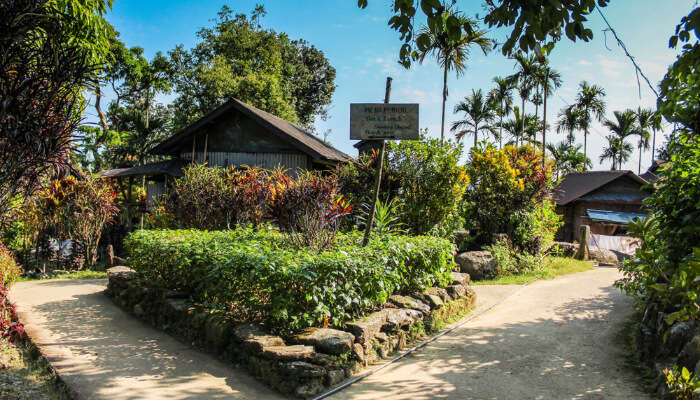 The cleanest village in Asia? Yes, the Mawlynnong village. It is one of the most exotic locations in Meghalaya to go through the day. From beautiful waterfalls and root bridges to a clean environment and the scenic view, this town invites you with everything that is basic to make your Meghalaya excursion pivotal. Apart from this, there are numerous bamboo houses where you'll need to have a stay to adapt more with the location.
Speciality: Encompasses gorgeous landscapes and scenic surroundings.
Location: East Khasi Hills, Shillong
Homestay cost: Rs 1500 to Rs2000
Suggested Read: The Ultimate List of Adventure Holidays In India For Summer 2022
9. Baghmara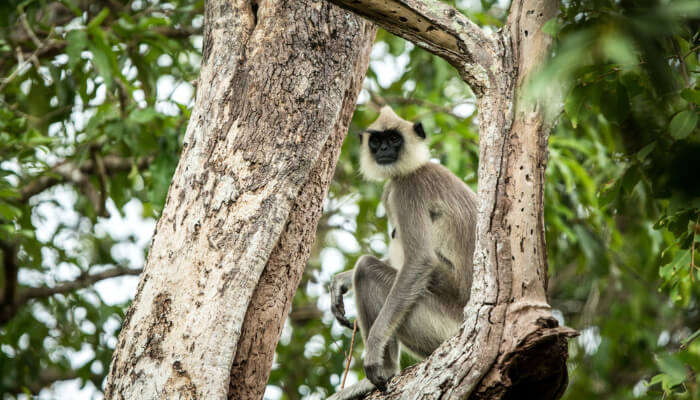 Every wildlife enthusiast should visit this spot that is only 4km from the town of Baghmara, the Baghmara Reserve Forest that is possessed with elephants, feathered creatures and langurs. For the labyrinth lovers, there are the Siju caverns, the third-longest cavern framework in the Indian subcontinent comprising of endless mazes and chambers.
The wonderful limestone rock arrangement inside the caverns, named as the 'Princess Di's Chamber' is especially sensational. Like this wasn't sufficient, the Siju Bird Sanctuary offers to keep the winged creature fans snared with the rarest of species relocating here during the winters.
Speciality: Houses exotic wildlife.
Location: South Garo Hills
Best time to visit: October to January
Suggested Read: 30 Places To Visit In India In April 2022: Beat The Heat This Summer Like A Pro!
10. Nohkalikai Waterfalls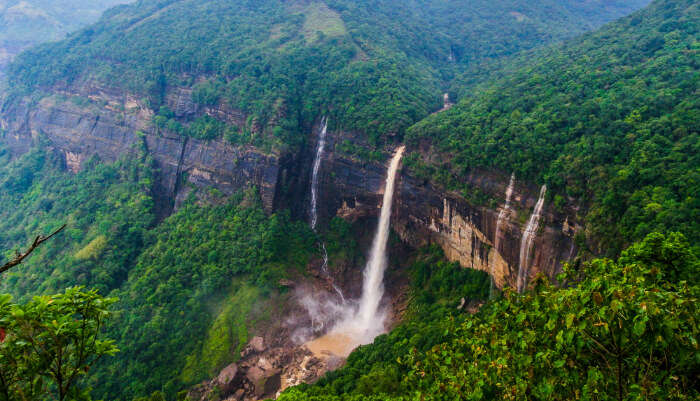 The 4th most noteworthy waterfalls on the planet, Nohkalikai falls fall somewhere in the range of 335 meters from a verdant cliff to the ground giving the depiction of gigantic and extraordinary heavenliness. The pride of the territory of Meghalaya, the falls are one of the most wonderful and terrific falls in the nation.
Taken care of between the evergreen rainforest of the Khasi Hill and streaming with all its glory and may, the falls dive into a tidal pond which is as blue as the evening sky. This fall is one of the best places to visit in Meghalaya.
Speciality: A paradise-like destination with outstanding natural views.
Entry Fee: Rs.10
Timing: 8 Am to 5 Pm
Suggested Read: 7 Places To Visit In Meghalaya In June 2022 Which Reflects Tranquility And Serene Beauty!
11. Mawsmai Cave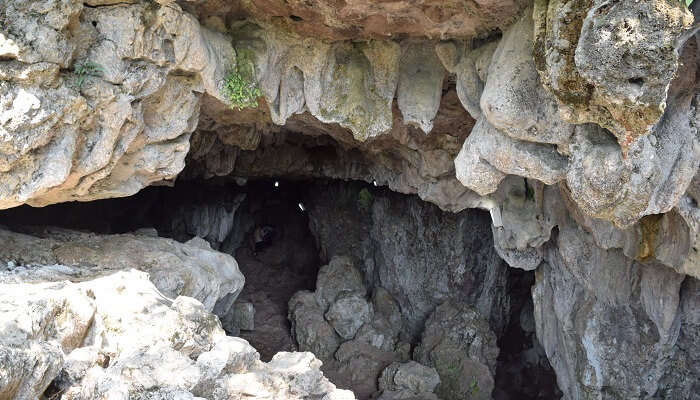 Among all the caves in the region, Mawsmai Cave is delightful without a doubt. There is a lot of vegetation inside the cavern to grab one's eye. The length of the cave is only 150 meters which isn't the longest in contrast to different caves in the region yet it most likely gives you glimpse into life in the underground. Found only 6 km away from the core of Cherrapunjee, Mawsmai cave is an amazing cave in the East Khasi Hills of Meghalaya.
Speciality: A thrilling escapade.
Timing: 9:30 Am to 5:30 Pm
Entry Fee: Rs 10
Suggested Read: 25 Amazing Wildlife Sanctuaries In India For 2022 Adventurous Safaris And Encounters With The Wild!
12. Umiam Lake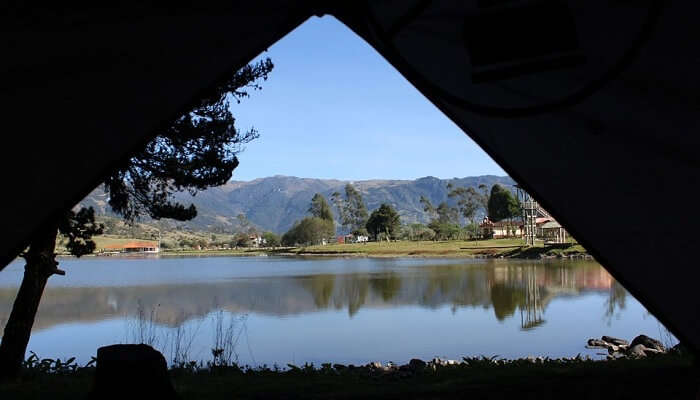 Umiam Lake, a beautiful man-made reservoir is situated at 15 kilometers north of Shillong. The lake was shaped after a dam was developed to produce hydroelectric power. The picturesque Umiam Lake is enclosed by lavish green East Khasi slopes that makes for an encompassing sights for nature lovers. The dawn at the lake is a treat to witness with naked eyes and shouldn't be missed. Tourists can take a long boat ride in the lake, and adventure junkies can appreciate drifting and different water-sports.
Speciality: Glistening man-made lake.
Time required: 1 to 2 hrs
Boat ride fee: Pedal boat: Rs 20, Yachting: Rs 100
Suggested Read: Tourists Will Now Need An Inner Line Permit To Visit Meghalaya
13. Tura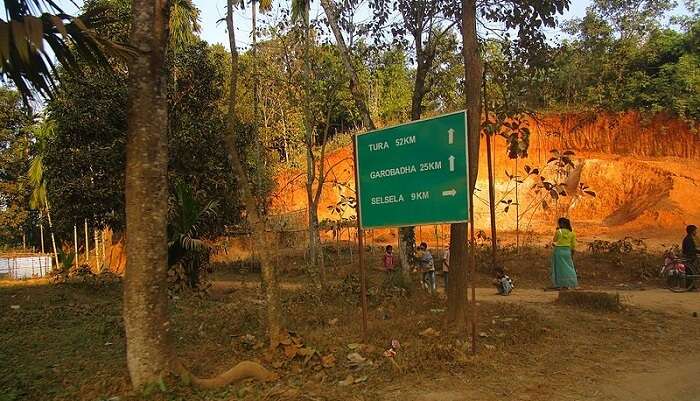 Tura is one of the best places to visit in Meghalaya because of its serene environment. Located in Garo Hills, Tura is a paradise for wildlife enthusiasts and nature lovers. Nokrek National Park is located 12 km from Tura. Here, you will find a variety of species like leopard, golden cat, wild buffalo, and pheasant. Siju Caves is another attraction that you must visit on your trip to Tura.
Speciality: Houses an array of wildlife species.
Location: West Garo Hills
Best time to visit: December-February
Suggested Read: Meghalaya Travel Tips: Remember These Essential Things Before Visiting This Beautiful State!
14. Jowai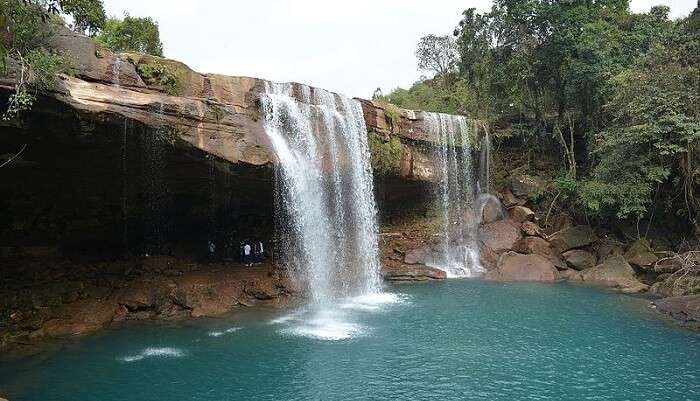 Located in Garo Hills, Jowai is another one of the famous tourist places in Meghalaya. The place is famous for its mix of heritage and culture. Experience the local lifestyle of town folks and learn about their culture. What makes this town one of the most astounding places to see in Meghalaya are its lakes. Visit Thadlaskein Lake and spend a few hours contemplating life as you gaze at the serene views.
Speciality: Pristine waterfalls
Location:West Jaintia Hills
Best time to visit: March-May
Suggested Read: 16 Scenic Waterfalls in Meghalaya That'll Leave Your Mesmerized In 2022!
15. Nongpoh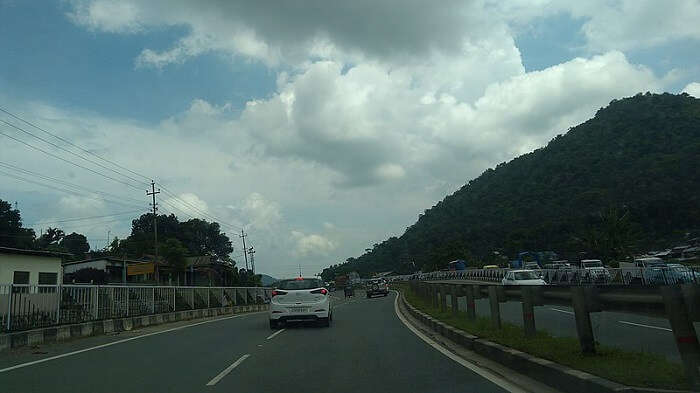 Another one of the Meghalaya tourist places is Nongpoh. It is a small town located in the east Khasi Hills is situated very close to Brahmaputra plains. It makes a great stopover on the way to Shillong. Admire the beautiful gushing rivers, lush greenery, and salubrious weather.
Speciality: Picturesque environment
Attractions: Lum Nehru Park, Dwar Ksuid, Nongkhyllem wildlife sanctuary, Lum Sohpetbneng
Places to stay: Ri Kanaan Resort, Ri Kynjai – Serenity By The Lake, Orchid Lake Resort
Location: Ri-Bhoi district, Meghalaya
Best time to visit: August-November
Suggested Read: 10 Best Hotels And Resorts In Shillong That Will Entice You To Explore Meghalaya!
16. Williamnagar
One of the most beautiful places to visit in Meghalaya, Williamnagar has a bounty of flora and fauna. The town is flaned with scenic mountains and rivers. It is named after the first Chief Minister of Meghalaya. The beautiful town is located by the side of Simsang River. If you wish to explore the countryside, take a trip to this place for sure.
Speciality: Adorned with immense flora and magnificent mountainscapes.
Attractions: Domre Falls, Tasek Lake, Napak Lake, Naka-Chikong
Places to stay: Hotel Polo Orchid, Hotel Royel Park, Hotel Rikman Continental
Location: South Garo Hills
Best time to visit: October-February
Suggested Read: Breaking Records: World's Longest Sandstone Cave Just Got Discovered In Meghalaya!
17. Dawki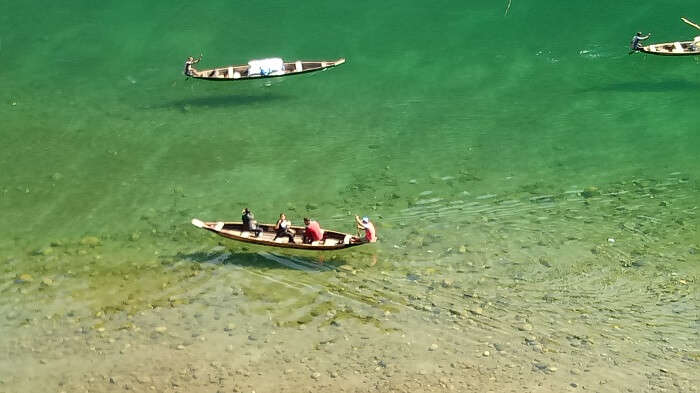 Dawki needs no introduction. It is one of the most popular tourist places in Meghalaya. Known for its clear river, Dawki is one of the most instagrammable places on earth. If you are visiting Meghalaya anytime soon, then you should put Dawki on your itinerary. Since it is sandwiched between India and Bangladesh, it is also a major trade hub.
Speciality: Gorgeous river with clear waters.
Location: West Jaintia Hills district, Meghalaya
Best time to visit: November
Suggested Read: 7 Places With Highest Rainfall In India To Be Explored In This Lifetime
18. Laitlum Canyon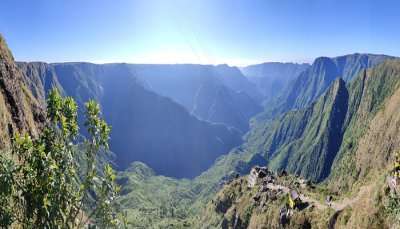 Image Credit: Ankan Ghosh Dastider for Wikimedia Commons
Nestled in East Khasi Hills, Laitlum Canyon is truly a paradisiacal abode. With low-flying clouds, sprawling green landscapes, and spectacular views, this dreamland is one of the most wondrous tourist places in Meghalaya. If you are a nature lover, who loves to rejuvenate yourself in the lap of nature, then this place is perfect for you. Adventure seekers can also relish their time at this place as the 3000-steps stairway provides for a thrilling escapade.
Speciality: Spectacular surroundings.
Location: East Khasi Hills, Meghalaya 793015
Best time to visit: April to June
Suggested Read: 8 Homestays In Meghalaya In 2022 – Your Humble Abodes In The Clouds
19. Mawsynram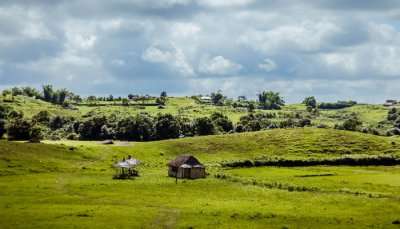 Disclaimer: The image is for representation purposes only.
Of all the Meghalaya tourist places, Mawsynram is the rainiest landscape. Encompassing lush green hills, this village witnesses humongous amounts of rainfall throughout the year. The village is adorned with prepossessing landscapes, low-flying clouds, misty weather, and refreshing waterfalls. Mawsynram experiences an average rainfall of almost 11,872 millimetres annually, thereby making it one of the most distinctive tourist places in Meghalaya.
Speciality: Pristine waterfalls
Location: East Khasi Hills, Meghalaya
Best time to visit: April to June
Suggested Read: Top 3 Valleys In Meghalaya That Exhibit The Beauty Of Mother Nature In The Finest Way
20. Mawphlang Sacred Forest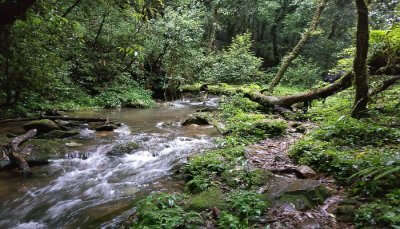 Image Credit: Ritika74 for Wikimedia Commons
A tropical rainforest located amid the Nongrum region of Meghalaya, Mawphlang Sacred Forest houses rich flora and fauna. Towering trees, which are said to be 1000 years old, encompasses this forest. The eye-pleasing greenery of this forest reflects the natural grandeur of Meghalaya. The forest also holds mythological significance to the local community hence it is considered sacred by them. Undoubtedly, the forest offers an astounding escape to nature lovers and is one of the prominent attractions amongst all the Meghalaya tourist places.
Speciality: Lush greenery
Location: Nongrum, Meghalaya 793121
Best time to visit: April to June
Further Read: The Ever Growing Living Root Bridges, Meghalaya – A Nature's Marvel In The Northeast
Meghalaya is the perfect destination for people who love mountains and seeking for some inner peace. If you are looking for some peace among the snowy mountains, you should definitely consider holidaying in Meghalaya. You won't be disappointed.
Disclaimer: TravelTriangle claims no credit for images featured on our blog site unless otherwise noted. All visual content is copyrighted to its respectful owners. We try to link back to original sources whenever possible. If you own the rights to any of the images, and do not wish them to appear on TravelTriangle, please contact us and they will be promptly removed. We believe in providing proper attribution to the original author, artist or photographer.
Please Note: Any information published by TravelTriangle in any form of content is not intended to be a substitute for any kind of medical advice, and one must not take any action before consulting a professional medical expert of their own choice.
Frequently Asked Questions About Places To Visit In Meghalaya
Is it safe to visit Meghalaya during COVID times?
You need to follow all the mandatory guidelines mentioned by the government such as maintaining social distance, wearing a mask at public places, washing or sanitizing hands after entry & exit, etc.
What is famous in Meghalaya?
Meghalaya is famous for its mesmerizing beauty. There are numerous tourist attractions here that attract travelers from across the world. Nohkalikai Falls, Umiam Lake, Cherrapunji , Root Bridges, Laitlum Canyon, Dawki, Mawsynram, Shillong, etc. are the popular places to visit on a Meghalaya trip.
Which village in Meghalaya must be visited by tourists?
Villages in Meghalaya are known for their impeccable beauty. Mawlynnong Village, Laitlum Canyon, Double Decker Living Root Bridge in Nongriat Village, Jowai village, Tura, and Mawlai are the best villages to visit in or around Meghalaya.
How many airports are there in Meghalaya?
The main and the only airport in Meghalaya is Shillong Airport. The airport is well-connected to the major cities of India and welcomes flights throughout the year.
How far is Meghalaya from Guwahati?
Meghalaya is 85 km away from Guwahati. The road distance is 99.7 km and you can take a bus, taxi, or cab to reach here. The route between Meghalaya and Guwahati is known for offering scenic vistas.
What is the famous food of Meghalaya?
Jadoh, Dohkhlieh, Nakham Bitchi, Pumaloi, Bamboo Shoots, and Momo are the popular food items to try in Meghalaya. Rice with spicy meat and fish preparations. They rear goats, pigs, fowl, ducks, and cows.
Which are the best places to visit in Meghalaya with family?
Some of the best places to visit in Meghalaya with family are as follows:
1. Shillong
2. Balpakram National Park
3. Elephant Falls
4. Don Bosco Museum
5. Mawphlang Sacred Forest
Which are the best places to visit in Meghalaya on a honeymoon?
Meghalaya is perfect for a romantic getaway. Some of the most exquisite places to visit in the state for an idyllic honeymoon experience are:
1. Cherrapunji
2. Mawlynnong Village
3. Nohkalikai Falls
4. Umiam Lake
5. Williamnagar
---
People Also Read:
Places to Visit in Mizoram Places to Visit in Assam Places to Visit in Manipur
Comments
comments