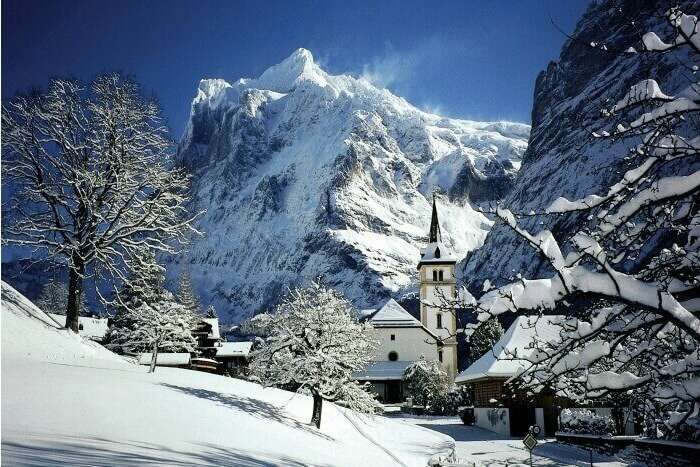 When the air is crisp and the ground is white, Switzerland turns all the more fascinating. Nature's masterpiece, this small country is blessed with jaw-dropping scenery that turns exotic in winters. No wonder, there are scores of places to visit in Switzerland in winter and snow activities to indulge in. The vacationing charm manifolds when the Alpine air echoes with the clinks of church bells and cowbells.
Whether you enjoy winter sports or simply prefer to relax, you would be bowled over by its charm and fall in love with it over and over again. Thanks to its efficient Swiss transport system, you can easily reach most of the top sites through trains, ferries, and cable cars. So, planning to visit Switzerland in winter? Here are top 10 places that you should not miss on your Switzerland winter vacation!
10 Best Places To Visit In Switzerland In Winter
If you are planning a winter vacation with your spouse or family, here is a list of top 10 places where you should spend your Switzerland winter holidays.
1. The Jungfrau Region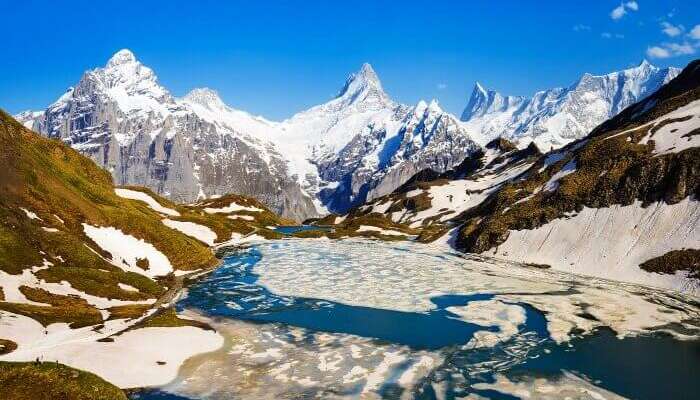 Inhale the fresh mountain air at this breathtaking destination. The best bet to enjoy winter holidays in Switzerland, Jungfrau Region's splendid scenery will surely leave you spellbound. Peaks of the lofty mountains – the Jungfrau, Monch, and Eiger are coated with milky white snow and present a beautiful contrast to emerald valleys in the Alpine paradise.
In addition to scenic pleasures, your trip to this region brings you some natural wonders. These wonders include The Jungfraujoch – a col between the Jungfrau and the Mönch, which has Europe's highest railway station, and the Aletsch Glacier – the largest glacier in Europe. It is one of the best places in Switzerland in winter for nonskiers. 
Why To Visit: It is home to highest train station. 
Places To Stay: Club Med Wengen, The Onya resort & spa, Hapimag resort
Must Read: A Fantastical Honeymoon Trip In A Fairytale World Of Switzerland
---
Europe Holiday Packages On TravelTriangle
Explore the most beautiful places to visit in Europe, from Paris to the Venice canals and from the Greek islands to the Swiss alps. Book customized packages by expert agents on TravelTriangle. Inclusive of airport transfers, cab, resort, sightseeing and meals. Best holiday experience Guaranteed. Book Now
---
2. Zermatt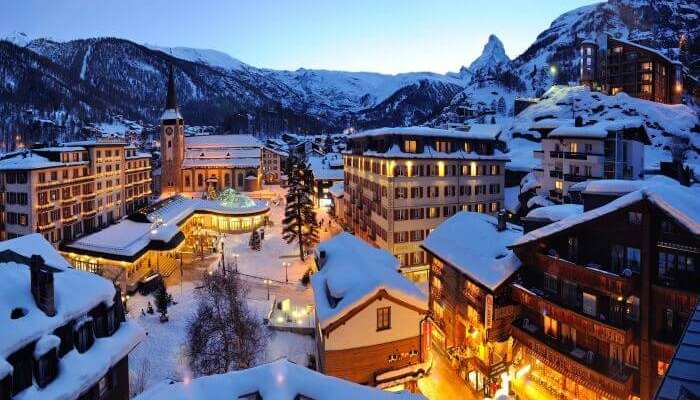 The small town of Zermatt is a special treat for skiers and snowboarders seeking a genuine quiet stay during winter in Switzerland. Cable cars paddle skiers up surrounding mountains, making it among the best winter honeymoon destinations in Europe. You can reach the town via scenic train routes that connect it with the outside world. When illuminated, the town transforms into a picture perfect Christmas postcard that is bound to make your winter holidays in Switzerland extra special.
The most famous peak in the Alps, the Matterhorn, stands here. Mountaineers flock to this town to conquer this technically difficult peak. If you don't want to indulge in adventurous games, you can delight in the town's energetic nightlife instead!
Why To Visit: It is the highest ski resort
Places To Stay: Cervo mountain boutique resort, Hotel Alex, Riffelalp resort
Suggested Read: Paris In Winter: All That You Can Do In This Winter Wonderland In 2019!
3. St. Moritz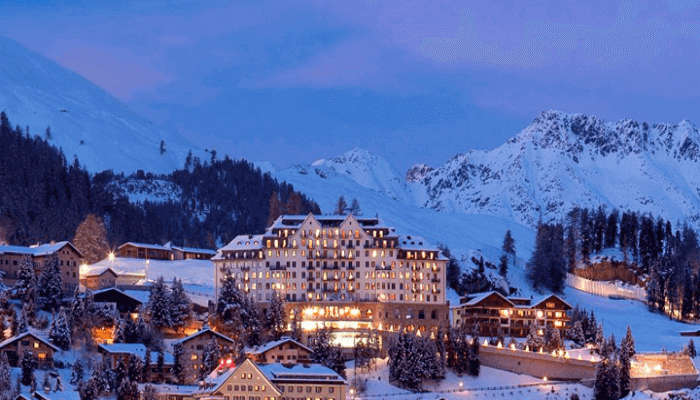 St. Moritz, Numero Uno Alpine winter holiday destination, spoils you with unique leisure and sports choices as well as shopping opportunities. This well-groomed resort town has been a venue for two winters Olympics. Take the most interesting of Switzerland winter tours to St. Moritz.
A celebrated playground to enjoy winter sports in Switzerland in December, the town presents you opportunities to indulge in skiing, snowboarding, and snow-shoe trekking. St. Moritz's mineral springs have also contributed to enhancing its popularity among travelers. To add a cherry to the cake, the town is also a hub of happening nightlife.
Why To Visit: Witness the best Alpines here 
Places To Stay: Grand hotel Des Bains, Badrutt's palace hotel, Kulm hotel
Suggested Read: 11 Best Places To Visit In Canada In Winter 2019 For Experiencing The True Beauty Of Snow
4. Oberalp Pass Via Glacier Express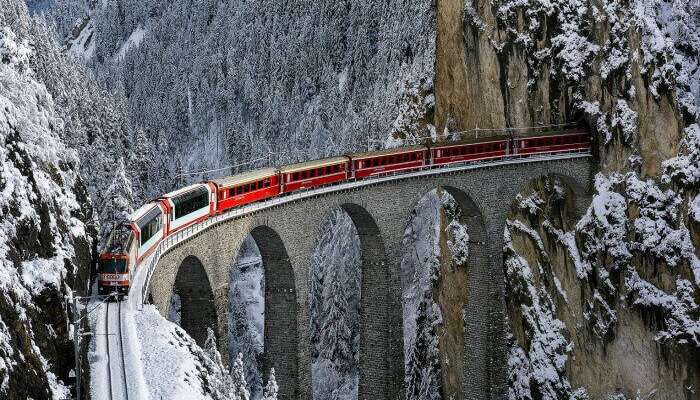 Visiting Switzerland and missing out on the special trip to Oberalp Pass is a no-no. You can ride the Furka-Oberalp railway that operates throughout the year and provides limited access through the reservation.
Or you can simply ditch the hassles and relish its view while riding the Glacier Express – a direct train that takes you from Zermatt to St. Moritz. En route, the train ride presents you with incredible views of the Alps while squeezing its way through tight curves, 291 bridges, narrow valleys, and 91 tunnels.
Riding this train for incredible scenery is among the best things to do in Switzerland in winter. The special touch is imparted by amounts of snow on the Oberalp Pass and snowy valleys.
Why To Visit: The most adventurous train ride
Suggested Read: Get Ready To Chomp In 2019 At The 10 Best Restaurants In Zurich
5. Mt. Pilatus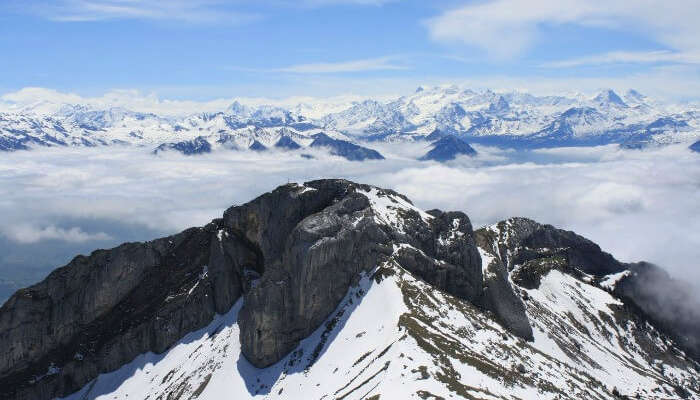 Perched adjacent to the city of Lucerne, Mt. Pilatus is a 2,120 metre tall mountain that magnetizes tourists to delight in the marvelous scenery of Swiss Alps. You can easily reach here via a cable car while enjoying the exhilarating views.
At this spectacular venue, you not only delight in the charismatic views around but can also take up several trails for remarkable winter walks. You must add this destination to your list of places to visit in Switzerland in the winter for an enhanced Swiss vacationing experience.
Why To Visit: For picturesque views of Lucerne
Places To Stay: Hotel Bellevue, Seehotel Pilatus
Suggested Read: Dreaming Of An Exotic Honeymoon In Switzerland? Make It Happen
6. St Gallen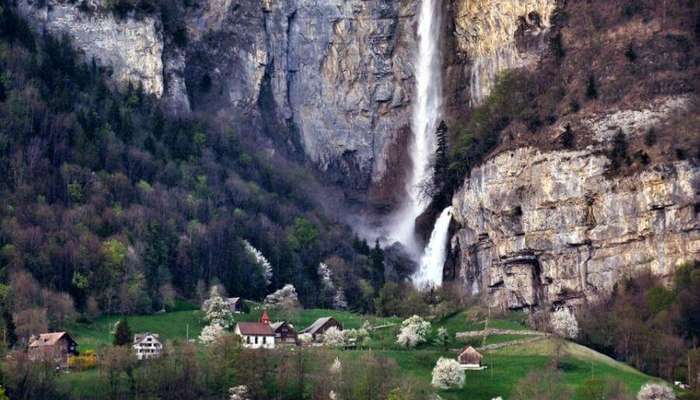 St Gallen is a sprightly addition to any list of Switzerland attractions in winter that one must visit. But visit it during Christmas time for maximum holiday spree. The old town presents a beautiful scenery with its centuries' old houses, car-free and snow covered streets, and a lively atmosphere oozing festive fervor!
The place is home to the tallest Christmas tree in Switzerland, which is illuminated by 5,000+ lights during Christmas season. Get bewitched by the sight of a dazzling Christmas tree in front of the impressive Abbey of St Gallen & manifold your Christmas charisma humming carols and savoring free glühwein (mulled wine)! 
Why To Visit: It is home to a UNESCO World heritage site
Places To Stay: Einstein St Gallen, Hotel Walhalla, Hotel Dom
Suggested Read: A Guide To Switzerland Travel: Playground Of Europe
7. Lucerne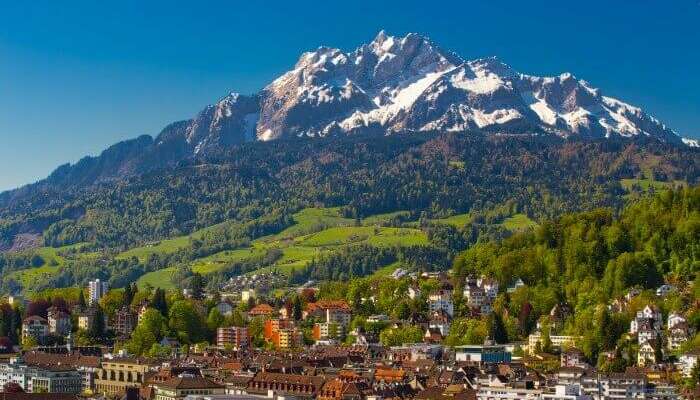 Sitting picture-perfect on Lake Lucerne with the backdrop of a lovely panorama of the Alps, Lake Lucerne Region dons a spectacular blanket of fluffy snow in winter. Listed among the unmissable Switzerland attractions in winter, the region is a wonderland that attracts snow-savvy skiers and snowboarders.
The beauty of the region captivates both the heart and the soul as you take up splendid winter walks and snowshoe treks here.
Why To Visit: It is home to Chapel bridge
Places To Stay: Radisson Blu hotel, Renaissance hotel, Ameron hotel
Suggested Read: 20 Best Places To Spend Christmas 2019 In Europe : Where Festivities Breathe Magic Into The Air!
8. Interlaken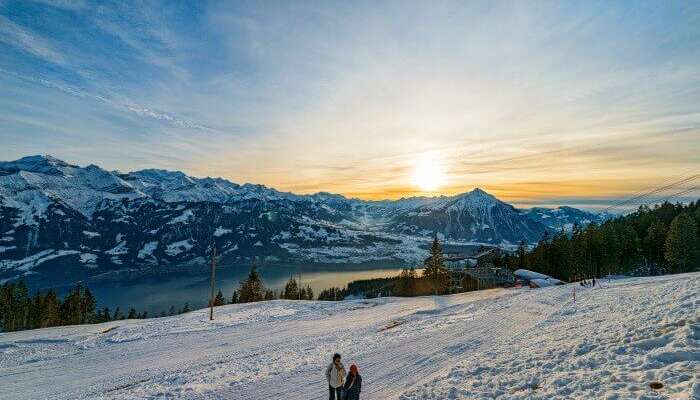 A traditional resort town, Interlaken is nestled on a tapered stretch of valley. Presided over by the three mighty mountains: the Eiger, Mönch and Jungfrau, the town is distinguished for its extraordinary mountain scenery. If you are planning to visit Switzerland in winter, do add this destination to your list of places to visit.
Owing to its over 45 mountain railways, cable cars, alpine meadows and glaciers, skiing and hiking trails, Interlaken is considered the adventure capital of this beautiful country. This is where you get to indulge in most exhilarating things to do in Switzerland in December.
Why To Visit: It is home to very beautiful Interlaken lake. 
Places To Stay: Hotel Interlaken, Hotel Bellevue, India village
Suggested Read: 10 Best Ski Resorts In Switzerland
9. Davos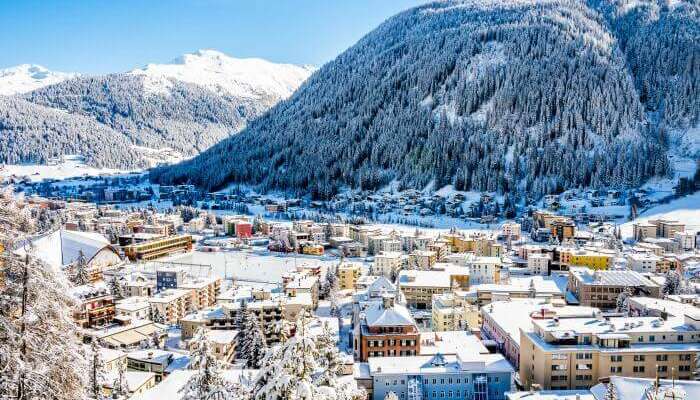 A destination of superlatives, Davos is the highest town in the Alps as well as a high-altitude health resort. The town is also known for offering myriad opportunities to enjoy winter sports in Switzerland.
At the heart of this town, tourists can entertain themselves with a broad array of shopping choices, options for redefined dining, and cozy accommodation. In addition to that, the town has a plethora of options for after-sunset partiers with its range of casinos, bars, and discotheques.
Why To Visit: A beautiful resort village
Places To Stay: Parsenn resort, Hotel schatzalp, Intercontinental Davos
Suggested Read: 10 Gorgeous Honeymoon Places In Switzerland That Are A Haven For Romance!
10. Arosa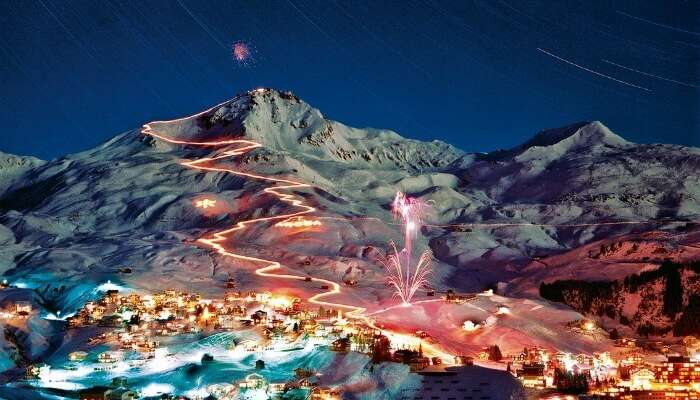 Standing at the end of the dreamy Schanfigg Valley, Arosa is among the most cool places to visit in Switzerland in January or any winter month. It's fascinating mountain peaks and snowy landscapes draw adventure enthusiasts for extended hiking tours. In addition, the town offers a wonderful variety of snow sports and activities to help you indulge in snow play. It is one of the best places in Switzerland in winter where you should stay for a while.
Why To Visit: For a rich culture and tradition
Places To Stay: Priva Alpine Lodge, Soleval, Arosa ski resort
And if you know of any more places to visit in Switzerland in winters, put them in the comments below. In case you still are doubtful about where to go, these FAQs will come to the rescue
Further Read: 20 Gorgeous Places To Visit In India This December 2019
Switzerland, without a doubt, is among those places on earth that are unparalleled. So, are you prepared for a classic holiday to this winter wonderland? If yes, then plan your Europe holiday right away and experience pure magic whether you're thinking of honeymoon in Switzerland or a trip with family!
Frequently Asked Questions About Places to Visit In Switzerland
Q. Which are the places to visit in Switzerland in winter with family?
A. If you're wondering where to go in Switzerland in Winter with family then, Zurich, Nendaz, Grachen, and Engelberg are among the top places to consider. These places to visit in Switzerland during winter are kid-friendly and have plenty of options in terms of accommodation, activities, and sightseeing which interests both adults and kids alike.
Q. What are the best places to visit in Switzerland in December with a baby?
A. Lucerne, and Zurich are some of the best places to visit in Switzerland to visit with a baby in December. However, prior consultation with doctor is advised before you freeze on your destinations. Taking babies to high altitude can make them uneasy, specially in case of premature infants.
Q. What are best places to celebrate Christmas in Switzerland?
A. Berne, Zurich, St. Mortiz, and Zermatt are among the best places in Switzerland in winter where you can celebrate Christmas. These places are adorned with Christmas lights, and the Christmas markets make for a fun-filled extravaganza.
Q. Is Switzerland a good place to visit in December?
A. Yes, December is a pretty good time to visit Switzerland. If you are thinking to make a trip to Switzerland in December then Premier Alpine Centre should be your first priority to ask. They will provide you the best package to enjoy mountains and ski sports along with your families. December is also a good time for skiing in Switzerland.
Q. How many days do you need in Switzerland?
A. You will need at least 3 full days for Rome, 2 full days each for Florence, Siena/San Gimignano/Pisa, driving around Tuscany, Venice, and 1 day each for 5Terre and Milan. Count another 4 days for train or highway travel between these places. Count about 6 days for the places you want to visit in Switzerland.
Q. What is the best month to go to Switzerland?
A. The best time to visit Switzerland is during the shoulder seasons, between April and June, and September to October, when the weather is at best, and there aren't too many tourists.
Q. How cold is Switzerland in December?
A. December is a festive month and despite the biting cold temperature, there is so much fun guests can have while on holidaying in Zurich. December is winter in Zurich with an average temperature of 2°C (35 ̊F). The highest temperature for December is 4°C (39 ̊F) while the lowest temperature is -1°C (30 ̊F).
Q.Where can I spend Christmas in Switzerland?
A. Here are a few places where you can bring in the festive season and celebrate Christmas at in Switzerland-
1. St Gallen.
2. Stein am Rhein.
3. Einsiedeln.
4. St Moritz.
5. Locarno.
6. Lugano.
Comments
comments