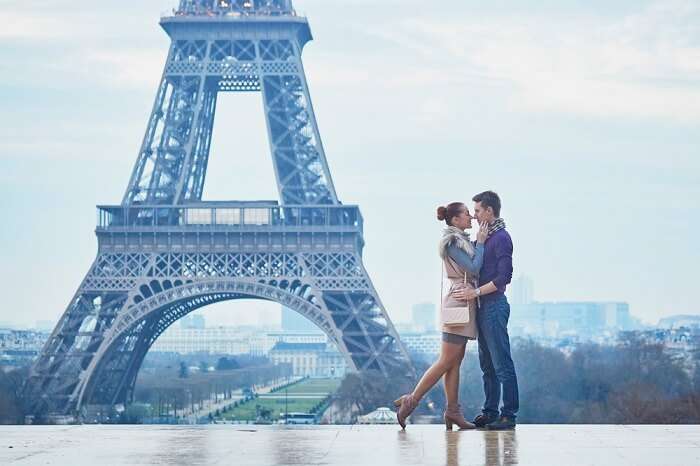 Curing all the post-wedding blues, a honeymoon is something that every couple looks forward to. Though there are many honeymoon things to do in the typical itinerary way, the beauty of how to make honeymoon special for him or how to make honeymoon special for her lies in sheer simplicity.
What to do on honeymoon is one question that often baffles the newly weds. To do away with this confusion, we've listed 16 most romantic things to do on honeymoon. Take a look at this list and choose the best honeymoon activities that you would want to indulge in with your loved one!
16 Romantic Things To Do On Honeymoon
If you're having a hard time planning your honeymoon, then the list provided here may prove to be helpful. Browse through the list of things to do on your honeymoon that'll help you prepare your itinerary without any hassle.
Start With A Romantic Sunrise
Hit The Road
Get Adventurous Throughout The Day
Dance The Night Away
Interact With Nature
Choose To Cruise With Your Partner
Try Your Luck At A Casino
Stargaze Through The Night
Experience The Luxury
Indulge In Festivities
Capture Every Moment
Don't Forget The Date Night
Visit A Winery
Go For An Exotic Lunch

Become A Little Adventurous

Indulge Yourself In Exciting Water Sports
1. Start With A Romantic Sunrise

As old school as it may sound, witnessing a sunrise with your life partner is indeed the answer for how to make honeymoon special. Feeling the romance in the air and allowing the first rays of sunlight to lighten up your smiles will surely enable you to begin your journey on a bright note.
Places To Visit: Cape Mulinu'u in Samoa, Zimbabwe, Cambodia, Pacaya volcano in Guatemala and Skaros in Santorini
Other Things To Do: Go swimming with turtles and surfing in Samoa; Wildlife safari in Zimbabwe; Stay in exquisite water villas at Song Saa Private Island in Cambodia; Enjoy volcano hikes, mountain biking in Antigua and kayaking in Lake Atitlan of Guatemala; Hike from Fira to Oia in Santorini.
Must Read: 24 Best Honeymoon Destinations In February To Explore Around The World
2. Hit The Road

Living life as it happens and witnessing the beauty of the unpredictable is what a romantic road trip fills you with on your honeymoon. Pack all the things to take on your honeymoon, get into your car and let love guide your journey.
Places To Visit: Explore India on Manali to Leh road trip, drive along Tasmania in Australia, explore the western coast of America from Los Angeles to Grand Canyon
Other Things To Do: Enjoy a sledge ride in Rohtang, click away in Darcha and bask in the majesty of Leh in India; Go trekking at Mount Amos and visit the volcano called Nut at Stanley in Tasmania; Indulge in camping, fishing, hiking, birdwatching and more at Yosemite National Park and go backcountry hiking at Grand Canyon; Hug a Billabong Koala at Port Macquarie, snorkel and kayak at Byron Bay.
Suggested Read: 11 International Road Trips You Can Take With Your Indian Driving Licence
3. Get Adventurous Throughout The Day

The trend of doing something different and unique on honeymoon is actually on the rise and even you can choose to experience adventurous things to do on honeymoon. From sky diving to paragliding, there is no activity that one can't try to make their honeymoon special and memorable. If you're looking for fun things to do in Maldives on honeymoon, then you must add this in your itinerary.
Places To Visit: Havelock Island in Andaman, Gurabo in Puerto Rico, Kauai in Hawaii and Victoria Falls in Zambia
Other Things To Do: Enjoy the best scuba diving experience at Havelock Island as it is one of the fun honeymoon activities, Go kayaking, paddle-boarding, and zip-lining at Gurabo; Enjoy hiking on a round trip of the 22 miles long Kalalau Trail on the Napali Coast in Kauai; Swim in the Devil's Pool through Zambezi river in Zambia.
Suggested Read:18 Most Romantic Things To Do In Sydney: Must Experiences For Honeymooners!
4. Dance The Night Away

Believe it or not, dancing is still one of the most fun honeymoon things to do. In a world where virtuality has taken over everybody's senses, dancing with your spouse is like a cherry on the cake that brings two hearts closer and allows a couple to spend more of intimate and quality time with each other.
Places To Visit: Buenos Aires in Argentina, Vienna in Austria, Costa Rica in Northern America and Cuba in the Caribbean Islands
Other Things To Do: Be the perfect two to Tango in Buenos Aires, get closer with Waltz in Vienna, enjoy the intimacy of Merengue in Costa Rica and burn the dance floor with Salsa in Cuba.
Suggested Read: 35 Unusual Honeymoon Destinations Not Meant For Ordinary Couples
---
Planning your honeymoon but confused about where to go? These honeymoon stories help you find your best honeymoon trip ever!
---
5. Interact With Nature

Natural beauty and wildlife attracts a lot of couples who bond in a much better way when their love for animals knows no limits. Animals have turned out to be more human now days and if you and your partner are animal lovers, then interacting with wildlife & nature can lead to better bonding and wonderful times ahead.
Places To Visit: Kenya in East Africa, Kwandwe in South Africa, Ranthambore National Park in India and Pantanal in Brazil
Other Things To Do: Maasai Mara grasslands in Kenya; Holiday with endangered black and white rhino in Kwandwe; Spot the big cats, flying foxes and porcupines in Ranthambore; Encounter the mighty jaguar, capybaras and anacondas in Pantanal.
Suggested Read: 28 Offbeat Honeymoon Destinations In The World Trip You'd Have Never Heard Of!
6. Choose To Cruise With Your Partner

The sky opens its wardrobe and pours down all the love you need which blends perfectly with the exquisite views of blue seas that fills your soul with true romance. This my friend, can only happen on a cruise. Much famed to be an ideal activity for honeymooners, cruising only adds more charm to your romantic honeymoon experience in respective destinations.
Places To Visit: The French Riviera, Australia, New Zealand, Barbados, Santorini and Alaska
Other Things To Do: Visit Nice, France and climb up to La Colline du Château to enjoy the Mediterranean views on your French Riviera cruise; vineyards and museums in Australia; Mountains, valleys and golden beaches in New Zealand; Visit the Gibbs beach and Mullins bay in Barbados; Explore the black beaches of Santorini; Get an overdose of ice and enjoy skiing in Alaska.
Suggested Read: 10 Luxury Honeymoon Destinations To Choose From
7. Try Your Luck At A Casino

One of the best ways to blow the post wedding cash is to try your luck in a casino on your honeymoon. As glamourous as it may sound, you can either get rich with luck by your side or let go off your fortune in seconds. Irrespective of everything, hitting a casino would be one of the best choices you make whether you play Texas hold 'em poker or gamble the night away as it is one of the top things to do on honeymoon night!
Places To Visit: Las Vegas in Nevada, The Atlantis in the Caribbean, Niagara Falls in Ontario and New York
Other Things To Do: Take a casino trip, enjoy fine dining and a desert trip in Las Vegas; Play at one of thousand slot machines, dine at celebrity chef restaurants and explore the aqua center at the Atlantis; Soak the beauty of Niagara falls and explore all three gambling casinos; Tour the Turning Stone Casino, visit the golf courses and relax at the spa in New York.
Suggested Read: 14 Itineraries Including Best Honeymoon Places In And Around Karnataka
8. Stargaze Through The Night

Nothing feels more romantic that spending a night under the stars with your world by your side. Perfect for a laid back night as you snuggle with your better half, stargazing is a must experience for every couple who would love to make their honeymoon special in all the senses.
Places To Visit: Natural Bridges National Monument in Utah, Cherry Springs State Park in Pennsylvania, Northern Lights at Headlands in Michigan, Stargazing at Chaco in New Mexico
Other Things To Do: Enjoy short hikes around the various bridges in Utah; Rent a cabin and explore 85 miles of hiking trails at Cherry Springs State Park; Discover 550 acres of unspoilt woodland and shoreline of Lake Michigan at Headlands; Visit the native American sites at Chaco Culture National Historical Park.
Suggested Read: 11 Sparkling Places That Appear To Be From Another World But Are Actually On Earth
9. Experience The Luxury

Yes we're talking about romantic spa treatments and no it's not just for ladies. Another fun thing to do on your honeymoon is to enjoy a relaxing session of romantic couples massage. Indulge in the reviving massage after which you can spend some quality time with your love in the private showers, jacuzzis and enjoy a perfect day spa.
Places To Visit: Parrot Cay in the Turks & Caicos, Sugar Beach in St Lucia and Cyprus in Europe
Other Things To Do: An outdoor Jacuzzi garden, Japanese bathes and double massage rooms at the COMO Shambhala Retreat, Parrot Cay; Indulge in time for two cabana massage, a watsu pool experience and bathing in volcanic sulphur springs at the Rainforest Spa at Sugar Beach; Soak in the Roman-style thalassa spa and the champagne aphrodisiac at the Anassa hotel in Cyprus.
Suggested Read: Reconnect With Your Inner Self At These 11 Yoga Retreats In India
10. Indulge In Festivities

The more you go out and the more experiences you collect, it will only make your bond stronger over time. Incorporate different festivals, fairs, events and celebrations with your outings on your honeymoon and become the best of buddies with whom you can grow old and yet be young at heart forever.
Places To Visit: Bangkok in Thailand, Terni in Italy and Rotterdam in Netherlands
Other Things To Do: Wish for eternal togetherness at Loi Krathong Festival in Thailand; Pay tribute to the patron of romance, relish an Italian feast and take part in jewelry making competition at St Valentine's Festival in Terni; Indulge in music, dance and wine at Day of Romantic Music in Rotterdam.
Suggested Read: 25 Road Trips In India For Couples That Will Reshape Their Future Together
11. Capture Every Moment

Every moment whether candid or not, needs to be captured and that's how you make memories and live them again and again for a lifetime. Capture every moment so that you have enough experiences that are worth getting framed and being up there on that wall.
Places To Visit: The French Polynesia, Hawaii, Maldives, South Africa and Bali
Other Things To Do: Stay in water villas and go diving in French Polynesia; Visit Oahu, Maui, Kauai, the Big Island and Lanai in Hawaii; Stay at the exotic water bungalows and enjoy shark and sting ray feeding in Maldives; Explore the Kruger National Park, Relish Sauvignon blancs in Franschhoek and experience bungee jumping in South Africa; Visit the Monkey Forest, Tanah Lot temple, taste the Kopi Luwak coffee and go scuba diving at Benoa beach.
Suggested Read: 24 Utterly Romantic Things To Do In Maldives On Honeymoon
12. Don't Forget The Date Night

Whether it's a candlelit dinner, fine dining, a moonlit picnic or a movie night, date nights should neither be confined to particular occasions nor should they be ever avoided. Come whatever may, date nights of every kind are the soul of every relationship that binds the couple together.
Places To Visit: Florence in Italy, Carmel in California, St. Moritz in Switzerland, Islamorada in Florida and Koh Tao in Thailand
Other Things To Do: Sunset from Piazzale Michelangelo in Florence; Drive down to Pacific Coast Highway for a romantic road trip in Carmel; There's skiing of course and experience a ride to remember on a horse-drawn carriage in St. Moritz, Switzerland; Stay in one of the luxury resort and enjoy the romantic sunset views in Islamorada; Indulge in scuba diving and a romantic dinner in one of the restaurants lit by lanterns overlooking the beach in Koh Tao
Suggested Read: 15 Most Romantic Places To Propose For Getting A Definite 'Yes'!
13. Visit A Winery

Image Source
Make your travel experience worthwhile by visiting one of the local wineries here and taste some of the best wines. Some of these wineries will also arrange for the most romantic dinner experience for you – this will definitely be one of the best things to do on honeymoon in night. 
Places To Visit: Mission Hill Winery (Canada), Chard Farm Winery (New Zealand), Marques de Riscal (Spain), Chateau Ducru Beaucaillou (France), Holden Manz Winery (South Africa), Lavaux Vineyards (Switzerland), Yarra Yering (Australia), Domino Del Plata (Argentina), Leeuwin Estate Winery (Australia)
14. Go For An Exotic Lunch

Image Source
Having  exotic meal with your loved one will be one of the most memorable and crazy things to do on honeymoon. You can some of the most delicious Mexican dishes or a lip-smacking lobster. Going for an exotic lunch at the beach will become the highlight of your day. 
Places To Visit: Ithaa Undersea Restaurant (Maldives), Ninja New York (U.S.A), Waterfall Restaurant (Philippines), Cave Restaurant (Africa), Redwoods Treehouse (New Zealand), The Bubble Room (Florida)
Suggested Read: 15 Romantic Airbnbs In India That Will Make You Fall In Love All Over Again
15. Become A Little Adventurous

Couples who always seek thrills in every activity they do together will adventure on their honeymoon trip days. Involving in some adventurous activities on a honeymoon trip is today's trend. Couples on the days of their honeymoon trip can experience a lot of activities starting from skydiving to paragliding which are enough to make their honeymoon special and memorable as well. 
Places to visit: Havelock Islands of Andaman, the Victoria Falls of Zambia are some of the places that can be picked for planning for Honeymoon.
Other Things To Do: Scuba Diving, shorts and easy treks are few activities that can be planned for the Honeymoon trip. The Havelock Island Swim in Devil's Pool must not be missed while travelling to Andaman.
Suggested Read: Dreaming Of An Exotic Honeymoon In Switzerland? Make It Happen
16. Indulge Yourself In Exciting Water Sports

Besides the passion for adventure, if you want to explore your partner more on your honeymoon trip then, indulging yourself in some exciting water sports shall not be missed from your bucket list. Therefore, while you are planning your honeymoon trip you need to pick the destinations which are popular for its adventure sports. There are a lot of adventure sports in water and you can pick out these sports and get thrilled in it. Define your intimacy quotient a new dimension and get indulged in thrilling experience together. So, experiencing the high adrenaline rush through some exciting water sports is what you need to do on your honeymoon trip.
Places to visit: Rhodes, San Diego, Miami 
Further Read: 3 Best Things To Do Near Somerset For Honeymoon For A Romantic Vacation In Singapore!
Irresistible isn't it? For those who're planning their honeymoon, it is a must to checkout the list of things to do on honeymoon mentioned above. Your international honeymoon will be an unforgettable experience for the two of you if you plan it the right way. Know more of such romantic honeymoon things to do? Share them with us in the comments below and we'll be more than happy to add them to this list.
Disclaimer: TravelTriangle claims no credit for images featured on our blog site unless otherwise noted. All visual content is copyrighted to its respectful owners. We try to link back to original sources whenever possible. If you own rights to any of the images, and do not wish them to appear on TravelTriangle, please contact us and they will be promptly removed. We believe in providing proper attribution to the original author, artist or photographer.
Frequently Asked Questions About Things To Do On Honeymoon
What is the purpose of the Honeymoon?
Honeymoon is a special time for every couple that gives them quality time to make their bond strong, chill, relax and celebrate the relationship and reflect on how to proceed further their relationship.
What all precautions do we need to take while planning to go on a honeymoon?
As a couple, it is highly recommended to take all the necessary precautions that include wearing masks all the time, regular use of sanitisers and maintaining social distance wherever possible.
What is a Honeymoon baby called?
A honeymoon baby is an amalgamation of baby and honeymoon. In simple terms, if the couple is expecting a baby soon after their marriage that calls for celebrating, responsibilities and much more.
What should you avoid doing on your honeymoon?
A couple must avoid making certain pitfalls while they are packing to celebrate the best time of their married life such as :
1. Try to avoid carrying too much luggage.
2. The Couple must not carry any work laptops with them.
3. Try to avoid carrying any expensive items.
How to pamper yourself on your honeymoon?
The couple must go for romantic spa treatments not just for the females but as a couple. This would be relaxing and the couple would get time to spend some quality time with their loved one in Jacuzzis and private shower.
How can I make my honeymoon night special?
You can make your international honeymoon experience all the more interesting by:
1. Go for a special date night
2. Choose to undergo experiences that'll bring you two closer like walking in nature
3. Go club hopping
How do you celebrate your honeymoon?
Every couple likes to spend their honeymoon by indulging in romantic things like a dinner date, exploring quaint places, club-hopping, and adventurous activities. You can include all the things that you like to do in your itinerary to make your honeymoon a special one.
How can I surprise my husband on the honeymoon?
You can book a dinner date on a cruise, go for a couples massage, plan for a surprise gift, opt for adventurous rides or visit a winery and taste different wines.
---
Looking To Book Your Honeymoon Package?
---
People Also Read:
Honeymoon In Abu Dhabi Honeymoon In Goa Things To Do On Honeymoon In Mauritius