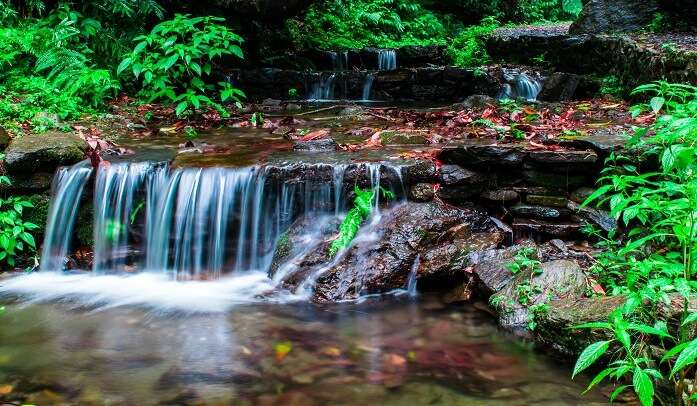 Everyone loves to spend some days amidst lush greenery and cool breeze. To soothe your soul and get a break from the daily work schedule, you need to spend a vacation amidst nature. Nature provides positive vibes which will help you to shed all of your stress. The vacation amidst nature will act as a stress buster. Since, Himachal Pradesh and Uttarakhand are always on mind for a vacation in India, let's check out the possible options. There are several offbeat destinations in Himachal Pradesh which are still untouched by industrialization. One such place is Jibhi which is full of greenery and surrounded by colorful birds and flowers. If you are planning to explore this offbeat place, then you must cover the best places to visit in Jibhi.
8 Best Places To Visit In Jibhi
These are some of the best tourist places in Jibhi which provide maximized visual treat. Getting a brief knowledge will provide you with detailed data about the next vacation planning. Keep scrolling down and read all about the places and what are they famous for!
Jalori Pass: For Pine Trees And Rocky Hills
Serolsar Lake: For A Mesmerizing Visual Treat
Kullu: For Adventurous Activities
Chehni Kothi: For The View Of Lush Green Forest
Raghupur Fort: For History Lovers
Great Himalayan National Park: For Witnessing The Flora And Fauna
Jibhi Waterfalls: For A Serene Escape
Shringa Rishi Temple: For Meditation And Tranquility
1. Jalori Pass: For Pine Trees And Rocky Hills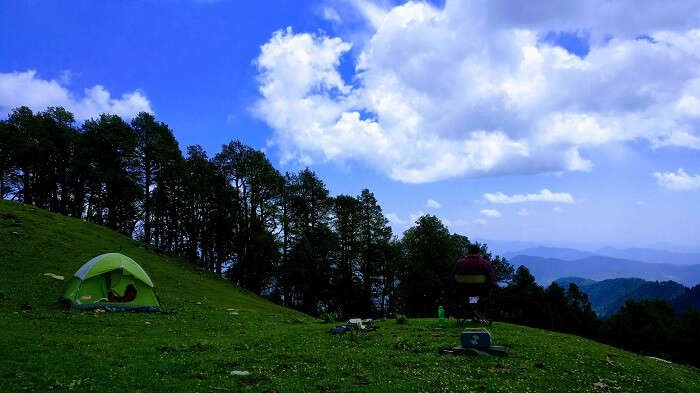 The distance of the Jalori pass from Jibhi is 12km. It is located at an elevation of 3000metres. This is a beautiful place where you can get dislodged in nature. You can listen to the minimal whispers of nature and also the sound of the breeze that flows. It is a must-visit place due to serenity brought due to the pine trees and the beautiful shapes of rocky hills. The surrounding of this place is mesmerizing, which makes it a must visit.
The encounter with some amazing plant life and wildlife, while passing by will let you know about the true aspects of nature. In a nutshell, the scenic beauty of this place makes it worth a visit. The feeling of being relaxed, tranquillity and free from the hectic world is the foremost reason to travel here. It simulates the paradise on earth. You should pack the desired clothes as per the season here. A trip between November to March needs proper woolen clothes as that is wintertime in this region.
Location – Kullu District, Himachal Pradesh
Best Time To Visit- Jalori Pass becomes accessible in April and remains so until early December next winter.
Entry Fees – None
Must Read: 17 Stunning Lakes In Himachal Pradesh That Are Absolute Natural Wonders
2. Serolsar Lake: For A Mesmerizing Visual Treat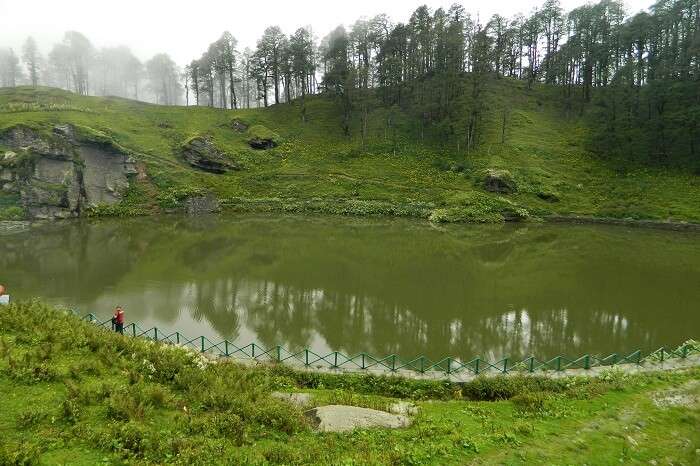 Another one in the list is Serolsar Lake which is one of the most beautiful places to visit in Jibhi. It is covered up amid thick woods secured with pine trees. The lake lies calmly and is a visual treat to watch. Lake deceives the east of Jalori Pass, which is at an elevation of 3040 meters. It is a simple trail of five km, which begins from Jalori Pass. Trekking is the main choice to arrive at the lake.
Lounge around this lake or plunge your feet into the water to restore your spirit. Aside from fanciful visual treat, there is one fascinating truth related to the lake. Even though various Silver Oak trees encompass lake, one can't see even a solitary fallen leaf on the outside of the lake. This is a direct result of two sparrows named Aabo that live close to the lake. Local people accept that at whatever point a leaf falls on the outside of the lake, these sparrows quickly take the leaves out. This is one of the most interesting stories related to this lake.
Location – Tirthan Valley, Himachal Pradesh.
Best Time To Visit – March-June, October-November
Suggested Read: Himachal Pradesh In May: 16 Places To Escape The Busy Life In Summer 2022
3. Kullu: For Adventurous Activities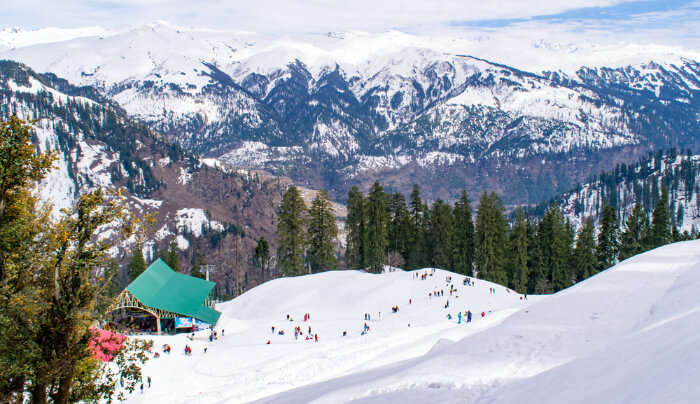 It's prominent for its mountains, nature, and trekking. Kullu is visited by the vast majority in the preferred month of May, October, November, and December. It is situated at an elevation of 1229m is a decent spot to visit in Himachal Pradesh. Getting increasingly more prevalent with time. Kullu doesn't have train availability. It is very well defined for coming here using flight or transport. It's additionally associated with street so you can hire a taxi, or self-drive to reach here on the off chance that you like.
December and January during winter watch most reduced temperatures going from −4 to 20 °C, with some snowfall. Evenings and mornings are freezing during winters. Yearly most elevated temperatures in summer range from 24 to 34 °C from May to August. The atmosphere is charming in October and November. The Kullu valley is known as the "Valley of the Divine beings" or "Dev Bhumi" because of numerous journey destinations for almost all religions which makes it peaceful. If you are looking for places to visit near Jibhi then you must explore Kullu on your vacation. 
Things To Do:
Trekking Around Prashar Lake
Rafting In River Beas
Paragliding In Kullu Hills
Camping Under The Stars
Places to Stay:
Royal Mansion
Himalayan Apple Zoo
Vivaan Resorts Kullu
The Shalangco Villa
Hotel Kullu Valley
Ideal Duration: 1 Night/2 Days
Packages Starting From: 9,999/-
Location – Himachal Pradesh
Best Time To Visit – March-June
Suggested Read: 11 Travel Tips For Himachal Pradesh That Will Come In Handy For Your Trip In 2022
4. Chehni Kothi: For The View Of Lush Green Forest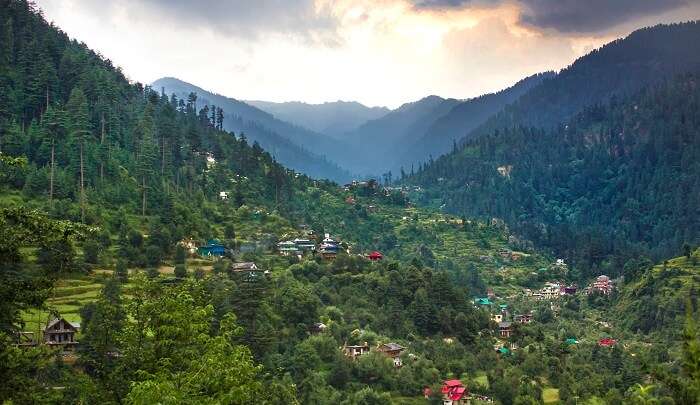 This tower is made up of stone and wood. The name this Kothi has got from the village named Chehni village. It is situated in the Jibhi valley just beside the Tirthan valley. You have to walk through the area as there are no roads present. It almost takes an hour to reach the destination. You can start walking either from the Shringa Rishi gate or from the villager Bihar.
These starting points are reached through the link road. The foreigner's entry in the temple is not allowed at all. Although there's a mud street of sorts, coming to Chehni is as a rule by foot, utilizing about 1km of woodland trails, beginning 100m from Shringa Rishi Temple. The view of this Kothi is very scintillating. The added advantage is the lush green forest around the area makes it a must-visit site for tourists.
Location – Banjar, Himachal Pradesh 175123
Timing – Opens at 9 am
Suggested Read: 15 Places To Visit In Himachal Pradesh In December 2022
5. Raghupur Fort: For History Lovers
Raghupur Fort is a notable spot which is accepted to be worked by Mandi rulers, to shield themselves from the intrusion. At present, not a lot is left of it except the external part of the dividers. In any case, what makes visiting this fort progressively fun is the best approach to arrive at it. A walk or rather a move of 3 km from Jalori Pass, the way gets more extreme during the last kilometer. The way is secured with lavish green oaks with the extraordinary Himalayas in the scenery.
A little lake is available inside the premises of the fortress. A Himachali fortress, just the pillars, and stays standing today. Raghupur Fort has key perspectives on the Seraj Valley. Jalori Pass and close by towns are known for woodwork and creativity. The most of this fort is made of stone and pieces stay to mean that. The historical backdrop of this spot has been lost in the chronicles of time. Possibly it was a guarded stronghold made by a neighborhood lord or ruler.
Location – Karshai Gad-ii, Himachal Pradesh 175123
Suggested Read: Top 12 Waterfalls In Himachal Pradesh That Treat Your Eyes To The Best Sights Ever!
6. Great Himalayan National Park: For Flora And Fauna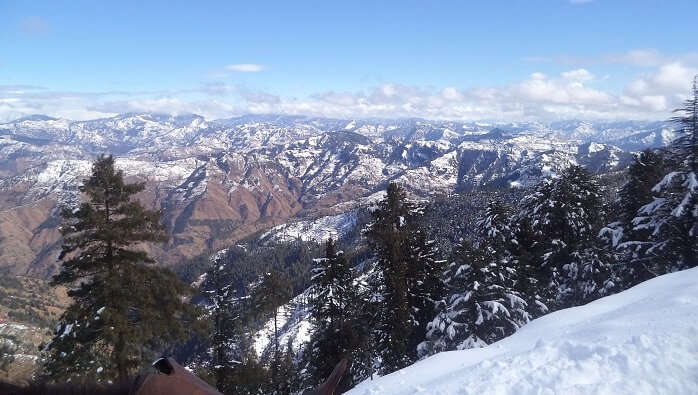 A visit to this destination is incomplete without exploring this national park as it is one of the top places to visit in Jibhi. This is a place that will increase the thirst for natural flora and fauna. It has also a vivid fishing option which makes it worth a visit. This place is the best and most favourable spot for poaching, due to which several serious steps have been taken to protect this belt. It is quite famous among tourists.
If you want to visit this place you should take special permission. The best of climate and beautiful flora and fauna, March, April, May, June and Mid-September, October and November are the best time to visit the Great Himalayan National Park in Himachal Pradesh. This national park features more than 100 plant species which also consists of medicinal herbs. It has a variety of herbs such as pine, chestnut, spruces to junipers and alpine herbs.
Location – Forest Office Rd, Shamshi, Himachal Pradesh 175126
Entry Fee – The permit charge for Indian visitors INR 100/day, for foreign nationals is INR 400/day
Timing – 24 hours
Suggested Read: Kerala Vs Himachal For Honeymoon: Which Is The Ideal Retreat For Newlywed Couples?
7. Jibhi Waterfalls: For A Serene Escape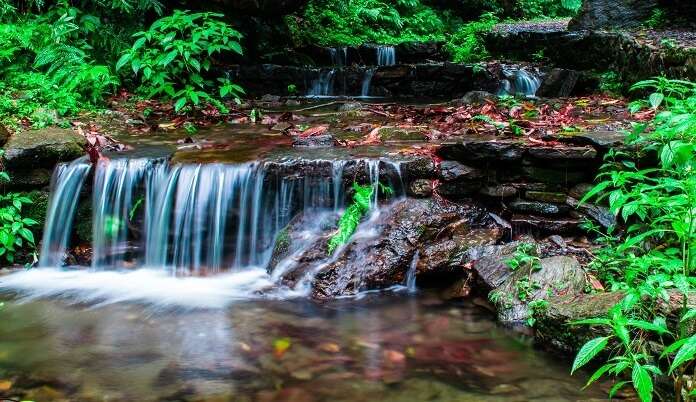 The Jibhi Waterfalls is covered up inside the woods that can't be seen until you are well inside the thick timberland. The spouting of water streams like music makes the entire spot charming. Little wooden scaffolds are worked close to the waterfall that gives a pleasant perspective on the spot. Along these lines, you can sit close to the waterfall and appreciate the music of nature. The cascade was simply pleasured. It was washing over the stones blissfully with water roaring down into the pool like a monstrous water gush.
At the point when it toppled into the happiness pool, it frothed it at the base. This waterfall gives a virtual treat by which you get completely awestruck. The normal stream and the connection to nature can give a feeling of satisfaction. The rest of the pool was as clear as cellophane, empowering us to see down into the rough base. Parts of backwoods green plants waved tenderly in the waves. The waterfall resembled a sheet of the blue blanket of foam as it washed down.
Places to Stay:
The Himalayan Wild Retreat
The Hostalgic Jibhi
Pine Valley Cottage and Cafe
Rock Top Inn Jibhi
Pinewood Mud Cottage 
Packages Starting From: 10,500/-
Location – Tandi, Himachal Pradesh 175123
Timing – 24 hours
Suggested Read: Himachal Pradesh In April 2022: An Escape For Our Family To Unveil The Wonders Of The Hills
8. Shringa Rishi Temple: For Meditation And Tranquility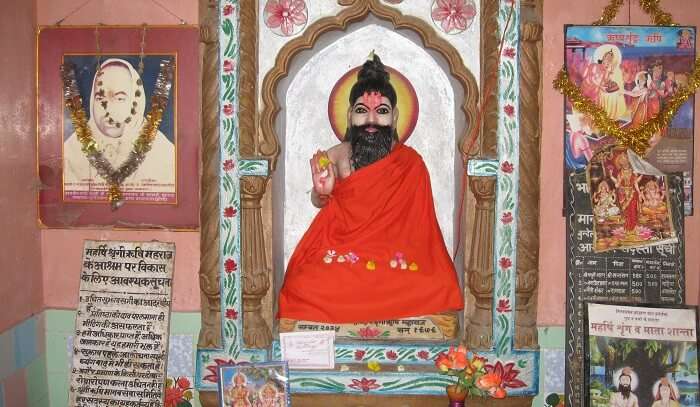 This temple is visited by numerous people and is one of the most famous Jibhi tourist places. They come here, pray and seek blessings. This temple is surrounded by natural greenery and flowers which makes the visual of this temple mesmerizing. The temple is at an elevation which provides the telescopic view of the whole place. This is an important religious center for locals. The locals worship the deities of this temple, they consider this temple as very sacred.
The locals have their thinking that the temple is responsible for their well-being. Shringi rishi is one of the eighteen chiefs of this place. This sacred place is devoted to sage Rishyasringa, who was the amazing holy person of Kashyapa's heredity. Shringi Rishi was an incredible holy person of the Ramayana time and his dad was a holy person Vibhandak Rishi. Master Shringa is the managing divinity of this disconnected valley named Banjar. The relatives of Shanta and Rishyasringa are Brahmins in the Rajasthan state known as Shringi/Sukhwal Brahmins.
Location – Banjar, Himachal Pradesh 175123
Timing – 6:00 AM to 8:00 PM
Further Read: 12 Snowfall Places In Himachal Pradesh: A List For Your 2022 Trip
Taking some time from your hectic work schedule and enjoying a vacation is mandatory. It provides a unique and stimulating experience. Moreover, the lush green valley like Jibhi has all those scintillating places which bring fresh vibes. The places to visit in Jibhi are vivid and consist of various visual treat. All the places in Jibhi are enormously breathtaking. Numerous waterfalls, historical temples, and serene valleys provide a unique level of vividity to this place. So, are you planning to cover Himachal on your next vacation ? Then, be ready for some adventure and the most beautiful sunrise views.
Frequently Asked Questions About Places To Visit In Jibhi
Which is the best place to visit in Jibhi for getting a mesmerizing view of mountains?
The best place to get a view of the mountains is Kullu which is located near Jibhi. This hill station is popular for its beautiful mountain visuals.
Does Jibhi consists of the hotel which provides accommodation to the tourists?
Yes, this offbeat place consists of ample hotels and resorts, which can fulfill the basic need of accommodation for tourists.
Can we avail of booking facilities for the accommodations in Jibhi?
Some of the hotels provide the facility of booking as this is an offbeat place that truly believes in raw practices.
What are the different recreational activities can we experience in Jibhi?
There are various possibilities for recreational activities in Jibhi. You can experience trekking, camping, sightseeing, etc. here with much ease.
Can we get budgetary bookings for different activities such as sightseeing, accommodation, and transport in Jibhi?
As Jibhi is not so popular among tourists, you can get budgetary expenses while spending a holiday here. This is one of the most low-cost destinations for spending a vacation.
Is Jibhi an urban or rural area? Do we get all the essentials consumables here?
Jibhi is not an urban area or a rural area. This place id untouched of lame industrialization, which is the plus point. Yes, you can get all the essentials consumables here.
What are the options for transportation in Jibhi?
You can rent a vehicle and also opt for local transport. Railway connectivity for this place is not that good.
Is Jibhi suitable for spending a family vacation?
Yes, Jibhi provides all the amenities which are essential for spending a holiday with your family. Different recreational activities provide a unique experience.
---
Looking To Book A Holiday Package?
---
People Also Read:
Places To Visit In Bhuntar Places To Visit In Kasol Places To Visit In Kalpetta