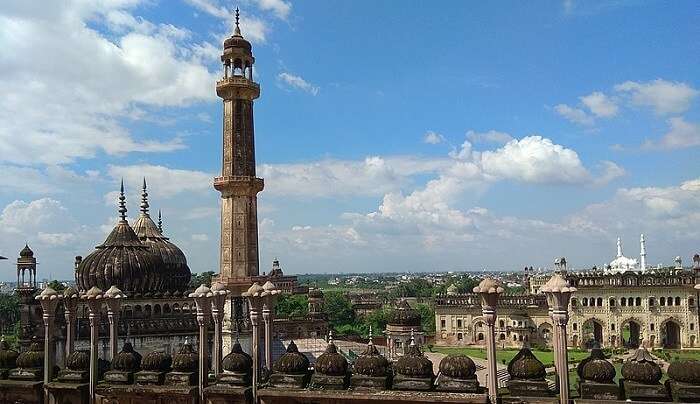 What defines the city of Lucknow is its past that converted into a great present – which later laid foundations for the future – The NOW! The city gained prominence in the 18th-century Mughal rule and flourished under the Nawabs. We are talking about a culture that has survived over the years and one that has clearly left a mark at all the places to visit in Lucknow. It's development, not just of the infrastructure but development in terms of architecture, religion, art and culture – one that is the true binding force of Lucknow. You will get the sheer cultural generosity in Lucknow's food, establishments, monuments and people! We'll go over a few awesome places, some facts and how to reach the "city of Nawabs." Read on!
16 Best Places To Visit In Lucknow
So, here is a list of places to visit in Lucknow that will give you the opportunity to explore a dominant culture that once prevailed in the country. On top of that, the modern Lucknow sightseeing destinations have been built to accommodate the modern demands of the people. Scroll below to know more about Lucknow:
1. Bara Imambara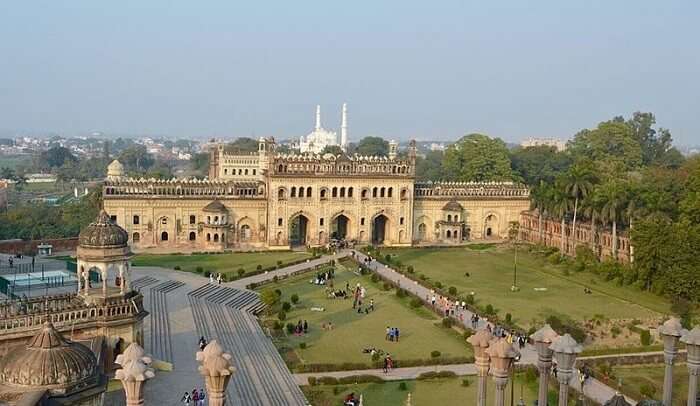 Image Credits: Yash Seth for Wikimedia
Bara Imambara is a striking monument that distinguishes itself from all the famous places in Lucknow. The historical landmark is a big complex consisting of the Asfi Mosque, the Bhul-bhulaiya and a Bowli. The Bowli (or maze) is the most popular part of the complex. The architecture resembles the ornamented Mughal design which does not include the use of iron or European architecture.
Location: Machchhi Bhavan, Lucknow, Uttar Pradesh 226003
Privately Run Tejas Express From Lucknow To Delhi Is The First In India
2. Lucknow Zoo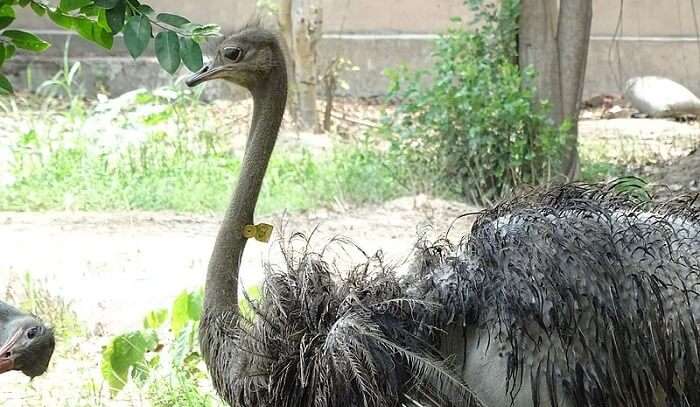 Image Credits: Ajai Verma for Wikimedia
Also popular as the Nawab Wajid Ali Shah Zoological Garden, it is a place to catch hold of some natural splendour within the city. Out of all the amazing tourist places in Lucknow, the zoo will help you discover beautiful wild nature. The zoo was inaugurated on 29 November 1921. There are plenty of ways to explore the zoo including walks, boating, battery vehicle, toy train ride and plenty more attractions. You can spend about 4-5 hours without looking at your watch.
Location: Hazratganj Road, Opp to Civil Hospital, Lucknow, Uttar Pradesh, 226001, India
3. Ambedkar Memorial Park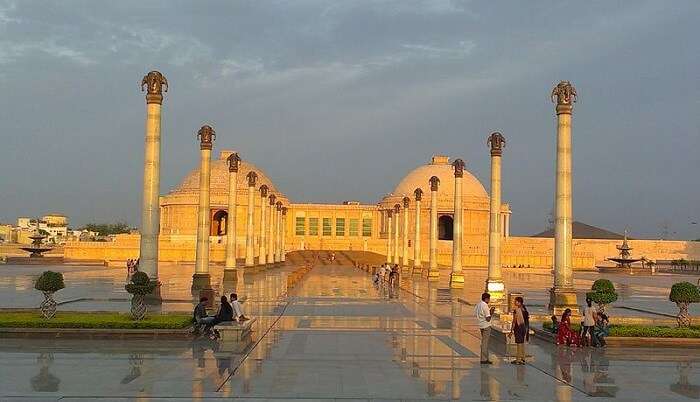 Image Credits: Ejaz Rizvi for Wikimedia
Ambedkar Memorial Park is a public area and memorial dedicated to Dr. B. R. Ambedkar. One of the finest tourist places in Lucknow, the park is spread across a massive 107 acres while the monuments inside are made with red sandstone from Rajasthan. Several monuments inside include Ambedkar stupa, a sangrahalay, a photo gallery, pratibimb sthal, and the drashya sthal.
Location: Vipul Khand 2, Vipul Khand 3, Vipin Khand, Gomti Nagar, Lucknow, Uttar Pradesh 226010
 20 Places To Visit In Agra: Explore the City Beyond Taj Mahal In 2022
4. The Residency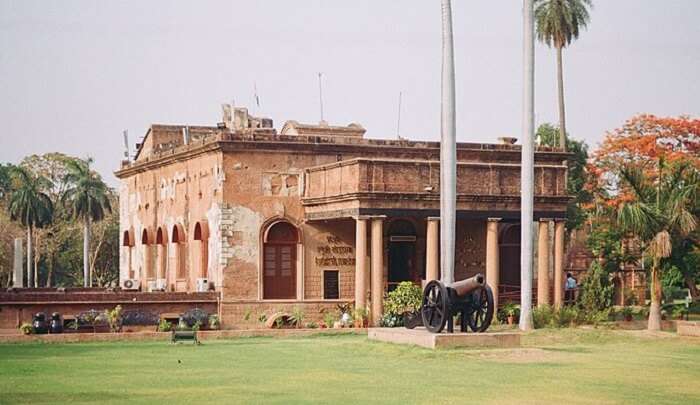 Image Credits: Veera for Wikimedia
A Residency is a group of several buildings in a residential complex from the Nawab era. Built during the rule of Nawab Saadat Ali Khan II, the residency was part of the 1857 siege of Lucknow. Although, currently in ruins, the cannon shots and shattered walls tell the story of war. The ruined buildings are now surrounded by flower beds and lawns making it one of the famous places in Lucknow for tourism.
Location: Mahatma Gandhi Marg, Deep Manak Nagar, Qaisar Bagh, Lucknow, Uttar Pradesh 226001
5. Janeshwar Mishra Park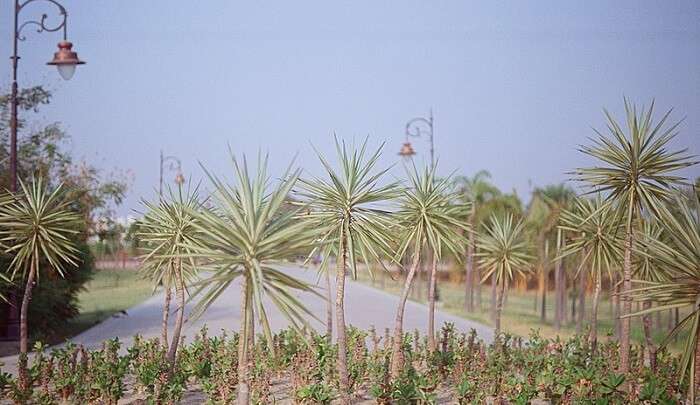 Image Credits: Veera for Wikimedia
Welcome to an urban park in the city meant to rejuvenate the city people. As a tourist, the park would act as a pleasant gift to you. Situated at the city's heart, the park is conceptualized as an eco-friendly zone. With a vast area, it is one of the largest parks in Asia and one of the best places to see in Lucknow. The recreational greenery near the Gomti river will make you fall in love with the place.
Location: Gomti Nagar, Lucknow, Uttar Pradesh 226010
 43 Famous Historical Places In India To Visit In 2022
6. Lucknow Museum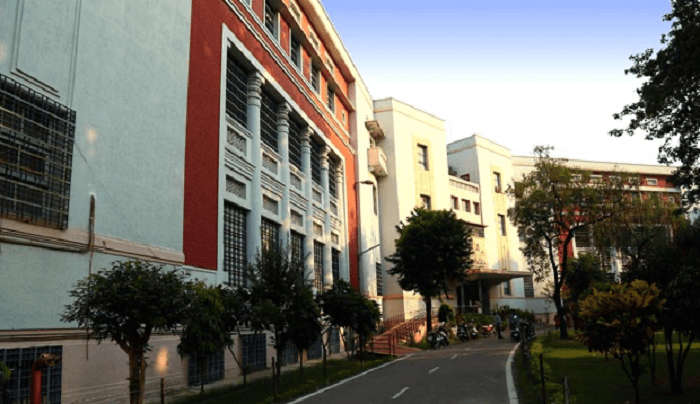 Wouldn't you say, you want to learn about some very ancient history. Then here is one of the finest places to see in Lucknow that is perfect for that. The four-storey Lucknow state museum has some of the finest displays from the stone age, exhibits and galleries showcasing Jain art, sculptures, archaeology, Nawabs and ancient coins. Read enough? The history enthusiasts will very much love this place and so would the general tourists and college children.
Location: Narhi, Hazratganj, Lucknow, Uttar Pradesh 226001
7. Hazratganj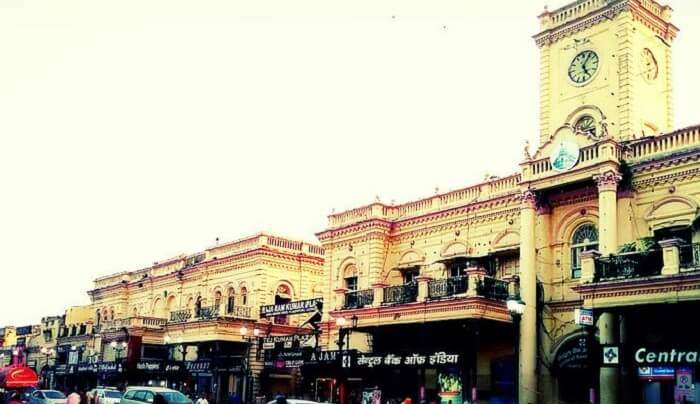 Image Credits: Mohit for Wikimedia
Ok! Let's forget the history for a second, although it's too prominent in all the places to visit in Lucknow. Have you heard of Hazratganj? Well, it's a downtown area of the city and apart from the bustling markets and bazaars, you will find lip-smacking Mughlai cuisine, movie theaters, entertainment zones, hotels and some of the best restaurants in Lucknow. While you will find a lot of traditional apparel to buy, you will also find lots of bookshops. The historical buildings also add another dimension to Hazratganj.
Location: HazratganjLucknow, Uttar Pradesh 226001
 These Richest Cities In India Let You Witness The Best Of Modern Lifestyle & Old World Charm In 2022!
8. Jama Masjid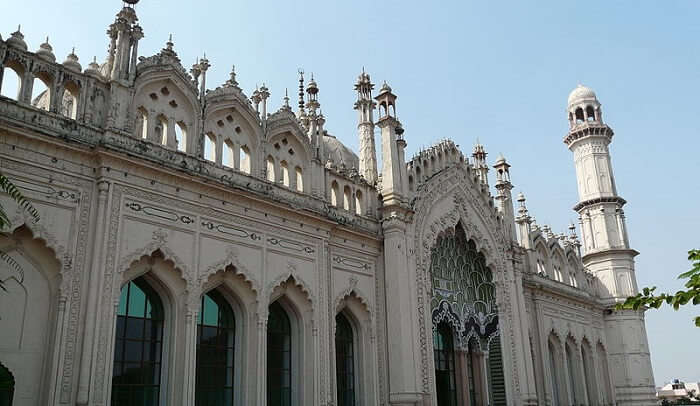 Image Credits: Varun Shiv Kapur for Wikimedia
Your Lucknow sightseeing is incomplete without visiting the popular Jama Masjid. How else will you learn more about the culture that's been immensely dominated in the city over the years? Take this 15th-century architectural wonder with sparkling white sandstone calligraphy on its walls, charming minarets and picture-perfect domes. With over 260 pillars and 15 arched domes, the intricate stonework and carvings make it one of the finest mosques in India.
Location: Hussainabad Peer Bukhara, Hussainabad, near Unity College, Lucknow, Uttar Pradesh 226003
9. Anandi Water Park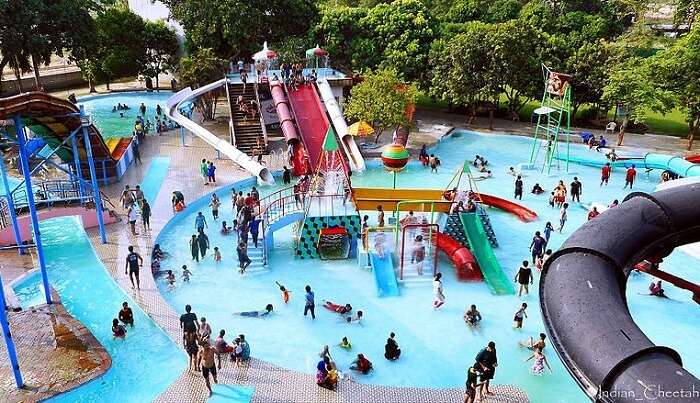 Image Credits: Prabhat for Wikimedia
Time to take another break from the striking city culture. Visiting with family, here to convince you is indeed one of the best places to visit in Lucknow that will definitely attract your kids. The very awesome Anandi Water Park is a recreational zone with thrilling rides, water slides, a wave pool and a lazy river. With a massive fun area and an even bigger resort and club area, it is one of the biggest water parks in India.
Location: Canal Road, Faizabad Rd, beside Indira Canal, Lucknow, Uttar Pradesh 226028
 60 Best Hill Stations In India In 2022 That You Must Explore At Least Once In Your Life
10. Sikandar Bagh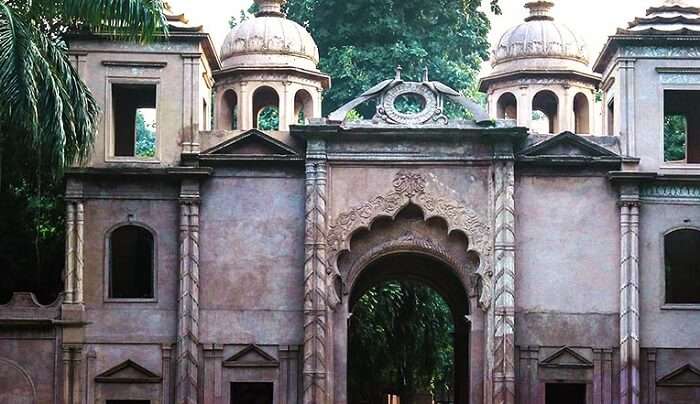 Image Credits: Uttar Pradesh Tourism
The Sikander Bagh is another reminder of the brutality of the "Siege of Lucknow" – which was once the summer residence of the Nawab Wajid Ali Shah. Although it is called a garden, the 120 square yards also houses a villa, some loopholes, a gateway, fortified walls and corner bastions. It might have a violent past but with the Botanical Garden and National Botanical Research Institute, open areas and benches at its centre, it is one of the finest places to see in Lucknow.
Location: Ashok Marg, Gokhale Vihar, Civil Lines, Lucknow, Uttar Pradesh 226001
11. Chattar Manzil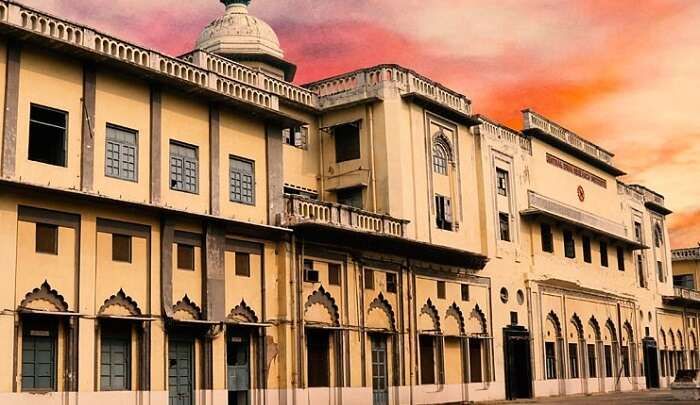 Image Credits: Uttar Pradesh Tourism
The heritage trail of the Nawabi city never ends! Welcome to Chattar Manzil, another remarkable monument in Lucknow otherwise known as "Umbrella Palace." It used to be the palace for the Awadh rulers and their wives. The monument is an amalgamation of the Indo-European-Nawabi architectural style. The umbrella-shaped domes and large underground rooms are really intriguing making it one of the finest architectural places to visit in Lucknow.
Location: Mahatma Gandhi Marg, Qaisar Bagh, Lucknow, Uttar Pradesh 226001
 14 Vibrant Festivals In August In India: Save The Dates To Rejoice In 2022!
12. Gomti Riverfront Park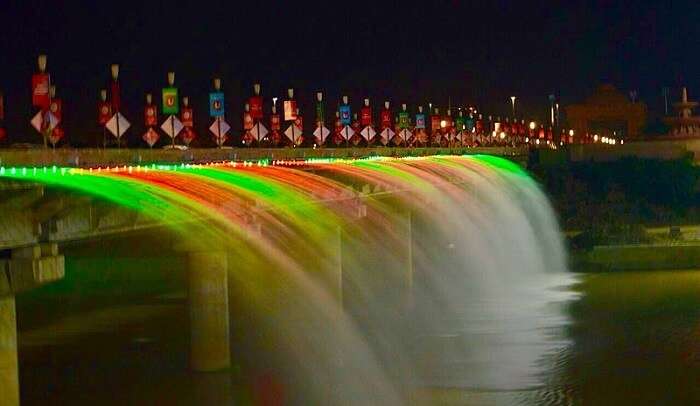 Image Credits: Yash Seth for Wikimedia
The Gomti Riverfront Park is another amazing Lucknow tourist spot that is meant for pure rejuvenation. Situated on the banks of river Gomti, the very lush and aesthetically pleasing attraction makes for a wonderful stroll or picnic. The musical fountains at night, an amphitheatre, dedicated biking area and jogging tracks and boating opportunities definitely make this park a crowd-pleaser.
Location: Jiamau, Lucknow, Uttar Pradesh 226010
13. Marine Drive Lucknow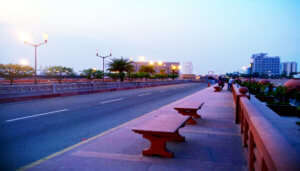 A road adjacent to the Gomti River, named after the famous Marine Drive of Mumbai, is a popular spot among locals. Marine Drive in Lucknow is a hotspot for locals during the evening and morning hours and is famous for providing stunning views of the Gomti River. It has many parks and other lures for people of every age. Providing some of the most breathtaking views of the river, it is a must-visit place on our list of Lucknow places to visit. 
Location: Lucknow, Uttar Pradesh 226010
Agra Fort: A Complete Guide To Explore The Marvellous And Historic Monument In 2022!
14. Rumi Darwaza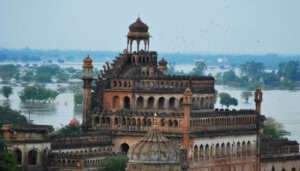 Located between Bara Imambara and Chota Imambara, Rumi Darwaza is a stunning sixty feet tall gateway in the old city of Lucknow. Known for its Awadhi architecture this gateway was built by Nawab Asaf-ul-Daula and is also popular as the Turkish Gate because it was structured after Bab-i-Humayun gateway in Turkey. It is amongst the best Lucknow tourist places due to its stunning architectural structure and perfect location.
Location: 17/11 Hussainabad Road, Lajpat Nagar Colony, Lajpat Nagar, Machchhi Bhavan, Lucknow, Uttar Pradesh 226003
15. Hussainabad Picture Gallery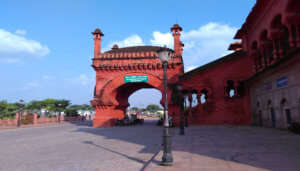 Another one of the best Lucknow tourist places on our list is Hussainabad Picture Gallery. Located close to the Hussainabad Clock Tower and Chota Imambara, the gallery was built in Barderie style architecture and it showcases the portraits of regional rulers. The paintings here have marks of optical illusion, making them more appealing to the visitors. The place also houses a mosque and a lawn.
Location: VWG5+223, Husainabad, Lucknow, Uttar Pradesh 226003
 20 Unbelievable Experiences In India That You Must Add On Your Bucket List To Enjoy An Offbeat Escape In 2022!
16. Nawabganj Bird Sanctuary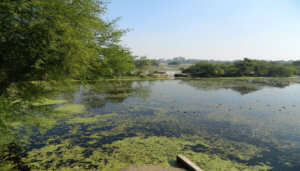 Located in the Unnao district on the Kanpur-Lucknow highway, Nawabganj Bird Sanctuary is one of the most popular places to visit in Lucknow. Renamed as Shahid Chandra Shekhar Azad Bird Sanctuary in 2015, the sanctuary also houses a lake and is one of the many wetlands in North India. Home to over 250 species of birds, one can spot other wildlife as well. Some of the commonly spotted birds here are Peafowl, Sarus Crane, King Crow, Indian Roller.
Location: NH 25, Ravanhar, Uttar Pradesh 209859
Interesting Facts About Lucknow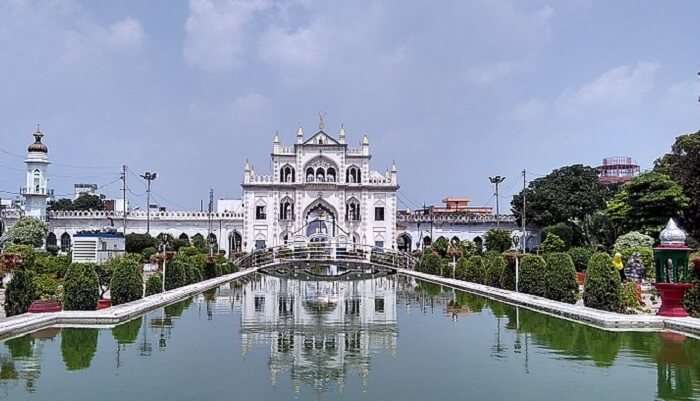 Image Credits: PP Yoonus for Wikimedia
Here are some brief facts about Lucknow which are as interesting as surprising. We are sure of them will pop your eyes out:
The city was founded by Lord Lakshman and was initially called Lakshmanapur
The tallest clock tower in India is located in the city
There are over 9000 CCTV cameras installed all over the urban localities
The Bara Imambara is Asia's largest hall and complex
The Charbagh Lucknow railway station looks like a chessboard from the top.
How To Reach Lucknow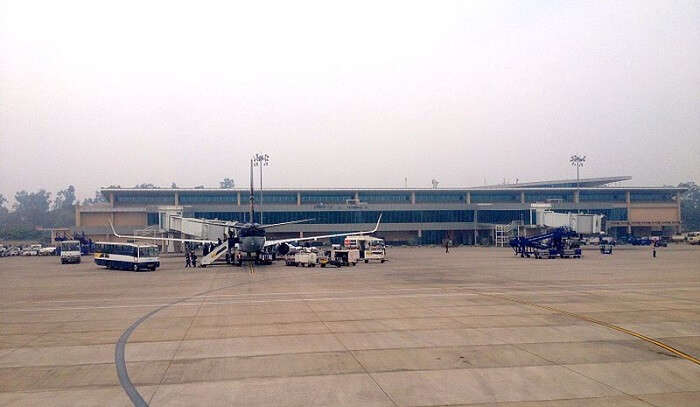 You may reach this amazing city by 2 big modes of transportation including flights and rail. Being the capital city of Uttar Pradesh, there is no problem in reaching this city:
By Air: The Chaudhary Charan Singh International Airport is the major airport serving domestic and international carriers. Regular connecting flights ply from all major parts of the country.
By Rail: Overall, the city has 3 main railway stations i.e. Lucknow Charbagh, Lucknow Junction and Lucknow City serve the city. The Lucknow Charbagh and Lucknow Junction are the major ones that connect Delhi and Lucknow.
30 Unexplored Places In India That Will Totally Stump You In 2022
So, in short, the heritage and culture are fully visible in all the places to visit in Lucknow. Not just heritage, places for shopping, museums, recreational areas do sum up the amazing attractions. This shall definitely be helpful while planning your Uttar Pradesh trip and eventually a tour to Lucknow. So, are you ready to head to this cultural city and share our experience with us? Do not forget to add some other places that we might have missed in the comments!
For our editorial codes of conduct and copyright disclaimer, please click here
Frequently Asked Questions about Places to Visit in Lucknow
What are some of the best things to do in Lucknow?
There are plenty of things to do in Lucknow like dining at the Oudhyana, shopping at Hazratganj, picnic at the parks, and taking a heritage walk organized by the tourism department. Make sure to indulge in these intriguing activities for an enticing Lucknow tour.
When is the best time to visit Lucknow?
Winters are the best time to explore Lucknow which means the months of October to March are your target time of travel. The weather during these months are perfect to explore various attractions without any hassle.
Is it safe to visit Lucknow during covid times?
The Government of Uttar Pradesh prioritizes public health, hence, have issued some safety guidelines such as social distancing, using face masks, applying hand sanitizers, and washing hands frequently, which must be adhered to by all visitors. Tickets should be booked online for contactless entry. Also, in some places for accommodation, visitors should provide their vaccination details for both doses for a hassle-free stay.
Which are the top attractions in Lucknow?
Some of the best places that you must visit in Lucknow are Bara Imambara, Chota Imambara, British Residency, Marine Drive Lucknow, Rumi Darwaza, Ambedkar Memorial Park, Lucknow Zoo, Hazratganj Market, Indira Gandhi Planetarium.
What are some street foods of Lucknow?
Being a city of the Nawabs, the Mughal culture has been deeply infused with the cuisine as well. So, you can find an endless amount of Kebabs, Biryanis, Shawarmas and Kulcha Nihari. Known for the savory street foods, Lucknow comprises several eateries that you can visit during your tour.
Are there any hill stations near Lucknow?
Yes. There are quite a few hill stations near Lucknow- the most prominent of them being Champawat, Bhimtal, Nainital, etc. that are pretty much within 400 km of distance. Many travelers from Lucknow visit these hill stations for a weekend getaway.
Are there any popular markets in Lucknow?
There are a few delightful areas for shopping in Lucknow including Hazratganj, Aminabad, Chowk, Alambagh and Yahiyaganj. You can purchase several intriguing artifacts and explore various renowned eateries at this market.
How many days are required for Lucknow?
A 2-3 days tour is recommended in order to explore the major attractions in Lucknow but if you want to go for a thorough and relaxing vacation, then 4-5 days are sufficient to explore the hidden gems of this place and spend a relaxing holiday simultaneously.
Places To Visit In Auroville Places To Visit In Tawang Places To Visit In Chandigarh
Comments
comments