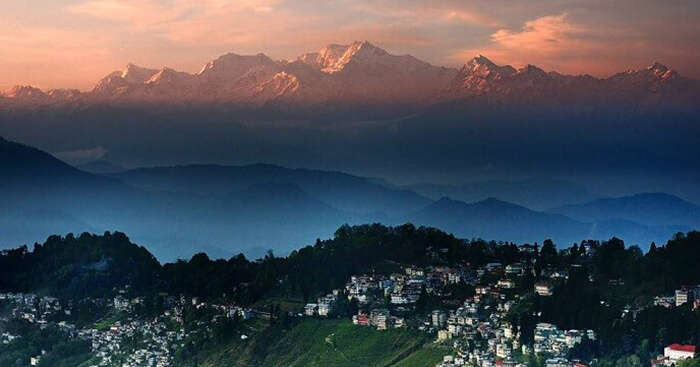 Spread in ribbons over a steep mountain ridge, surrounded by emerald-green tea plantations, and towered over by the majestic Khangchendzonga (8598 m), Darjeeling is among the best hill stations in India. But the list of the most amazing things to do in Darjeeling goes beyond these attractions. The beautiful tea gardens on the slopes of rolling hills, the orchids, pines & rhododendrons, the cute Himalayan toy train negotiating its way through the mountains combined with great sightseeing tours, food, shopping and other exciting activities, there's so much that this stunning town has to offer.
Best Things To Do In Darjeeling
Confused about what to do in Darjeeling? Here is the list of things that you can do while you are exploring the city. Keep scrolling down and read along!
Teesta
Sandakphu
The Toy Train
Himalayan Mountaineering Institute
Padmaja Naidu Himalayan Zoological Park
Tiger Hill
Dooars
Kalimpong
Peace Pagoda
Batasia Loop
Thukpa And Momos
Keventers Restaurant
Churpi
Chowrasta
Bhutia Market
Tattoos
Revolver Hotel
Singalila Jungle Lodge
Darjeeling Blossoms Eco Tourism
Khambuhang Nature Holiday Camp
1. Teesta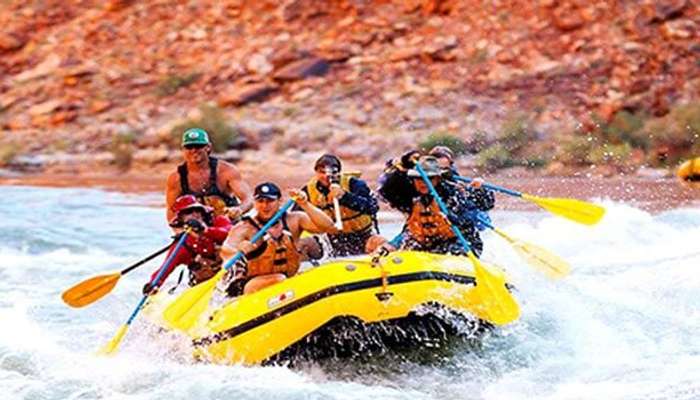 For one of the best experiences of river rafting in India, head to the Teesta river and find out why it is one of the best things to do in Darjeeling for all adrenaline junkies! The activity is loaded with series of rapids with varying intensities, ranging from Grade 1 to 4, wherein the latter is only allowed to seasoned, trained rafters because of the level of danger involved in it. This is one of the best adventure activities in Darjeeling.
Suggested Read:Sanjay's Honeymoon Trip To Sikkim & Darjeeling Gives Adventure And Love A Whole New Meaning!
2. Sandakphu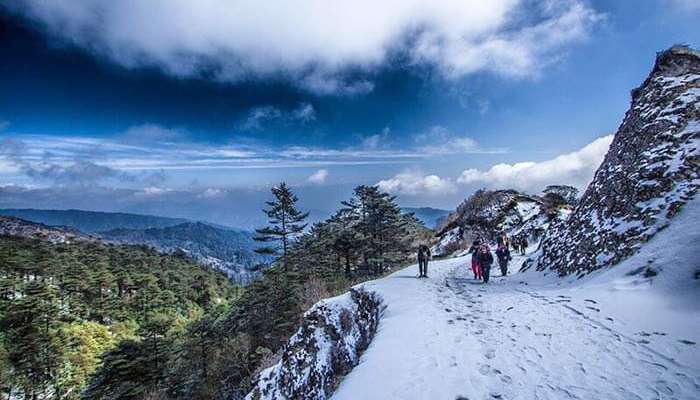 If you are looking forward to indulging in more adventure activities in Darjeeling. A trekking trip to Sandakphu is absolutely essential for all adventure freaks. It is the highest point in the state of West Bengal and is an ideal destination for trekking enthusiasts. Located at an astounding height of 3,636m, it is known for offering the best panoramic views of the enthralling Mt Everest and the Kanchenjunga Peak.
Suggested Read:12 Scenic Tourist Places In Darjeeling In 2020
3. The Toy Train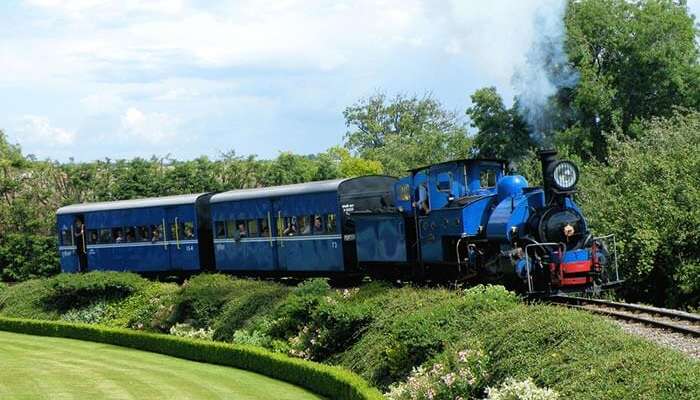 The Toy Train ride is an absolute must. You can start your ride from Ghoom and get down at Kurseong, to eat at the many food joints, for Darjeeling sightseeing wherein you get a breathtaking panoramic view of the surrounding hills that transport you into a world of romance. It is one of the most fun activities in Darjeeling which cannot be missed.
Location: Ghoom, Darjeeling
Suggested Read:Darjeeling Honeymoon: Romance Amid The Stunning Himalayas
4. Himalayan Mountaineering Institute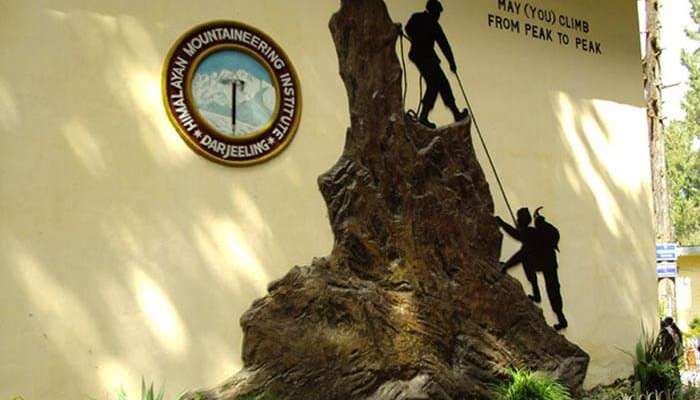 The Himalayan Mountaineering Institute located at Jawahar Parvat in Darjeeling, conducts a number of mountaineering and adventure courses at various levels ranging from beginners to expert. The course duration ranges from a month to a few days. HMI has Rock Climbing and other basic activities for one-time tourists who do not want to get into the full-fledged courses and are visiting the town only for a few days. But whatever be the duration, the entire experience is unmatched and completely exhilarating.
Cost: The Basic Course costing INR 4000/- per person lasts for a month while Rock Climbing and smaller activities are provided through walk-in and cost a mere 200 bucks per person.
Location: Jawahar Parvat, Darjeeling, West Bengal 734101
Suggested Read:New Forest Trail In Darjeeling: A Holy Grail, Only For All Cyclists!
5. Padmaja Naidu Himalayan Zoological Park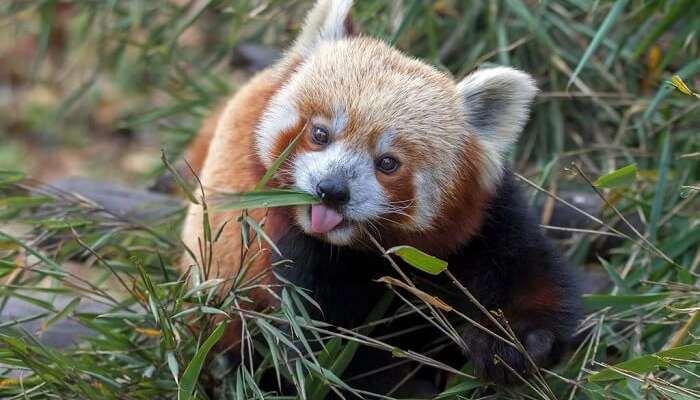 Located in the famous town of Darjeeling, exploring the Padmaja Naidu Himalayan Zoological Park is one of the top things to do near Darjeeling. Get ready to meet the endangered Himalayan wolf, the Red Panda, snow leopards and more. You can also explore the ountain Institute and take a few tips for mountaineering.
Location: Darjeeling – Jorethang Road, Near Birch Hill Resort, Jawahar Parbat, Darjeeling, West Bengal 734101
Places To Visit In Darjeeling
Darjeeling, the 'tea garden of India' is a very beautiful place to visit. The hills, the steam engine train and the lush green tea plantations will make you want to stay here forever. And here are some of the best places that must visit on your Darjeeling tour.
6. Tiger Hill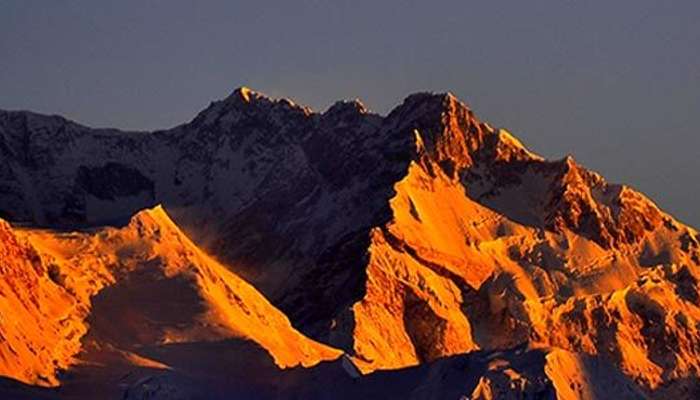 Your trip is unsuccessful until you have witnessed the sunrise at Tiger Hill. The way the sunlight falls on those snowcapped peaks of Kanchenjunga and illuminate it in gorgeous colours, that view is simply breathtaking. Hiking is one of the best things to do in Darjeeling and Gangtok. You will have the time of your life and will not be disappointed by the avenues of adventure and entertainment this place opens up for you.
Location: West Bengal 734123
Sikkim-Gangtok-Darjeeling Holiday Packages On TravelTriangle
Visit Sikkim and explore Yumthang valley, Tsomgo Lake, Gangtok, Nathula Pass, and Pelling. Experience peace and tranquility while exploring Buddhist monasteries, snow-capped mountains, and wildlife sanctuaries. Book packages inclusive of airport transfers, cab, resort, sightseeing, and meals.
7. Dooars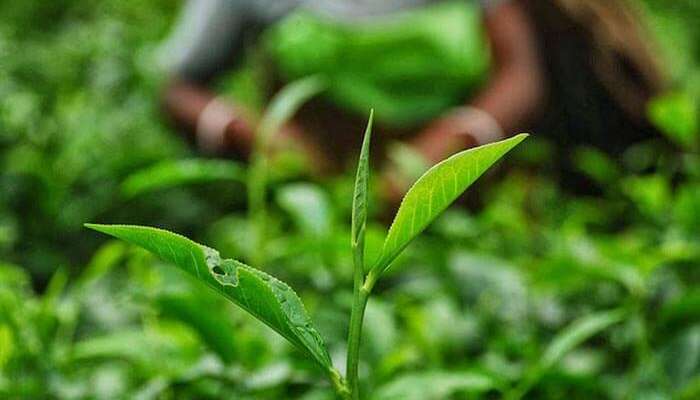 Taking a tour of the tea plantation is one of the top things to do in Darjeeling. Though the tea gardens of Darjeeling are world famous, you must take a trip down to them at Dooars to witness the sprawling beauty yourself and sip on that refreshing Darjeeling Tea. The verdant pruned bushes, especially in the this tea district, is a magical sight which youll never forget in life.
Location: Jalpaiguri District, West Bengal
8. Kalimpong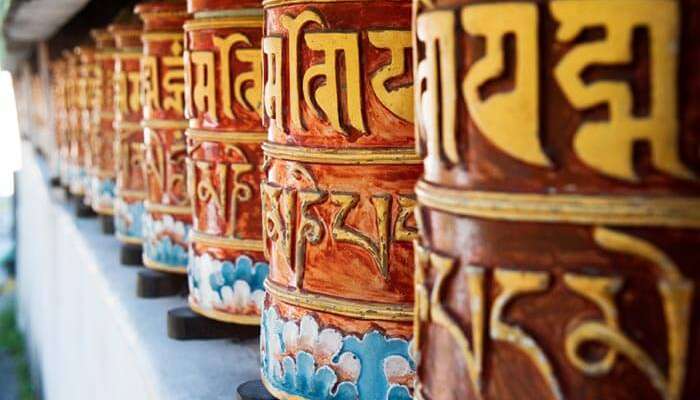 Zang Dhok Palri Phodang is a beautiful and popular monastery at Kalimpong, Darjeeling. The  monastery holds enormous significance as it is home to the many rare scriptures which were brought into India after the fateful invasion of Tibet in 1959. A trip to this peaceful sanctuary should definitely be on your list of places to see in Darjeeling.
Location: West Bengal 734301
Must Read:Why Visiting Darjeeling In Monsoon Is Among The Best Travel Decisions Ever!
9. Peace Pagoda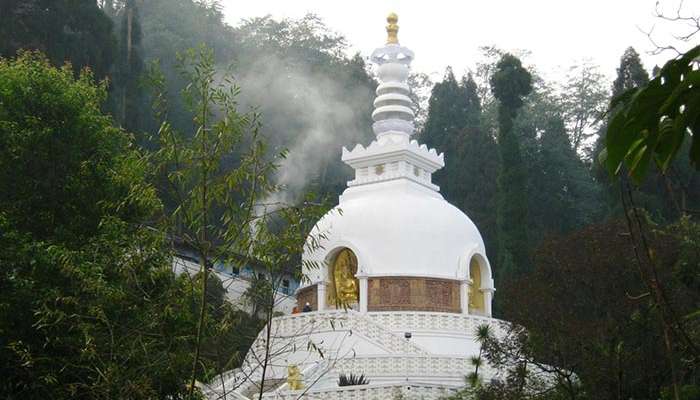 Sitting atop the Charlimont Hill, Darjeelings Peace Pagoda is one of the 30 such pagodas in the world that were established by the Japanese Buddhist monk Nichidatsu Fujii as a way of promoting World Peace and harmony. Visit this one of the most popular Darjeeling attractions for an outright serene and tranquil experience.
Location: West Point, Darjeeling, West Bengal 734102
10. Batasia Loop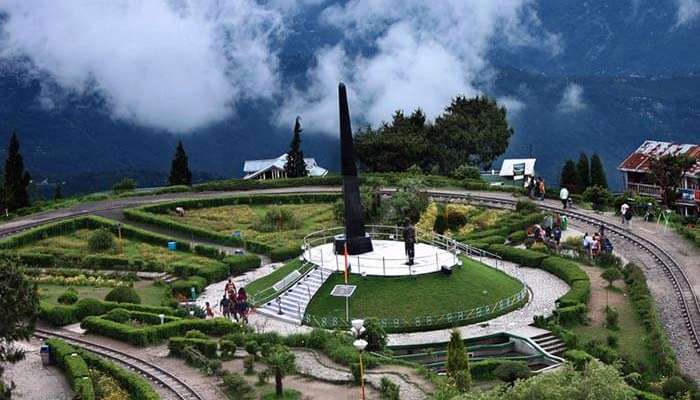 This is one of the most interesting Darjeeling attractions. Venture out to Batasia Loop, the historically and scenically significant junction and a great option for sightseeing in Darjeeling! If youre traveling via the Toy Train, or walking back from Tiger Hill, look out for this famous railway loop that goes around the open-air Gorkha War Memorial, established in honour of the brave soldiers from the region who laid down their lives in WWI and WWII and among the important places to see in Darjeeling.
Location: Darjeeling district, West Bengal
Suggested Read: 8 Honeymoon Places In Gangtok And Darjeeling That Will Spark Up Your Romantic Escapade
What To Eat In Darjeeling
Check out the list of delicious food delicacies and where to eat them while you are on a vacation in Darjeeling. Take a look!
11. Thukpa And Momos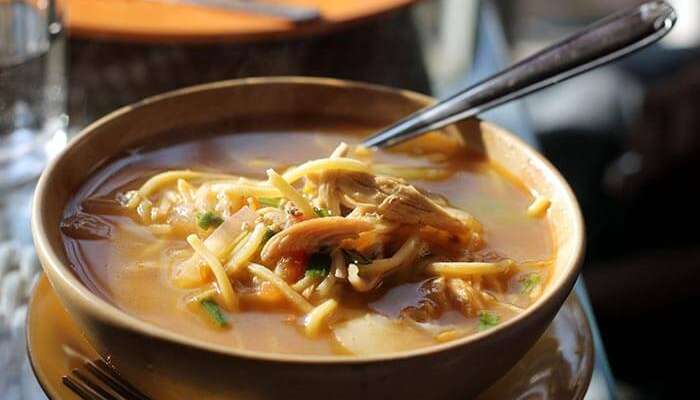 Darjeeling has scrumptious answers to your food cravings while youre there. You can enjoy some delicious variety of Darjeeling food like Thukpa and momos that are available in the street joints at almost every nook and corner of the town. Gorging on thump and momos is one of the best things to do in Darjeeling at night.
Suggested Read:Darjeeling In December: Here's Why Wanderers Love These Hills More In The Winter Months
12. Keventers Restaurant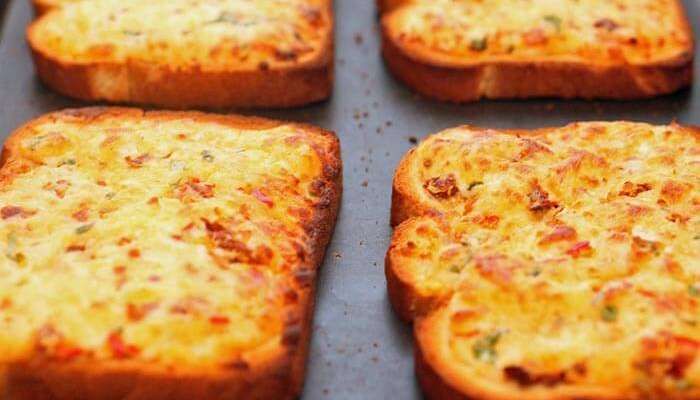 Having breakfast at Keventers should definitely be on your list of Darjeeling highlights. Dont forget to try the delicious Cheese Toast when youre dining here. You can hog on Indo-Western cuisine here or simply get a cup of coffee and drink it while admiring the views outside. It doesn't get any better than this! This is one of the must-visit restaurants in this region. It is not hard to see why!
Location: Shop No. 1, Club Side, Nehru Rd, Darjeeling, West Bengal 734101
13. Churpi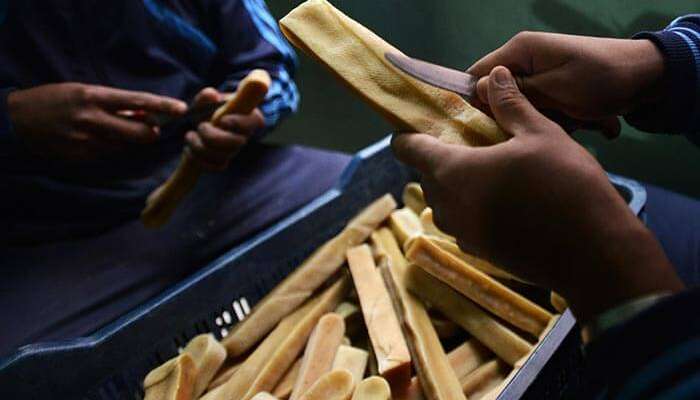 Churpi is a kind of chewing bar that is not exactly sweet in taste, but has a delicious flavor nevertheless. What makes this unique is the fact that it keeps the body warm during winters and gives energy. It is available in almost all street shops selling groceries and comes at a nominal price. You can stock a horde to treat your winter blues when youre back home.
Where To Shop In Darjeeling
Who doesn't like shopping? Here some of the places to shop in Darjeeling on your trip. Keep scrolling down and read along!
14. Chowrasta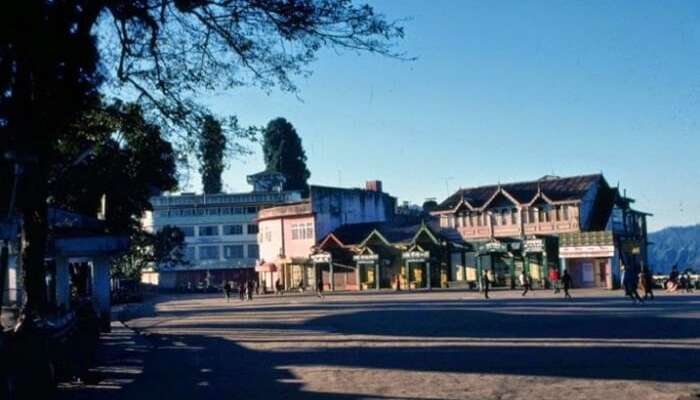 Get to Chowrasta, or The Mall, as it is popularly known among tourists, and enjoy the beautiful evening, with a cool breeze brushing your hair while you shop. The Mall Road stretching through Chowrasta is not just a shopping hub, but is also perfect for a relaxing stroll.
Suggested Read:12 Best Places To Visit In Sikkim In Summer To Witness Nature's Grandeur!
15. Bhutia Market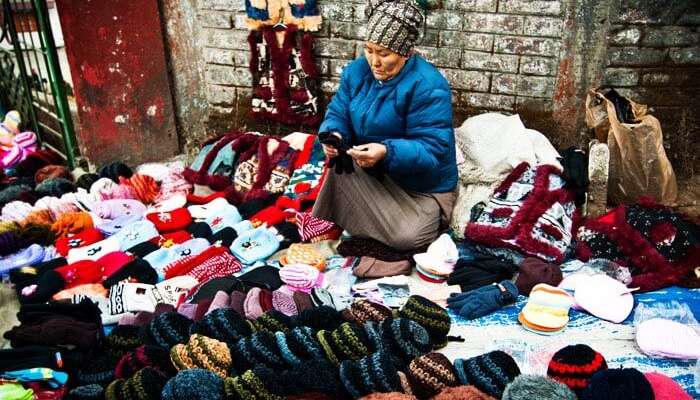 Bhutia Market is a row of temporary stalls set up by the local Bhutias and is located on a narrow lane that leads down from Chowrasta (The Mall), next to Nathmulls. It's a shopping paradise for tourists and its where youll get all winter wear (like sweaters, gloves, woollen caps, mufflers, etc), jackets and even jeans at very reasonable prices. One of the fundamental things to do in Darjeeling is to go to Nathmulls and buy yourself an enormous stock of the refreshing Darjeeling Tea from an array of shops.
Location: 5, Mal Rd, Chauk Bazaar, Mall Rd, Chauk Bazaar, Darjeeling, West Bengal 734101
16. Tattoos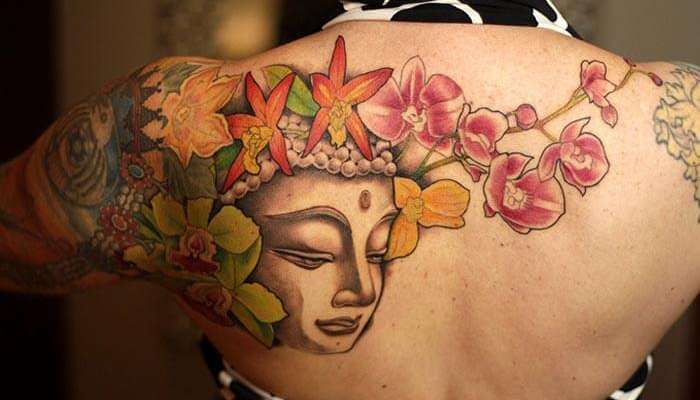 Darjeeling is much like Goa in terms of providing opportunities for body art. Permanent and temporary tattoo parlours, offering to convert a part of your body into a brilliant masterpiece, are available at almost every nook and corner of the town, adding a hippie influence to this scenic and serene location. And the best part, they go incredibly easy on your budget.
Suggested Read:15 Resorts In Darjeeling You'd Never Want To Leave From
Where To Stay In Darjeeling
Now, let's look at the best place where you can stay while you are on your vacation. Don't forget to make your reservation on time!
17. Revolver Hotel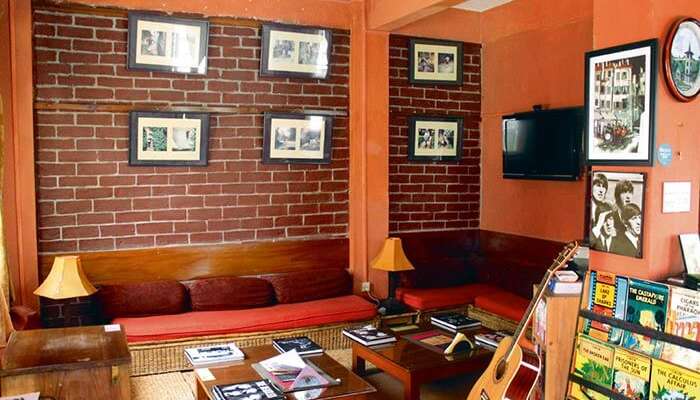 Adding a unique touch to the town is its Beatles-themed hotel providing music based on both eastern and western influences. It's a budget Bed & Breakfast Lodge and one would find every inch of the interiors laden with the popular Bands art. You have to experience it to believe it!
Location: 110 Gandhi Road, Behind Union Chapel, Darjeeling, West Bengal 734101
18. Singalila Jungle Lodge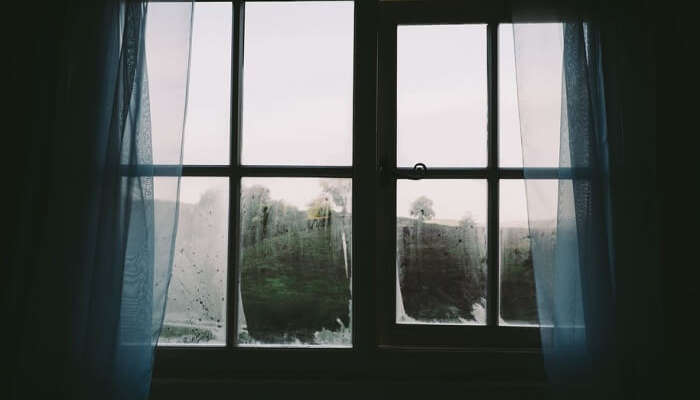 It is a family owned property owned and run by Avinash Rai – a local. The lodge is spread across some 9 acres of land area full of lush forest and plantations. Once you are in the lodge premises, the only noise you may hear during the day is the chirping of the birds in its garden and the gushing of streams. The lodge offers a spectacular view of the Singalila National Park. You will have the time of your life here.
Location: Palmajua, P.O Bansbotay, Rimbick, West Bengal 734201
19. Darjeeling Blossoms Eco Tourism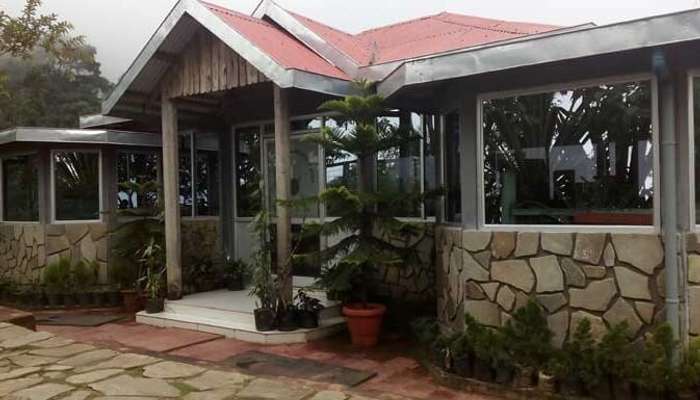 Image Source
Darjeeling Blossoms's foray into ecotourism began eight years ago. They, along with the help of our community, have earned a name for our excellent services. During your stay with them in their complex, you will discover the inner secrets and mysteries of our fascinating land, people and culture, so different from anything that one might imagine while residing in the hustle and bustle of city life.
Location: Bara Mungwa, West Bengal 734312
Suggested Read:5 Best Cottages In Darjeeling Where You Can Soak In Ultimate Bliss & Luxury
20. Khambuhang Nature Holiday Camp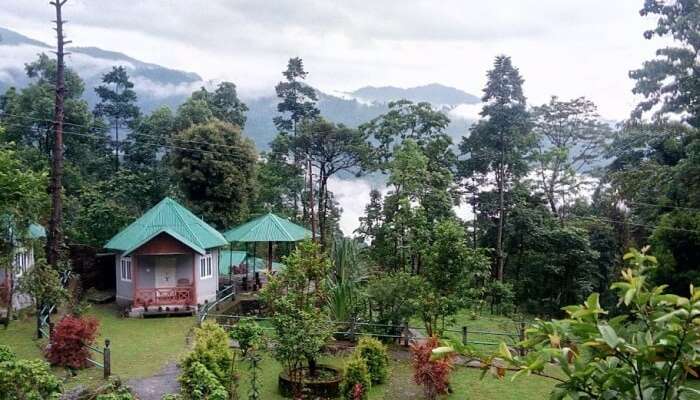 The deluxe cottage at Khambuhang Nature Holiday Camp in Kalimpong, are well-designed rooms with wooden interiors to provide an authentic feel of Himalayan Houses. The rooms offer a range of amenities including high-speed Wi-Fi, 24-hour hot and cold water, toiletries, Room service, laundry service and much more. The owners will make sure you enjoy your stay at thisnature camp.
Location: Paren – Todey Rd, Paren Godak Khasmahal, West Bengal 734319
Further Read: Toy Trains & Fragrant Teas: My Trip to Kurseong & Darjeeling
With so many things to do in Darjeeling, India and our detailed guide, we hope that by now you must be really intrigued to visit this place ASAP. Wherever you are, you must plan your trip to Darjeeling at least once in your lifetime to experience all that it has to offer. Darjeeling has all the great ingredients to provide you a perfect break from your daily life. We are also sure that you will want to come back again.
Frequently Asked Questions About Things To Do In Darjeeling
Q. What is there to see in Darjeeling?
A. The major attraction in Darjeeling include:
1. Tiger Hill
2. Kalimpong
3. Peace Pagoda
4. Batasia Loop
5. Sandakphu
Q. Can we visit Darjeeling in December?
A. The average temperature in Darjeeling during December ranges from 2.5°C to 11.2°C. Most of the tourist attractions are open and there are lesser chances of snowfall. So, many people, especially couples, choose to visit Darjeeling in December too.
Q. What is Darjeeling most famous for?
A. Darjeeling is famous mainly for its tea plantations. Another highlight is its Himalayan railway, which still has a working steam engine train making it a UNESCO World Heritage Site.
Q. Is Darjeeling safe?
A. As far as the safety and security of a tourist is concerned, Darjeeling is a safe place to be in.
Q. What is the right time to visit Darjeeling?
A. The best time to visit Darjeeling is during summer months from April to June.
Q. How many days are enough for Darjeeling?
A. 5 to 7 Days are enough to explore Darjeeling and the nearby Gangtok. Keep You can spend 2 days in Darjeeling, 2 days in Gangtok and 1 day in Nathula exploring and sightseeing the places.
Q. Is there snowfall in Darjeeling?
A. Yes, it does occasionally snowfall in Darjeeling and only in some parts of the districts that are located higher in altitude.
People also read:
Things To Do In Gangtok Things To Do In Sikkim Things To Do In Shimla
Comments
comments