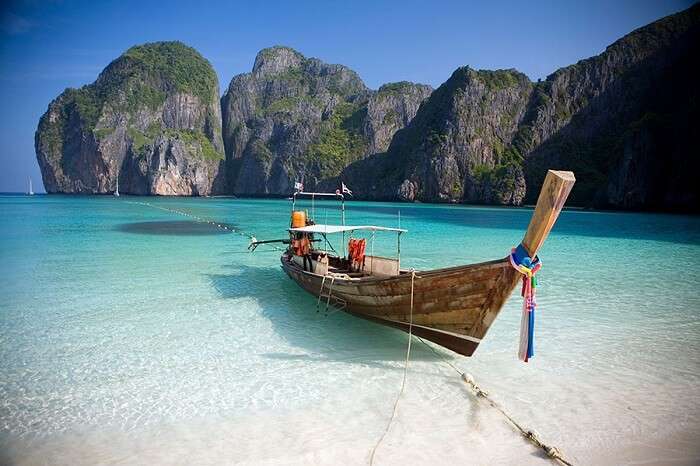 Thailand tourism department came with a timely alert to beach bums around the world after their decision to keep Maya Bay beach closed for tourists for a period of three months starting from June to September.
In a much-need bold move to conserve marine life near Phi Phi Island, the tourism department of Thailand has taken a call to keep Maya Bay beach closed for restoration. The authorities got increasingly concerned with the fact that around 80% of all coral life has been destroyed around Maya Bay beach due to pollution and construction.
Maya Bay and its fame in Hollywood

Must Read: Here's Why India Is Now Among The Top 5 Nationalities To Visit Thailand!
According to the authorities, the Maya Bay beach in Thailand receives an average of 5,000 tourists per day. The tourists arrive at this serene beach by boats from Phuket or Phi Phi Island. The beautiful tropical beach came into prominence after the release of the Leonardo DiCaprio starrer 'The Beach' in 2000.
Burdened with commercialization

Suggested Read: 10 Best Indian Restaurants In Bangkok That Will Add A Vivacious Flavor To Your Vacation In Thailand
Ever since the movie hit screens across the world, the unspoiled beauty of Maya Bay has attracted millions of tourists to this picturesque beach for a glimpse of this gem of an island. However, the burden of being one of the most frequently visited hotspots in Thailand have taken a toll on Maya Bay, it's surrounding marine life, and its long-term sustainability.
Thon Thamrongnawasawat, deputy dean of the faculty of fisheries at Kasetsart University in Bangkok, has said that the ideal scenario, in this case, would be to shut Maya Bay beach on a permanent basis. Although, closing it down for three months would certainly give some breathing space to the marine life fighting for co-existence in this rapidly commercializing environment.
Further Read: This Is Why A Thailand Group Tour Is A Smart Option For Those Who Want To See More & Spend Less
After the tourism department of Thailand took such a step to protect their national treasure, do you think governments around the world should also take similar steps that promote and encourage responsible and sustainable tourism? Let your thoughts flow in the comments section below.