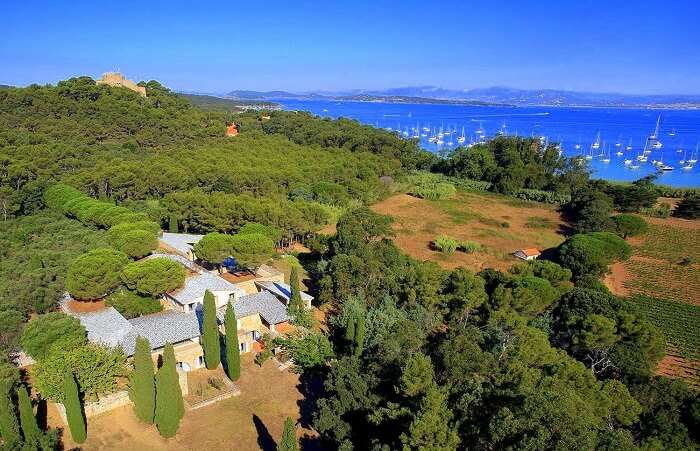 Fondation Carmignac is the latest addition to the list of French museums, but it's taking the gaming up a notch. This remote art shrine is located in the Mediterranean island of Porquerolles, spanning over less than 5 square miles and with just about 200 inhabitants. And in order to reach this gem, you'd have to take a 15 minutes ferry ride and hike through the forestlands.
Once you reach, you will be greeted with ritualized drinks service. You will also be invited to walk barefoot on the sandstone floor – an experience meant to connect the visitor with the pristinity of the surrounding merged with contemporary art. To ensure that the museum is never too crowded, there is a cap of 50 visitors in each slot of half an hour.

This was a farmhouse earlier, converted into a museum with over 300 pieces of contemporary art by Édouard Carmignac. The villa is surrounded by a sculpture garden covering a generous area of 15 hectares. It is designed by a talented landscape artist, Louis Benech. On the northern side of the property is where you will find a small but flourishing vineyard, with olive trees and native species. Mimosa, eucalyptus and jacarandas further add exotism to the whole landscape. Speaking of the exhibits again, you will be able to glance upon the brilliant works of Roy Lichtenstein, Jean-Michel Basquiat and Warhol.
Now you must be wondering how to reach Fondation Carmignac! Well, reach Toulan via train or air and head to La Tour Fondue or Hyeres – both these places offer ferry ride to the island round the clock.
Even if you are not an art aficionado, this museum experience is beyond excellence. To make this place a part of your French itinerary, simply browse through our France tour packages and customize the one you like!
Further Read: With This New Hiking Trail In France, Here's Yet Another Summer Adventure Lined Up For You!