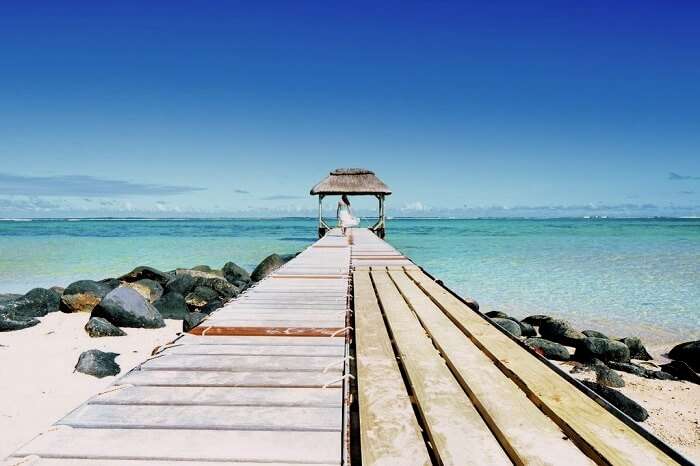 Overview
Outrigger Mauritius Resort & Spa Bel Ombre is a luxury heaven on earth. The exquisite 5-Star beach resort is surrounded by dazzling blue sky, mesmerizing turquoise sea, lush landscapes, and pleasant ocean winds. The hotel is an ideal accommodation for romantic couples and families as well. The tranquil ambiance of the hotel is an inviting feature for honeymooners. Outrigger Bel Ombre Mauritius offers a variety of special honeymoon packages to provide an exquisite experience to the honeymooners. Luxury rooms with breathtaking views, authentic food menu, and exciting activities make the stay pleasurable for guests. The ultra-modern rooms of the Outrigger Mauritius Beach Resort Bel Ombre are classified into Ocean View, Ocean View Family Room, Beachfront, Beachfront Family Room, Beachfront Junior Suite, Beachfront Senior Suite, and Beachfront Villa. All the rooms of the hotel offer opulence with sea views.
The hotel is located in the backdrop of Bel Ombre Nature Reserve. The resort lies near the famous attractions of Mauritius. It is set at a distance of 1.3 km from Heritage Golf Club, 2.9 km from Frederica Nature Reserve, 8.9 km from Seven Coloured Earths, 11.4 km from Black River Gorges National Park, and 12.7 km from Paradis Golf Club.
Amenities
Facilitated with a world-class spa and wellness center, one may walk in for a therapeutic massage that will enhance their vacation experience. Apart from this, the hotel also offers a number of beauty services for any guests that may want to avail them. There is also a sauna and outdoor pool for those who may want to go for a relaxing swim.
Dining
Outrigger Mauritius Resort & Spa Bel Ombre has 3 wonderful restaurants namely Edgewater, Willie's Rum and Crab Shack and Mercado. The breakfast served in one of the three restaurants is complimentary. The guests can relish delectable Mauritian and international cuisines in their restaurants. Bar Bleu is a cool place to relax and unwind by enjoying creative cocktails, smoothie, champagne and light snacks. Live entertainment is also arranged for some days in the hotel.
The luxury facilities, flawless services, serene ambiance and scenic surroundings of Outrigger Mauritius Beach Resort Bel Ombre Mauritius makes it one of the best accommodations in Mauritius.
Resort Accommodation
Junior Suite with Ocean View
Family Room
Deluxe Double Room with Sea View
Deluxe Double Room Beachfront
Deluxe Twin Room
Deluxe Twin Room Beachfront
Ocean View Rooms are cute, compact rooms with an area of 63 square meters while the Ocean View Family Rooms measures 74 square meters. The Ocean View Rooms allows maximum 3 persons while the Ocean View Family Rooms can accommodate 2 adults + 3 children + 1 infant. An additional bunk bed is provided in the Ocean View Family Rooms. A Beachfront Room measure 63 square meters while a Beachfront Family Room measures 74 square meters. The maximum occupancy is the same as Ocean View and Ocean View Family Rooms. The room area of Beachfront Junior Suite is 74 – 78 square while the Senior Suit is 130 square meters. The villa of the hotel includes 2 senior suites with separate children's room, a beachfront room, dining area, plush sofa and lavish bathrooms with a bathtub and a shower.
Resort Highlights
The hotel provides a unique spa experience with 13 well-appointed treatment rooms and a seaside beach kiosk
The resort offers a wide array of activities at a free of charge to keep guests entertained
Outrigger Bel Ombre was opened 70 years back in Hawaii and spread to many countries of the world
The children between the age of 3 and 12 can enjoy indoor arts, crafts, and activities
The hotel offers a memorable seaside wedding with delicious cuisines and attractive floral decorations
The resort houses 4 well-maintained swimming pools which ensure a fun-filled holiday for the guests
Indian Restaurants Near The Resort
Restaurant Naidoo
Chand Restaurant
Indian Summer Restaurant
FAQs
Q1. What are the check-in and check-out time in Outrigger Mauritius Resort & Spa Bel Ombre?
A. The check-in time of the hotel is 2 pm and the check-out time is 12 pm.
Q2. How is the babysitting facility in the hotel?
A. The babysitting facility is available during day and evening hours in the hotel for a fee. Well-trained babysitters are employed by the hotel to take good care of the children. Reservations have to be made to avail this service.
Q3. Does the hotel provide golfing facility?
A. Outrigger Mauritius Resort and Spa Bel Ombre have an 18-hole golf club nearby. The guests are charged a fee for this activity.
Q4. Does the hotel offer currency exchange facility?
A. Outrigger Mauritius Beach Resort Bel Ombre Mauritius offer international currency exchange facility with best rates for the guests.
Q5. What are the business services available in the hotel?
A. The hotel provides well-organized business services. Meetings and conferences can be conducted in the resort with hi-tech audio-visual facility and a free Wi-Fi service.
Outrigger Mauritius Resort & Spa Bel Ombre is an exceptional accommodation in Mauritius with a sparkling beach, soothing weather, and outstanding architecture. The ideal location of the hotel provides easy and convenient access to the popular attractions of Mauritius. The coastal areas around the resort are great for water activities like kitesurfing, scuba diving, catamaran excursions, deep sea fishing, dolphin tours and many more. The culinary experts in the resort amaze the guests with delicious menu options serving world-class cuisines. Fitness center with advanced equipment, spa with revitalizing treatments and therapies, chic-style swimming pools, entertaining live performances and a wide variety of amusing activities in Outrigger Mauritius Resort & Spa Bel Ombre provides an unforgettable holiday experience to all its guests. Themed Evenings and Gala Dinners can be arranged as well. Overall, Outrigger Mauritius Resort & Spa Bel Ombre is a perfect place to have an enchanted stay with an equal measure of all amenities.