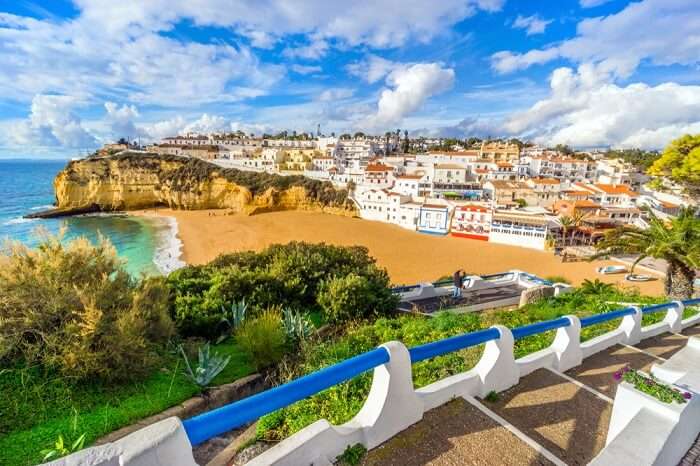 Portugal in winter is an amazing place to be at, and it would be one of those destinations which should be on your bucket list. It is very delightful and pleasant to spend time during winters with frequent sunny days which will make it a comfortable and soothing place to stay at. One of the best thing about this place is that people are very friendly and thus makes it a perfect destination for a holiday.
Best time to visit

Summers are generally hotter in Portugal, thus it is better to avoid a trip, while the best time to go there is winters from the month of November to march. They are pleasant and relaxing with a little bit of rainfall which is also worth seeing the sight. For the couples who would want to spend some quality time and have a romantic time then this is the time. Winter months in Portugal are generally chilly with light showers.
Places To Visit In Portugal In Winter
Portugal is an exciting place for globetrotters and culture lovers to visit. Here are a few things and places that you would want to during winters in Portugal :
1. The Algarve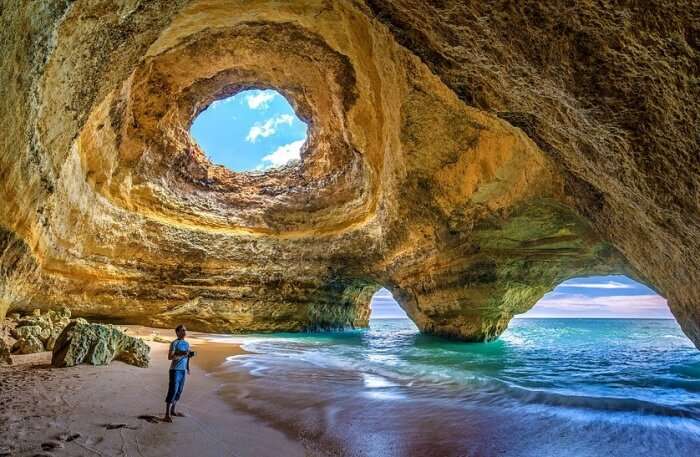 This is one of the most popular places that you will find while you are there. This is one of those places which is frequently being featured in various movies. Indeed the beauty of is the stones and the natural caves which make it worth seeing. While it is also considered as one of the seven wonders of Portugal, making it a must-visit place. It also offers one game worth playing which has been originated from Europe that is golf. This place will also give you a lot of sports-related experience too.
Must Read: 9 Best Churches In Lisbon That'll Make Your Portugal Holiday More Memorable
2. Drive to Lisbon

Driving to this city is one of the best experience one can have especially during winters since those lanes are surrounded by those mountains and there are places where you easily rent your car from and be all by yourself. Lisbon which is the capital city of Portugal is a place you wouldn't want to miss out at any cost. The city is enchanting and the vibes of the people and culture are so enriching that will make you want to settle at this very place. With amazing places to go to hog. There are many streets that are there where the traditional music and dances go on for the entertainment of the tourist which depicts their culture.
3. Sao Jorge Castle

This is the best place for sightseeing. The construction and planning of this place are very well organized making one of the must-visit places. This place is very well planned with the building structures which are properly and accurately defined. Must say the architects have done a really good job while designing. This is a place gives an enlightening experience for Portugal in winter.
Suggested Read: Azores Islands: A Handy Guide To This Nature's Gorgeous Marvel In Portugal
4. Porto

This place is located on the bank of two rivers. While you are taking a walk on those well-organized roads of this city, you will have a lot of chances to walk by these rivers. There are beautiful gardens which are there. And during the night when the sky is full of stars, it just feels like an imagination and pretty much unreal. It's the best time to have a walk with your partner. It is known as the undefeated city which is known for its particular wine. So take a few glasses of wine and dance on the country music and have time of your life here.
Suggested Read: Lisbon Nightlife: 10 Best Places To Enjoy Portugal Nights To The Fullest
5. Vilamoura

It is said the Algarve is the best place for couples who have come on a honeymoon, but you will deny that fact once you visit this place. Especially during winters in those cozy nights, when there is soothing music playing around with also some private space which two newlyweds can get. Couples would not feel like leaving this place once they are there. It is an ideal place for them to have a memorable honeymoon. And there are a lot of fancy clothes that a newlywed couple would want to wear and the question of what to wear in Portugal in winter will arise, so while this place is little more chilly it is a must that there have to be proper woolen clothes packed in your suitcase.
Suggested Read: 5 Best Villas In Portugal That Will Add Stars To Your Holiday Experience
6. Sao Miguel Island

It is the largest island that Portugal has. While it has got a lot of hiking places too. Since this place is one of the largest island surrounded by turquoise waters all around there are many water sports activities which are being done at a particular time there. The island is full of colorful flowers which gives such a relaxing feeling to your eyes and there are those rare flowers too which you have never seen before.
Suggested Read: 11 Best Places To Visit In Portugal, The Hidden Gem Of Europe
7. Madeira

Winter temperature in Portugal goes pretty low but this is a subtropical island which is one of the trendy islands. Thus the temperature here is pretty balanced and you can have fun while wearing all kinds of clothes that you want here. Throughout winter there is a festive vibe which is there on this island. This place has got one of the most exotic restaurants to have mouth-watering food. It has got a wide stretch of beaches covered with crystal sand and it's fun to walk on those granules of sand.even this place during winters will give you marvelous feeling and a feeling of wanting to come back each time, time and again.
8. Coimbra

If there is a question about where to go in Portugal during winters then this is the best place which is located in the country's center that attracts more visitors than most others in Portugal. This riverfront city boasts of scenic views and charm of a medieval world. Roam around the cobbled streets and 18th-century bell tower on your trip to Coimbra. If you are about to visit Portugal anytime soon, this place is something that you just can't afford to miss.
Further Read: 14 Terrific Things To Do In Portugal To Soak In The Rich Portuguese Flavor
All the above places give one absolutely reason to visit Portugal in winters at least once in their lifetime. Amidst the beautiful nature that the place has got one can absolutely rest and have a wonderful time with their loved ones. Plan a trip to Europe and visit Portugal which is an absolute mix of fun and relaxation making it a must go place.
People Also Read
Places To Visit In Belgium Places To Visit In Bucharest Places To Visit In Austria
---
Looking To Book An International Holiday?
Book memorable holidays on TravelTriangle with 650+ verified travel agents for 65+ domestic and international destinations.
---