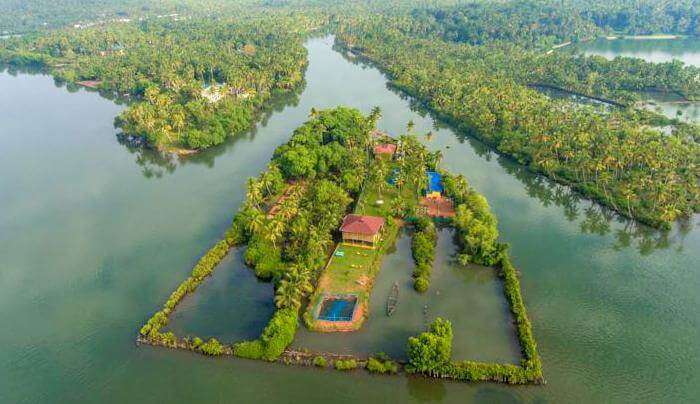 What's better than a pristine tropical vacation? A private island in Kerala to relax, rejuvenate, and rejoice with your loved ones! Now travelers can enjoy an unforgettable vacation in God's own country at an isolated paradise for just INR 12,000 per night!

We often see in the news how famous personalities book scenic islands vacations and marriages. Leaves us commoners in a sad glum state of reality no? Well, here's one island you'll be call entirely your own. Situated on Munroe Island, Vini's farm in Kerala is a unique vacation property that lets you rent the entire island (patch of land) for only INR 12,000.

Now before you get too excited, we have to give in a full disclosure that when we say a private island in Kerala, we don't mean an Island the size of 1 sq kilometer. However, the island happens to be a small speck of land (2 acres) that is big enough for a luxurious stay for you and your loved ones at an island that has a furnished wooden villa and activities like bird watching and fishing to keep everyone engrossed.
What brought forth this idea
The story behind the inspiration of this private island in Kerala is one that will make you go aww. According to the host, Aram Paul-
"Vini's Farm was a surprise gift to my wife, Vinita, for her birthday. She did not have any clue till I took her to our farm. Lots of people have influenced me to create this farm. It includes my Dad, CJ Paul IFS, who was a Conservator of Forests. He loved nature and I grew up in tune with him."
An inspirational example of how the love for nature of one person got converted into a spectacle and a business idea that was not only lucrative but also a pioneer in environment-friendly tourism.
Backed by a spectacular location, pristine backdrop, warm hospitality, and modest location- this private island in Kerala is surely worth paying a visit with your loved one to get immersed into the timeless beauty of nature that will nourish your soul and provide an experience you will never forget.
Book a Kerala tour package and go on a vacation with TravelTriangle to explore more such fantastic places on a memorable vacation.