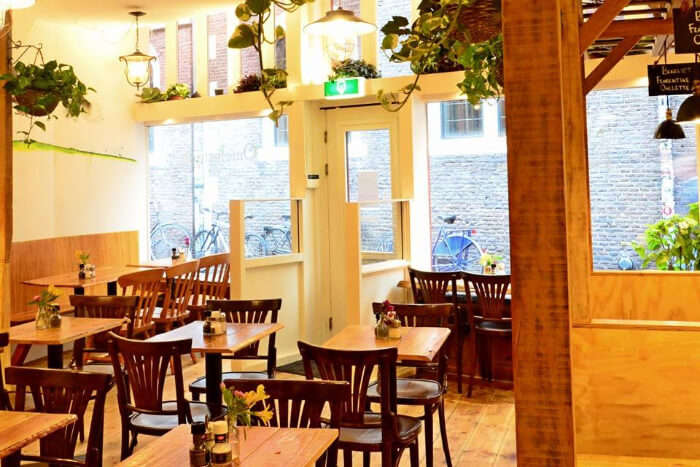 One of the most beautiful countries in the world, Netherlands remains the favorite of travelers while heading towards exploring Europe. Covering cities like Amsterdam, Hague and Rotterdam, Dutch art, culture, literature and, definitely architecture remain a part of every bucket list. There are many restaurants in Netherlands which will serve you the tastiest food around, mainly catering to those comfortable with the European style of cooking. You can also, however, find a few Japanese, Indian or Asian places to eat at, where the food remains authentic and tasty.
Read on to know more about the restaurants in Netherlands where you can head for a perfect night out.
10 Restaurants In Netherlands
Netherlands is a gem in Europe, with breathtaking Tulip fields, canals, windmills and greenery, the place attracts a huge number of tourists from round the globe. Such a popular destination is ought to some of the finest restaurants to treat its guests. Here are the 10 best restaurants in Netherlands to have delicious food while on your trip here:
1. Stads-koffyhuis
One of the best restaurants in Delft Netherlands, this is the perfect place to have a scrumptious breakfast in the Dutch sun. The place is flooded by morning diners who love their coffee with a little bit of sunshine and outdoors. The sandwiches, eggs, and salad are absolutely wonderful. You can also try their pancakes, pies and local beer. Looking over the canals, this is definitely one of the best places to eat in the Netherlands.
Location: Oude Delft, 133, Delft, The Netherlands
Cost for Two: INR 2200
TripAdvisor Rating: 4.5
Must Read: 22 Best Places To Visit In Netherlands: The Perfect Mixture Of Art And Culture
---
Europe Holiday Packages On TravelTriangle
Explore the most beautiful places to visit in Europe, from Paris to the Venice canals and from the Greek islands to the Swiss alps. Book customized packages by expert agents on TravelTriangle. Inclusive of airport transfers, cab, resort, sightseeing and meals. Best holiday experience Guaranteed. Book Now
---
2. Bistrot des Alpes
One of the best Netherlands restaurants, this is the place to go to have a full dinner. You can enjoy ham, baked potatoes, risotto, cheese platters and all other kinds of Swiss and European dishes. The ambience is nice and the staff is quite warm. Their cheese fondue has quite a following, which means you definitely need to cover this cosy place on your Euro trip.
Location: Utrechtsedwarsstraat 141, Amsterdam, The Netherlands
Cost for Two: INR 3000
TripAdvisor Rating: 5
3. Brasserie Chapter
This small little restaurant in Hague surely one of the must-visit restaurants in the Netherlands. Steaks, ducks, sausages, tuna tartar, fresh salmon – every dish here is borne out of love for food and the city itself. The menu itself is limited, but very well thought out. The place is run by a local couple, the husband is the chef, while the lady looks over the seating and other parts of the affair. The plating is beautiful, textures melting and ambience is perfect for a sweet night out with your partner in the city of Hague. Their creme brulee and chocolate lava cake are absolutely to die for!
Location: Annastraat 17, The Hague, The Netherlands
Cost for Two: INR 3500
TripAdvisor Rating: 5
Suggested Read: Netherlands Nightlife: 10 Best Places To Party Till Sunrise!
4. Teppanyaki Restaurant Sazanka
Although there are not many Asian or Indian restaurants in Netherlands, the few that have been operating serve delicious food time and again. One such example is this Japanese place which is also one of the famous Michelin Star restaurants in Netherlands. Food is authentic, sublime and delicious and the ambience perfect, making for the nicest dinner with friends and family. They have six courses meals which cover everything from fish, beef to liqueur soaked desserts, making it a must on every traveller's bucket list!
Location: Ferdinand Bolstraat 333, Amsterdam, The Netherlands
Cost for Two: INR 25,000
TripAdvisor Rating: 4.5
5. Restaurant Fitzgerald
Another one of the fanciest places to grab a bite to eat in the country, this beautiful place has the nicest ambience around. The six course long menu is simply delicious to a fault, the experience is amazing and surely a once-in-your-lifetime kind of thing. The Michelin Star feels definitely justified once you sit through their well thought of and innovative dishes.
Location: Gelderseplein 49, Rotterdam, The Netherlands
Cost for Two: INR 30,000
TripAdvisor Rating: 4.5
Suggested Read: 11 Best Indian Restaurants In Amsterdam To Add Some Spice To Your Holiday!
6. Indian Restaurant Maharani
Done in bright colours and full of ethnic pieces, this is one of the few Indian restaurants in Hague Netherlands. The food here is quite alright and genuine with a lot of options available to choose from. You can choose from lamb samosas, Indian bread (roti) as well as different curries, rice and dal for your lunch or dinner. The flavours are good, and the price is on the heftier side for sure. All in all, a good place to have a nostalgic meal away from home!
Location: Noordeinde 93, The Hague, The Netherlands
Cost for Two: INR 4500
TripAdvisor Rating: 4
7. Gastrobar Hartig
One of the best restaurants in Rotterdam Netherlands, this is the place to hang out at with your friends. The food is tasty and the drinks amazing, the best tapas in town are available here. The artwork on the walls and in the neighbouring district make it the choices place of young and hip crowds to gather at. The lager beers available here are probably the tastiest in town and a must try!
Location: Hartmansstraat 20A, Rotterdam, The Netherlands
Cost for Two: INR 5,000
TripAdvisor Rating: 4.5
Suggested Read: 10 Best Day Trips From Amsterdam That'll Add More Joy, Bliss & Adventure To Your EuroTrip
8. Atithi
One of the most authentic Indian restaurants in Delft Netherlands, this place is perfect for a cheap, homely yet delicious meal that is hard to come by otherwise. Think kadai chicken, butter naan and that sort of thing – you will find different vegetable curries here as well, making it perfect for a dinner out with family. The food is spiced in moderation and tastes amazing.
Location: Rijksweg A-13 202, Delft, The Netherlands
Cost for Two: INR 1500
TripAdvisor Rating: 4.5
9. De Eetkamer van Scheveningen
Surely featuring on the list of top restaurants in Netherlands, this place is perfect for a fancy night out. The food is amazing and based on a tasting menu sort of setting, where you will get quality courses one after the other. They have an extensive collection of wine which are paired nicely with the food. The produce is all organic and native and the cooking techniques used are quite interesting, which is why a dinner here makes for quite an experience over all.
Location: Marcelisstraat 255A, The Hague, The Netherlands
Cost for Two: INR 9,000
TripAdvisor Rating: 4.5
Suggested Read: Top 10 Hotels In Netherlands For Those Who Want A Grand Stay While Living The Good Life
10. Omelegg
Another good place to have heavy and hearty breakfasts at, this is probably one of the best restaurants in Netherlands. Think fluffy scrambled eggs and delicious brown bread with a plate full of tossed vegetables, the yummiest sandwiches and amazing coffee. The place opens quite early in the morning and is busy throughout the day, the service is prompt and satisfying. The place certainly lives upto the hype.
Location: Nieuwebrugsteeg 24, Amsterdam, The Netherlands
Cost for Two: INR 1800
TripAdvisor Rating: 4.5
Further Read: 15 Best Things To Do In Netherlands For Treating The Adventurer & Nature Lover In You
Heading to Europe? Plan a trip to Netherlands with TravelTriangle and do explore the restaurants in Netherlands for a soul-satisfying experience!
---