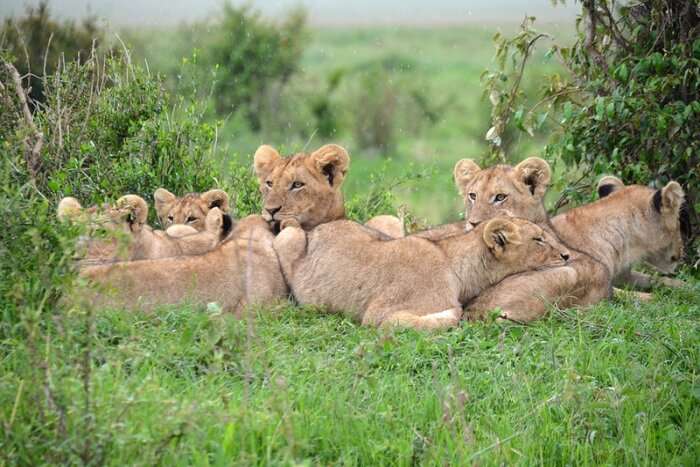 Planning to go on a safari can be challenging as it sounds, there are quite a few safari tours in New Jersey. Choosing where to go can be one of the topmost decisions of all.
Going on Safari mainly to see animals and enjoying its natural behaviour, so one of the important factors to consider when planning to visit a safari park in New Jersey is what species of animals you would love to see.
There are quite a few parks that due to its wide land pace they possess, provides many different kinds of animals for tourists to see. This is where you will be able to see various animals in different states of awareness.
4 Best Safaris In New Jersey
Take a look at 4 best safaris in New Jersey that will give you an adventurous experience you'll remember your whole life!
1. Six Flags Great Adventure
If you are looking for an entertaining place to take the entire family in the state of New Jersey then you need to go no further then Six Flags Great Adventure. This amusement park is by far one of the best places to go for a day of thrills in the area. This park is part of the expansive Six Flags collection of theme parks. Jackson, New Jersey is your one-stop for fun and excitement for all ages.
Just because they are young, it does not mean that the littlest members of your family do not love to go on rides. Many amusement parks have one or two rides for the small tikes of the clan. This is not the case for Six Flags Great Adventure. This park has a couple of different areas of rides for children so that they can have as much fun as the bigger children. When many people think of rides at a theme park, they think of roller coasters. Great Adventure has some of the top coasters in the nation. From the wooden ones to the metal ones that will twist and turn you, there is something for everyone. The newest addition to the roller coast family for 2011 is The Green Lantern. It is a stand-up ride that will leave your knees shaking.
Location: 1 Six Flags Blvd, Jackson, NJ 08527, USA
Must Read: 15 Best Beaches In USA That Will Awaken Your Inner Water Baby In No Time!
2. Bugs Bunny National Park
When you head out to the park, it is not just about the rides. There are some great shows and attractions for you to enjoy. Some of the best will include stunt shows, animal shows, and of course there will be shows with the Looney Toon characters. You will enjoy resting your feet as you enjoy one of the many shows that are available throughout the park. It is located inside the Six Flags Great adventure park.
Location: 1 Six Flags Blvd, Jackson, NJ 08527, USA
Suggested Read: This Largest Zoo In The USA Is The Best Place To Be For Treating The Wildlife Lover In You!
3. The Franklin And Jungle Habitat Drive-thru Safari
Sitting pretty outside Austin, this place is a short detour from or to Dallas. There are luscious flora and fauna in here with all types of animals, ranging from peacocks to camels. It's a picture perfect location and one must take full advantage of it with gorgeous panoramic shots of the animals and surroundings. But 1,600 miles away; the story is different over at Jungle Habitat. Once an active animal park, this became one of the creepiest locations in all of the state. The story goes that after the decision was made to shut down the park it was decided to just leave the wildlife there. It didn't work and the animals roamed free with nature at their behest. Today, the abandoned park is open to the public and is a haven for daredevils who are fine with treading in a bear area. One can go for mountain biking, hiking and more in here too.
Location: 4324 W Hwy 79, Franklin, TX 77856, USA
Suggested Read: 10 Museums In Washington DC For An Insight Into The American History
4. Osprey Wildlife Safari
Beginning from the gorgeous Cape Island Creek Preserve located on New Jersey's southern salt marsh, their signature Birding by Boat and the accompanying Wetlands Wildlife Safari tour shouldn't be missed out on. The boat has an enclosed and open viewing deck that comes with sliding glass windows. To make things easier, there are extra binoculars which include the ZEISS demo optics aboard. This safari covers all the major spots like the Cold Spring Harbor and the huge tidal wetlands all along Intra-coastal Waterway. But the trips remain safely on calm and steady inland waters with the marine life on full display.
Location: Cape May, New Jersey
Further Read: 10 Best American Road Trips For An Unforgettable Journey In The Land Of Enchanting Sceneries!
From the Bugs Bunny National Park to the Osprey safari, New Jersey is a haven for wildlife lovers looking for some adventure on the lands. All of it is coupled with amusement parks and rides which make the places family friendly and entertaining too. So, plan a trip to US, head to New Jersey and indulge in the adventure!