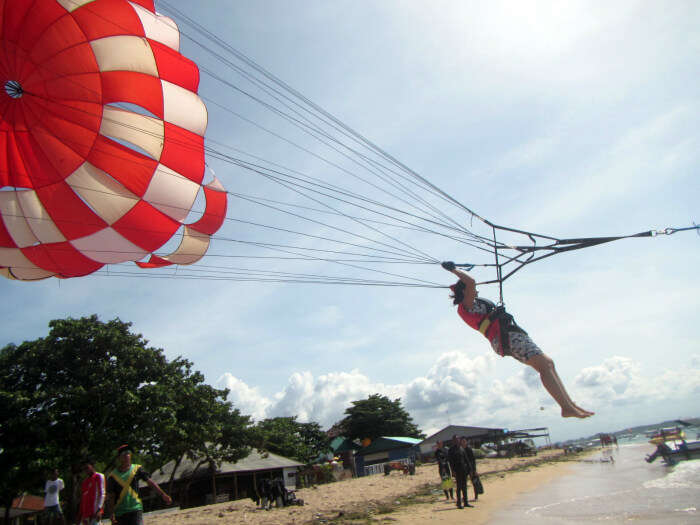 A longing for a trip with his family led Mr. Satish Chugh to the tranquillity and the allure of Bali, Indonesia. He describes his time spent in Bali with the same gratification and pleasure that his family experienced in all the beaches, temples and tropical getaways they had a chance to visit. The 8 day/7night package they chose via Travel Triangle was covered for INR 173000 which included their breakfasts, flights, accommodation, and sightseeing.
Right when my family and I were planning a vacation, a friend of mine told me about his experience in Bali and recommended me to go for the same. The allure of Bali was definitely significant. After surfing the internet for some info, I landed up on the Travel Triangle website which provided me a variety of options for a trip to Bali.
I was contacted by a Travel representative from Travel Triangle who understood my demands and provided me with quotations from multiple agents from which I finally selected, customized and negotiated the best deal for my trip with Go In My Way Travels.
Day 1: Arrival in Bali
We boarded our Malindo Air flight from New Delhi and arrived in Bali at 12.30 in the afternoon. On our arrival, we were greeted by a representative from Go In My Way Travels and then subsequently transferred to our Hotel in Kuta, Bali.
Located on the South Island of Bali, Kuta is an ideal place for people who want to relax, sunbathe and enjoy their time away from the hustle and bustle. Occasionally, it also becomes a hub for watersport activities like surfing and snorkelling. We took our time settling in Bali and exploring its rich landscape. After our pleasant evening, we had dinner at a local restaurant and retired for the night.
Day 2: Ubud and Kintamani – Admiring a Volcano
Our day began with a delicious breakfast in the hotel followed by which our taxi driver was ready to pick us up for a Full-Day tour of Ubud and Kintamani. We happened to visit a lot of brilliant tourist spots on that day.
First up was the Monkey Forest in Ubud which was unique and refreshing. Along with the place having a Hindu tradition, the Forest is also home to the Balinese Long Tailed Monkeys. We also got a chance to visit Celuk & Mas, Goa Gajah Temple. At lunch time we reached Kintamani. It is a small and charming village 35 km from Ubud and offers a fantastic view of the active volcano Mount Batur and Lake Batur.
Suggest Read: 3 Aesthetic Places To Visit Near Lake Tamblingan Bali For Party
The scenery combined with the blissful weather in Kintamani was the perfect combination for our experience to be elevated to a completely different level. My family and I thoroughly enjoyed the delicious lunch which comprised of international and local cuisine which was very enticing.
Afterwards, we returned to Kuta, did some shopping, had dinner and then retired for the night.
Day 3: Enchanting Tanah Lot Temple
The next day of the vacation began on high spirits as we were still basking in the prestige of our first two days in Bali which very peaceful and enjoyable. It was time for us to head for some blessings from the almighty by visiting Tanah Lot.
Tanah Lot is an extended Rock Island off the coast of Bali which also hosts an ancient Balinese temple as its main attraction. We found the place to be extremely beautiful and calming as the place provided us with a rare insight into the history and past of Indonesia more than a thousand years ago. It is also believed that in the surroundings of the temple, there are snakes guarding the temple from evil spirits.
Suggested Read: From 5 Year Olds To 50 Year Olds: Discover Why Bali Finds Place In Everyone's Heart!
Day 4: Departure for Seminyak
It was our final day in the Hotel at Kuta as we had a quick breakfast, checked out and proceeded to our next destination. A short 30-minute drive took us to Ramada Plaza in Seminyak where our stay for the next 4 days was scheduled.
We were looking forward to moving to Seminyak, as the Hotel in Kuta wasn't up to our expectations. Our room being on the third floor with WiFi only in the Hotel Lobby and no lift service for the guests made it a bit of tedious task for us to get back to our rooms when we arrived back in Kuta after a day of travel.
Suggested Read: A Trip To Bali For 5D/4N: An Anniversary Gift That Made Them Fall In Love All Over Again
As the sun set in Seminyak, we were treated with an entertaining traditional dance performance depicting the enactment of Ramayana. It was delightful to see the roots of the Indian culture preserved in a country like Indonesia. Our day finished with a fantastic barbeque dinner in Jimbaran Bay followed by a comfortable night's sleep.
Day 5: Watersports in Nusa Dua
We woke up in the morning with a day of thrill and adventure planned ahead for us. We were transferred by a short cab ride to the beach in Nusa Dua where we took part in watersport activities.
The adventures of Parasailing and banana boat rides was a complete thrill. It seemed a bit daunting and challenging at first, but the experts guided us nicely and made sure that we enjoyed our experience. Later on, we were taken back to our hotel where we relaxed after a tired yet fun-filled day in Nusa Dua.
Suggested Read: 20 Mind-Blowing Water Sports In Bali For The Thrill Seeker In You!
Day 6: Leisure Day in Seminyak
The 6th day of our vacation was a leisure day for us in Bali. It was a nice time to take things on a very slow and comfortable pace and we were supposed to go nowhere at a certain time slot. I think sometimes it is calming to know that you're on a vacation and the itinerary for the day is for yours to make as you wish. My family and I decided to go for some shopping in the various malls in Seminyak and ultimately return to our hotel after dinner time.
Day 7: Dreamland and Pandawa Beach
We had an early breakfast and after that, we decided to visit the Dreamland and Pandawa Beach. Although this was not covered in our tour package but since we had an extra day before our flight, we decided to visit this beach as the locals had recommended us to visit this place.
Our ride to the Dreamland Beach was stunning. The beach is known for its seaside cafes and the beautiful sunset. After spending our day on the Dreamland and Pandawa Beach we headed back to the Hotel and retired for the night.
Suggested Read: 5 Most Stunning Places To Visit Near Bali Bird Park In March
Day 8: Departure to India
Finally, the day had come for our departure back home. We were scheduled for a flight back home at around 1pm. We checked out from Ramada Plaza in Seminyak and were transferred to the Denpasar Airport in Bali.
Highlights:
The people were very welcoming and helpful, the beaches and cities were very clean and well preserved and mostly all the tourist destinations were worth visiting for what they promised to offer.
Ubud Monkey Forest is an ideal place for families to visit and enjoy the rich green landscape and the historical importance it holds to not only Indonesia but also with its links to Ancient India.
Dreamland and Pandawa Beach were not on our itinerary but it was a really nice destination which I'm glad I got a chance to visit.
Tips for Travelers:
Taxi Drivers avoid going on the meter and ask an unfair price. You will have to force them to stick to the meter.
There are a lot of unauthorized money exchange shops which claim to provide the best rate to exchange money which is, in fact, false. It is better to consult with your hotel once before converting any money.
Experience the allure of a Tropical Paradise in Bali with your family and make beautiful memories that will be cherished forever. Bali is a destination that boasts several family-friendly attractions where you can find the perfect opportunity to bond with your family and unwind on your vacation to Bali.
---
Looking To Book An International Holiday?
Book memorable holidays on TravelTriangle with 650+ verified travel agents for 65+ domestic and international destinations.
---