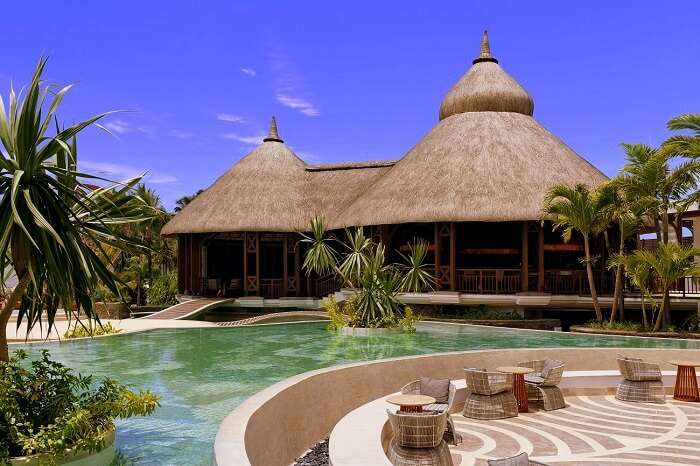 Overview
Shangri La Mauritius is a spectacular 5-Star beach resort in Trou d'Eau Douce. Designed with sophistication and refined decor, the hotel is the definition of comfort and luxury. Catering to the needs of all kinds of travelers, the hotel warmly welcomes both couples and families. The panoramic views and turquoise water surrounding the hotel is something that all guests will enjoy. The chic-style rooms, elegant restaurants, bars, amazing spa service, and amusing entertainment make this hotel and a great choice for a vacation. The architecture at the resort is quite beautiful. The rooms give one a splendid view of the ocean. Some of the rooms also have balconies attached which makes one's stay all the more mesmerizing.
For those who love golfing, Shangri La Le Touessrok is a paradise. There are 3 golf courses located in the close vicinity of the resort. Le Touessrok Golf Course, Four Seasons Golf Course, and Legend Golf Course are available at a distance of 2.4 km, 4.9 km and 10.3 km respectively.
Amenities
Exciting water sports and island activities are tailored according to the guest's needs. The Recreation expert team at the resort can offer exceptional relaxing facilities and services such as fitness and yoga classes. Shangri La Mauritius houses a wonderful kids' club, T-Club which provide free access to the children between the age of 4 and 11. The clubhouse includes various creative and innovative activities to entertain the kids. The resort also has a Teens Club for children between 12 and 17 years.
Dining
Shangri La Mauritius serves the best food menu in Mauritius which offers a culinary treat to the guests. People visiting the hotel can enjoy a unique dining experience. The Kushi restaurant at the hotel serves some lip-smacking Japanese delicacies while one can go to the Le Bazar to enjoy some international favorites. To enjoy some Mediterranean and grilled food, one can head over to the Republik Beach Club & Grill. For some delicious Indian and local cuisines, the Safran restaurant is a great choice. The hotel also houses a bar where one may enjoy a couple of drinks as well.
Shangri La Mauritius provides an incredible experience to ensure a perfect holiday for all its visitors.
Resort Accommodation
Deluxe Ocean View Room
Deluxe Beach Access Room
Junior Suite Ocean View
Junior Suite Beach Access
Deluxe Suite
Shangri La Suite
Beach Villa
Shangri La Le Touessrok Resort includes 200 opulent rooms and suites and 3 exclusive villas. Every accommodation in the hotel is adorned with a personalized touch and represent the standard of Shangri La Mauritius. All the rooms & suites are perfectly placed on the beachfront and provide breathtaking views of the Indian Ocean right from their windows. Many of the accommodations are attached with balconies and terraces to provide easy access to the pristine beach. The classy style used in the interiors ensures a pleasant and warm mood to the occupants. Flat-screen satellite TV, sofa, premium bedding, and tea and coffee maker are some of the basic facilities offered in the rooms and suites of Shangri La Resort Mauritius.
Resort Highlights
Shangri La Mauritius houses a beautiful private island, Ilot Mangénie which is exclusively available to the guests
18-hole championship golf course near the resort
The isolated location of resort ideal for a private hideaway for couples
CHI spa center offers an unparalleled spa experience at the hotel
Well-equipped conference and banquet halls
Indian Restaurants Near The Resort
La Chaumière Masala Restaurant
Namaste Restaurant
Kesar Indian Restaurant
FAQs
Q1. Does one have to pay for the water sports at the hotel?
A. Yes, Shangri La Resort Mauritius charges an additional fee for the water sports like fishing, diving and so on.
Q2. What are the check-in and check-out timings?
A. The check-in time at the hotel is 2 pm and check-out time is 12 noon.
Q3. Does the hotel serve BBQ?
A. Yes, Republik Beach Club & Grill in Shangri La serves BBQ and grill in the stupendous outdoor setup.
Q4. If one is a diabetic, does the resort provide special diet meals?
A. Yes, the hotel can prepare and serve special diet meals upon request.
Q5. Does the hotel provide beauty services?
A. Yes, Shangri Mauritius offers beauty services like hair styling, hair coloring, pedicure, manicure, waxing service, facial treatments and many more to its guests.
Though Shangri La Mauritius is an ideal location for beach lovers, it also offers an array of attractive amenities and services to enthrall the guests. A holiday here will be packed with outdoor sports activities, scenic views of the island and surrounding areas, unending shopping experience, and leisure. A gorgeous swimming pool along with kids' pool in the resort offers unlimited fun and relaxation to both kids and adults. In addition to this, plush rooms, relaxing spa service, delectable restaurants, cool bars, impeccable concierge service, amazing travel desk, business facilities, complimentary Wi-Fi and a big list of entertainment and activities makes this hotel the best accommodation in Mauritius. Guests are sure to have a relaxed time here at Shangri La.