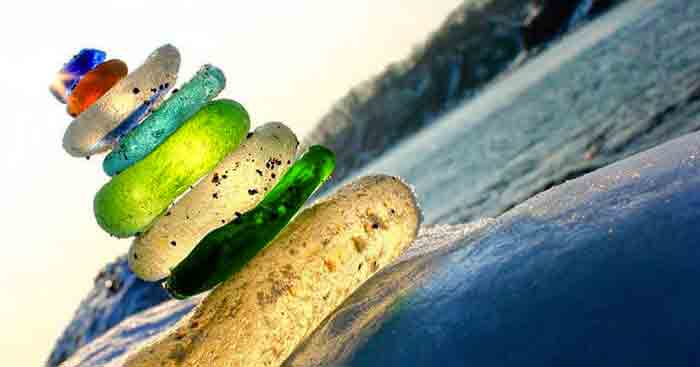 Mother nature is powerful and you will have no doubts about it after looking at these stunning pictures of Glass Beach in Russia. Once a wasteland for a porcelain factory and empty glass bottles, the location is now a tourist hub full of colors. Much famed as Steklyashka amongst the locals of Russia, Glass Beach is located in the surreal Ussuri Bay which lies in the region of Primorsky Krai in Southeast Russia.

Suggested Read: 15 Unique Beaches That Aren't Just About Building Sandcastles & Collecting Sea Shells
How Did This Happen?
The empty beer and vodka bottles have been dumped in the ocean for years now. On the contrary, the empty bottles broke into small pieces due to the strong erosion caused by the swishing waves of Pacific Ocean.

As a result, the waves churned out irregularly shaped and polished glass pieces that shined enough to make Glass Beach a perfect tourist attraction. In the end, nature always corrected human errors that made even the debris sparkle.
What Now?
Time heals everything and so it has been in the case of Glass Beach.

Further Read: 13 Advantages Of Booking Holiday Packages Over Planning All On Your Own [Infographic]
Earlier the shattered glass pieces of wine, beer and vodka bottles did impose a risk to travelers that limited their visits but the current scenario has changed completely. The Russian authorities have now marked the area and its surroundings as a protected zone which is now safe for travelers of all ages.
Travel Tips

Winter is the best time to visit the Glass Beach.
The colourful pebbles and the beach looks stunning when they're highlighted by the snow.
Ussuri Bay is also popular for swimming especially during the summers.
Otherwise also, Ussuri Bay offers breathtaking views throughout the year.
You can reach Glass Beach in just 30 minutes from Vladivostok city by driving.
Nature works wonders and it sure did for Glass Beach. Don't you think so? If yes, then share your thoughts with us in the comments below and remember, you can also customize your own Russia tour package with TravelTriangle whenever you're willing to pack your bags.
Happy Traveling!