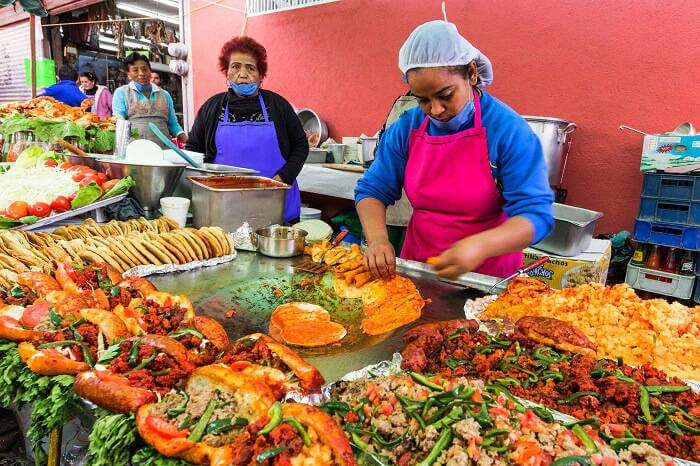 Wherever you may be on this beautiful planet, food is something that is always capable of keeping you motivated. Treat yourself to the best street food around the world to get a delicious insight into some of the fascinating cultures on your travels.
Food is an essential fabric of any culture, creed or society. Not only does it define the daily nutrition intake, but also the subconscious habits and preferences of people from a particular part of the globe. The spice, flavors, sweeteners, crispness, and the rich carbs that street food recipes from around the world give out will get you drooling.
Feast your eyes and tingle your taste buds to an assortment of delectable and popular street food around the world that could always come in handy on your travels:
1. Pad Thai in Thailand
Must Read: Thailand Street Food: A Gastronomical Guide To The Best Local Dishes And Where To Find Them!
A meal in Thailand that is as common as a hot dog in New York. Pad Thai noodles is a quick, stir-fried, full of herbs, and rich in protein version of the old-school Chinese Noodles. This humble yet filling meal is a lifeline for millions of people in Thailand.
Average meal cost: INR 100
2. Masala Dosa in India
What initially started as a street food in Southern India, has now spread all over India as a light, healthy, and nutritious meal that is easy on the stomach and very light on the pocket. Masala Dosa consists of a pancake-type flat-bread made of rice batter and filled inside with a mixture of vegetables and potatoes. The dish is served with a lentil soup called sambhar and a coconut dip.
Average meal cost: INR 70
3. Currywurst in Germany
Suggested Read: 20 Popular Food Festivals Around The World For Your Unconditional Love For Food
A very simple yet popular street food from Germany, Currywurst is essentially a splash of colors with ketchup, mustard sauce, mayonnaise spread over a mixture of french fries and pork sausages. The ready-to-go dish is very popular among locals and travelers, as it is a valuable addition to the fast-paced life in Germany for people who need a quick bite while rushing between two places.
Average meal cost: INR 160
4. Jerk Chicken in Jamaica
Jamaica is a place that is fond of barbecue-style food in their day-to-day communal living. A smoky street-food is a staple for many people living in Jamaica, Jerk Chicken is served with seasoned rice. The dish is marinated with a sweet or spicy sauce to add an extra layer of taste to the grilled chicken.
Average meal cost: INR 240
5. Halo-Halo in the Philippines
Suggested Read: 10 Best Dishes Of Singapore Cuisine To Turn Food Blues Into A Riot Of Flavors
Halo-Halo is one of the most unique and rich-in-flavor street food around the world. The dessert is not merely just a mixture but a confluence of milk, ice cream, boiled sweet beans, coconut, sago, and fruits. A delightful dish that tastes as beautiful as it looks; Halo Halo is a very popular dish not only among kids but also among adults.
Average meal cost: INR 90
6. Churros in Spain
A fried-donut pastry coming from a country that is not renowned for street food is a welcome change. Spain has mastered the art of making fried-dough pastry stick seasoned with sugar to add a sweet and delectable taste to the dessert. Churros is a heavenly dish for low and mid-budget tourists, as the dish is filling and scrumptious in every bite.
Average meal cost: INR 240
7. Falafel in Israel
Suggested Read: 15 Indian Cities And Their Famous Dishes: A Guide For The Foodie Traveling Across India
Now a very common dish around the world in cafes, restaurants, and vending stalls around the world; Falafel originated from the streets of Tel Aviv in Israel. Made from a batter of fava bean or ground chickpeas, Falafel is prepared in a deep-fried ball, doughnut, or patty form. To add flavor to the Falafel batter there is an addition of cumin, coriander, raw onion, paprika, and raw garlic.
Average meal cost: INR 100
8. Ceviche in Peru
Served not only in Peru but throughout South America, Ceviche is widely regarded as the national dish of Peru. Another unanimously loved street food around the world, Ceviche is basically a mixture of raw fish marinated overnight in citrus juice and then added with raw onion, tomato, and Tabasco.
Average meal cost: INR 160 per person
9. Baklava in Turkey
Suggested Read: 38 Mouth-Watering Turkish Delicacies That Will Give Anyone An Instant Foodgasm!
A sweet, delectable, and full-of-flavor dish from Turkey, Baklava is a pastry made of filo that is stuffed with nuts and given a solid structure with sweet syrup. You will very easily find multiple variants of Baklava in Turkey depending on different shops and businesses as the recipes are generally carried on from generations in the family business.
Average meal cost: INR 200 for 250 grams
10. Bubble tea in Taiwan
A quirky, light, and healthy drink, Bubble tea is a kind of a particular street food around the world. Containing a mixture of black tapioca balls, and thick milk. The drink comes in many exclusive flavors such as custard pudding, grass jelly, and honeydew.
Average meal cost: INR 60
11. Crepes in Paris
Suggested Read: 10 Bakeries In Paris Where Art Meets Dessert
An intensely popular street food around the world, the origins to Crepes can be traced to the streets of suburban Paris. The best part about this sweet dish is that it's available any time of the day at many street vendors throughout the day and evening.
Normally made with flour, crepes are normally filled with a variety of things like ham, cheese, vegetables, egg, and other meats.
Average meal cost: INR 220
12. Tacos in Mexico
Possibly the most popular street food around the world in this list, Tacos are a traditional Mexican dishes made of a corn of wheat tortilla that has a filling or either chicken, fish, beans, or beef accompanied with a garnishing of tomatoes, onions, lettuce, coriander, and Tabasco.
Thanks to its immense popularity, Tacos have become a vital street food across the world as its rich taste and ready-to-go texture has been likened by many-a-like.
Average meal cost: INR 160
Further Read: Head To These 13 Places To Munch On The Best Of Street Food In Goa
The street food around the world may be different in flavor, taste, and texture, but the key ingredient of enjoying a hearty meal and the desire to finish the last bite with an abundance of satisfaction remains the same everywhere. Let us know about your culinary desires and experiences while on the road in a faraway land.